Modern Farmhouse Fall Family Room
Welcome to my modern farmhouse fall family room and second week of the Farmhouse Holiday Series hosted by my friend Kristen at Ella Claire. I am honored to be a part of this talented group of farmhouse bloggers as we head into the festive season ahead.  Last week these ladies shared their kitchens and I was blown away. So….if last week is any indication of what this week will bring, grab your cup of coffee and get comfy.
If you follow my blog then you know I like to change things up. I keep all my larger items pretty neutral so I can play and have fun with each season. If you visit last year's fall tour then you know what I am talking about, my home feels completely different this time around. As I get older I have this need to simplify and hold onto things that make me happy. I really wanted a change in here so I made some simple adjustments that made a huge difference. Often we get overwhelmed thinking we need to change everything at once. You definitely don't, setting a clear plan for the look you want will help you achieve your house goals over time. Creating a mood board or Pinterest board for each space is a great way to start.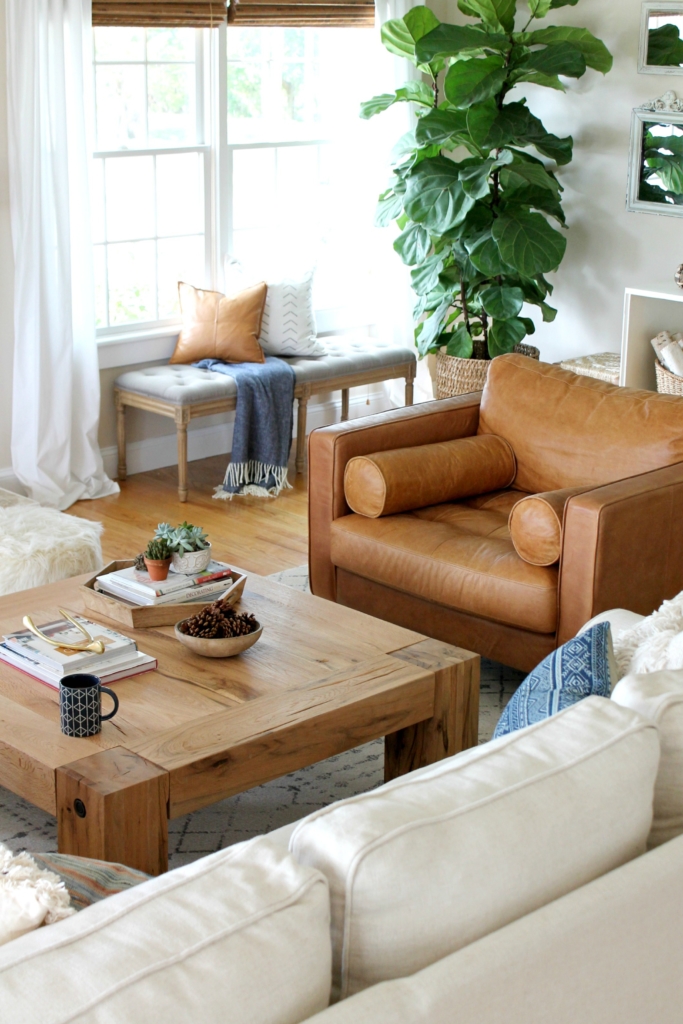 I started with the coffee table. I loved my old one but it was time. After looking for over a year I finally decided on this one from Industry West and  I couldn't be happier!!! This room is our main lounging hub so I knew I wanted something large. Truth be told I was nervous it was too big, you can tape off and measure all you want but until you have it in the space you just don't know how you will feel. It is perfection!!! Is it possible to be in love with a piece of furniture? Well, I am!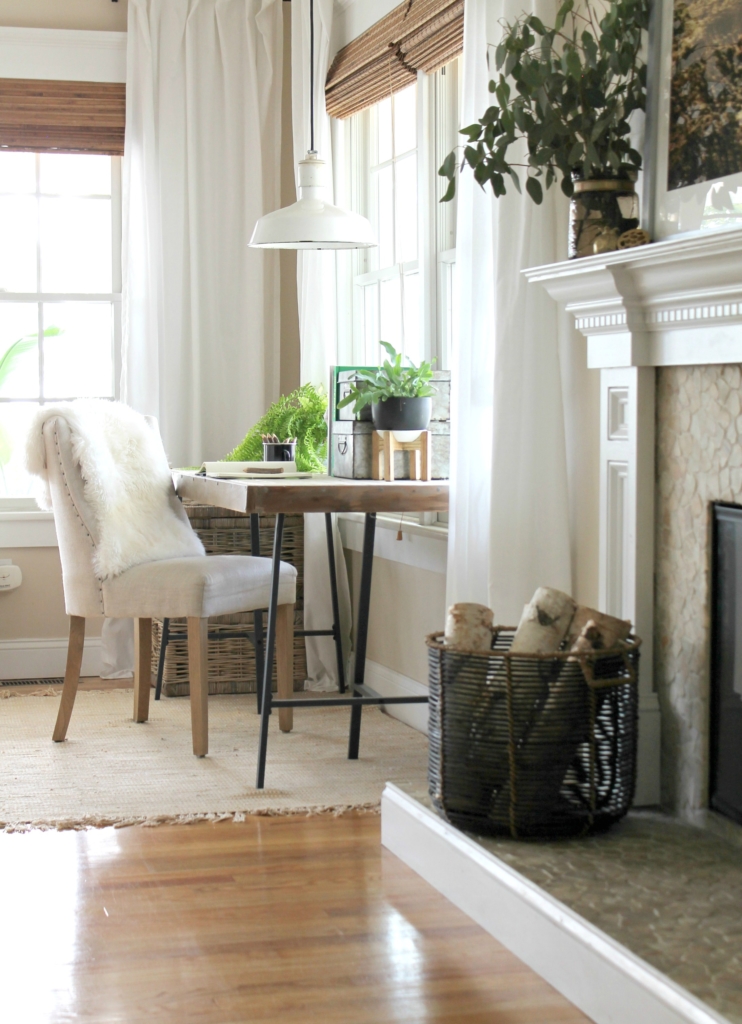 My hope for this modern farmhouse tour is that it feels effortless and easy to achieve. I didn't want to overcrowd the space but to feel like autumn is here with textures, organic tones, rustic elements, lots of greenery and cozy details. The art above my fireplace from Minted is still a favorite and the color palette reminds me of fall.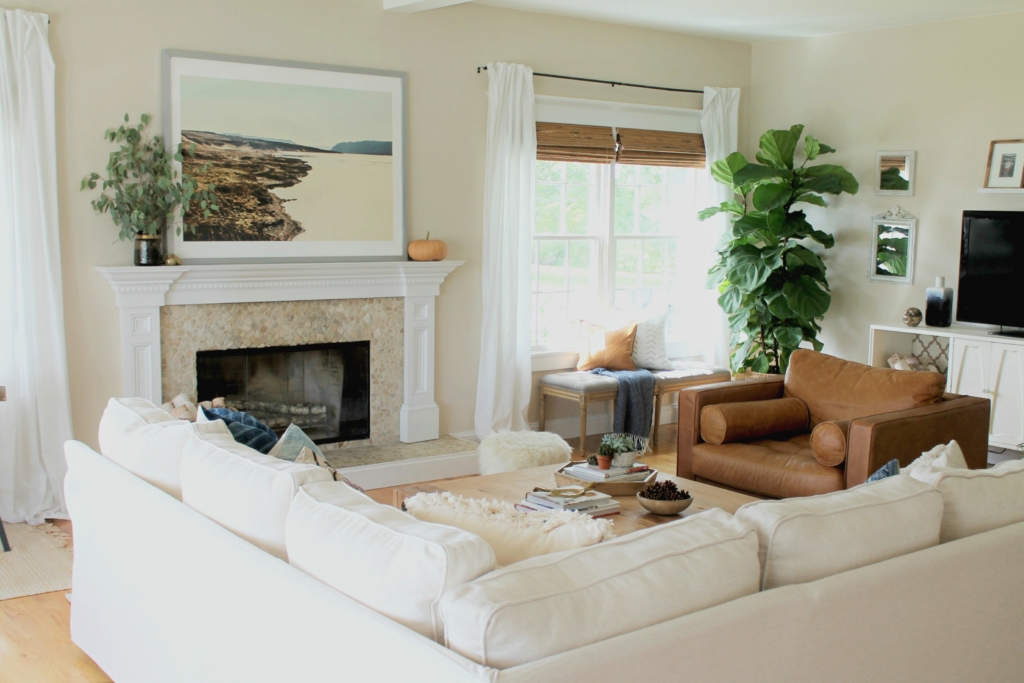 The second thing I changed was the rug. The old rug had a large trellis, Aztec pattern and although I do still fancy it, I thought a rug with a softer pattern might feel nice. And I was right, it does!
And the third thing I added to this large space is a large plant. I have been on the hunt for a Fiddle Leaf Ficus plant for years and found one last week at a local flower shop.
I also added pillows, surprise! My collection keeps getting bigger and bigger, its crazy, time for a yard sale:). I found these on Etsy , it's my favorite place lately for pillow covers. I love being able to wash them and use feather inserts, it makes a huge difference!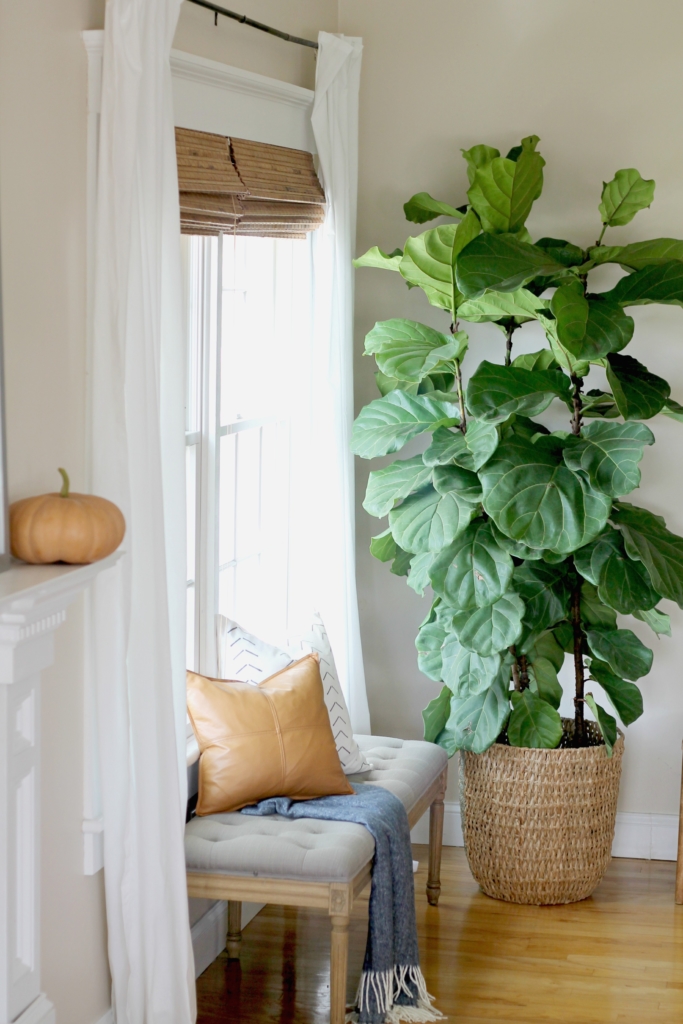 I used pumpkins sparingly here, I wanted them to feel like an accessory.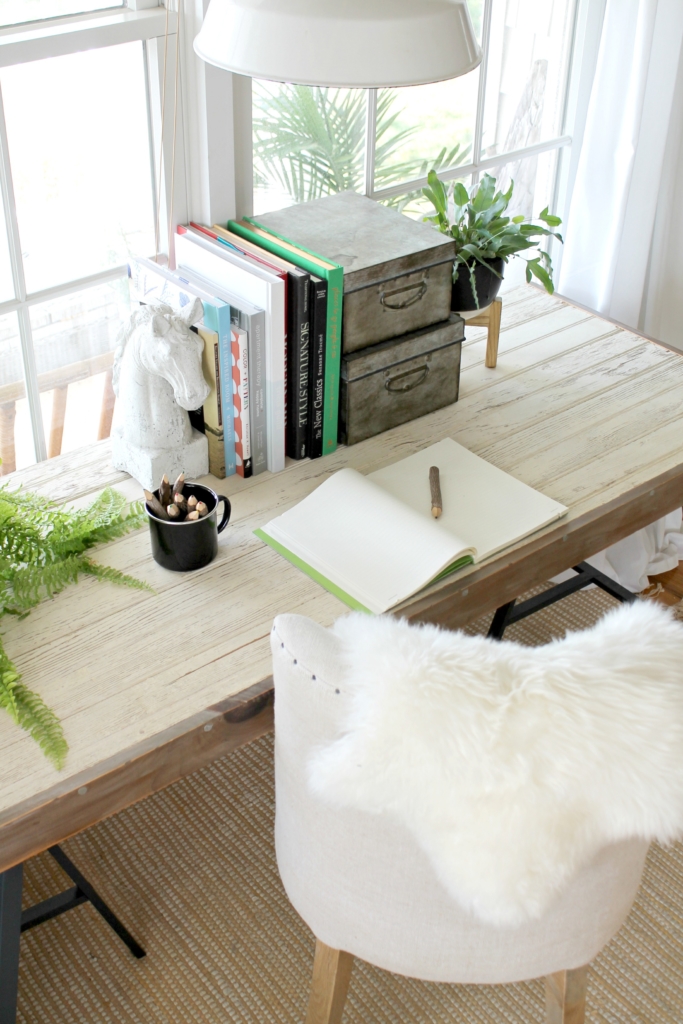 Isn't that rug yummy!! You can find it HERE. Paired with a rug pad it feels great underfoot. It's funny Jack immediately was like "mom this feels great on my toes!"
This room gets flooded with light which is wonderful but sometimes it is hard to photograph. I tried to get the room at different angles so you could see the layout.
Ferns make me happy. I layered in quite a few different species, hopefully I can keep them alive through the winter, wish me luck, seriously!
This embroidered pillow is from the Pottery Barn Outlet, I bought 2, one for my fall backyard and one for my family room. When I see a good deal at the outlets on pillows I need to get a pair. I am so glad I did, they are prettier in person!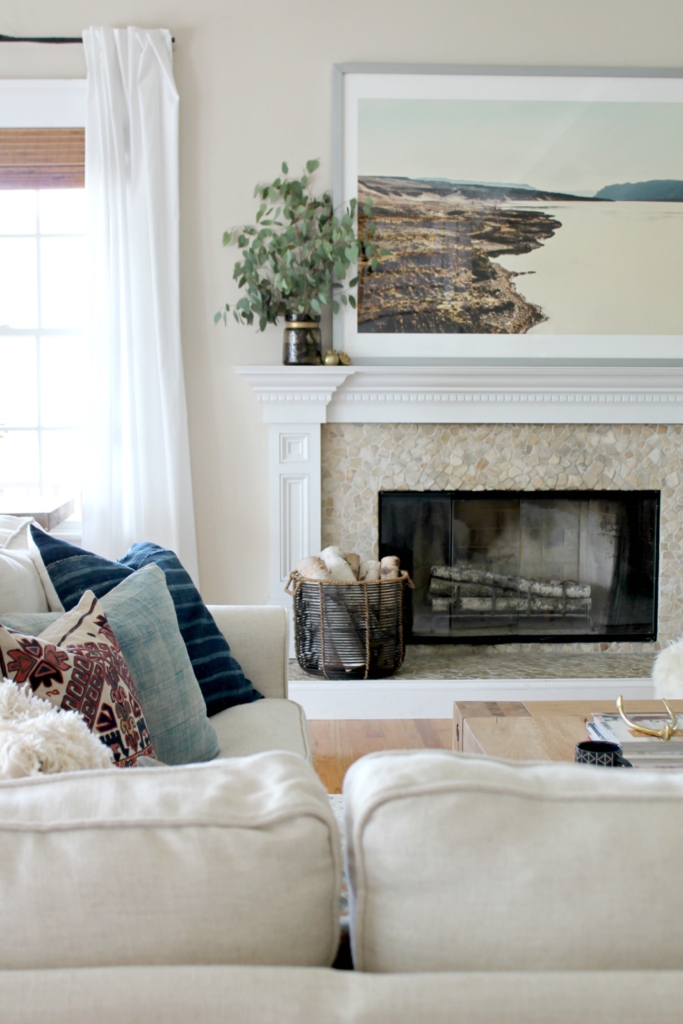 Like I said this space is BIG, so when we host events and celebrations this is where everyone ends up oddly enough, I think its the fireplace. We huddle around the coffee table, using all the stools, ottomans and poufs, in addition to the sectional and chair. It's actually really nice, it's super cozy. Christmas Eve is always a favorite!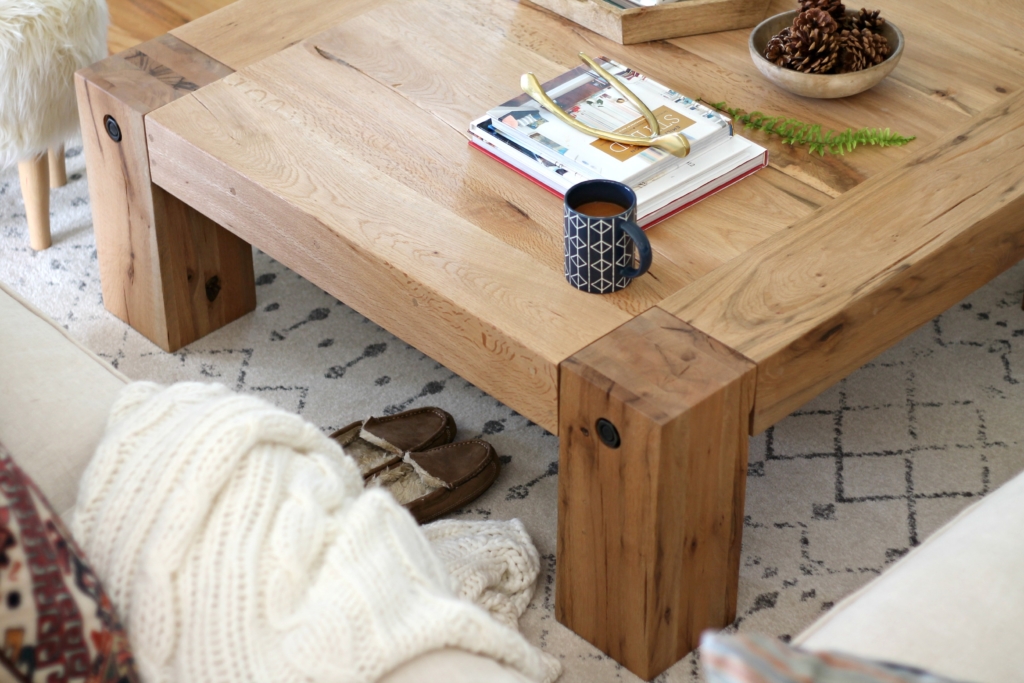 Isn't this coffee table incredible?!
This rustic Ikea Hacked desk is the perfect place to work as I have views of the bay. It doesn't usually look like this though. Usually it is covered in notes and papers.
Nothing says fall like cozy slippers, a warm blanket and a cup of coffee on a chilly morning.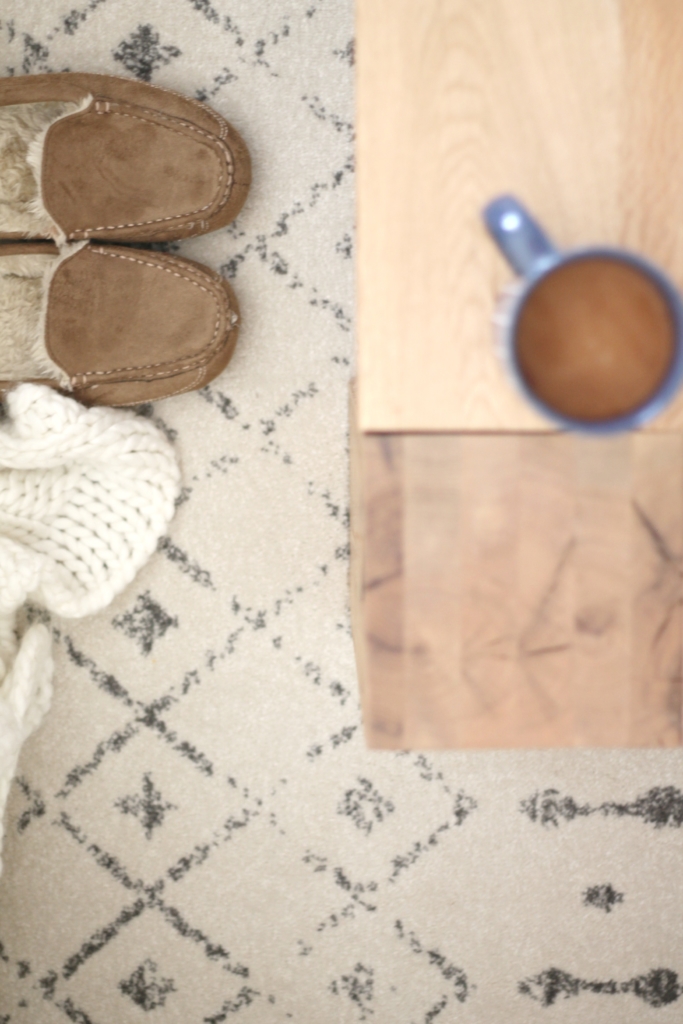 Are you comfy yet? Good, because here is the rest of the incredible farmhouse family room tours:)!

| My Sweet Savannah | Ella Claire | Love Grows Wild | Liz Marie Blog | French Country Cottage
Dear Lillie | Shades of Blue Interiors | Miss Mustard Seed | City Farmhouse
Jennifer Rizzo Design | Jeanne Oliver | Rooms FOR Rent | Kindred Vintage
And today's featured guest – A burst of Beautiful.
A big thanks to Country Living for hosting this tour!!!
Thank you so much for stopping by! Have a beautiful day friends!