Casual Fall Front Porch With Indigo + Orange
Happy fall friends, it's officially that time of year! To celebrate in true fall spirit we are sharing our porch & backyard reveals with the Seasons of Home blog series! They are stunning and vary in all decorating styles so be sure to follow them through, you will get a ton of ideas. This year I decided to create a causal, Cali inspired early fall front porch since its been so darn hot here! Once again a big thank you to Kristen from Ella Claire for putting this series together!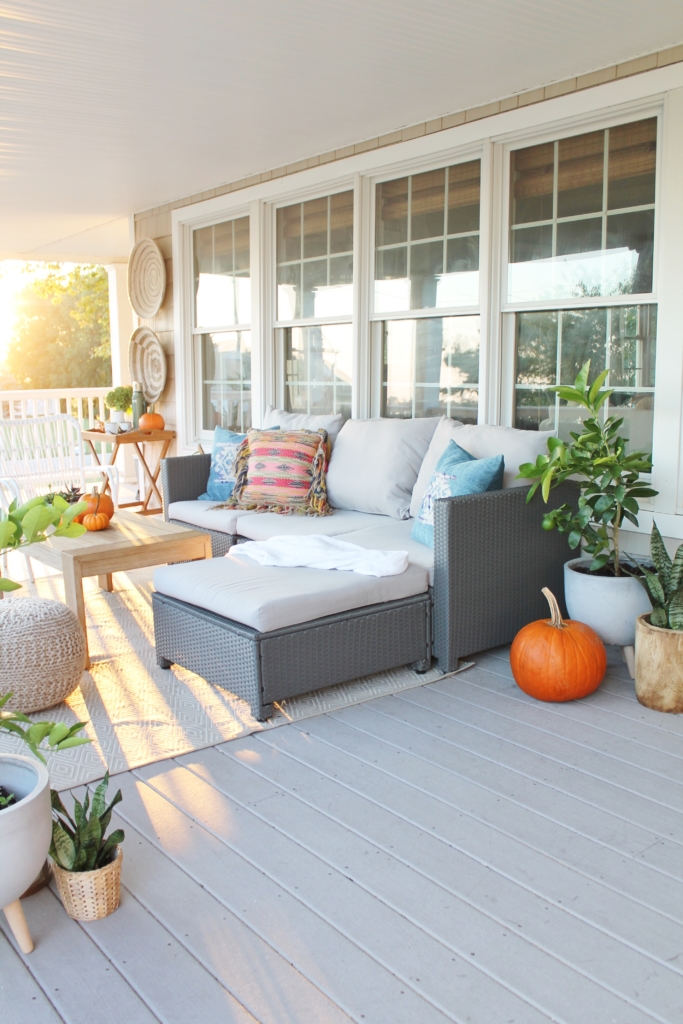 I am not sure when it happened that my boys have more to say about the decorating that goes on around here than John but they surely do! Is it crazy to say I like it? It makes me feel happy when they appreciate something I do or have an opinion, because it means they care.
We went pumpkin picking the other day & they begged me to just buy the orange ones. They said they didn't like the fancy ones too much. They also said I get to decorate everything and why couldn't they have a say:(. My heart sank. Decorating should always be inclusive!
Often with decorating for the blog I forget that other people live here too. John is so good with (most) everything I do that I usually do whatever feels right to me in the creative process. I realize that Shane & Jack like making our home festive too, so I let them have a part in helping with the front porch. These are the pumpkins they picked and the mums as well. Guess what, it was way more fun this way! My little decorators!
Next up for this porch is Halloween, so I will enjoy the next few weeks like this until we redecorate, again. So as I was saying I was going for a California vibe out here. The fun thing about decorating outside is you can mix and match. You can do it with furniture, styles, textures, colors and plant life.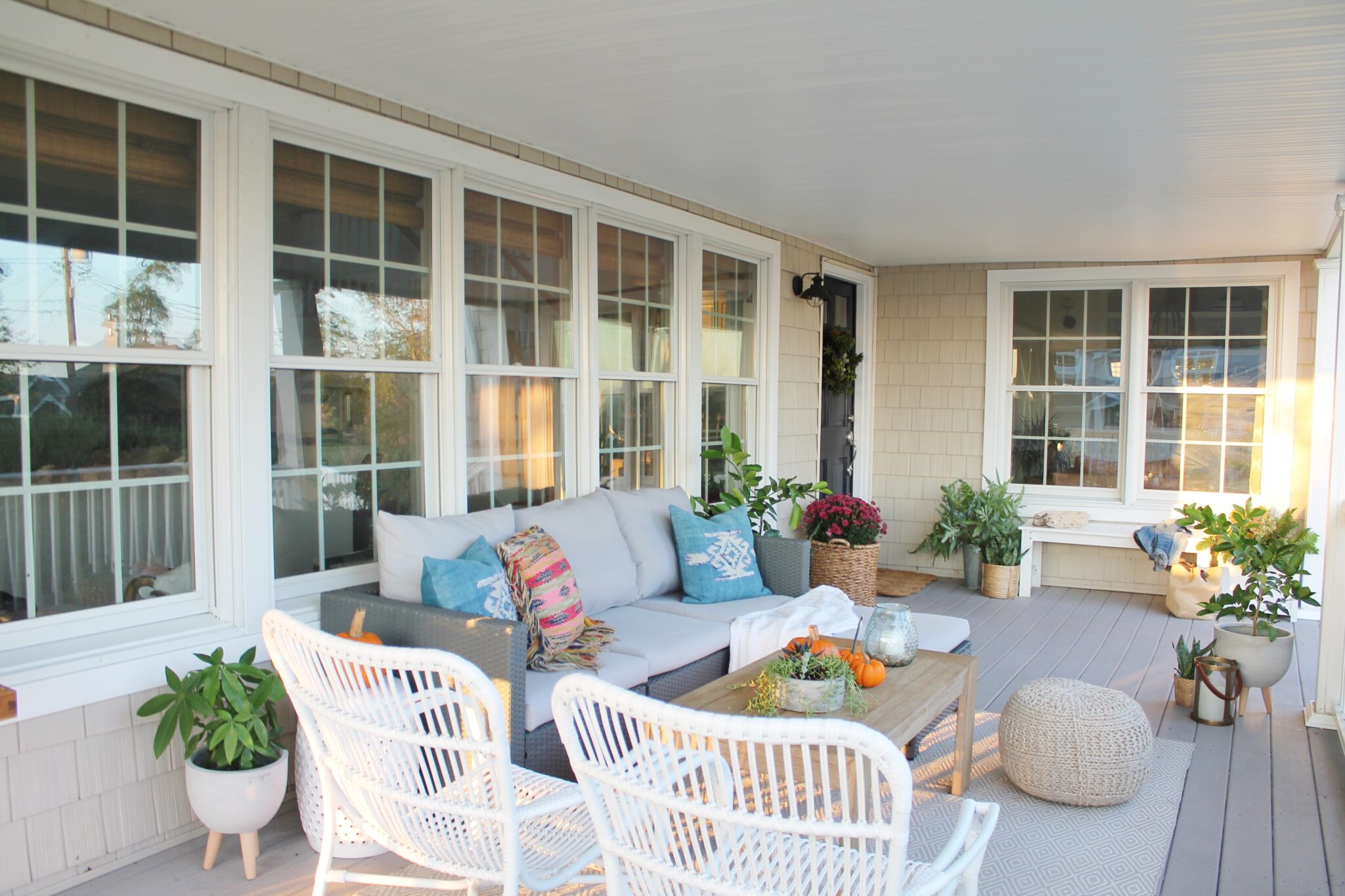 I used my new sectional from Joss & Main and paired it with a rustic coffee table, I mixed modern with farmhouse, brought in wicker & woven materials and blended them with cement accents. I also paired indigo with orange for a bold & playful contrast.
I brought in my lime trees from the backyard and replanted them in these amazing modern raised pots . I love how the green pairs with the orange & indigo! And the shape & size of the limes compliments the pumpkins as well. Don't be afraid to think out of the box when decorating outside.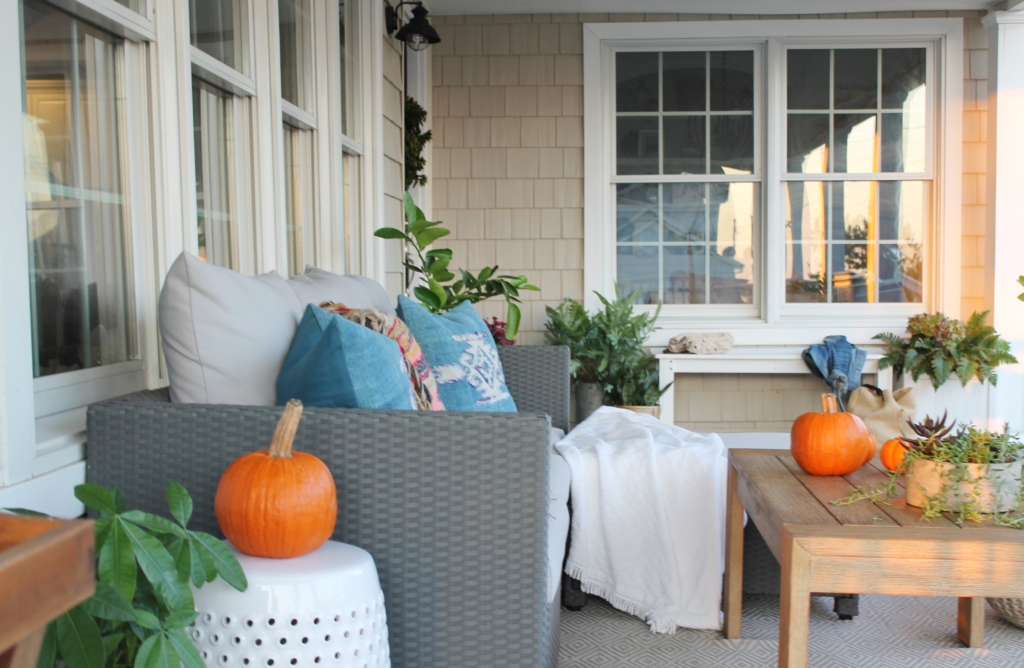 Tropicals, ferns and succulents also boost a natural touch. They are still thriving out here so I wanted to integrate them into the design. My new woven rug by the front door adds a designer touch.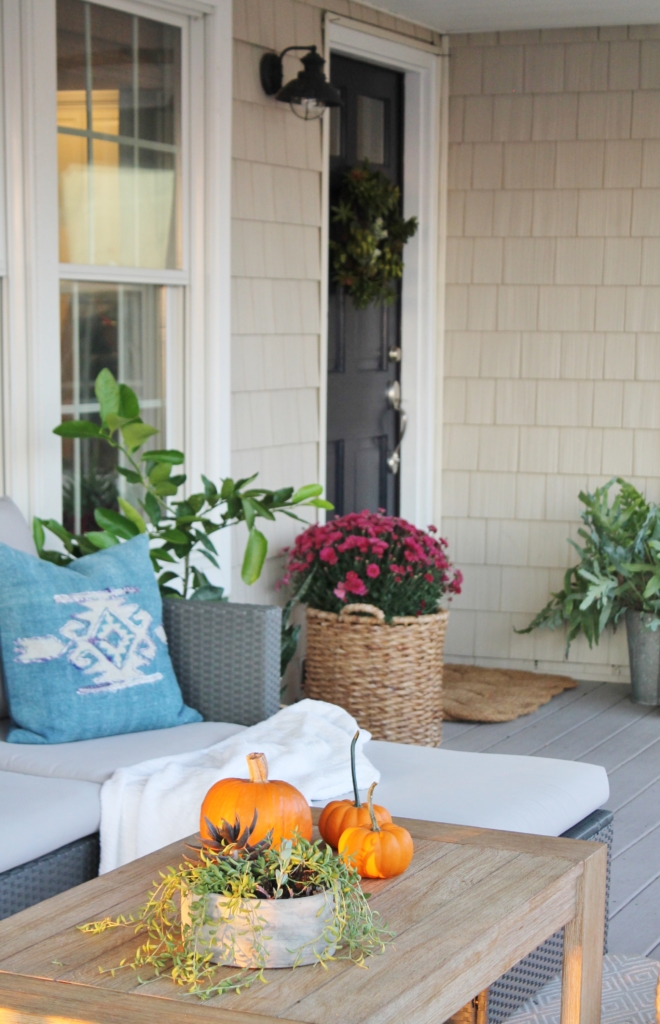 The boho, indigo pillows add to the casual vibe. They are gorgeous! They are sort of a faded denim look with a versatile design.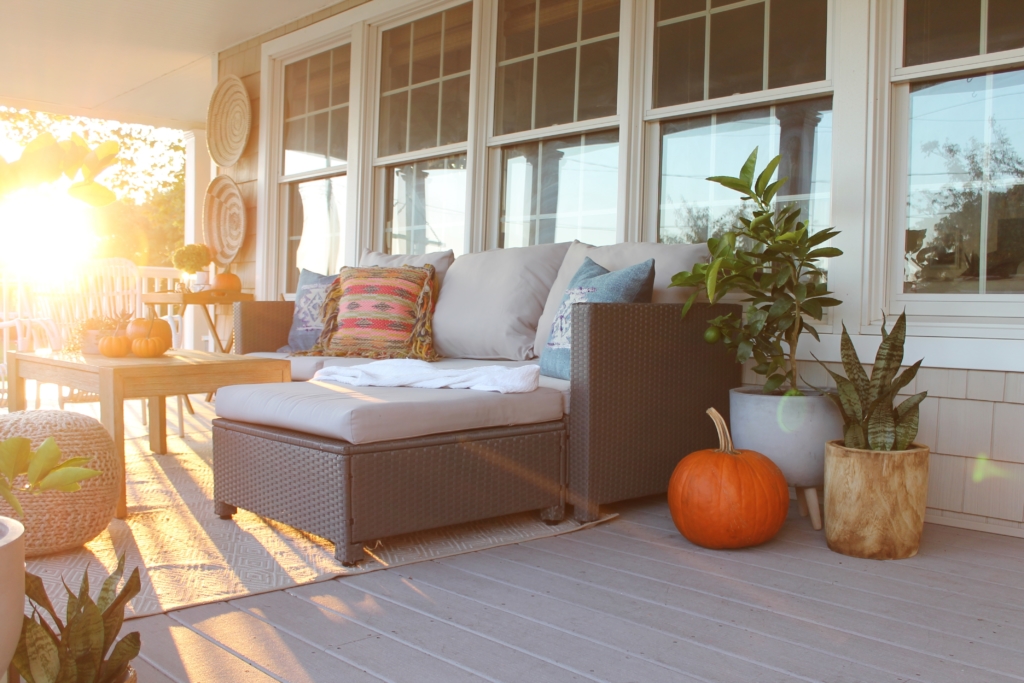 These seagrass baskets found a perfect spot and they also add the natural texture I was looking for.
The pouf is great when we have appetizer night and play cards, everyone fights for that seat.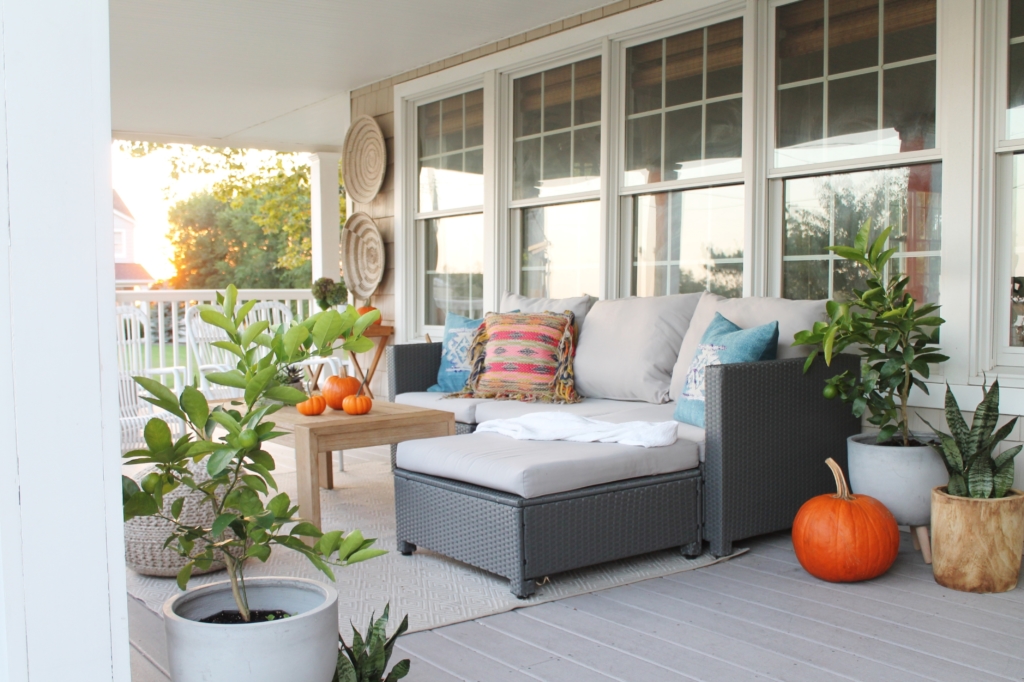 I also added a fun handwoven fringed pillow that brings all the bold hues together.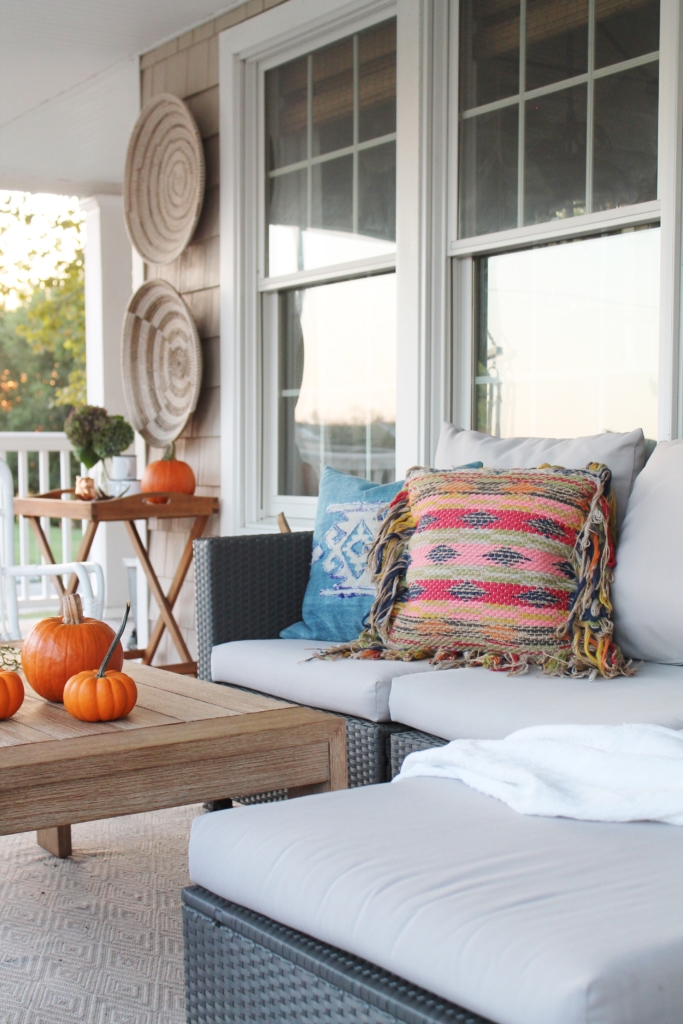 The succulent wreath brings in the plum tones that say fall.
I was trying to capture the beauty out here as the sun sets, hopefully I did that.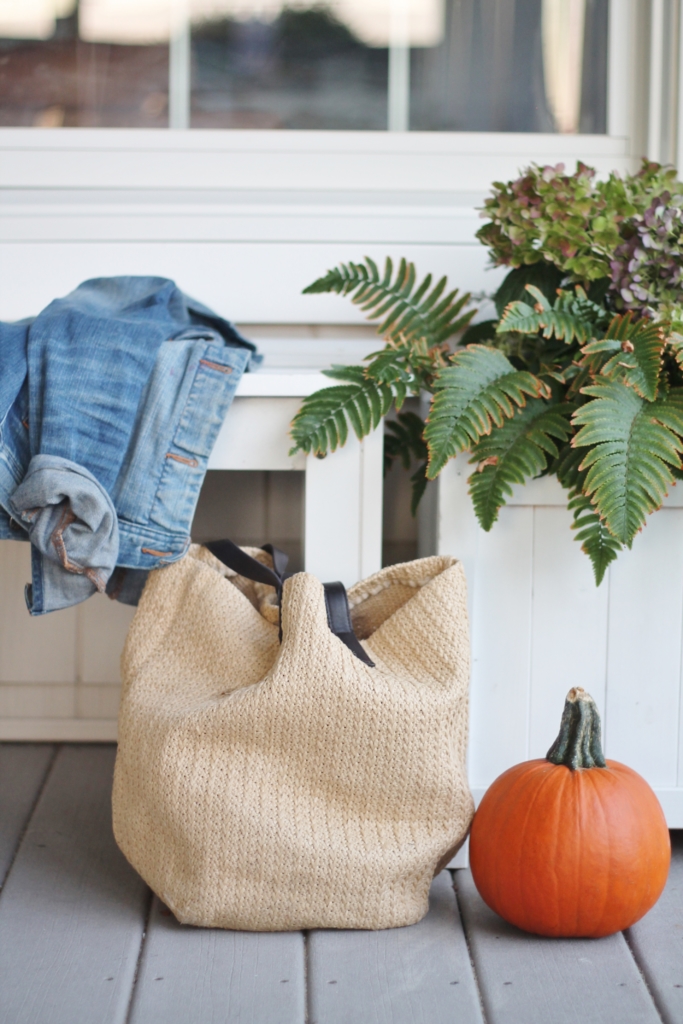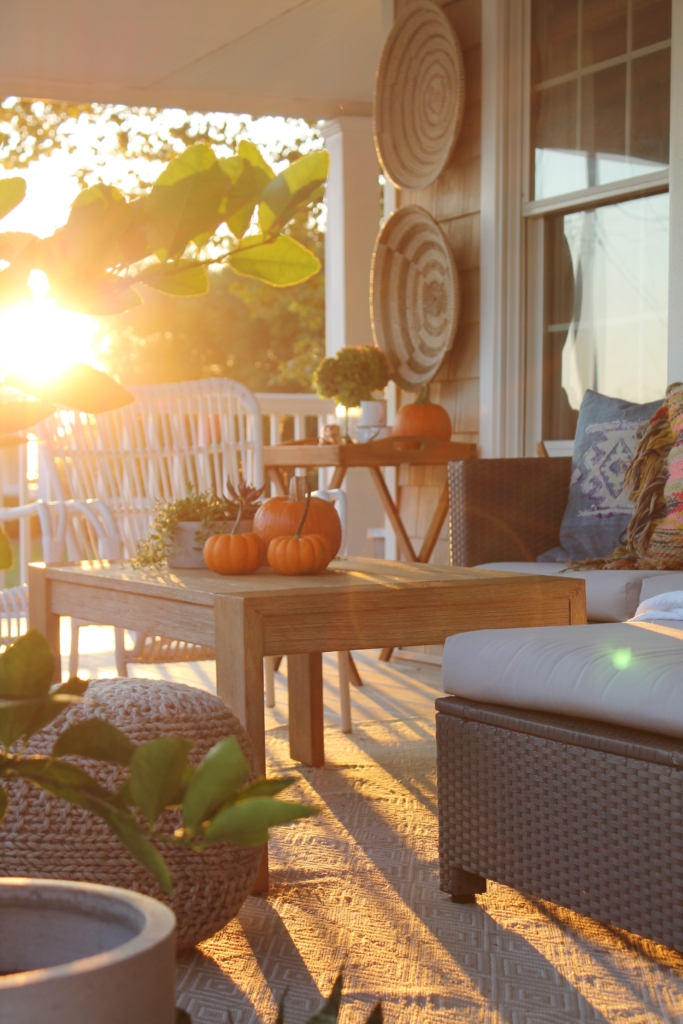 Here are the rest of the beautiful outdoor tours…

Ella Claire  |  Rooms for Rent |  Dear Lillie  |  Love Grows Wild
Nesting with Grace  |  Liz Marie Blog  |  Shades of Blue Interiors  |  My Sweet Savannah
Julie Blanner  |  City Farmhouse  |  French Country Cottage  |  Jeanne Oliver
Miss Mustard Seed  |  Craftberry Bush  |  Jennifer Rizzo |  and our featured guest, Beneath My Heart
Have a happy day!