Casual Hamptons Master Bedroom Reveal-The Look For Less
Today is the day!!! I have been holding onto my master bedroom reveal and now I finally get to share it with the world!  It has gone through a complete detox, it shed it's pattern and color for a more neutral palette. One that feels way more like me at this stage in my life. As most of you know my SHOP-City Farmhouse and Co is under way and will be opening in mid-October, so I needed a look that was comfortable and versatile to highlight my fabric line. The shop will feature pillow covers, a collection designed exclusively by yours truly and a vintage inspired collection as well.
If you remember this was the Modern Hamptons mood board . I made a few alterations to the "modern" part, the headboard & frame I absolutely loved but upon further investigation I realized the headboard was way too short.  So I opted for THIS headboard instead. The space still has modern elements but I opted to add in casual details too. Lets face it, I am a very casual person so it makes perfect sense.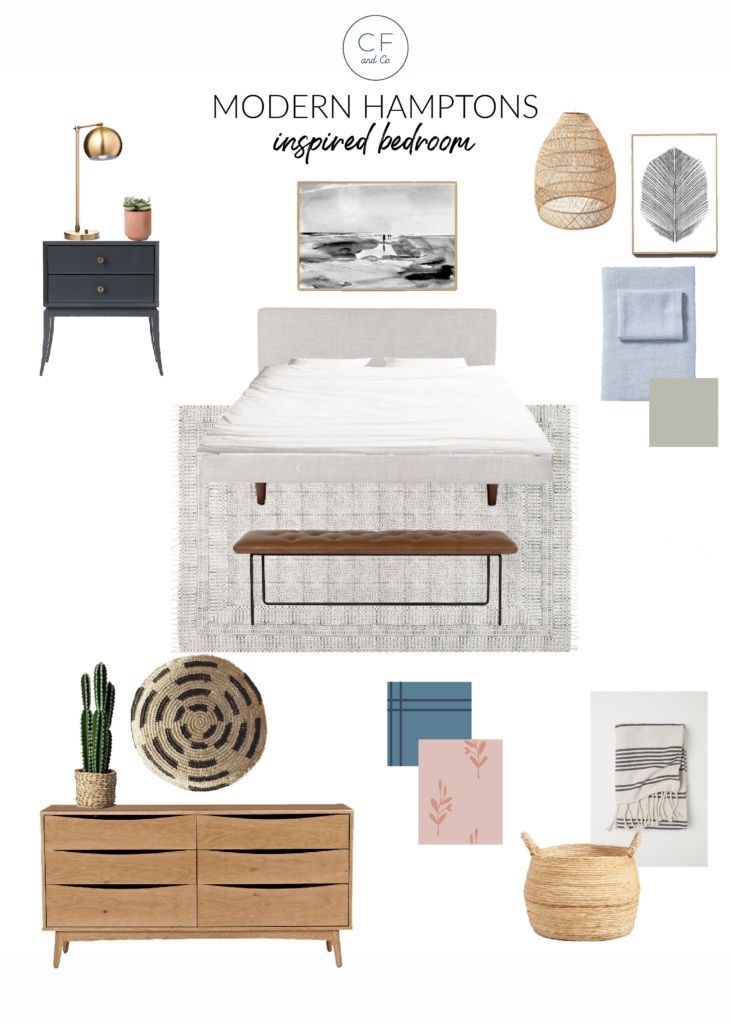 Are you ready??? Here's a look at the before in case you need another look. Remember this was the room that was featured in BHG a few years back.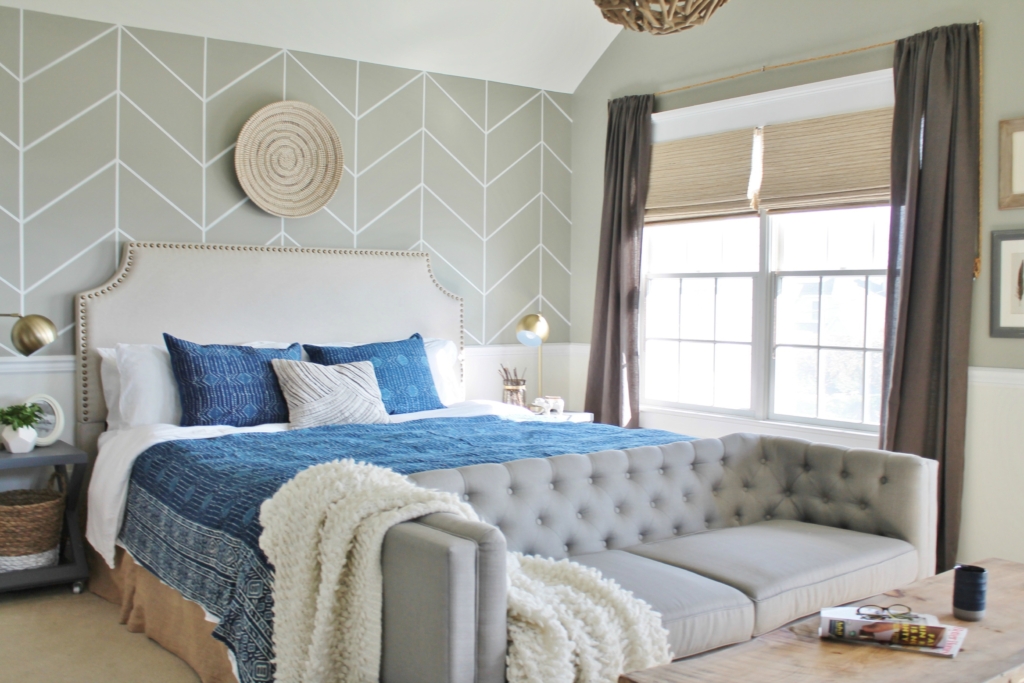 And the after…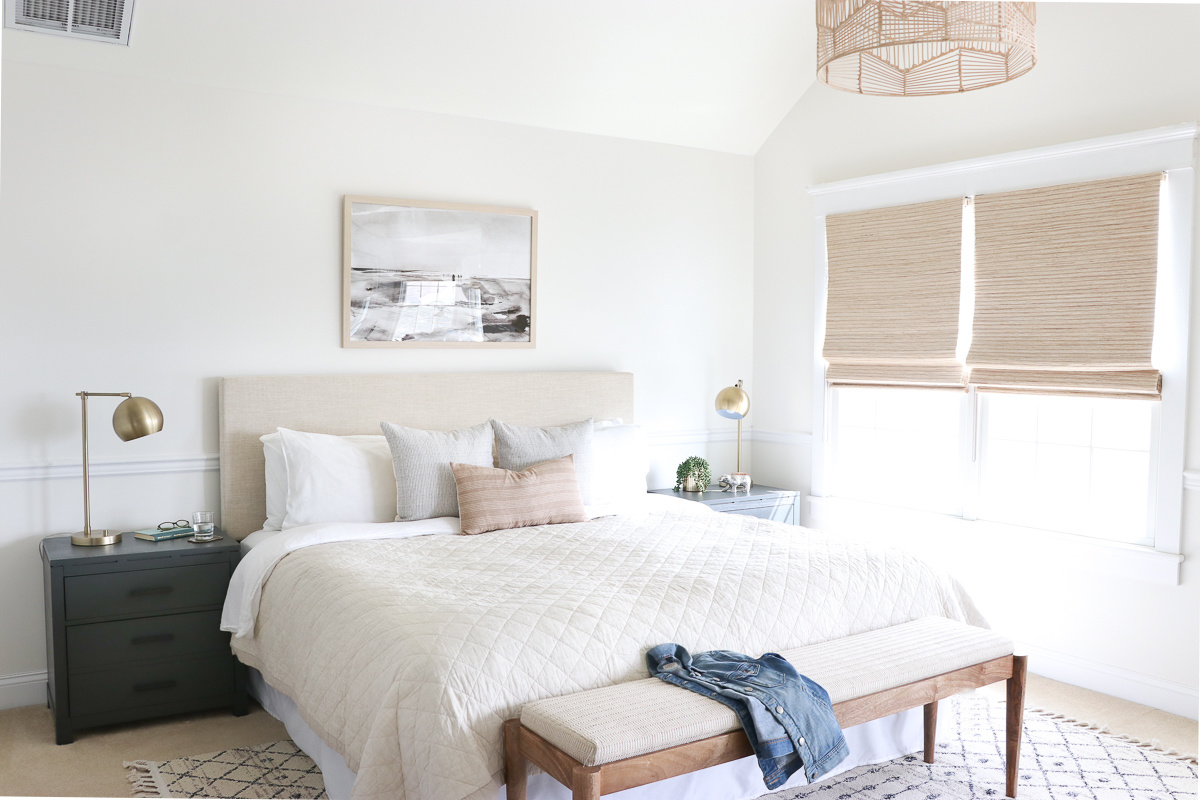 What do you think? I am absolutely head over heals in LOVE!!! Wait until you see the bed made with the beautiful hues from my pillow collection. Eek! If I could show you now I would.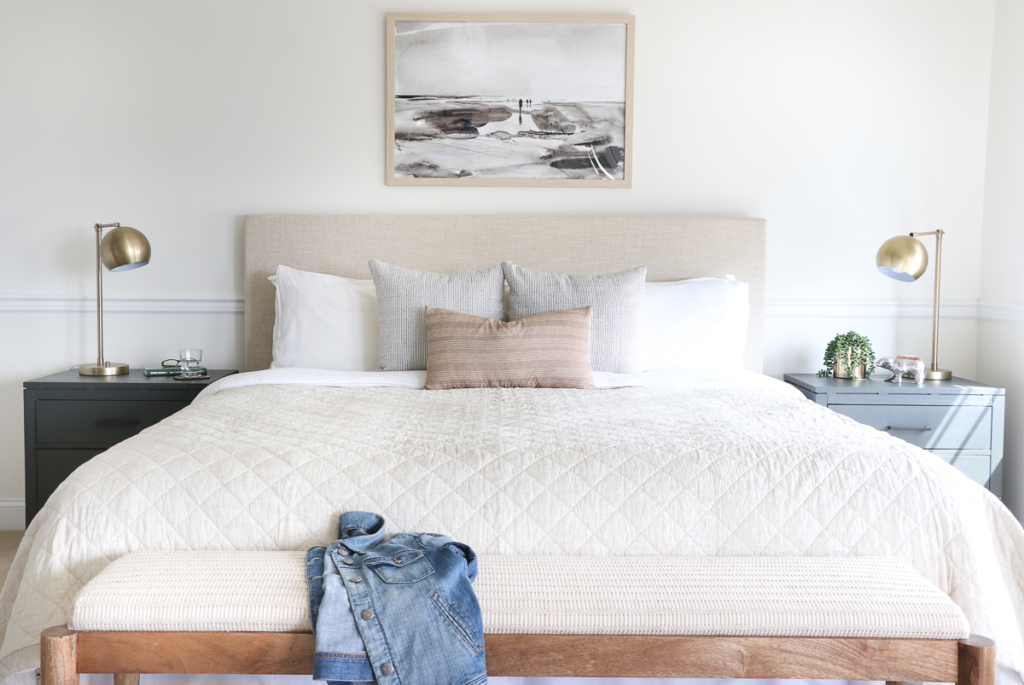 I was able to get this look for much less because I shopped around. The bench was a steal at just over $100, the rug I bought during a sale for around the same, crazy right?! The lamps I had, the nightstands, my FAVORITE paint project to date, details in the next post. Headboard, another STEAL and the art was a download, around $10 and was framed at Art to Frames.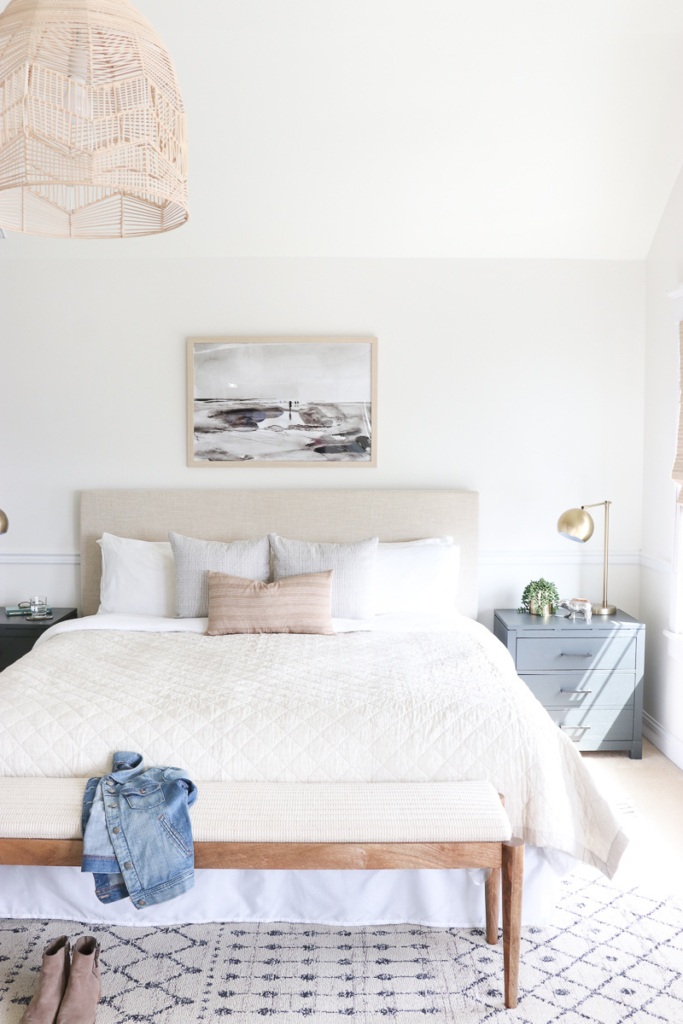 Lets talk about the rattan pendant light. Well, I had my heart set on the one from Serena and Lily but it was back-ordered. Then I found one at World Market for way less but it was also on back order. So I found this one on Etsy. And I LOVE it, the amount of light it gives is awesome!
I also upgraded my mattress of 17 years. Oh my gosh, what a difference! I went with the Stearns & Foster Lux Estate in Plush. As you can see Denny likes it too!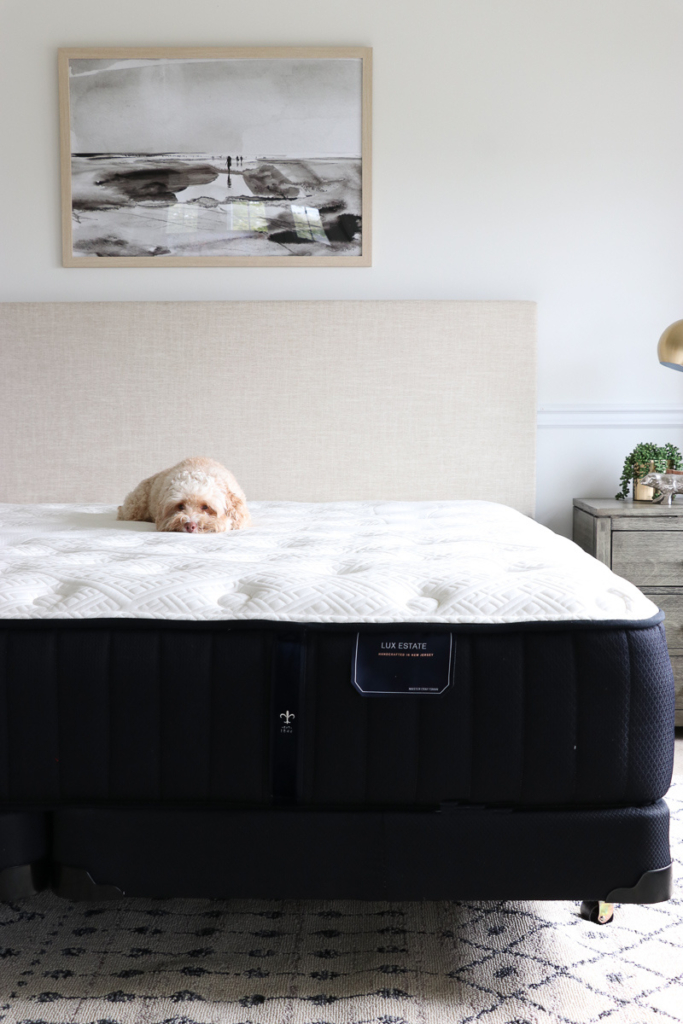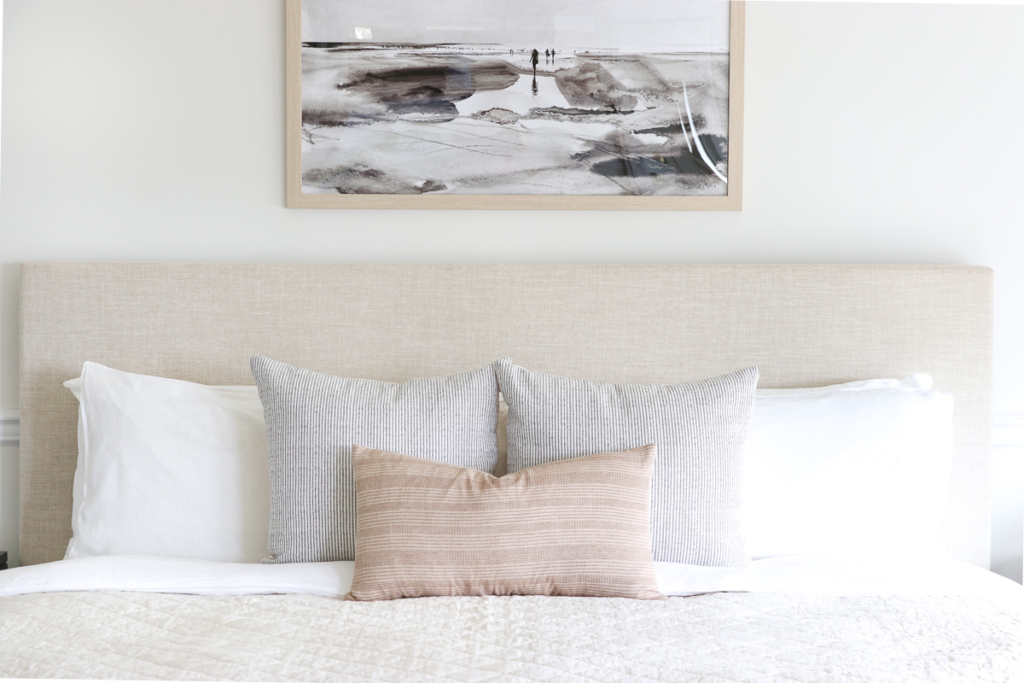 Under the comforter is a beautiful white linen duvet. I really wanted more contrast and boy was it tough to find a quality texture. This one is also linen and it's super soft, another incredible buy! Now I am on the hunt for a chunky knit throw to give it yet another look, as we head into the holiday season.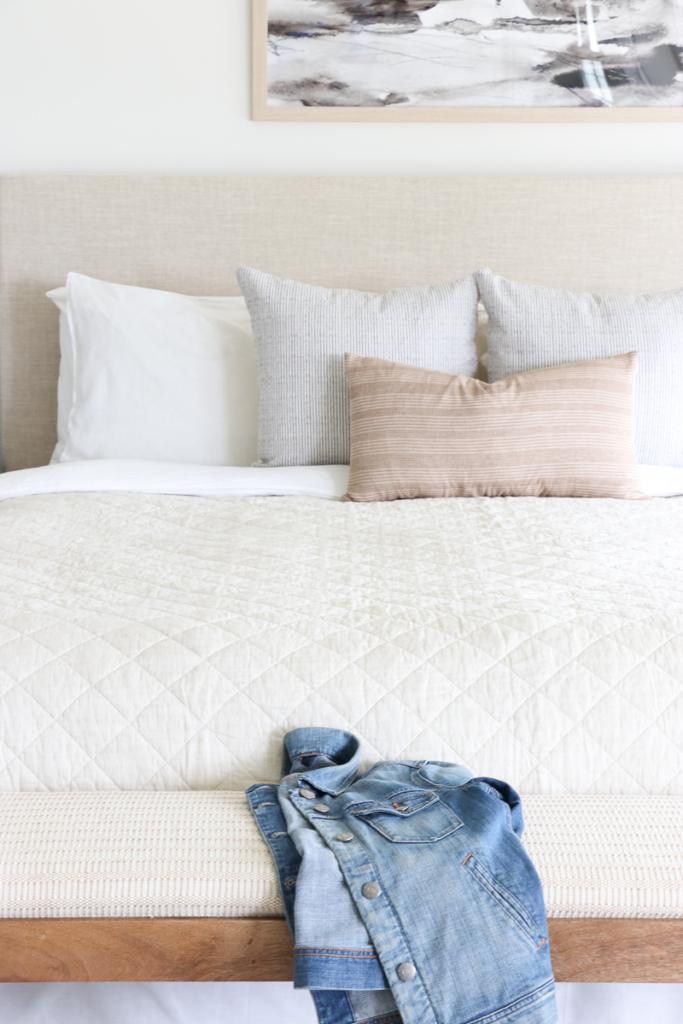 Another before and after…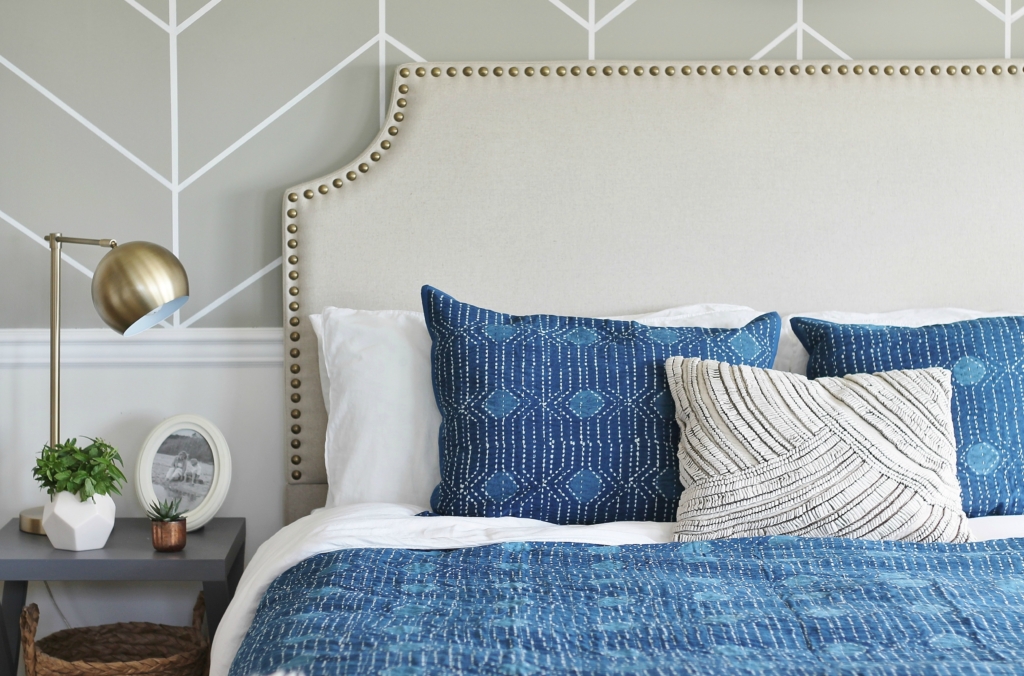 This was a shot from BHG's Christmas Ideas Magazine a few years back.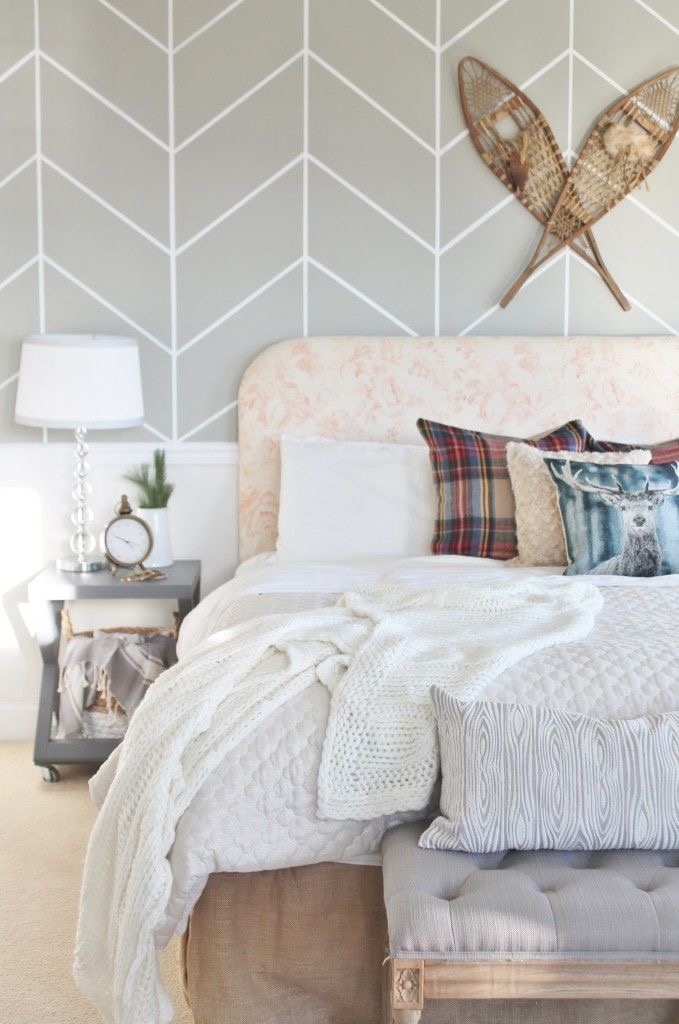 I am so thrilled with how it turned out!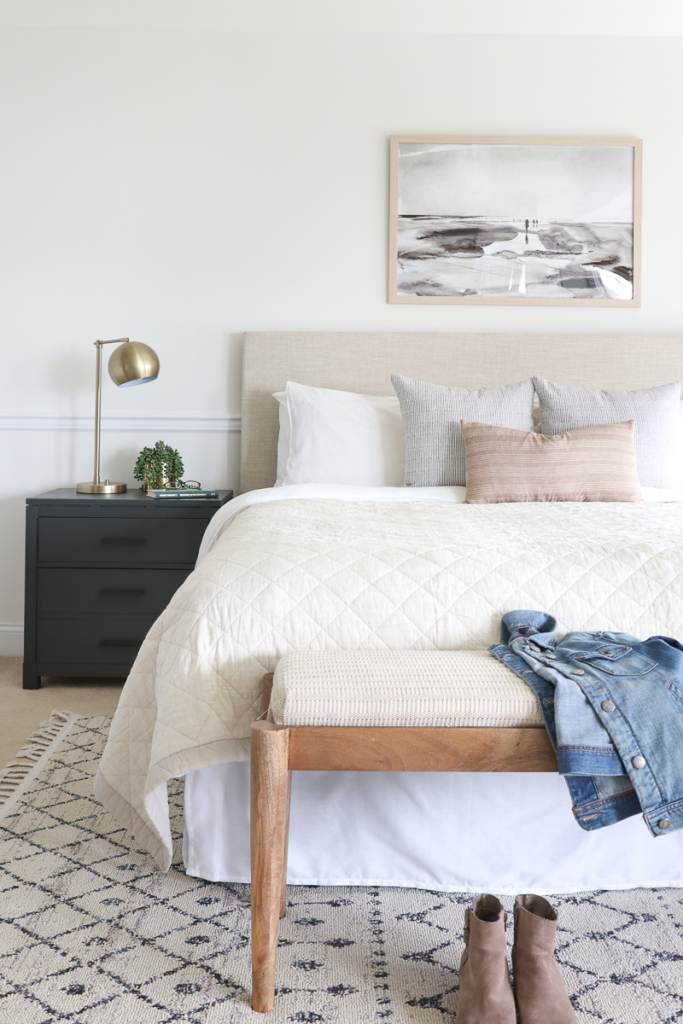 SOURCE LIST:
rug-Rugs USA
bench- Home Goods
nightstands-see details in the next post
linen comforter-Home Goods
art-Art to Frames
linen headboard-Wayfair
lamps-Target
pillows-City Farmhouse and Co
pendant light-Etsy
*************************************************************
Most of you have been with me on this crazy & exciting journey for years, thank you from the bottom of my heart! As I embark on this new adventure of mine with my new textile line and shop launch I would love your continued support. This has been a true labor of love from the very start. My desire to pick up a pencil and begin to draw again helped meant my broken heart. And somewhere in the process gave me a renewed sense of purpose.  The pillow collection will launch in mid October but since I am just started a new Instagram account, I need all the help I can get!!! Just click on @cityfarmhouseandco to follow, I cant thank you enough!!!
Have a happy day friends!