Simple Plum + Blush Outdoor Fall Tablescape
Happy Fall friends! I know it's not official yet but it sure feels like it. The kiddos are back to school, the weather is getting cooler and my sweaters have even made a few appearances, yay! With that being said it's also time to roll out the fall series of Seasons of Home. In case you are new to the blog, we are a group of home bloggers that open our homes this time of year and show you how we decorate for the seasons. Our host, who is also my good friend Kristen from Ella Claire began this series many years back and I am so grateful to be a part of this incredible group of creatives!!!
Welcome to my simple outdoor tablescape using plum, blush and soft fall hues. Let me start by saying, I really love simple especially when it comes to table ideas and entertaining. For me, it always seems like such a task, one that I thoroughly enjoy but needless to say hosting is a lot of work. There is the cleaning, the menu, shopping, cooking, preparing, drinks etc… You get my drift, right?! So to take one thing off my plate like a tablescape, it is really a sigh of relief. When I say simple, I mean, very little planning. Everything from this table are items I already had.
The planning part was in the color palette. If you can nail a season with a color scheme then you don't have to worry about using items that specifically say fall, such as pumpkins, gourds, and/or apples, etc. My inspiration for this table came from the plum fringe runner, which is actually a throw I scored from West Elm in the spring for 3.99!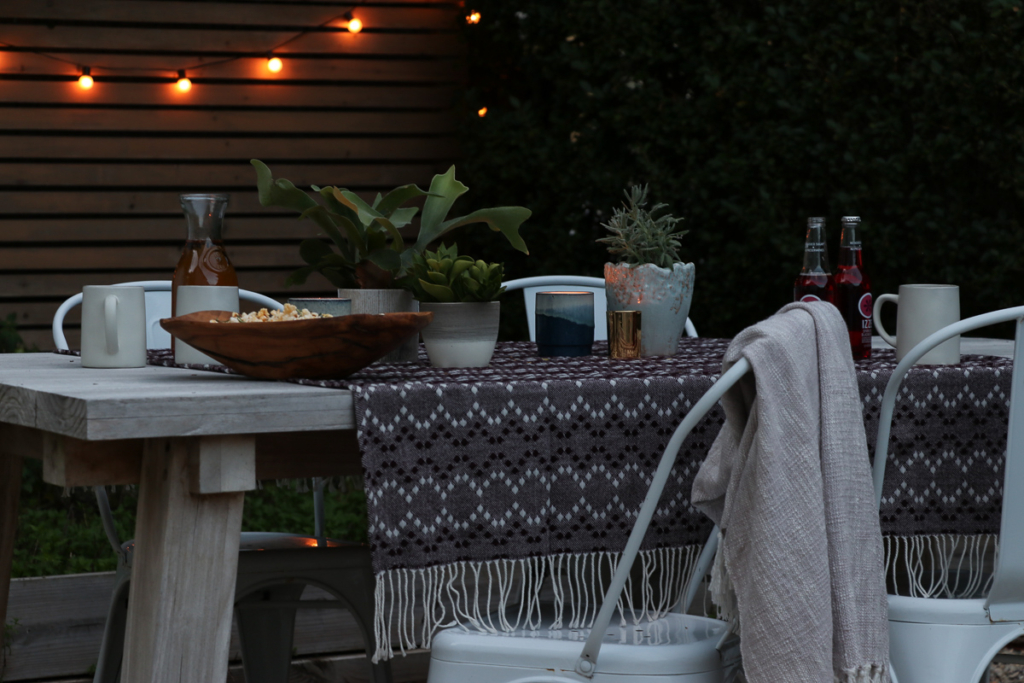 From there I had a start, I knew plum was my main color. I shopped my house with a big IKEA bag and brought everything outside. The key components in styling a table are height, scale, texture and color, especially in the fall. You can really get creative and experiment. I definitely did, see some shots below.
You want the items on the table to not just be pretty but serve a function for your gathering. Candles, food and drinks that say last minute, impromptu get together are my favorite. Hot or cold spiked cider, spritzers, popcorn, small desserts, crackers and cheese. For popcorn, I love drizzling warm butter, with Himalayan salt and rosemary. You could also do a variety of popcorn to make it fun.
Outdoor lights set the mood and adding blankets & throws gives your guests a layer of coziness when dusk comes with a chill.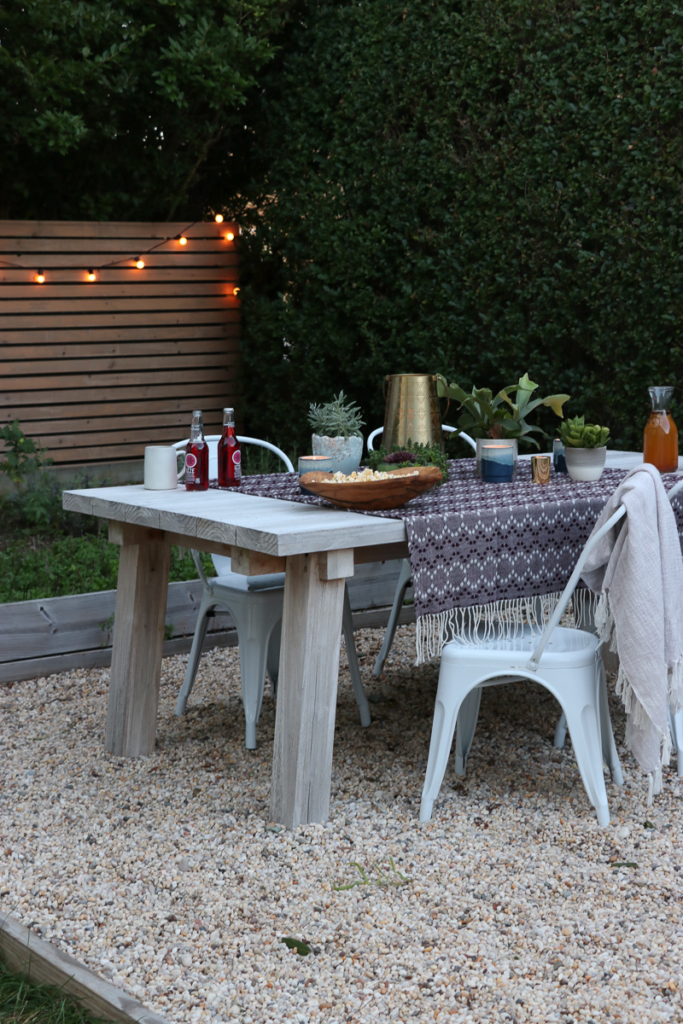 Forget traditional glasses in the fall and opt for a large mug instead. You can drink anything from a mug, ok maybe not champagne but everything else:). Anything with fringe or tassels are big this season.  Also, I almost forgot, add illumination and greenery whenever possible to your table, no matter the season.
Below, was round one of the session,  2 and 3 to follow, then 4 but that is the fun of it. I am a visual person so I need to see for myself in order to asses if I like it.
You can shop the post below…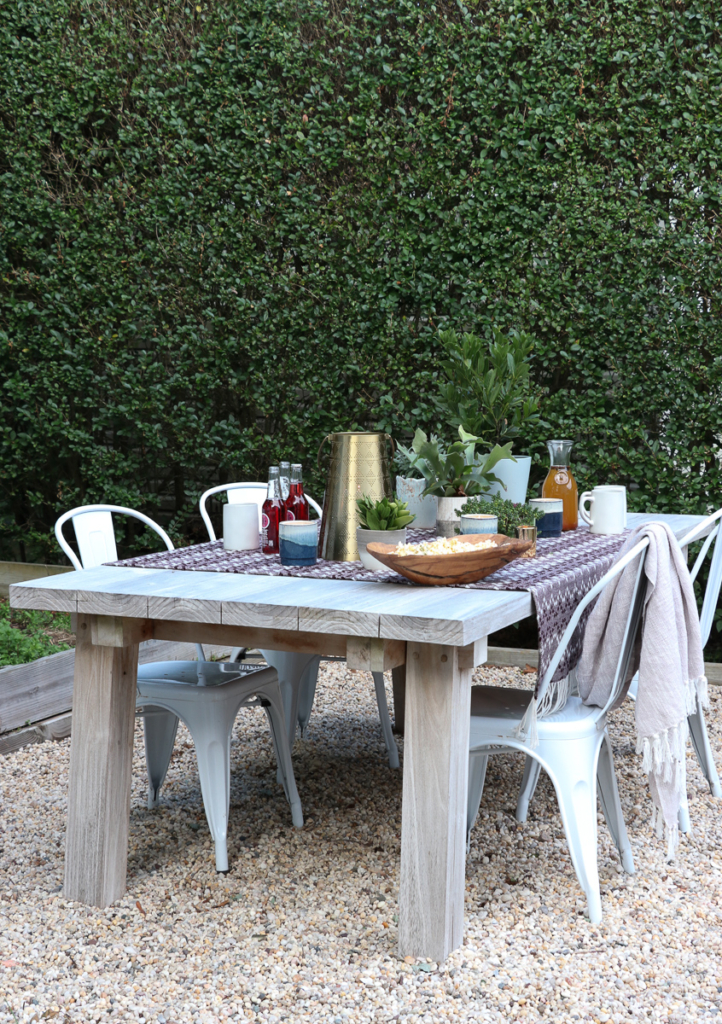 Umm…not quite, something doesn't feel right.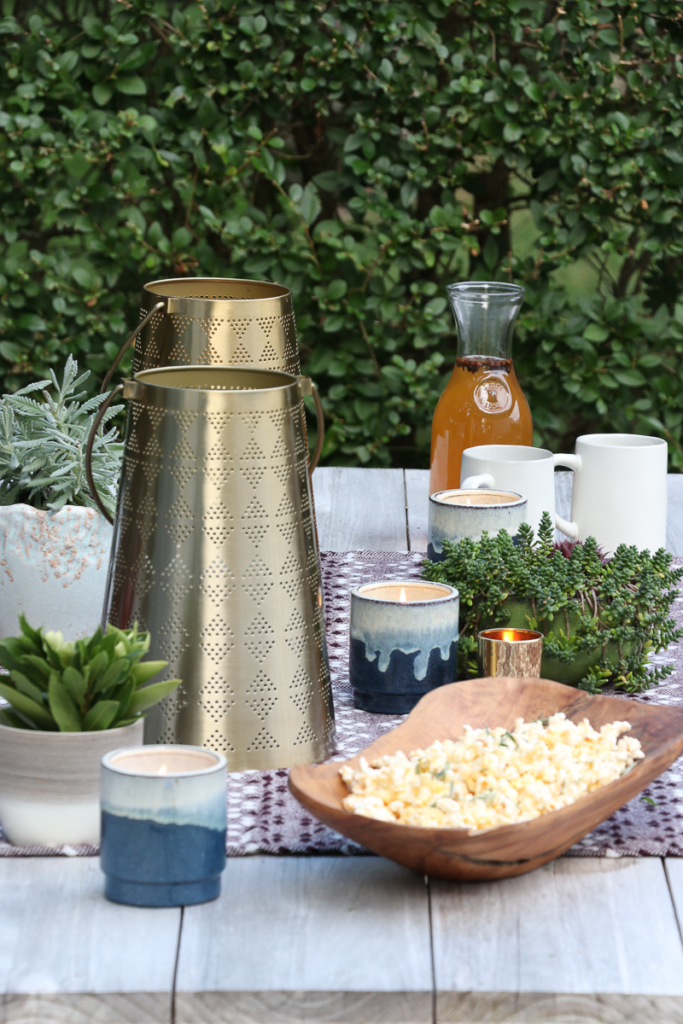 In theory I LOVE the double gold lanterns but not for this table.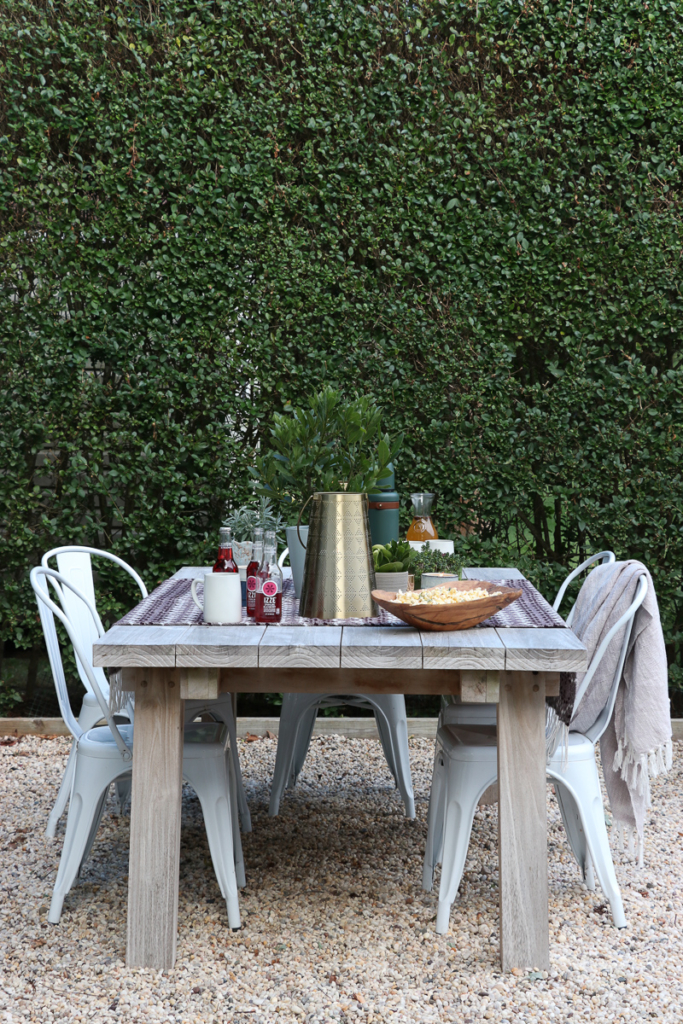 To finish the fall table tour series just click the links below….
Ella Claire & Co. | Dear Lillie | Zevy Joy | Rooms for Rent
Inspired by Charm | Craftberry Bush | Maison de Pax | Julie Blanner
The Handmade Farmhouse | French Country Cottage | My Sweet Savannah | Maison de Cinq
City Farmhouse | My 100 Year Old Home
Have a happy day friends!