Hi there friends! I am beyond excited to be sharing my first Christmas decorating post of the season!!! This collaboration is with Home Goods (yay!!!) and 18 incredible bloggers as a part of the Seasons of Home Holiday Décor Series hosted by Ella Claire. Today we are sharing our family rooms, the heart of our homes. My color palette of choice for this year is a little unconventional but none the less, I LOVE it!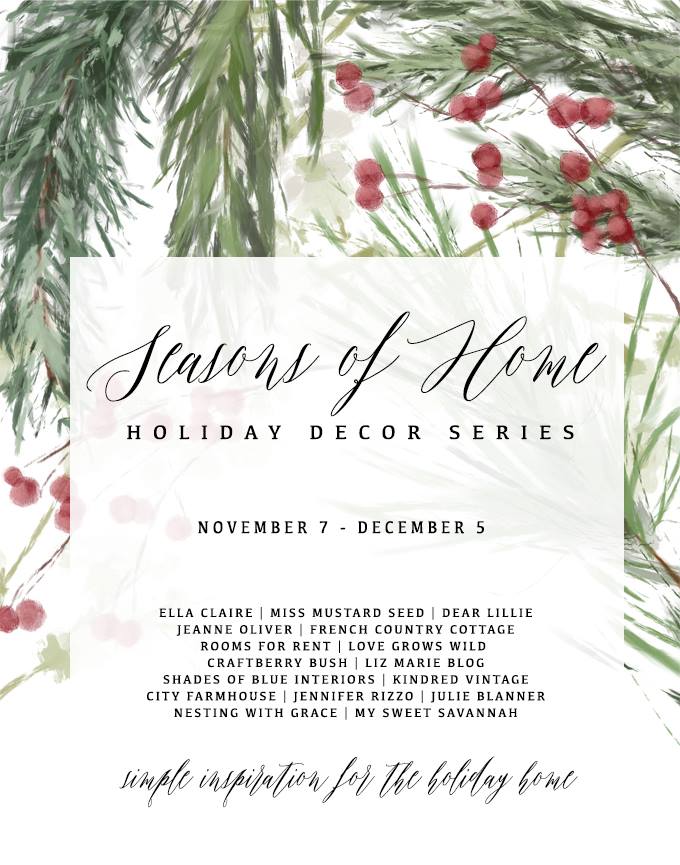 Welcome to my navy + blush inspired holiday family room….
My absolute favorite place to shop during the holidays is Home Goods. The quality, price and selection you can't beat anywhere else.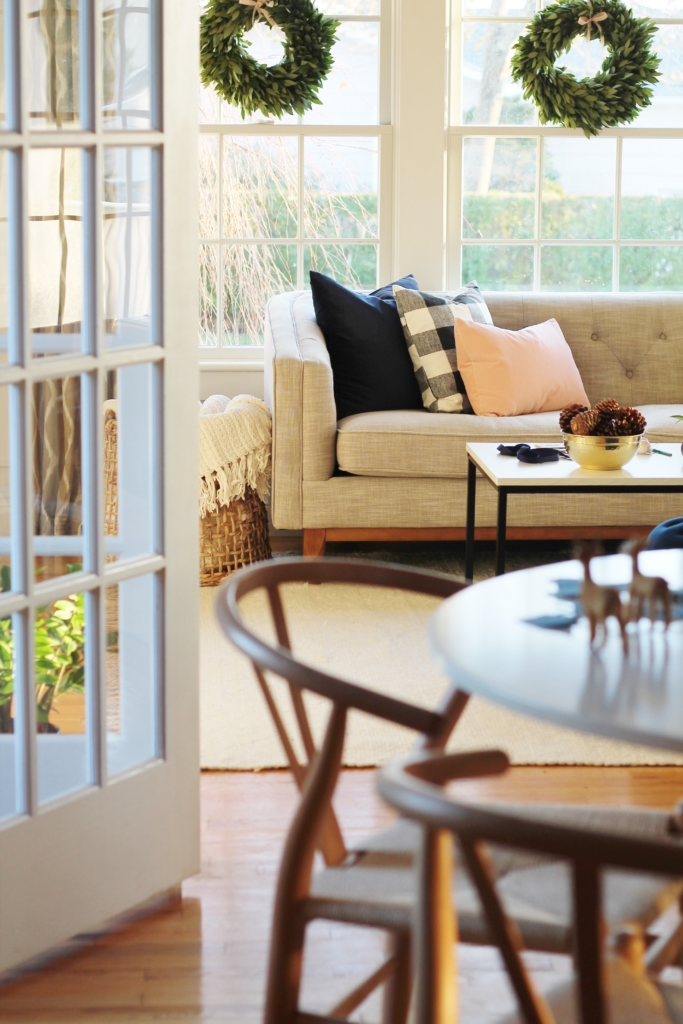 I decided to have a little fun with the accessories and pillows & mix and match. I wanted it to feel layered and cozy. I also wanted it to feel Christmassy with a casual vibe.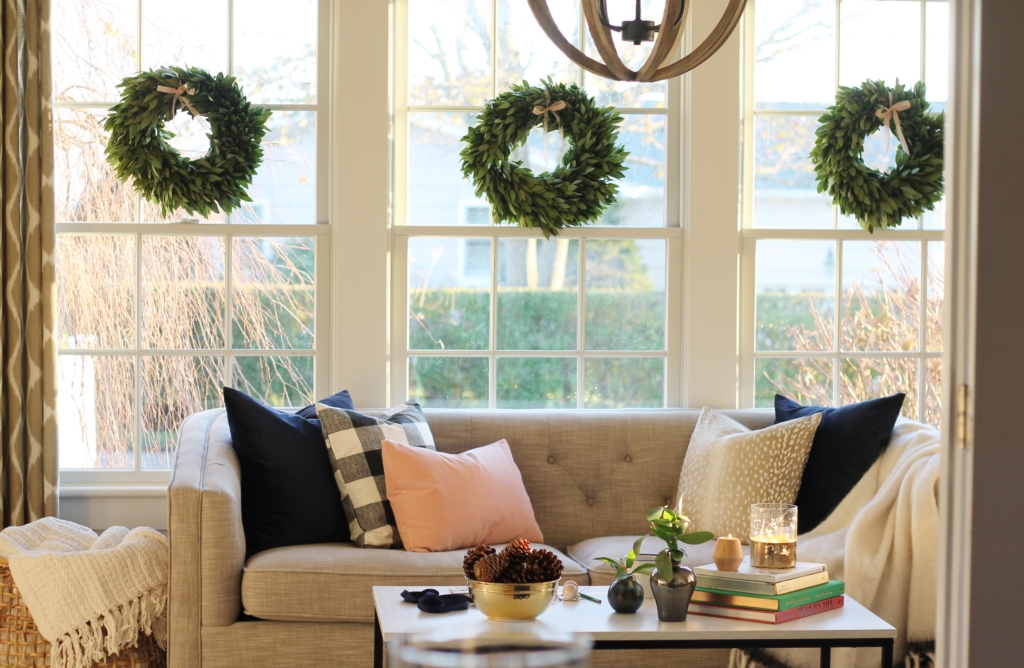 My rule of thumb is to balance the holiday themed accessories so that I can transition into winter décor without having to put everything away come beginning of January.
This space is the most beautiful in the early morning and at dusk when the sunlight comes poring in the porch windows. Most of these images are taken at dusk, I wanted you to capture the cozy and warm feeling this time of day brings.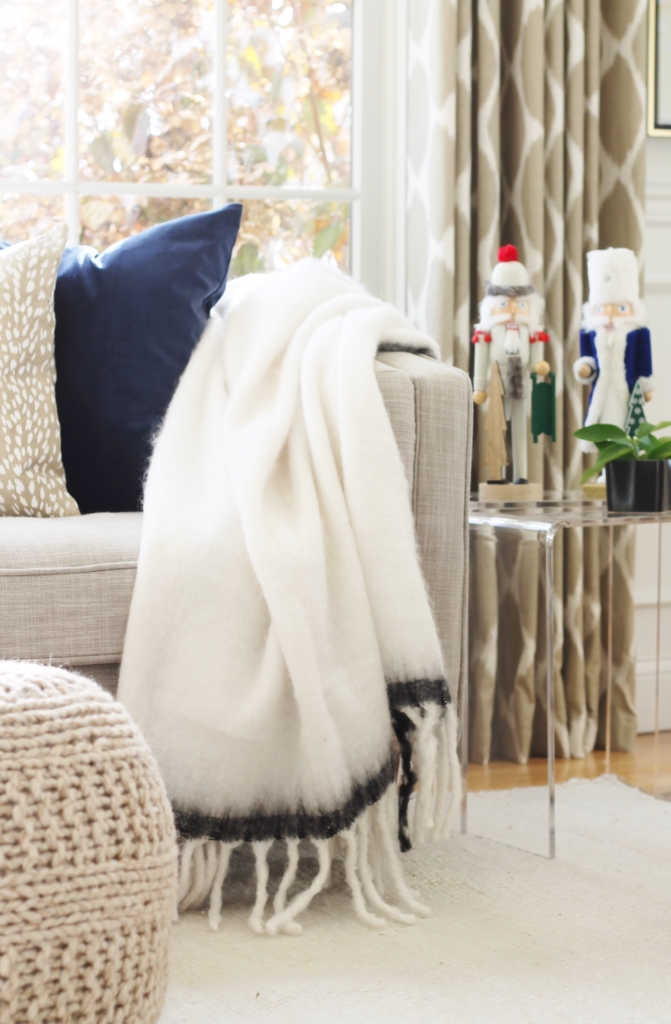 The throw is absolutely yummy! When I saw it on the hanger at Home Goods I knew it had to be mine:).
I used velvet, faux deer print (it's cotton), buffalo check, knit, wool and faux fur to strike the right balance of texture. When decorating for the holidays be sure to mix your textures, it will feel way more cozy and stylish too.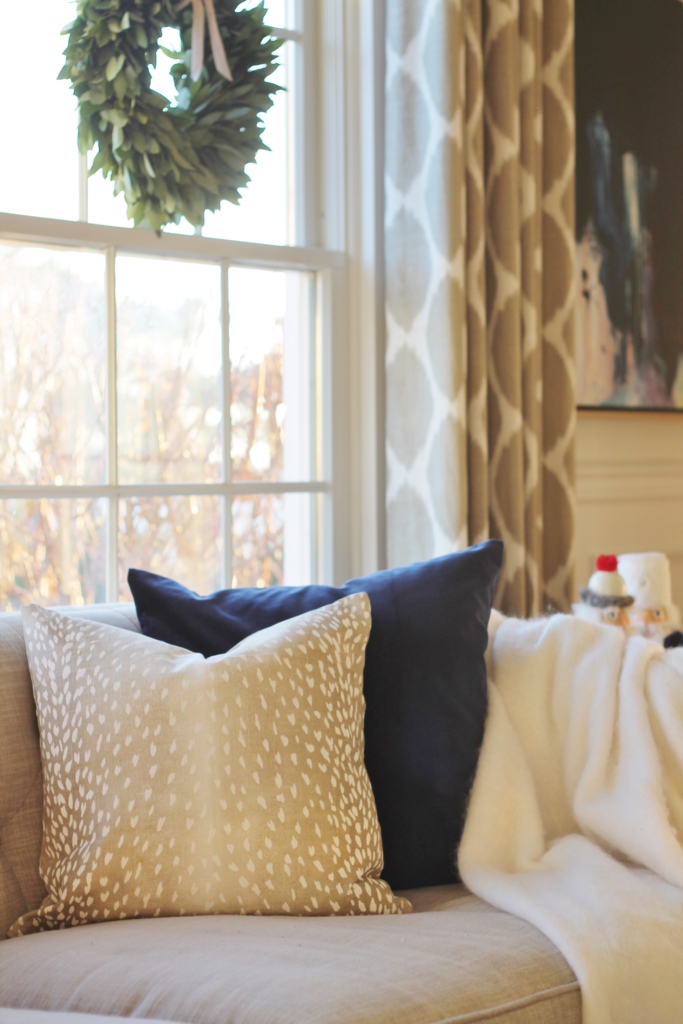 The gorgeous stool from Home Goods, looks amazing with the art and rich hues around the room. What a score!!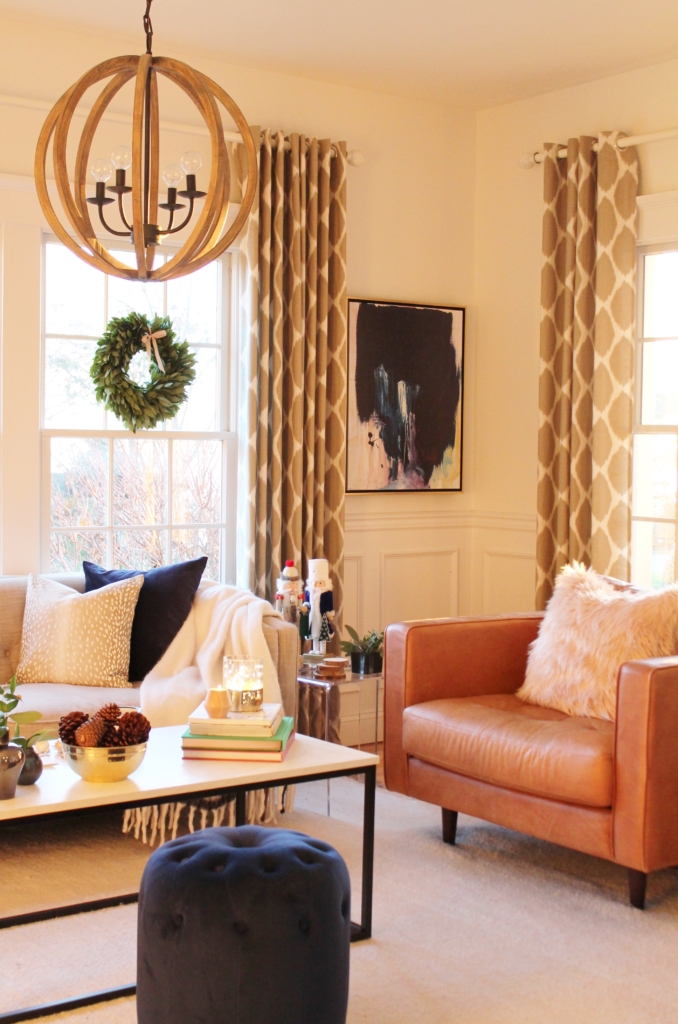 The bay wreaths smell incredible! I tied them with a beautiful blush grosgrain ribbon I found at HG. I will be doing a wreath giveaway on my Instagram later this week, be sure to follow me.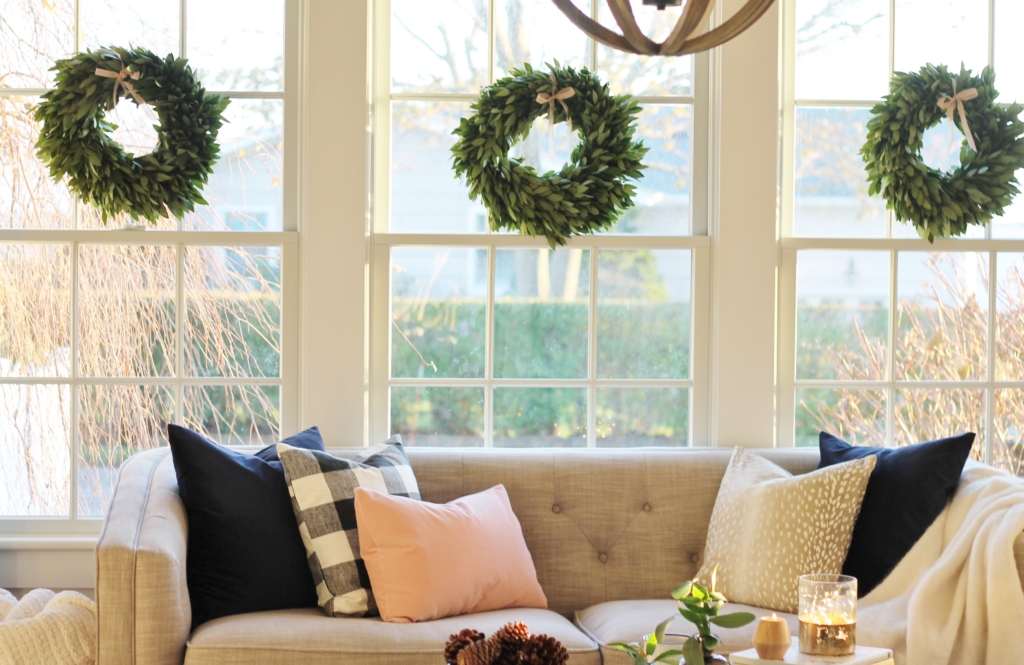 The faux fur blush pillow is also from HG. Every holiday space needs a little faux fur, right?!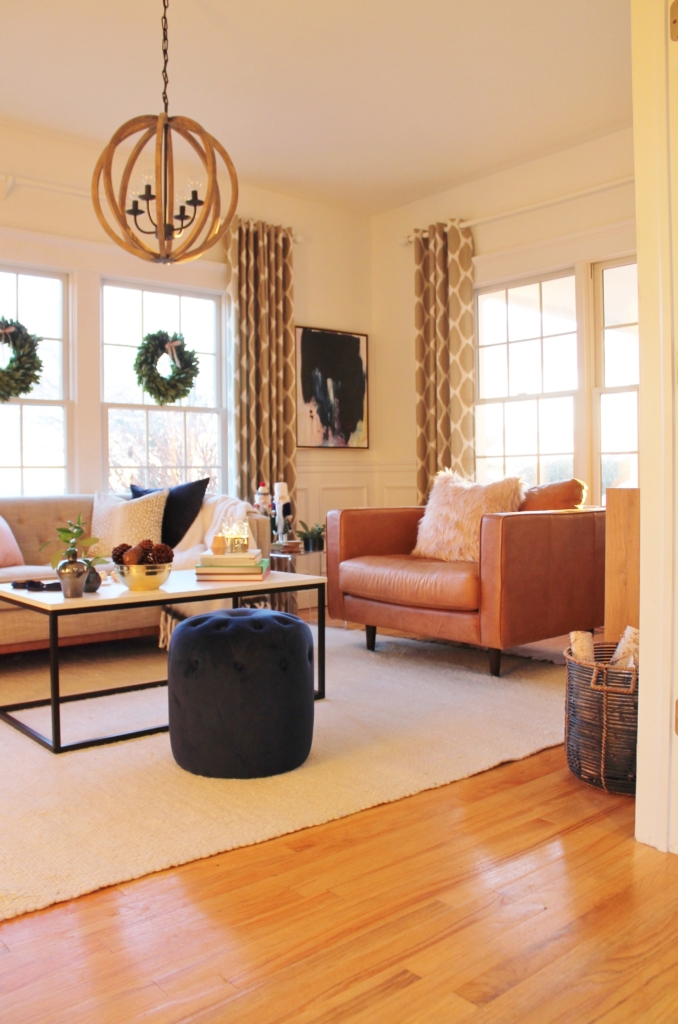 All of the coffee table accessories can also be found at Home Goods.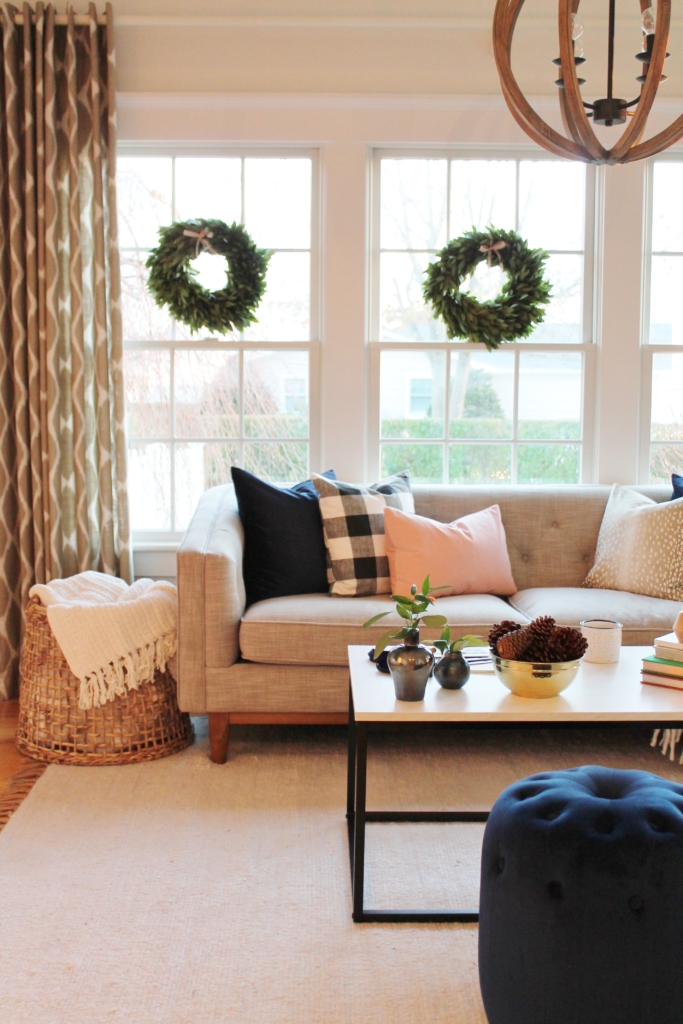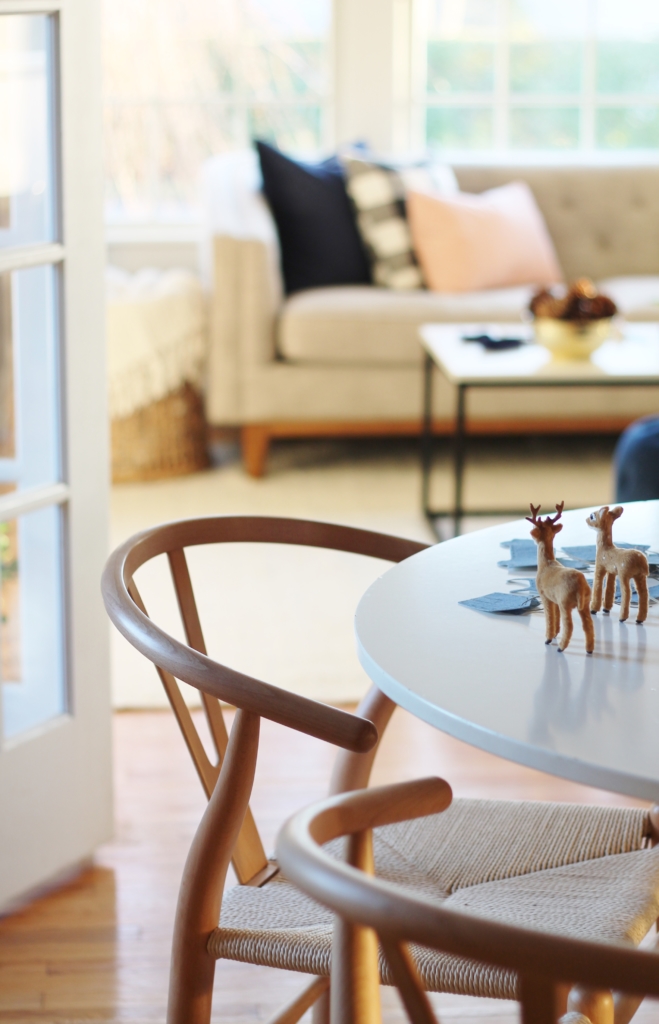 You can see who also likes this room. He has the perfect view.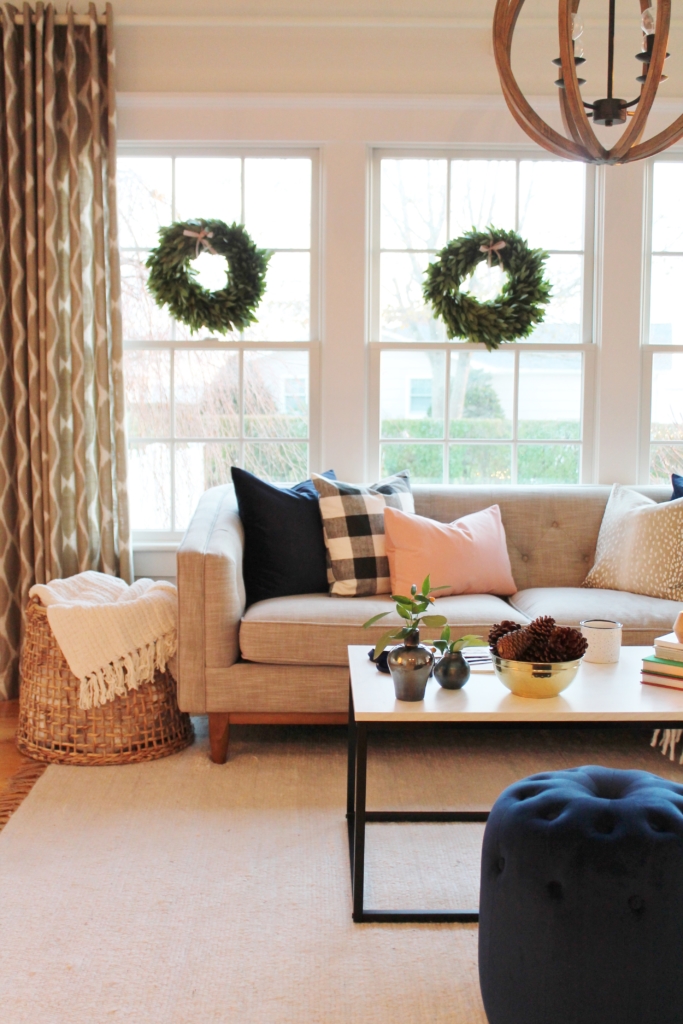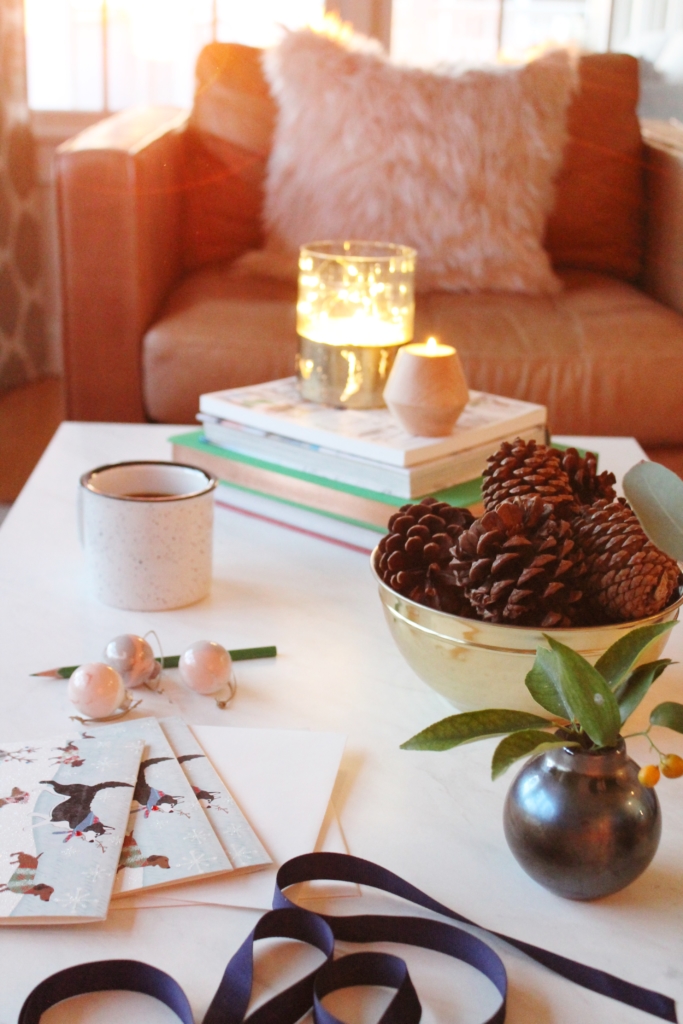 The built ins are fun to decorate for the holidays as well.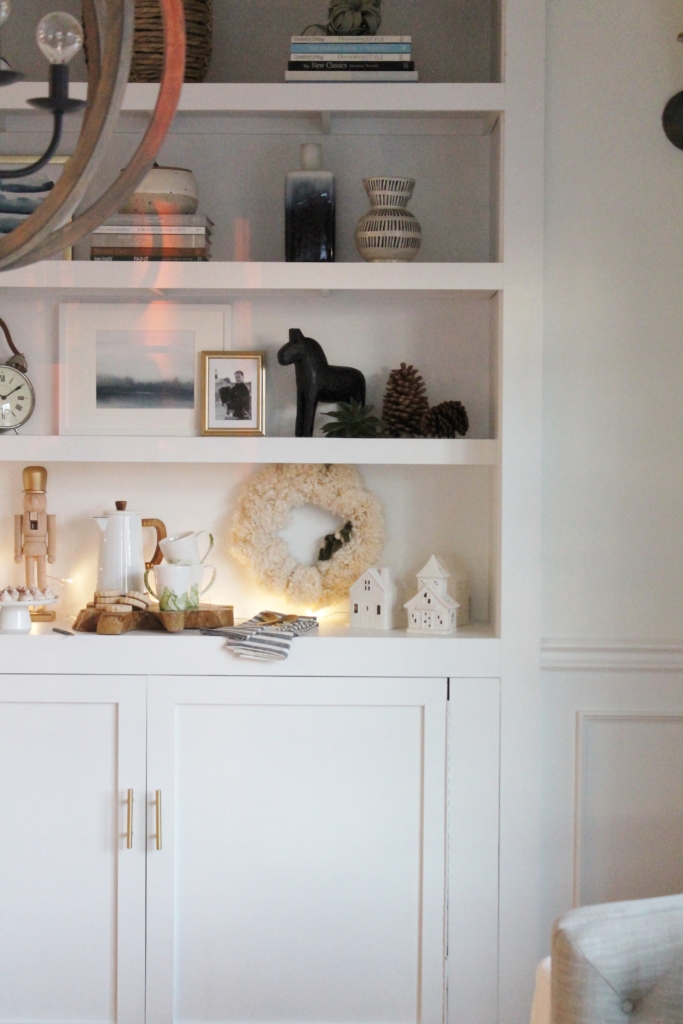 Home Goods makes it easy to find stylish and affordable items to create a festive vignette.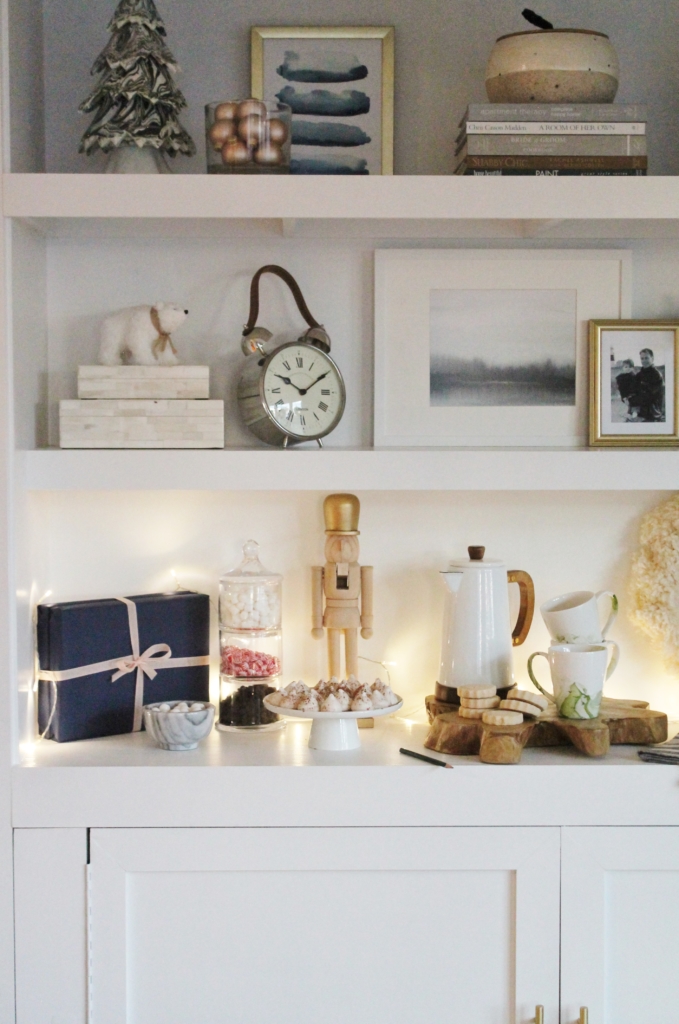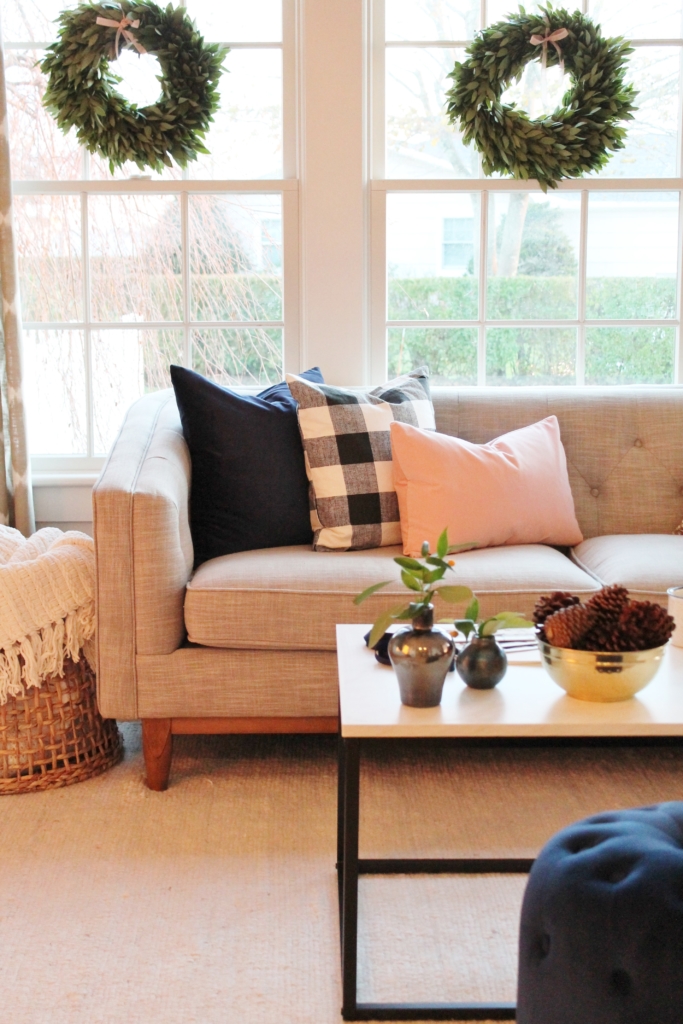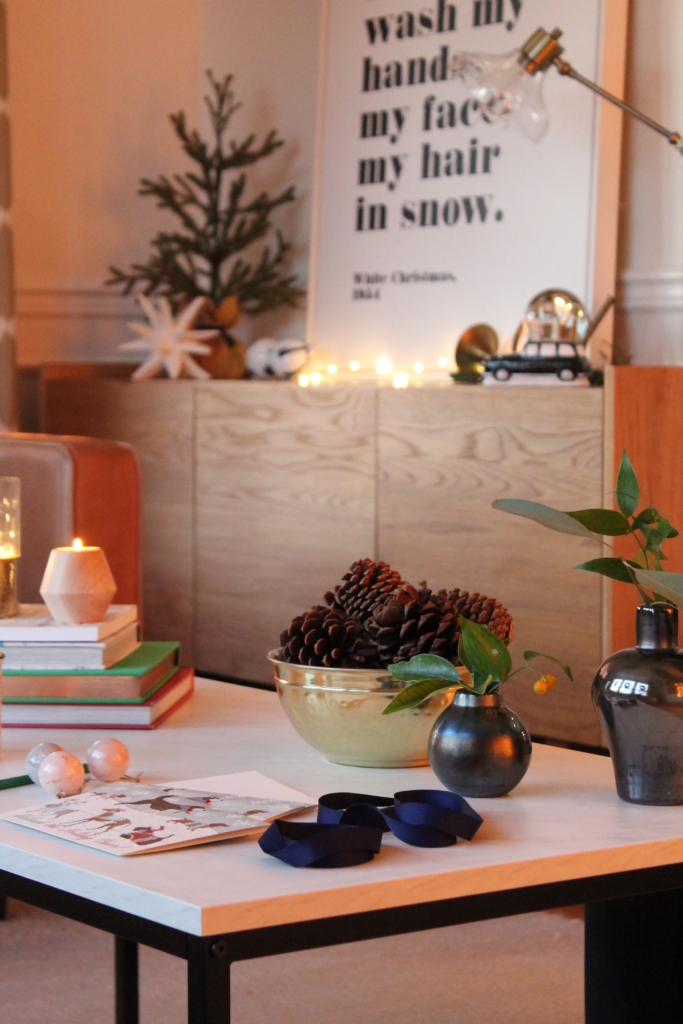 The black horse, frames, village houses, nutcracker, mugs, cutting board and cocoa bar accessories are all from Home Goods.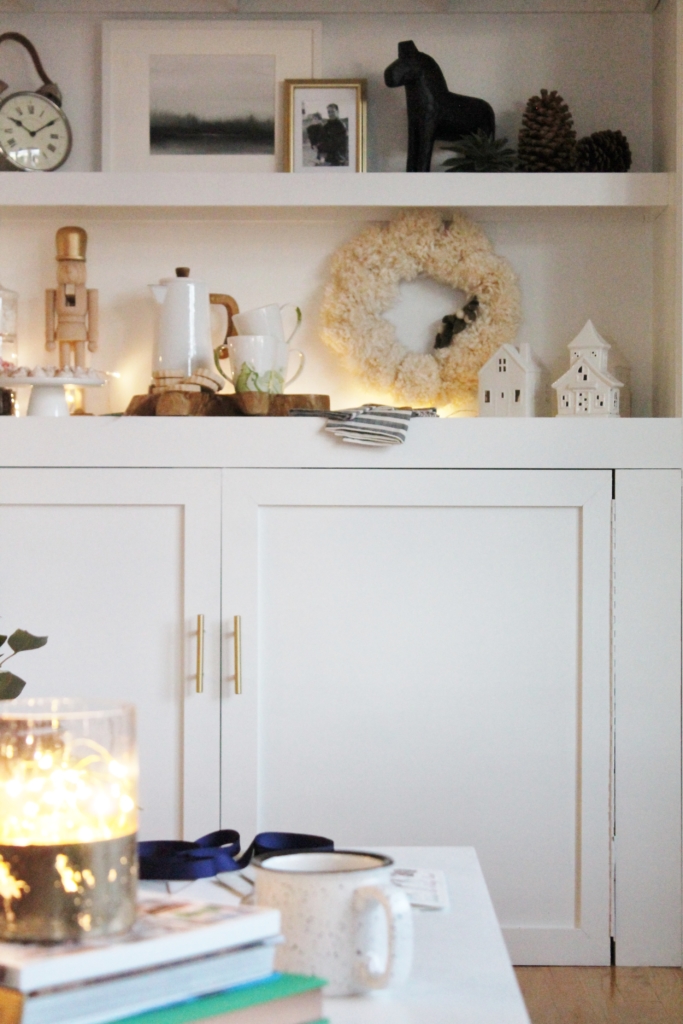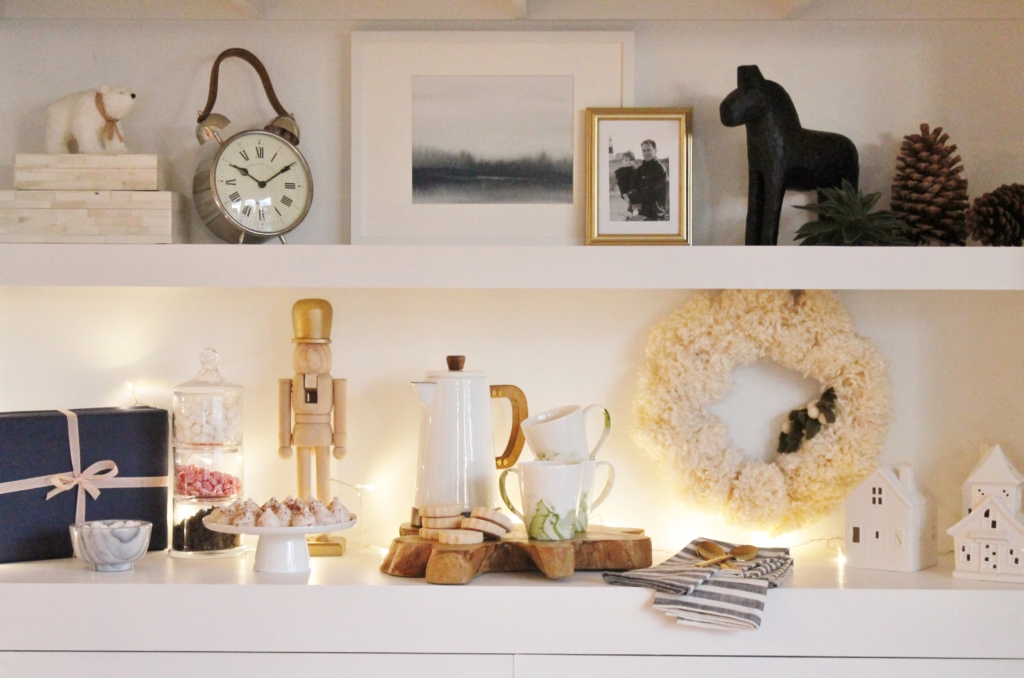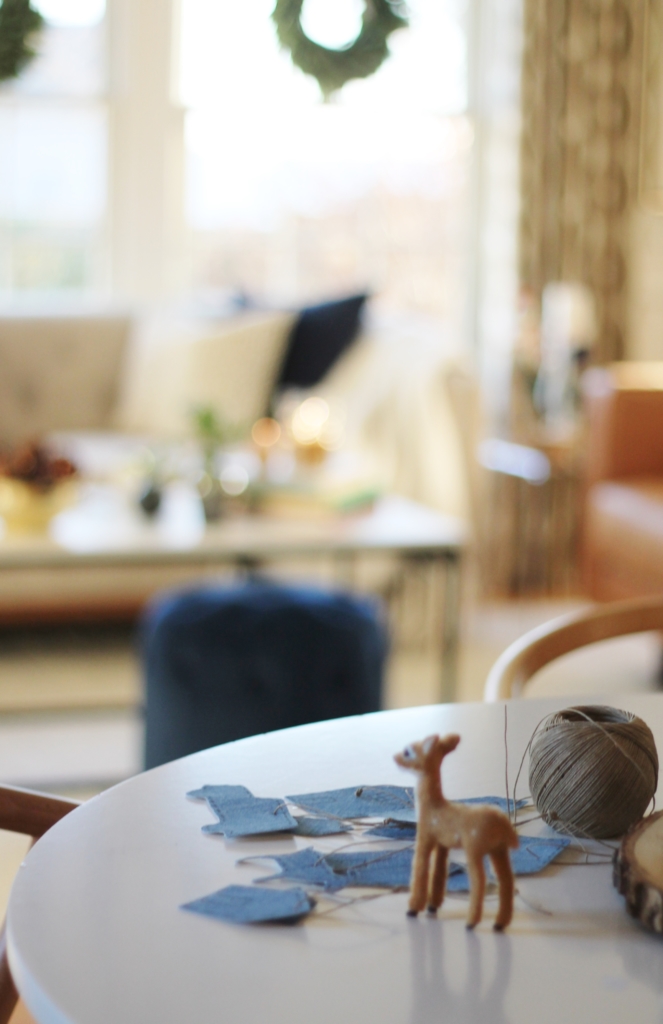 The nutcrackers were such an incredible find, also from HG. They give height, texture and add to the playful vibe of the space.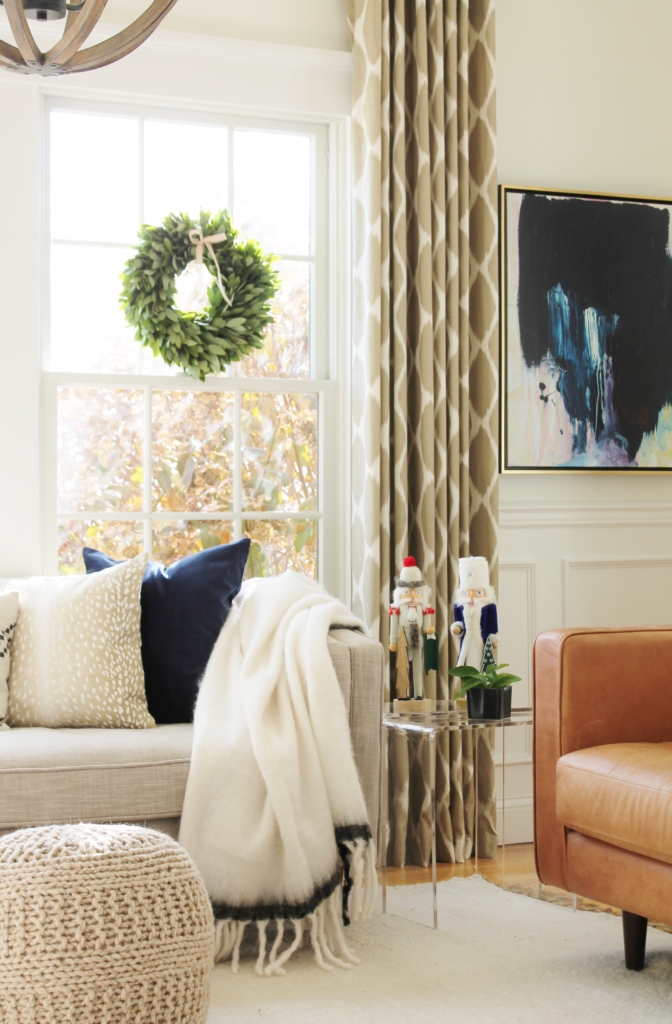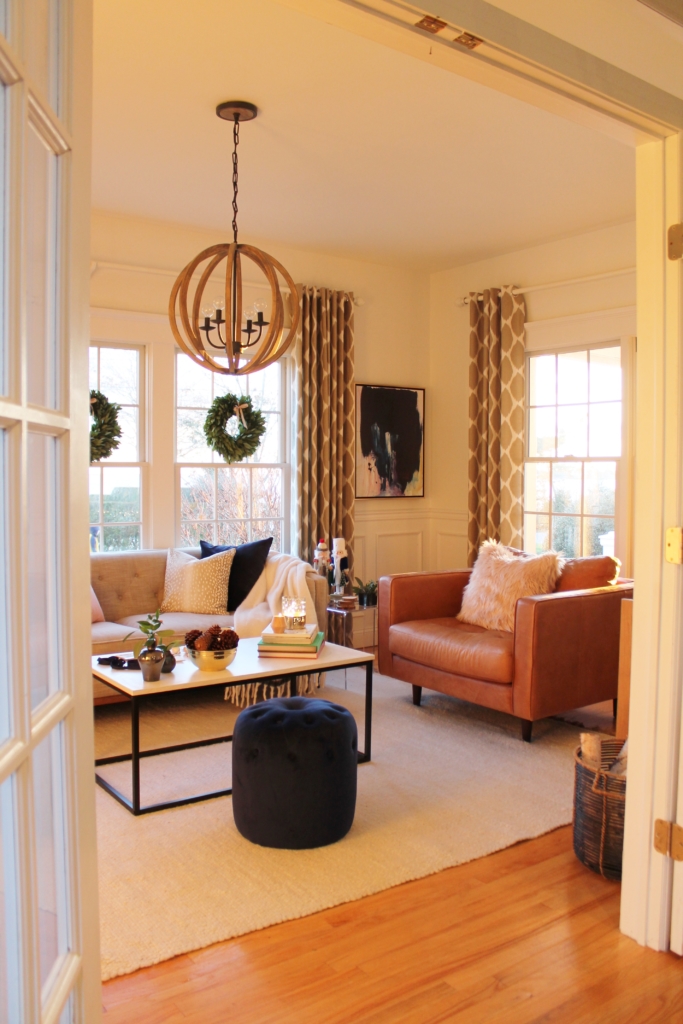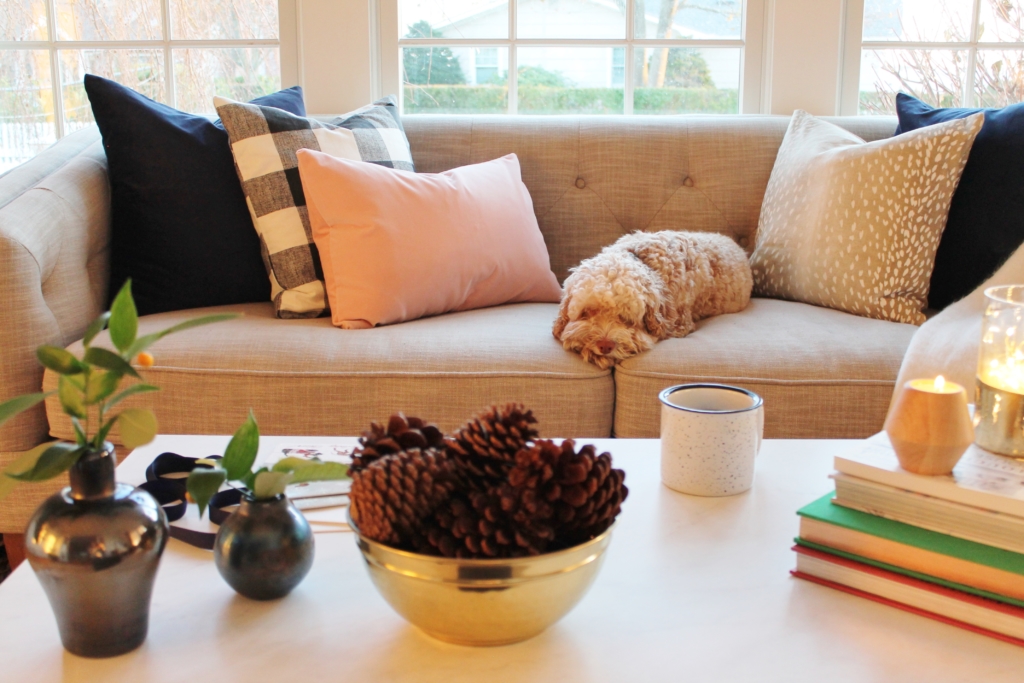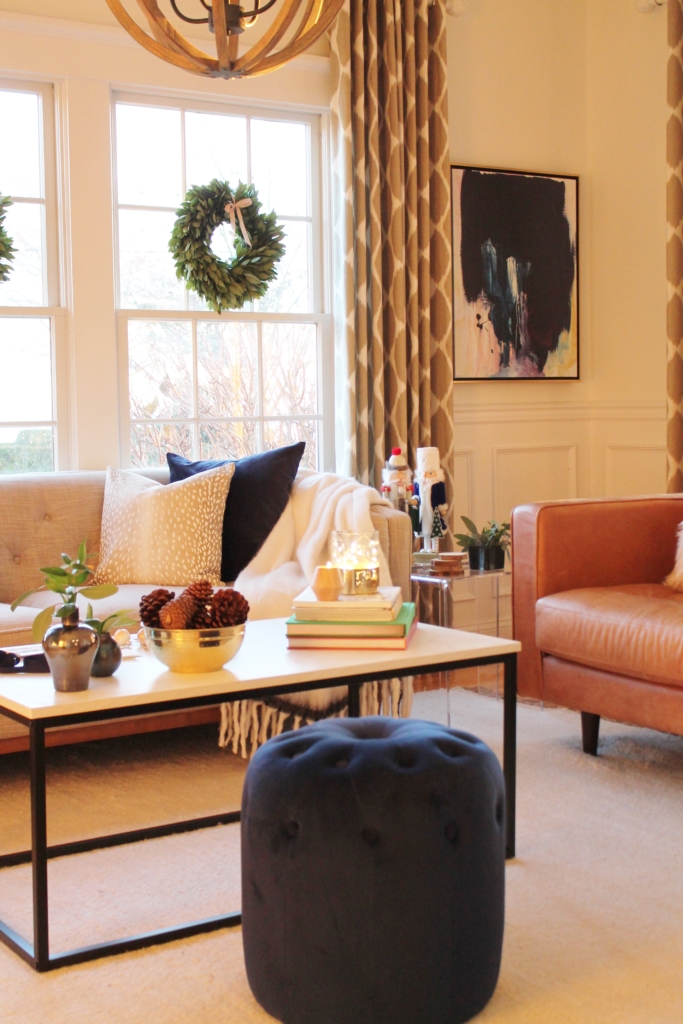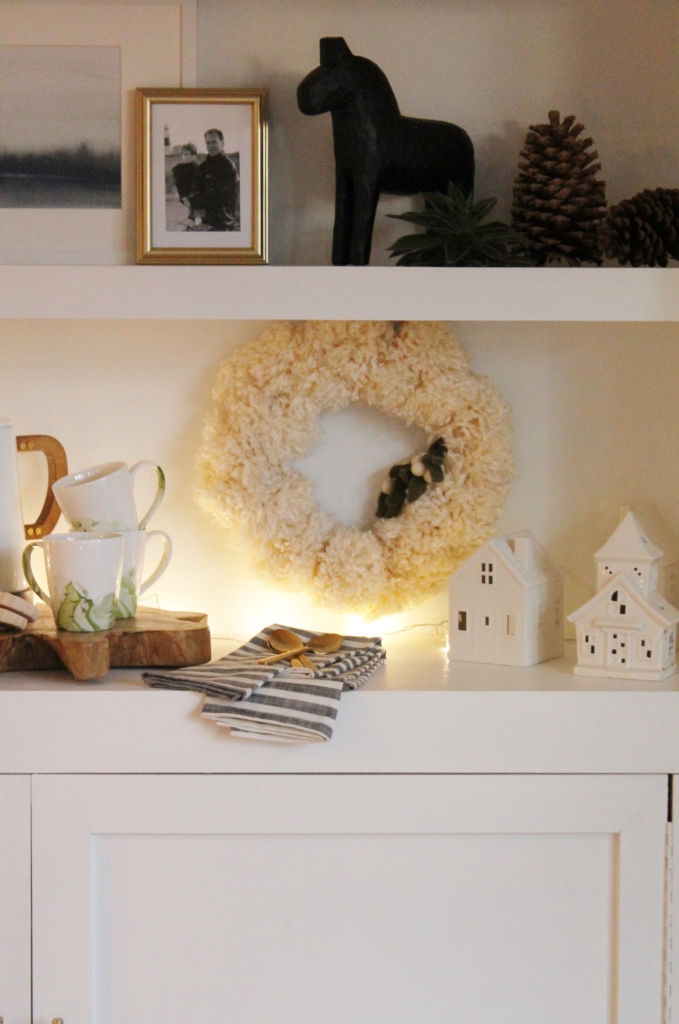 A new coffee table makes way more sense for the space. Before I had a small round one that wasn't conducive to Jack's Lego building. Now he has plenty of room to build and play games.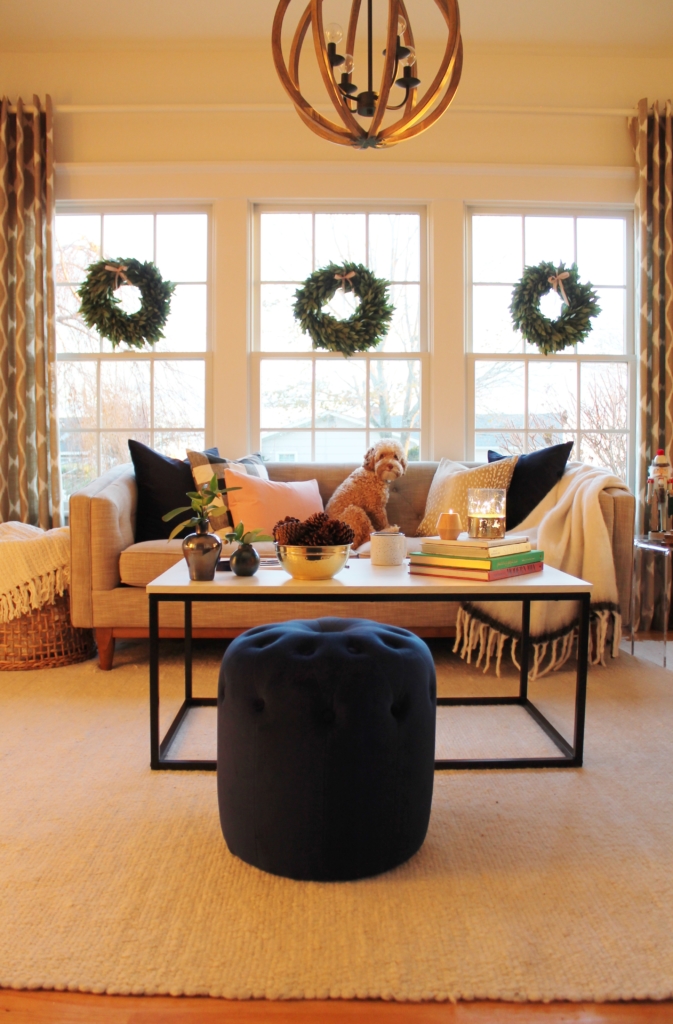 In place of a tree I decided to use string lights to give a magical touch. Shane & Jack turn these on at night and just hang out in here. My goal was to make it a place that felt special to them and not just pretty.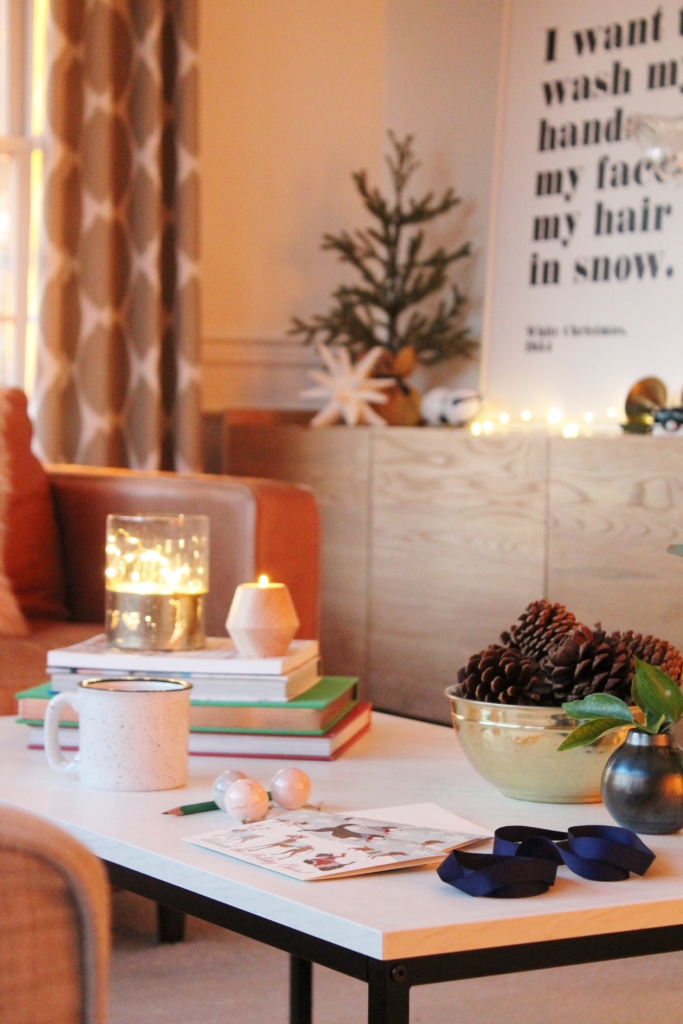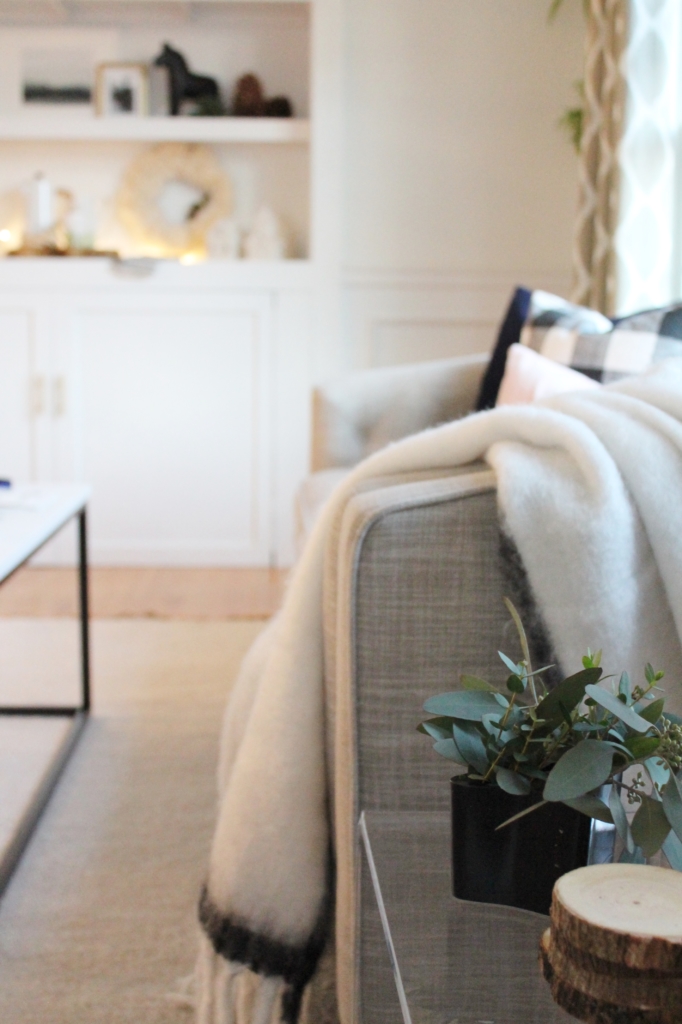 You can see when the sunlight pours in, it feels so warm & inviting.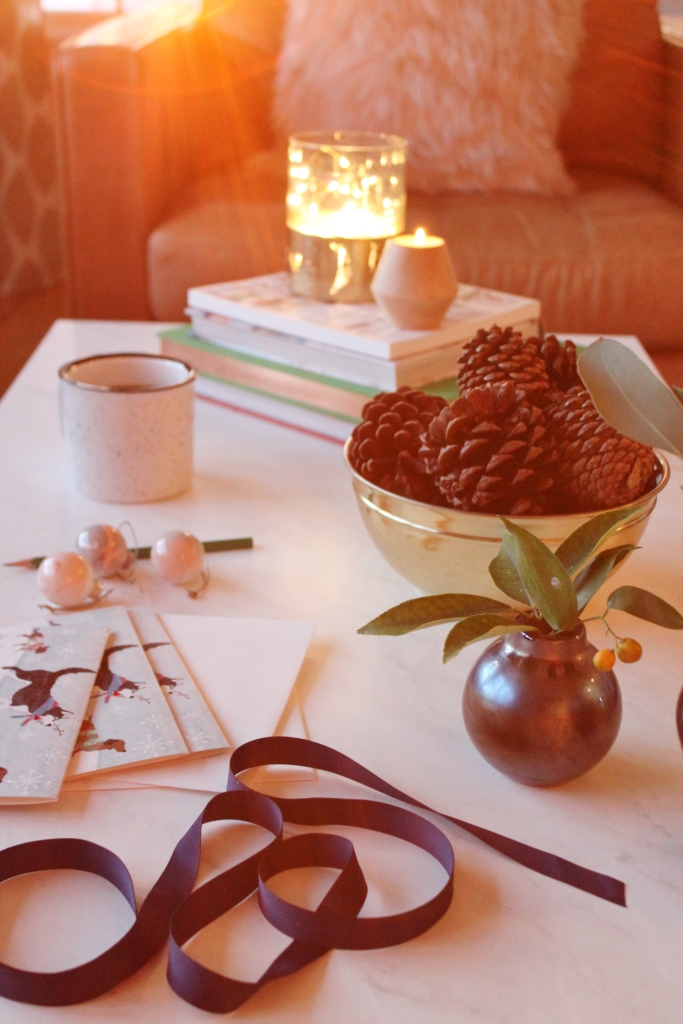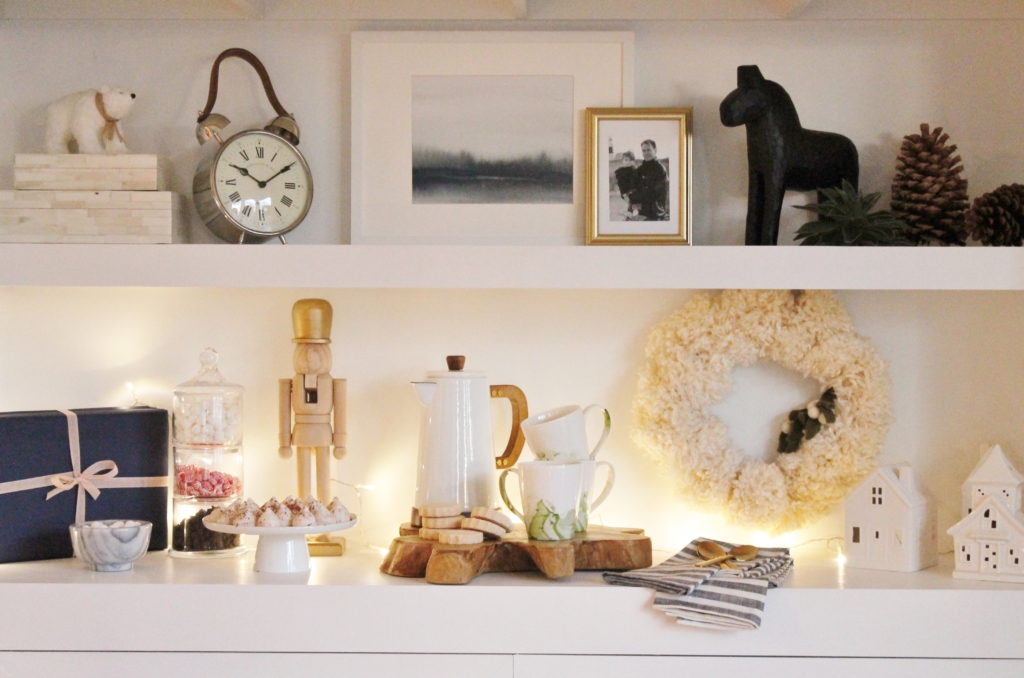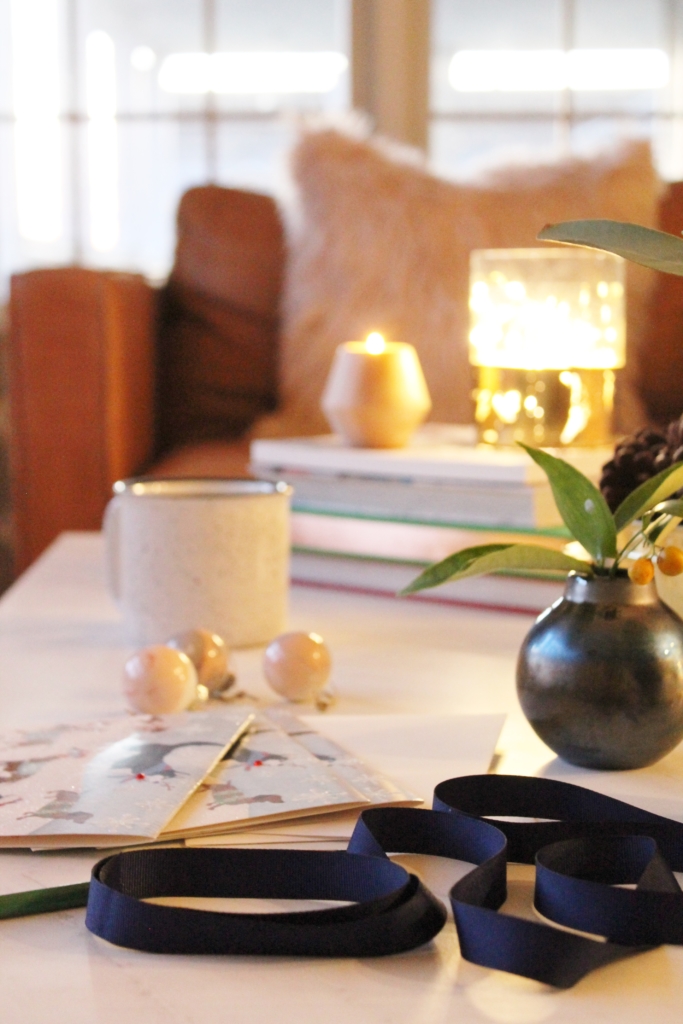 You can see why he likes this spot:)! Me too!!!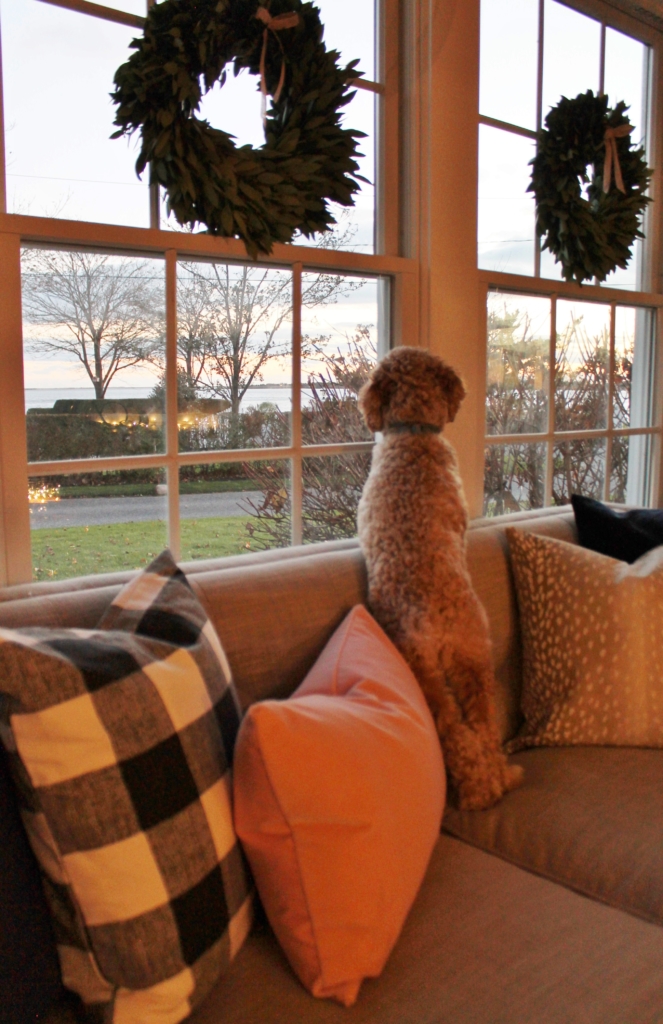 Just in case you were wondering..
Sofa + Chair-Article
Rug-Birch Lane
Abstract Art-Lindsay Letters
Coffee Table-Joss & Main
Acrylic Nesting Tables-Cost Plus World Market
Grid Basket + Console-Article
Curtains-West Elm
Nutcrackers-Home Goods
Velvet Pouf-Home Goods
Navy Pillows-H & M
Blush Velvet & Antelope Pillows-Willa Skye
Bay Leaf Wreaths–Mc Fadden Farm
Built-in Accessories-Home Goods
You are going to love these tours, get comfy and enjoy!!!

Ella Claire  |  Rooms for Rent  |  Shades of Blue Interiors  |  Love Grows Wild
French Country Cottage  |  City Farmhouse  |  Kindred Vintage  |  Jeanne Oliver
Jennifer Rizzo  |  Craftberry Bush  |  Miss Mustard Seed  |  My Sweet Savannah
Nesting with Grace  |  Dear Lillie  |  Julie Blanner  |  Liz Marie Blog
And our featured guest, Thistlewood Farms
Have a happy day & be sure to tune in tomorrow for my Rachael Ray segment!