Sydney's Teen Room Makeover Preview With Sherwin-Williams + PB Teen
Hi there friends! I have been holding onto a project that is near & dear to my heart and today I get to share it!!! I am so excited, you have no idea! I have partnered with Sherwin-Williams and PB Teen to give my friend Sydney a teen room makeover for National Painting Week which begins May 19th.
Today I get to show you peeks into the space, the befores, progress and share a little about Sydney's story. The full reveal will be on May 19th, mark your calendars, you will not want to miss this!!! This makeover is to celebrate National Painting Week (NPW) hosted by Sherwin-Williams. NPW is a 10 day event where SW employees volunteer their time and expertise to revitalize spaces across the US & Canada.  But we can't do this with out your help. From now until May 18th Sherwin-Williams is running a campaign called Donate Your Color and we are inviting you to get involved. Hence, that is why my blog has no color today. I am donating the color from my blog, which means that 5,000 square feet of paint will be donated to a community in need. Pretty cool right?! There are 3 ways to donate your online color, you can donate the color from a picture, your browser or donate all the color from your site. Every bit counts, I encourage you to head on over to Donate Your Color for more details.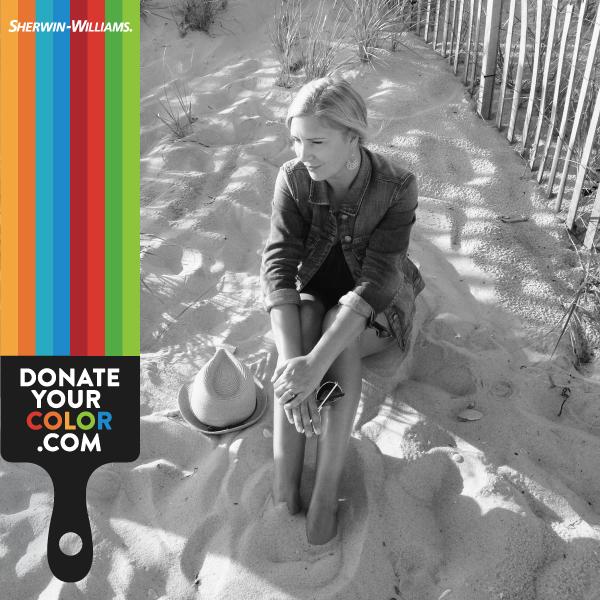 I would like to introduce you to Sydney. She is by far one of the bravest people I know. In July of 2014 she was diagnosed with Stage 3 Non-Hodgkin's Lymphoma, she went through 5 months of intense week long chemotherapy at Sloan Kettering Cancer Center in NYC. She stayed with her mom at the Ronald McDonald house during the week and her dad commuted back & forth so he could be home for her 2 brothers. She finished the treatment in December of 2014 and has been in remission since. To be able to do this for Sydney was such a joy for me. She was my son's very first friend in Kindergarten when we moved to our area and they played soccer together on my husband's very first team. Our community rallied behind her and her family as they went through this very difficult time. This is why I was SO honored to be able to create a space for her to enjoy her teens years to come. And the icing on the cake is that she absolutely loves her new room!
This is a beautiful picture of Sydney getting back on the field the fall after her treatment ended.
And this is a recent picture of her…
These are the befores, it was Sydney's brother's room, they moved rooms around to be able to give this room to her.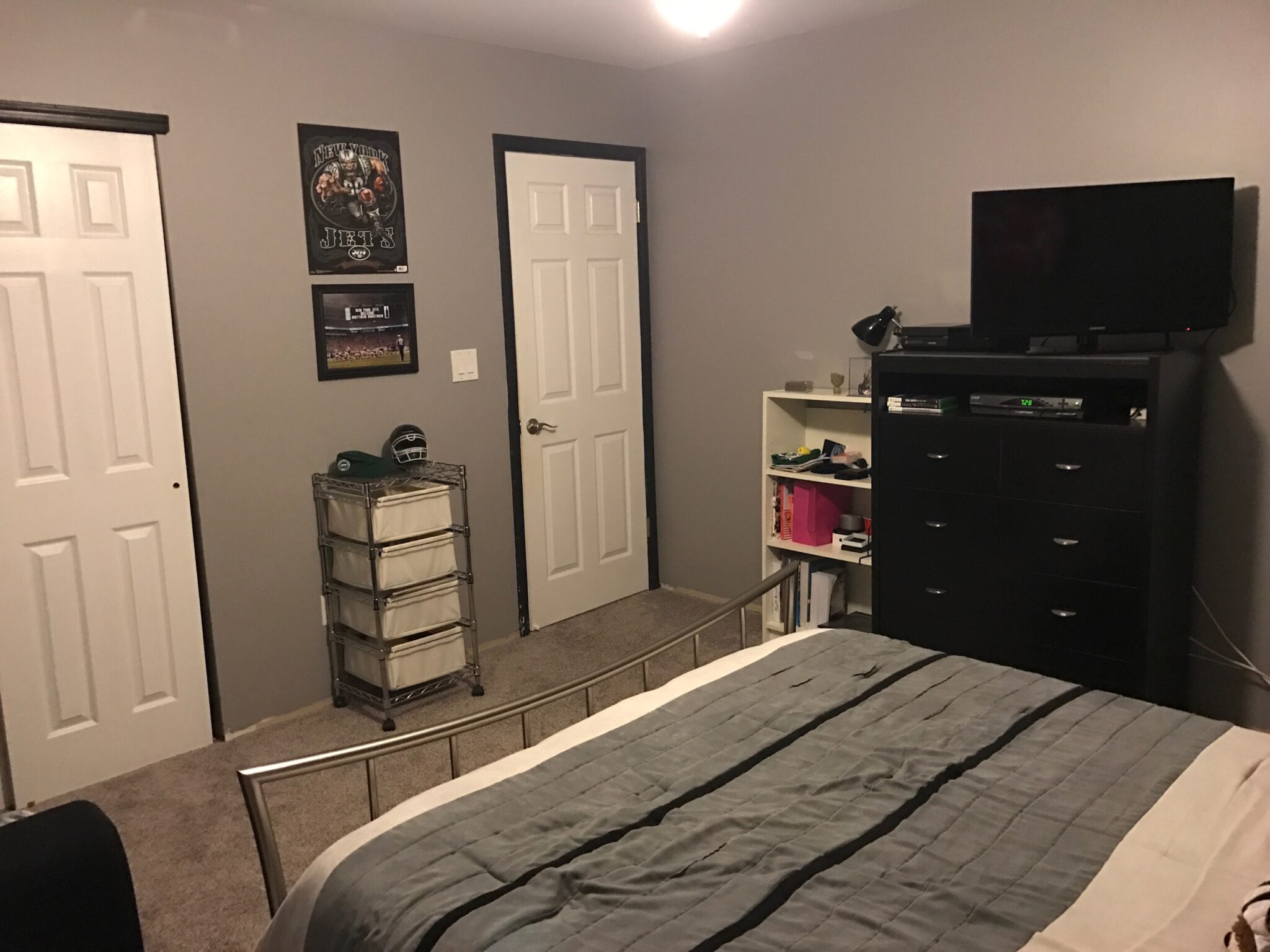 This is the color I chose, it's called Sherwin-Williams Silver Peony  SW 6547, with batten board painted Pure White SW 7005 on the bottom.

The walls were primed first, then painted.
It was important to keep the walls light, so that the room remained bright and happy at all times of the day.
These are just a few items we ordered for her room from PB Teen. We mixed lilac with chambray and added some fun prints that reflected Sydney's playful personality.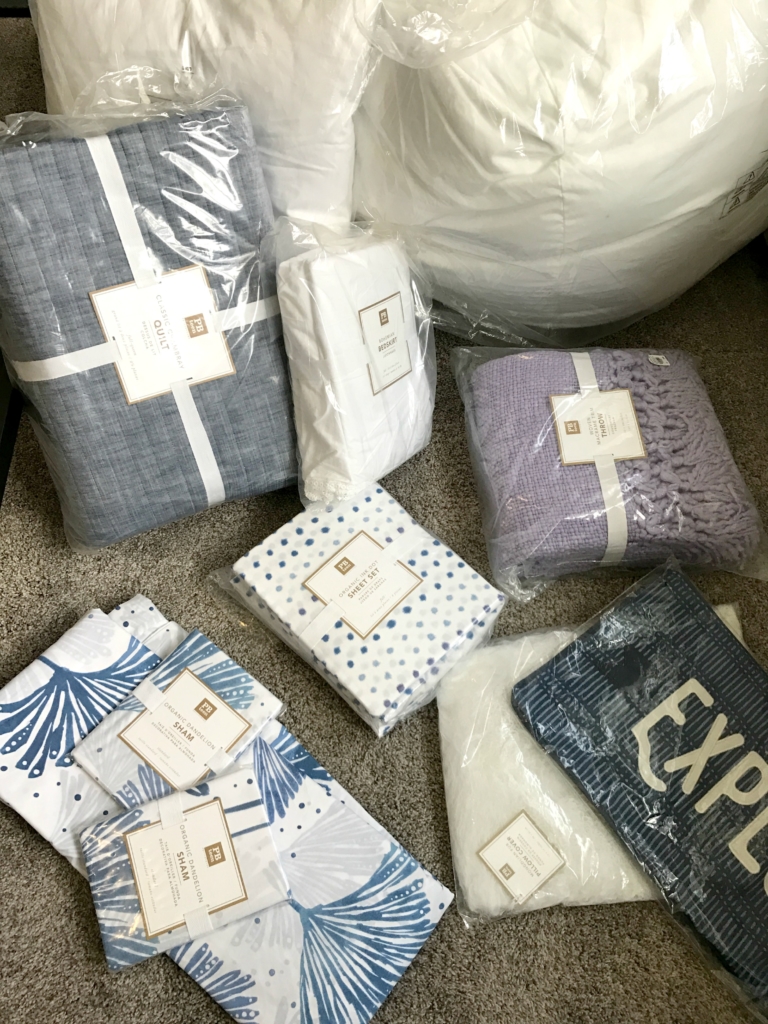 What we did…
We gave the walls a happy, girly lift with Silver Peony SW 6547 on top and Pure White SW 7005 batten board on the bottom, added a new dresser, canopy bed, nightstand and desk for her to do her homework. We gave the walls some interest with fun dimensional art and prints. We changed the light fixture, added softness to the windows, gave her all new bedding, we also created a fun area on the floor for her to chill and relax.
I hope you enjoyed these few peeks, I cant wait to show you EVERYTHING, remember May 19th!! Be sure to head on over to Donate Your Color for details on how you can help raise paint for a community in need.
Have a happy day friends!