Small Space, Big Impact: The Right Furnishings Make A Difference
Hi there friends! I am back to share more about the Better Homes & Gardens makeover I revealed a few weeks ago, which is also in the October issue. This home was a privilege to makeover, I grew so fond of the homeowner Karen, her grandson Liam and the entire crew including Robert & his wife Catherine from Rebuilding Together. There was such a strong connection to this family and the people I worked with that I knew I had to get this right.
First I want to say thank you!!! I couldn't have done any of this without the amazing donations of all the incredible sponsors. You can find the FULL story along with the contributors HERE. Right out of the gate I turned to Article for the living room sofa & chair. The house is a mid-century modern style ranch, so I thought a modern coastal vibe would be fitting since we live near the water.
Article is an original modern furniture brand, re-engineering the shopping experience at an extraordinary value. I have worked with them before and have 3 of their pieces, they bring quality, comfort at great prices. They also offer a flat shipping rate of larger pieces of $49, which is amazing!!!
Karen's space was small but I knew we could give her high impact with the right furnishings. Her overall dining room, living room and entry was 10′ x 28′, long and slender with tons of windows lining one side, which I loved. The idea was to keep the pieces low, so visually the space would have flow and feel bigger. Finding comfort and family friendly upholstery was also key.
I went with the Sven Charme Tan, a buttery, full-grain leather sofa that brings comfort with it's single tufted benchseat. I also chose the Burrard Seasalt Gray armchair, I was drawn to its clean lines, textured fabric and tapered legs, the depth and cushions give added comfort for lounging.
Are you ready for some more incredible before & afters?
Before shot looking towards Karen's front door….
After, looking the same direction…
Another detail I love about this sofa is the hue, it's perfection! It acts as a neutral so you can pair it with any palette. Also, I have this sofa in a chair and it's so easy to clean. This will be very helpful for Karen as Liam is just 4:).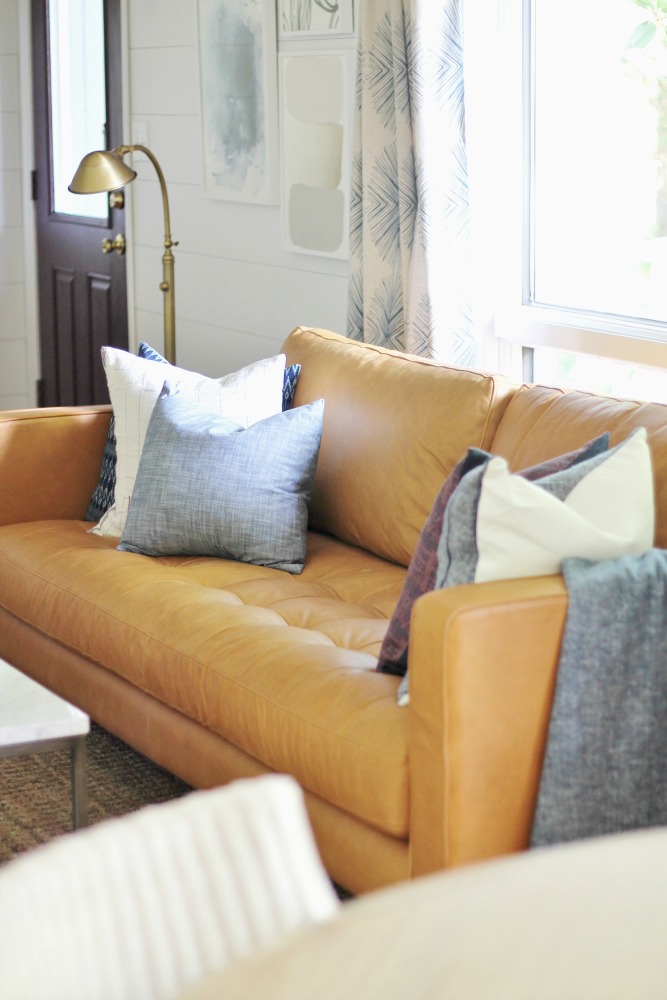 The chair has a beautiful woven upholstery weight fabric that is also easy to clean and neutral. The gray is so soft, it goes with everything!
Another before….
After…
This is a really good before, you can see the sofa was there right when you walk in…
Keeping the planked walls white gives a vitality to the space and visually widens it as well.
I used indigos, plum and blush to create a custom color palette for Karen. The art, pillows and accessories play into this playful yet sophisticated palette.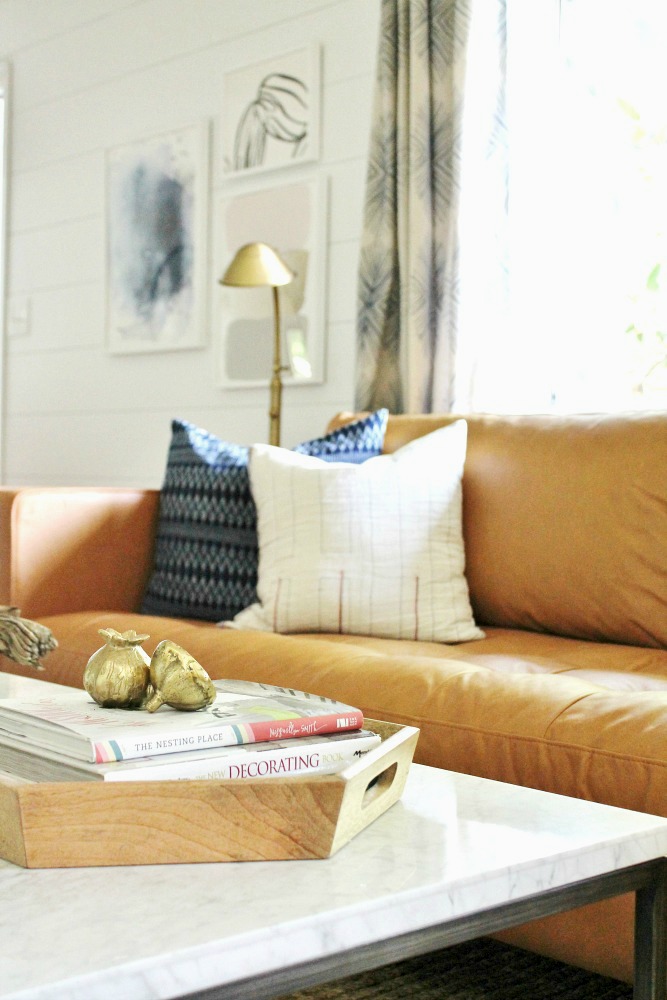 I have no words to express how much I LOVE this space!!! Because it was a small space the measurements had to be just right and the fact that everything was ordered online made it a little more tricky. We did a lot of taping on the floor and created templates. But…I wouldn't change a thing!
This basket below was another favorite from Article. It is a handcrafted, work of art plus it's super functional as well to hide all of Liam's toys. It makes for easy clean up at the end of the night.
Grid Tall Basket
A shot of the sliding barn door….
Please let me know if you have any questions at all about these pieces, I am happy to answer.
Have a great day!