Sophisticated Scandinavian Christmas House Tour
Hi there friends!! Welcome to Jennifer Rizzo's Annual Holiday Housewalk!! Today is Day 4 and it is packed FULL of creative Christmas decorating ideas! If you are coming from the Lily Pad Cottage then you already know how stunning her new lake home is. Are you ready to begin today's tours?! Grab a cup of something warm and get cozy, you are in for such a treat!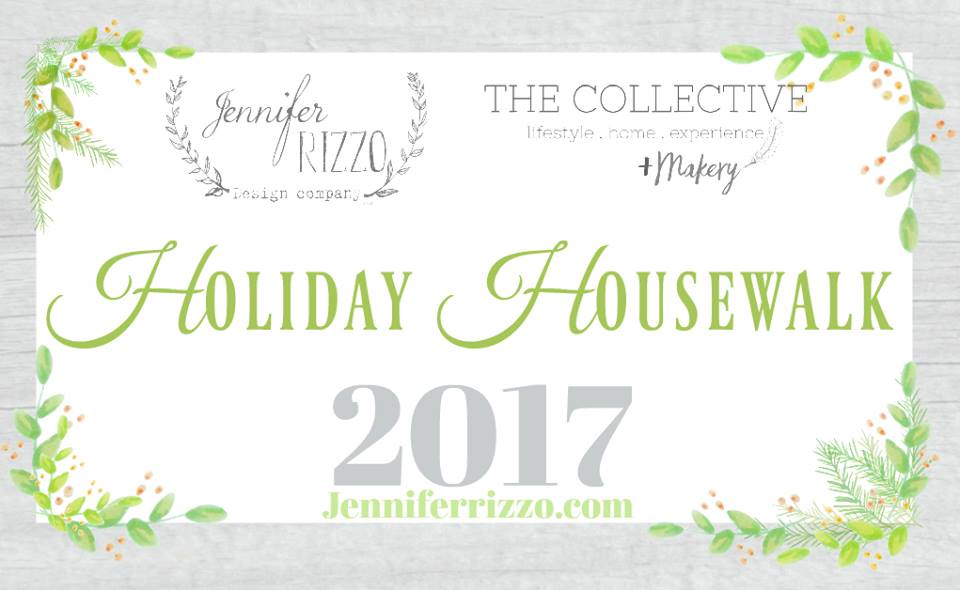 Welcome to my holiday house tour! The last few years I have moved my style towards a sleeker, more modern type of rustic, hence the Scandinavian vibe. I also like to mix rustic with sophisticated elements so I thought it might be fun to create a Sophisticated Scandinavian holiday house tour this year.
Lets begin in the family room. One of my inspirations for this year came from my love of navy & indigo. Every year, I switch my colors to feel more Christmassy but this year I thought why not use blue. These stockings below from Wayfair were my jumping off point for this room. Aren't they yummy?!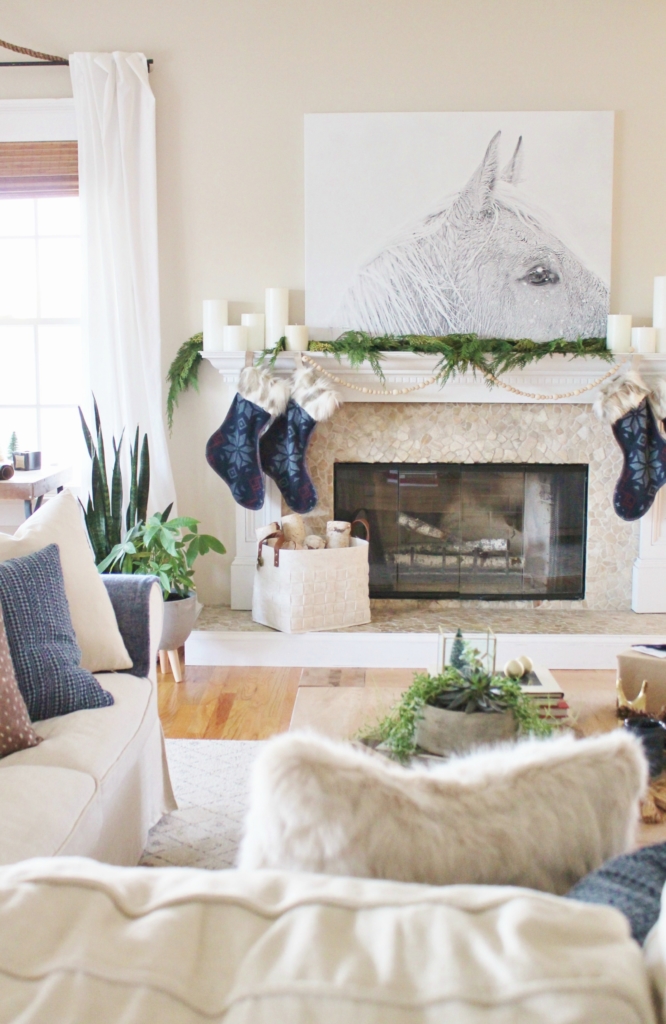 I lined the mantle with cream pillar candles of all sizes for some interest. And added some fresh greenery for a festive touch.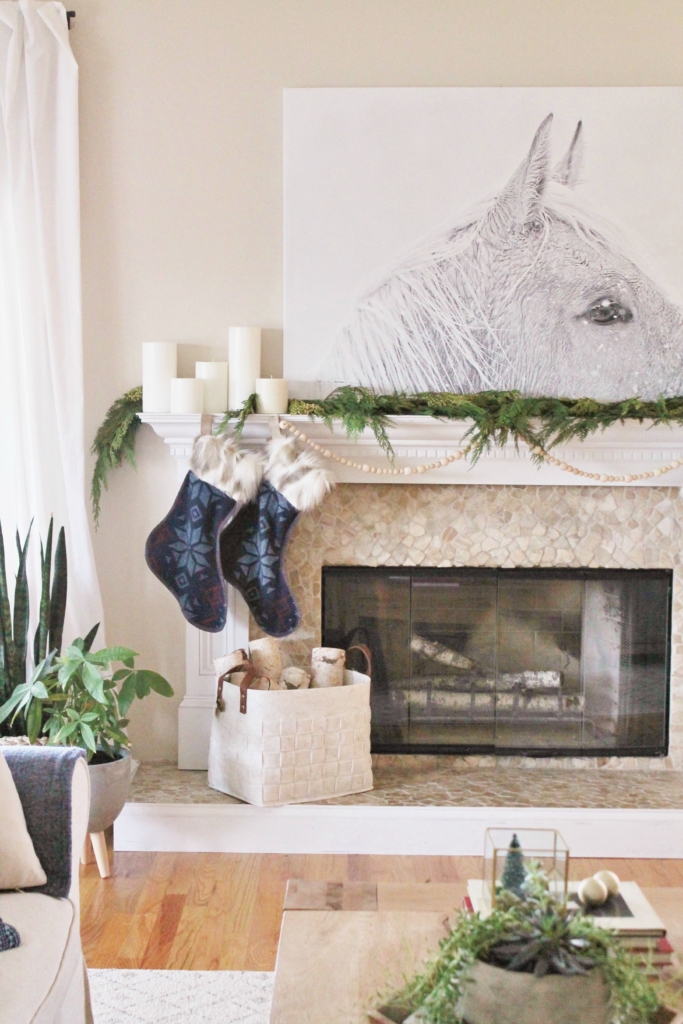 The horse print is also from Wayfair and brings that outdoor vibe to the space.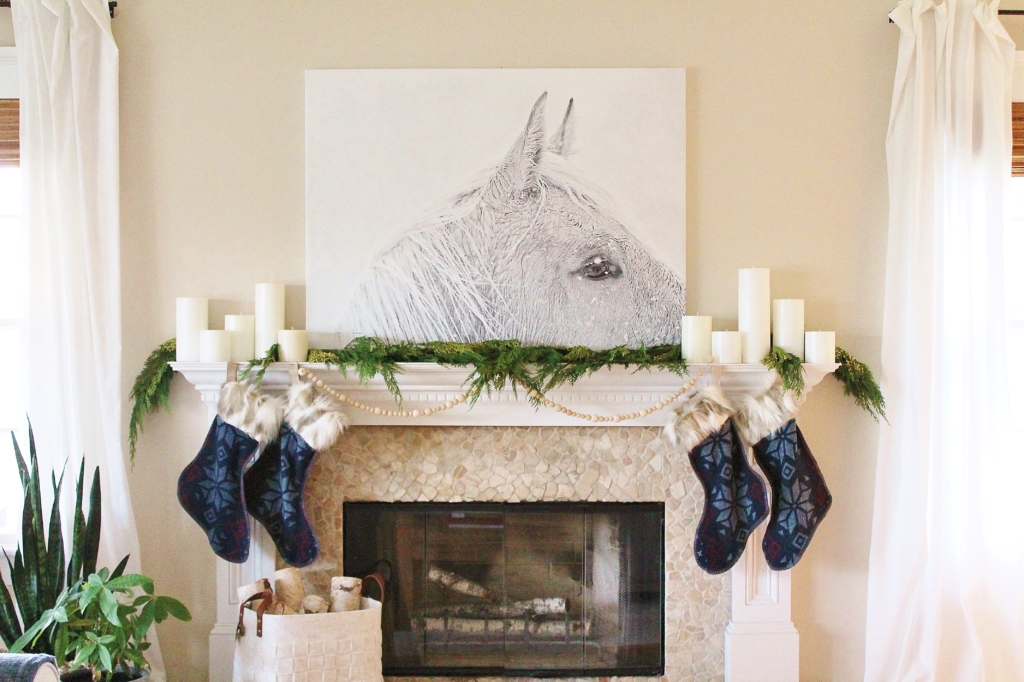 Someone asked me recently why I like Christmas so much. As a child it was the only time of year everyone was together, under one roof. My oldest sister left for college when I was 5, got married when I was 8 and moved to Florida, my other sister left for college when I was 8 and was married and moved to Indiana when I was 13. My brother was very busy with work and college too. It was a time of year we were all together again, they really were the best times.
It's important to me to create a magical presence inside my home, I want my boys to look back with joy on these years. I still let them help me decorate the tree, it's not fancy but it definitely has a lot of heart. There are ornaments from my mom, my siblings, my nieces and my family as well.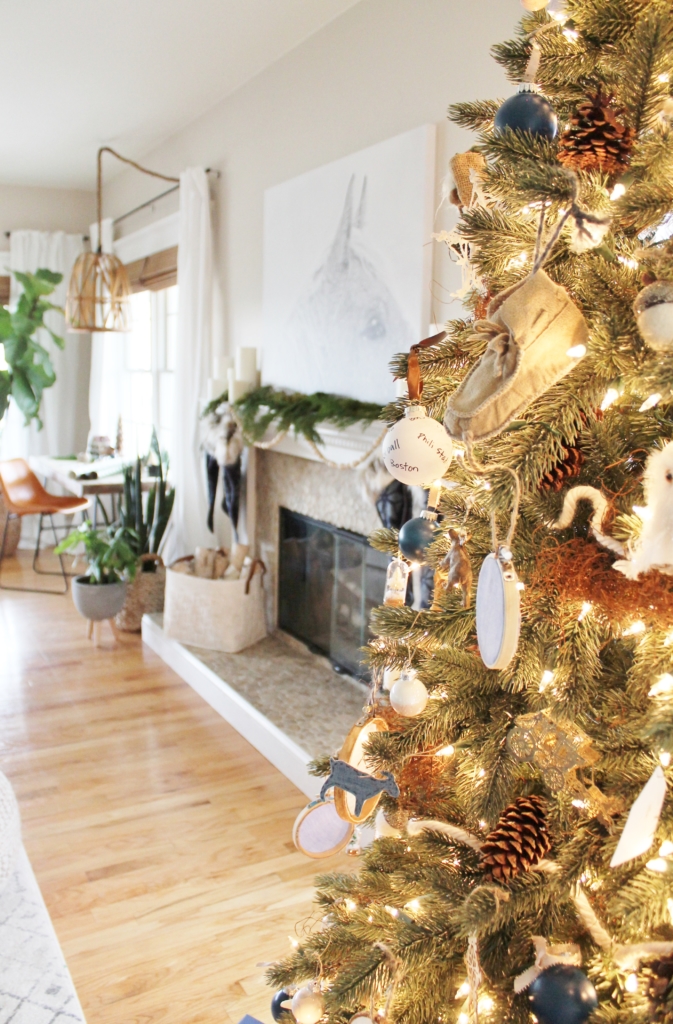 Mixing my year round plants in with the holiday décor was also important, I think it's nice to have a balance.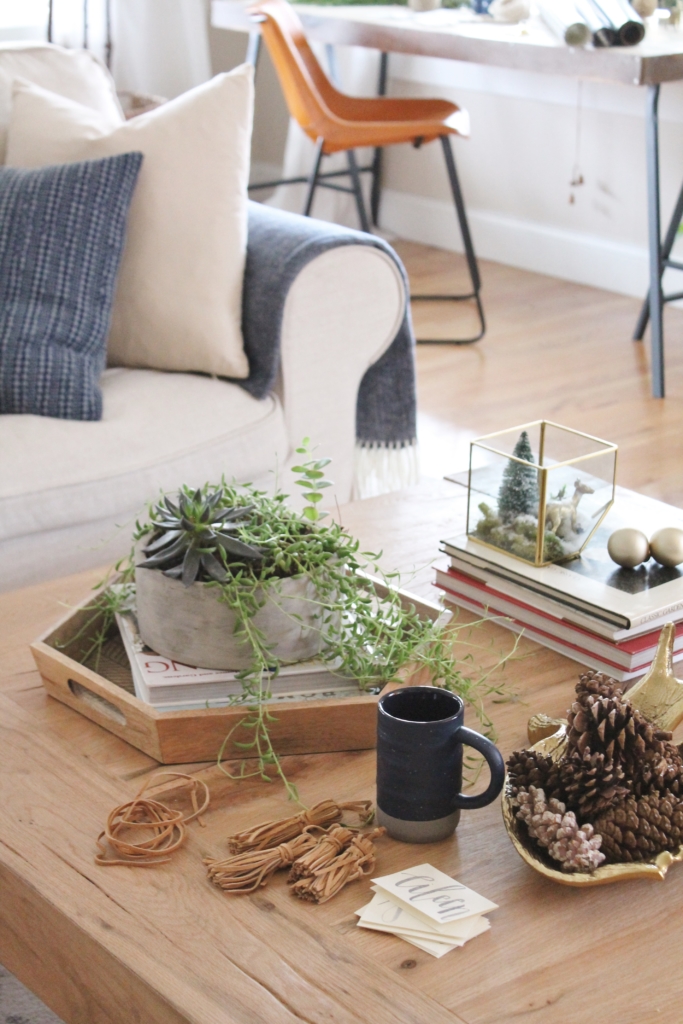 At the local nursery I found a variety of fresh greens to layer around the house.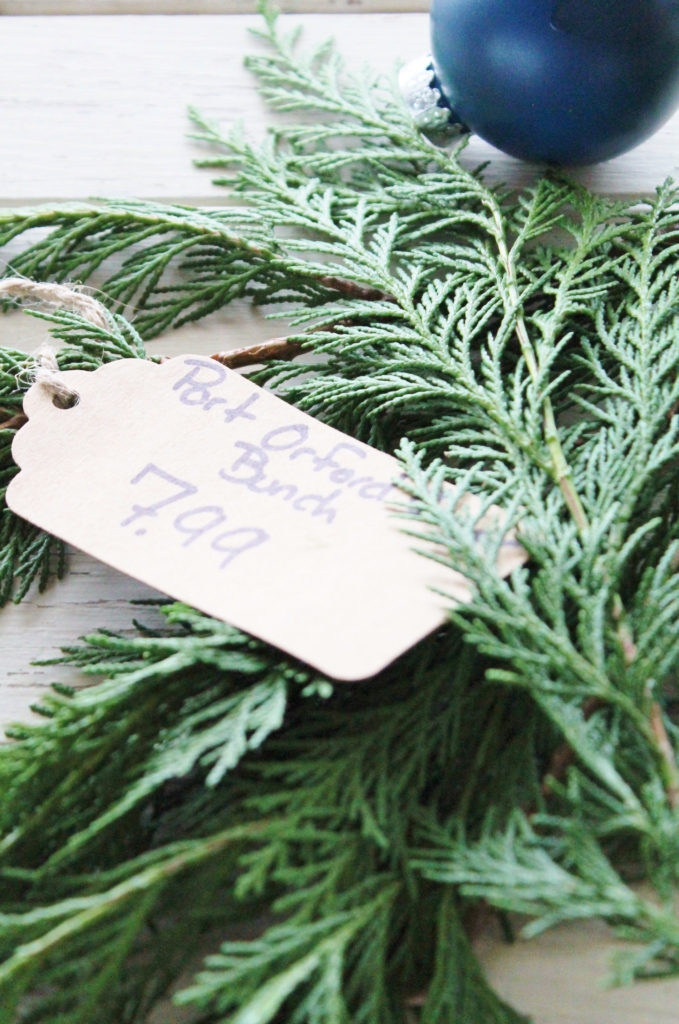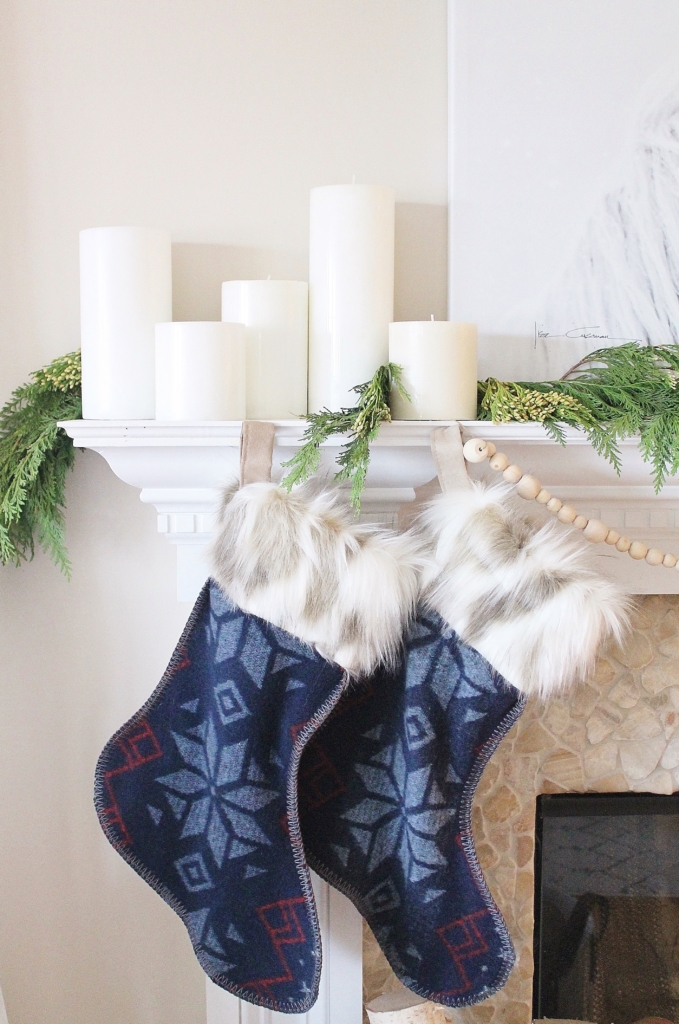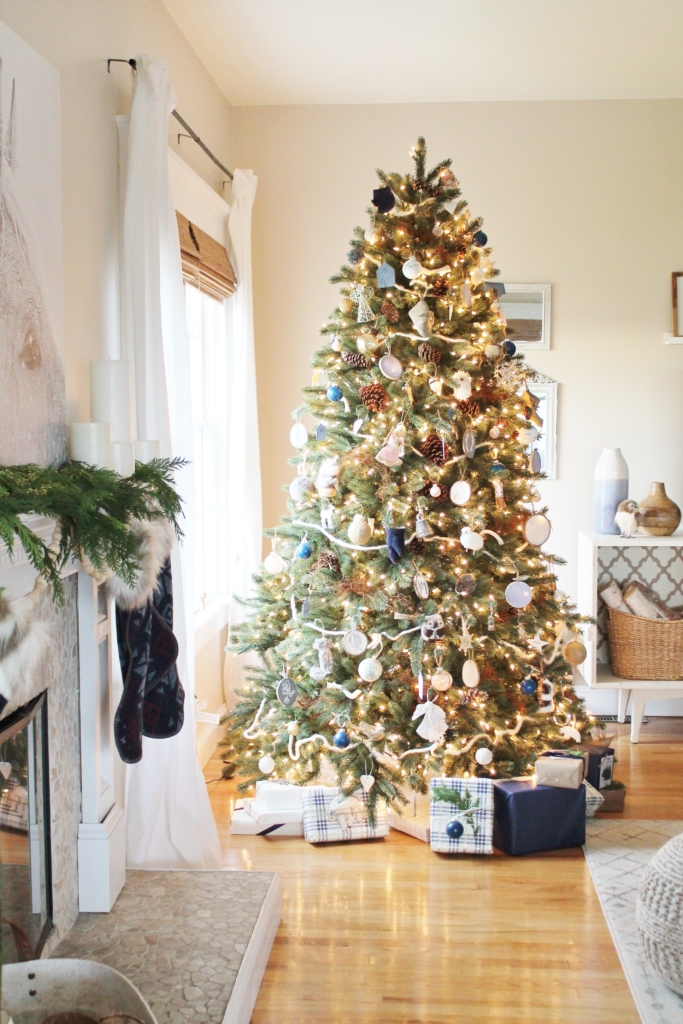 I added in DIY Denim Ornaments I made with Jack, along with some glass balls I sprayed a Nordic blue.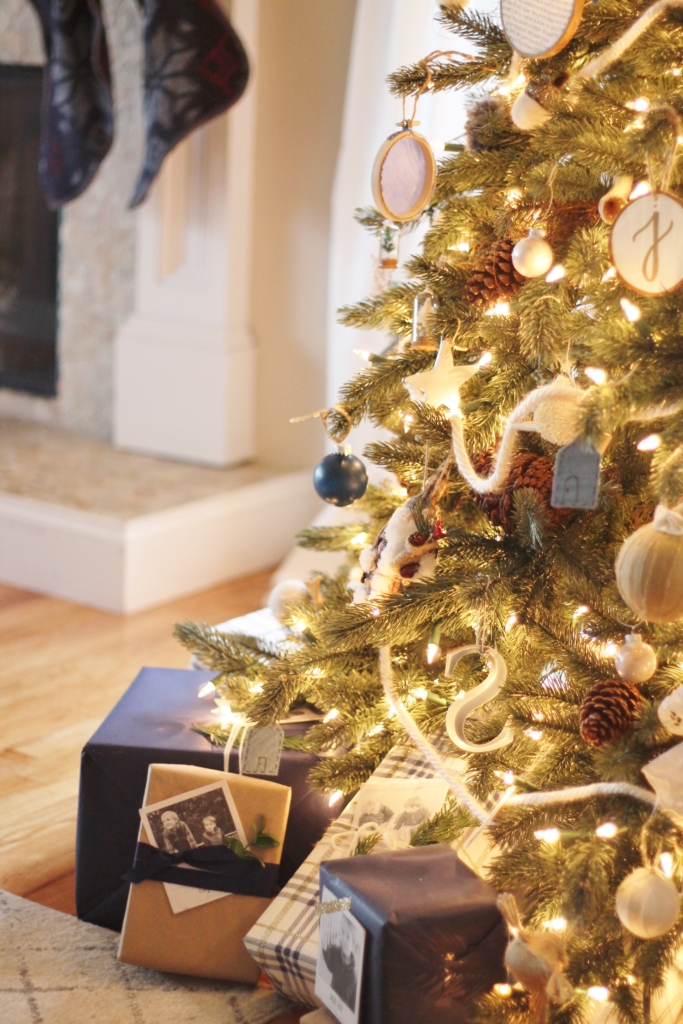 Layering textures and organic looking prints makes it feel cozy and inviting.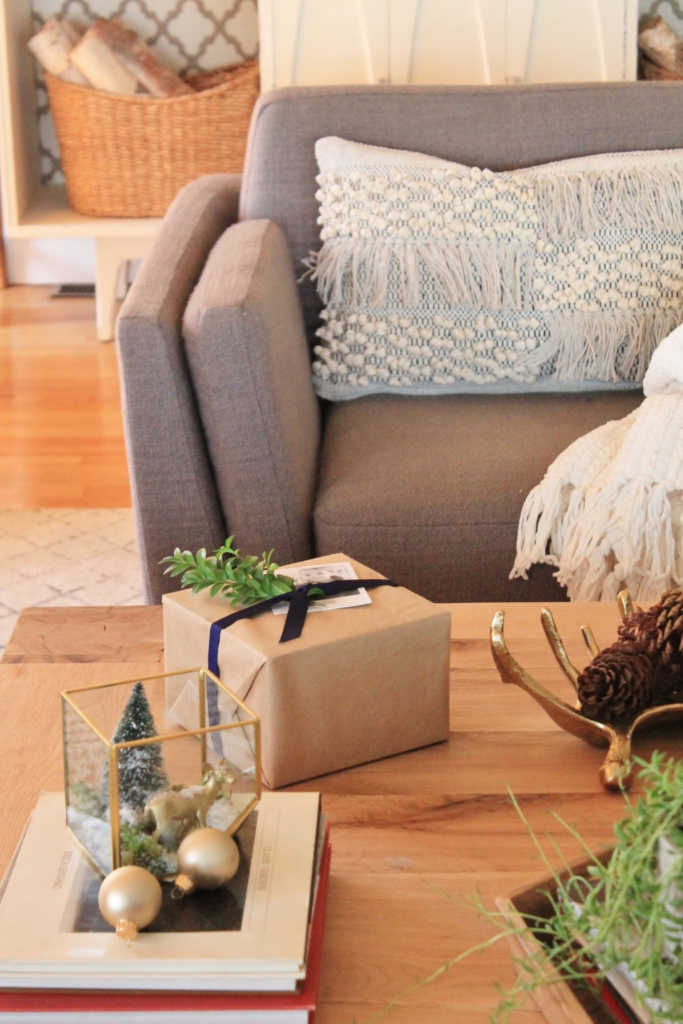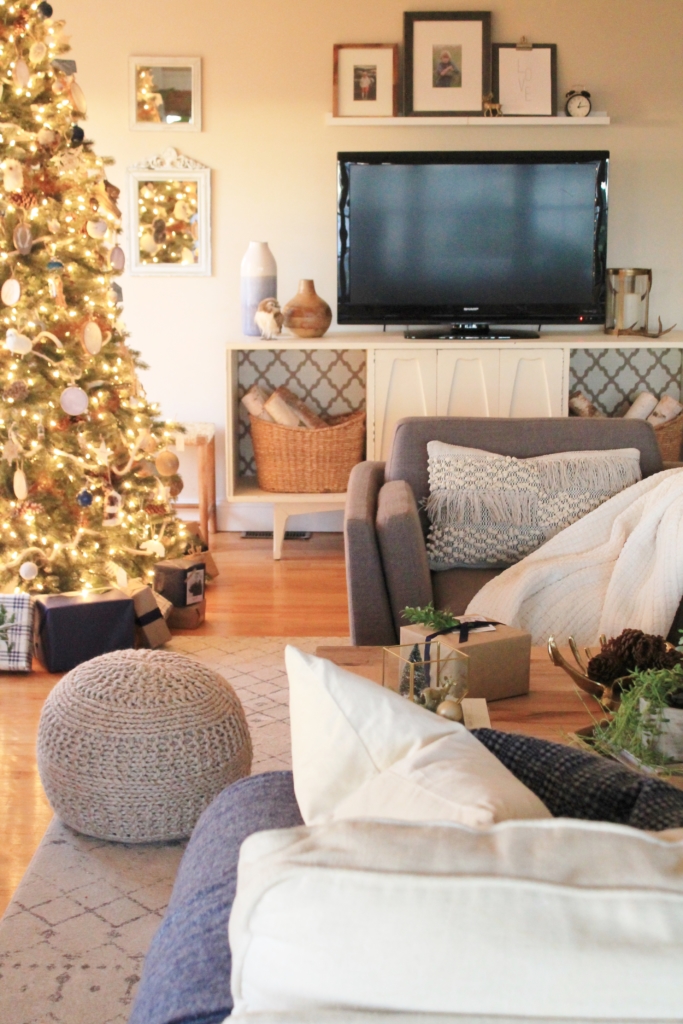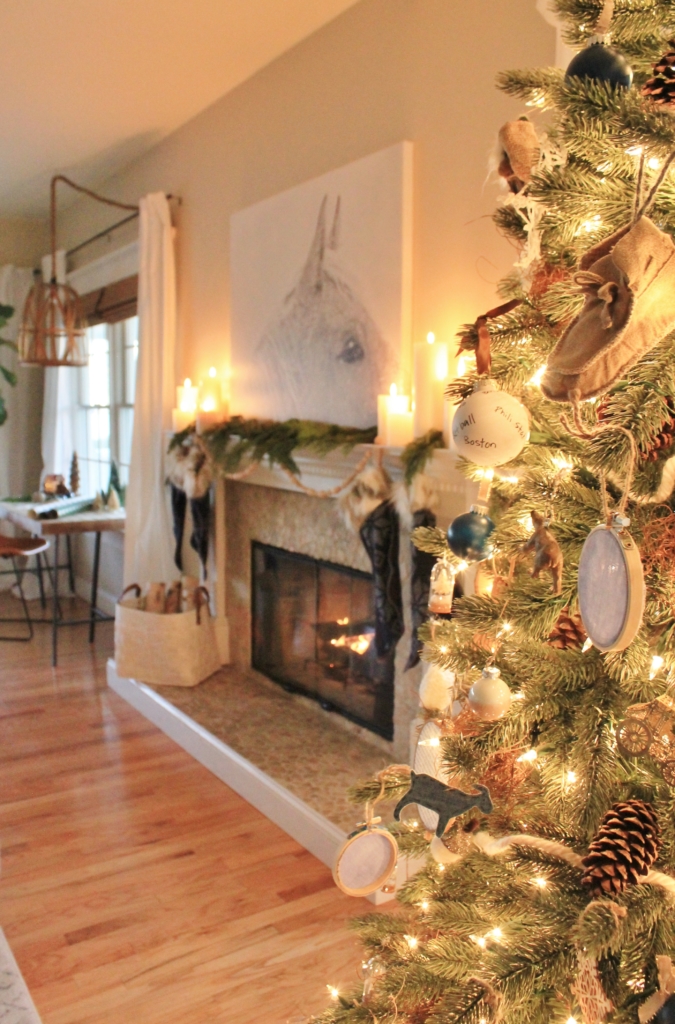 Natural beaded garland adds to the Scandinavian look and it's easy to make yourself.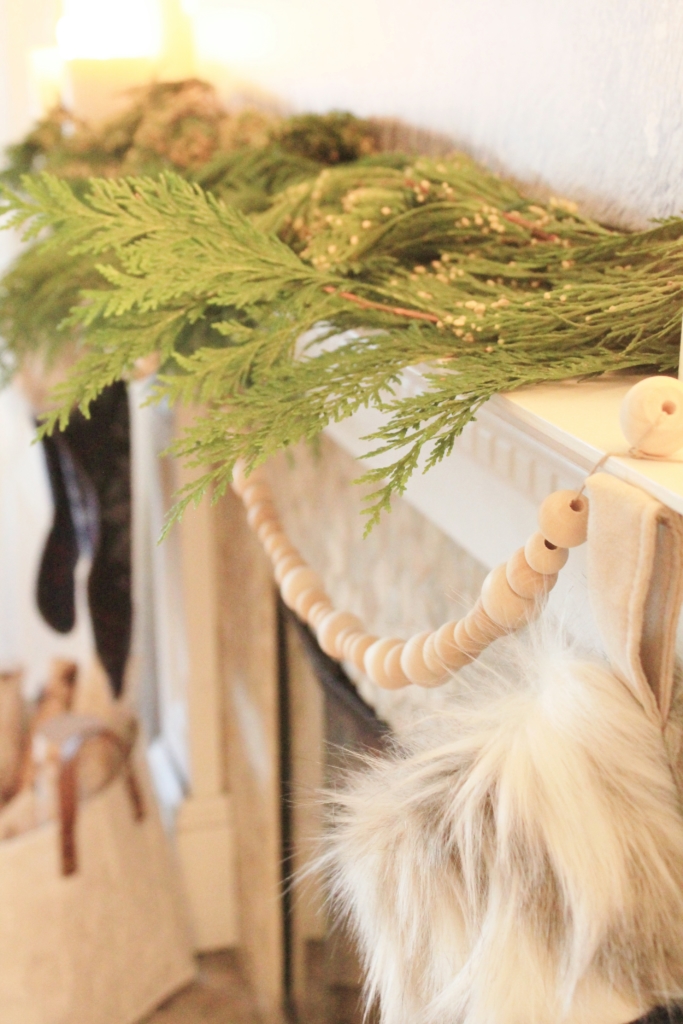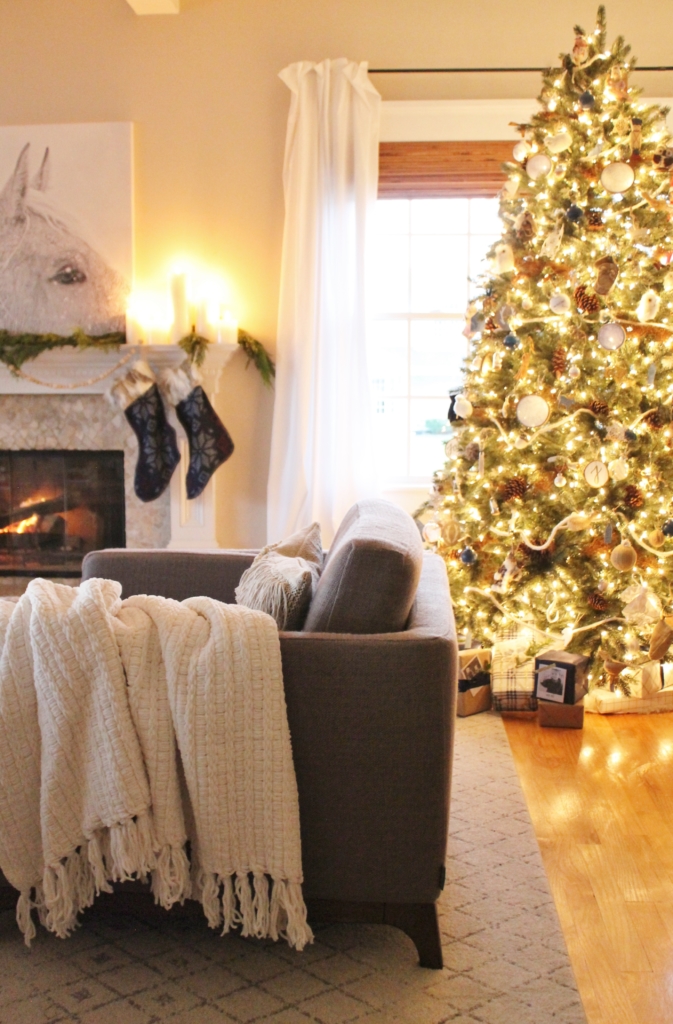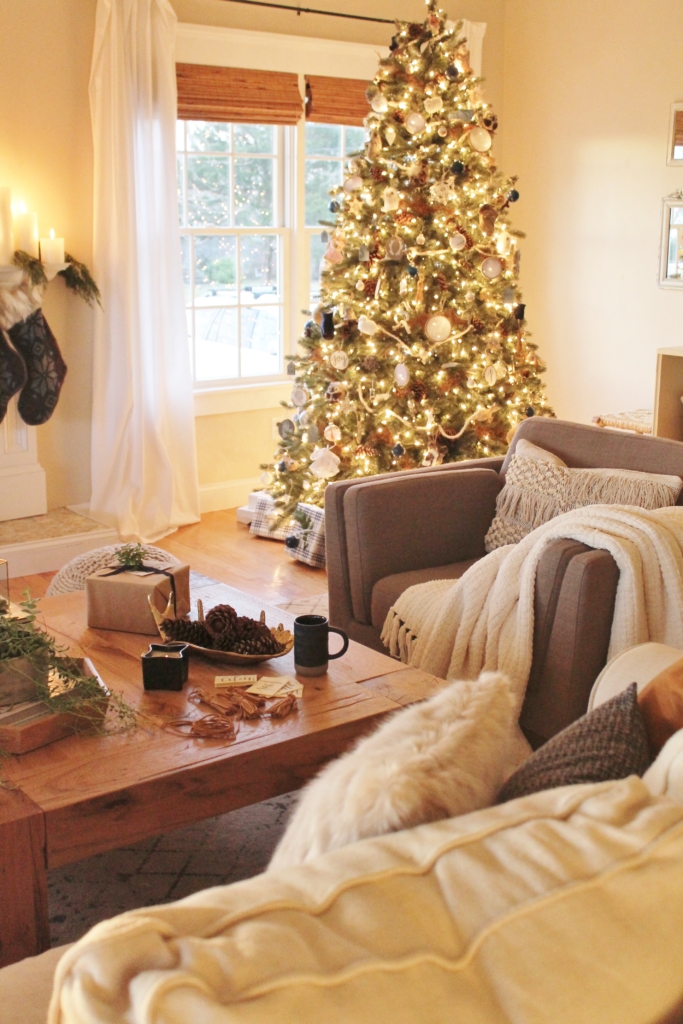 This room gets flooded with natural light at sunset, I wanted to try and capture a little of it's beauty.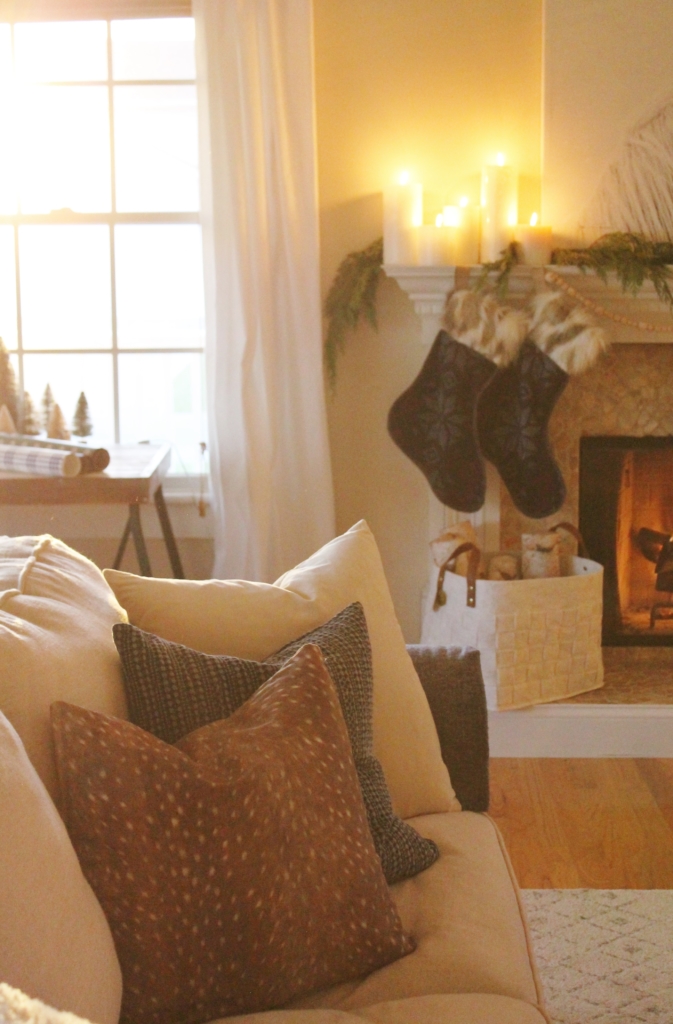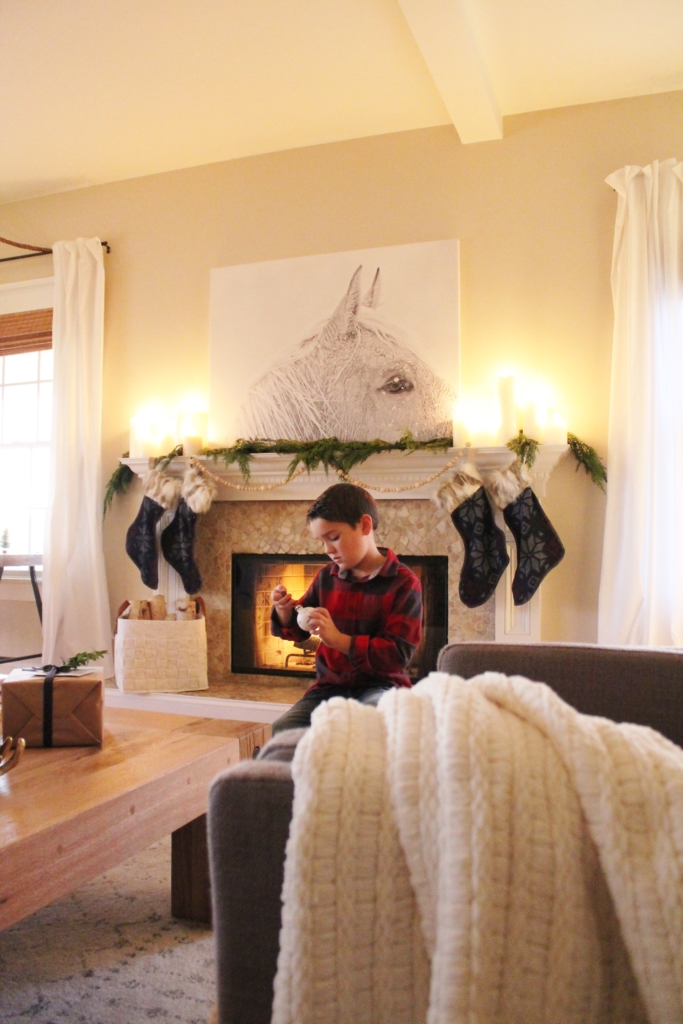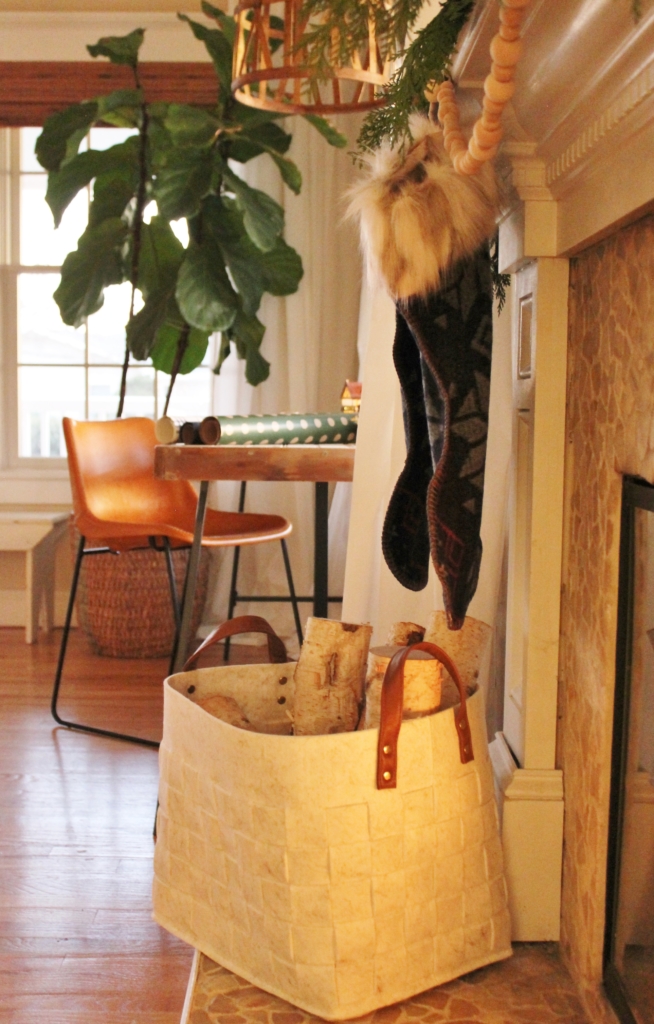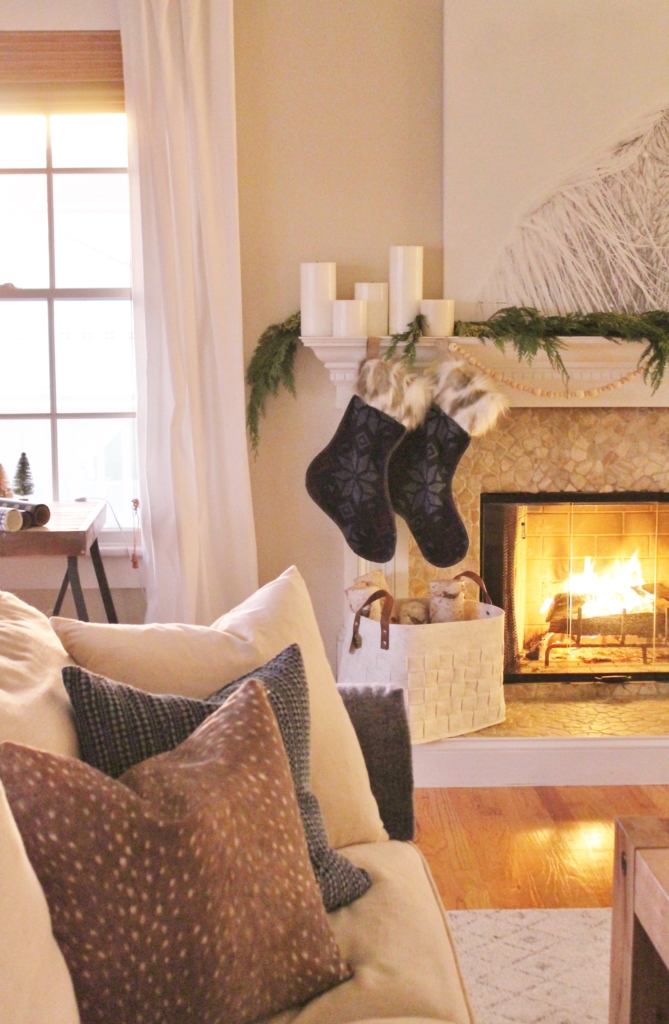 Onto my old dining room and now den. I used navy, organic greens, tons of texture and just the right amount of blush to give the space a sleek, cozy and playful look.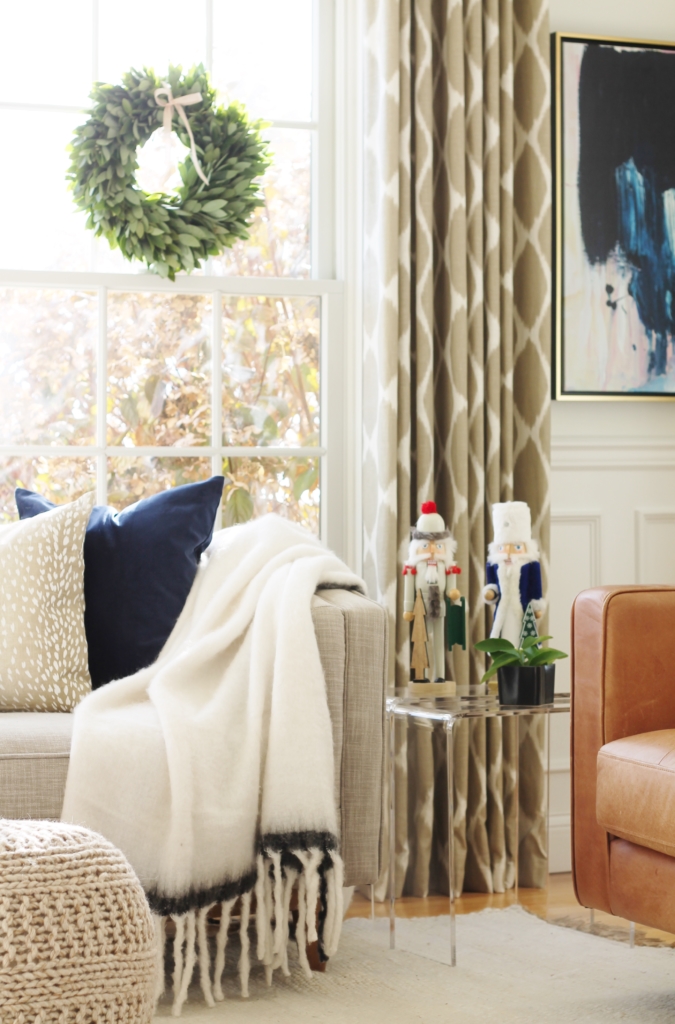 This abstract painting was the inspiration for the room. The bay wreaths are perfect in the windows and add a nice aroma to the house.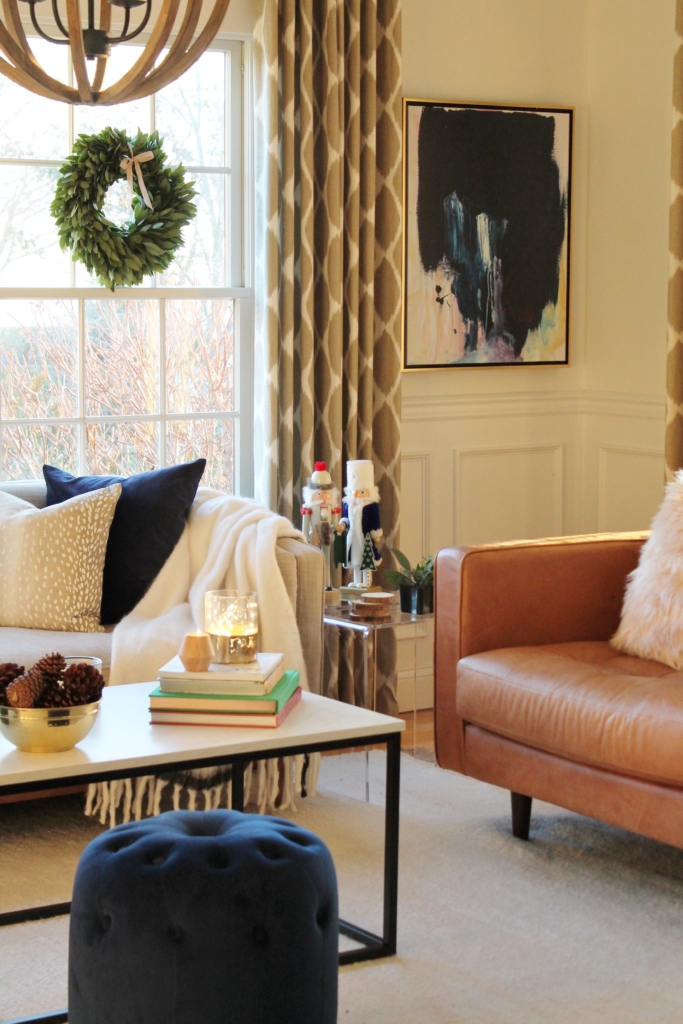 You can see the full Den Tour HERE and check out my Hot Cocoa Bar HERE.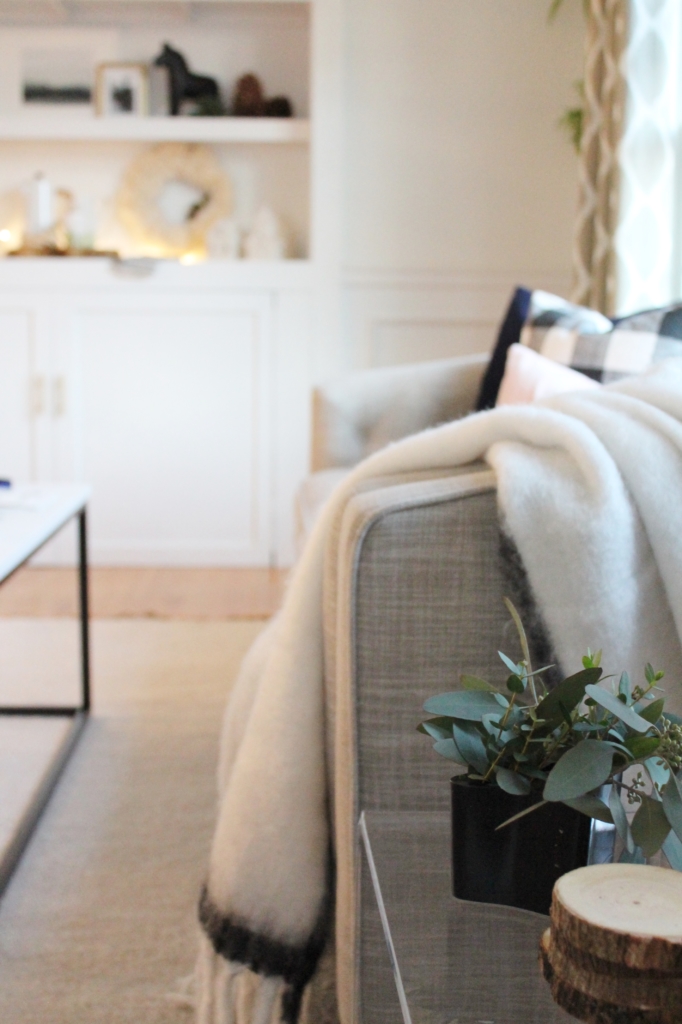 The evening light is so warm and inviting.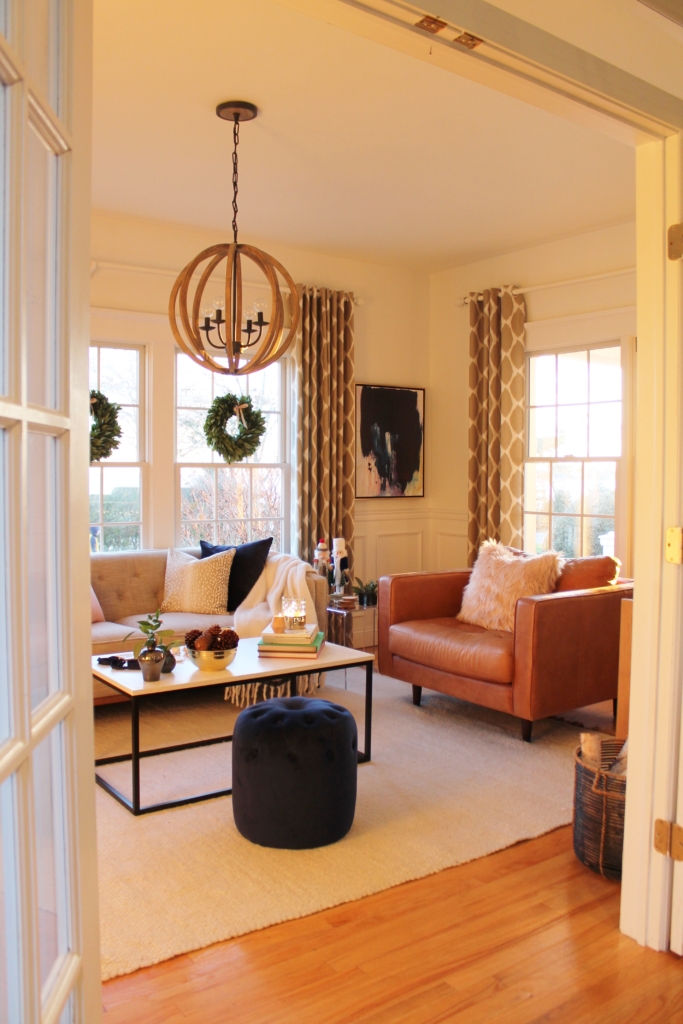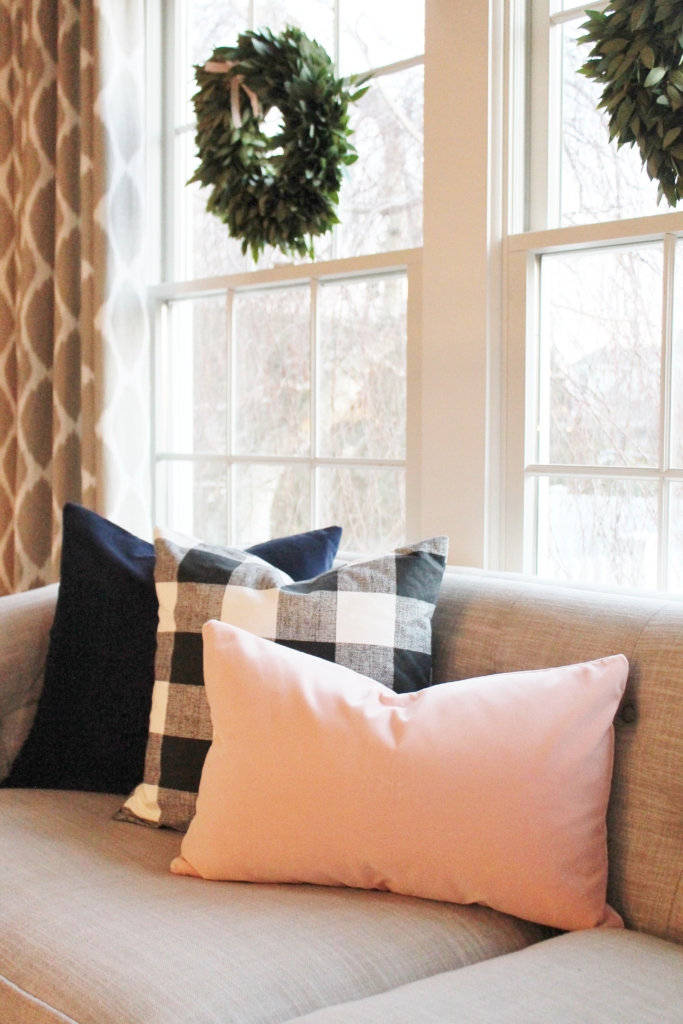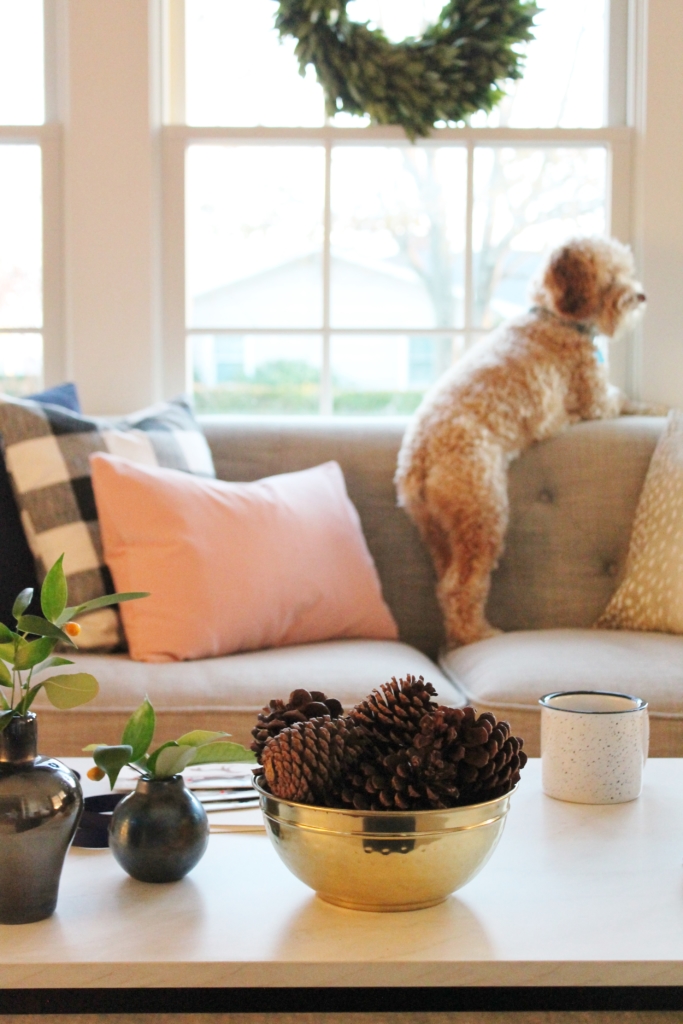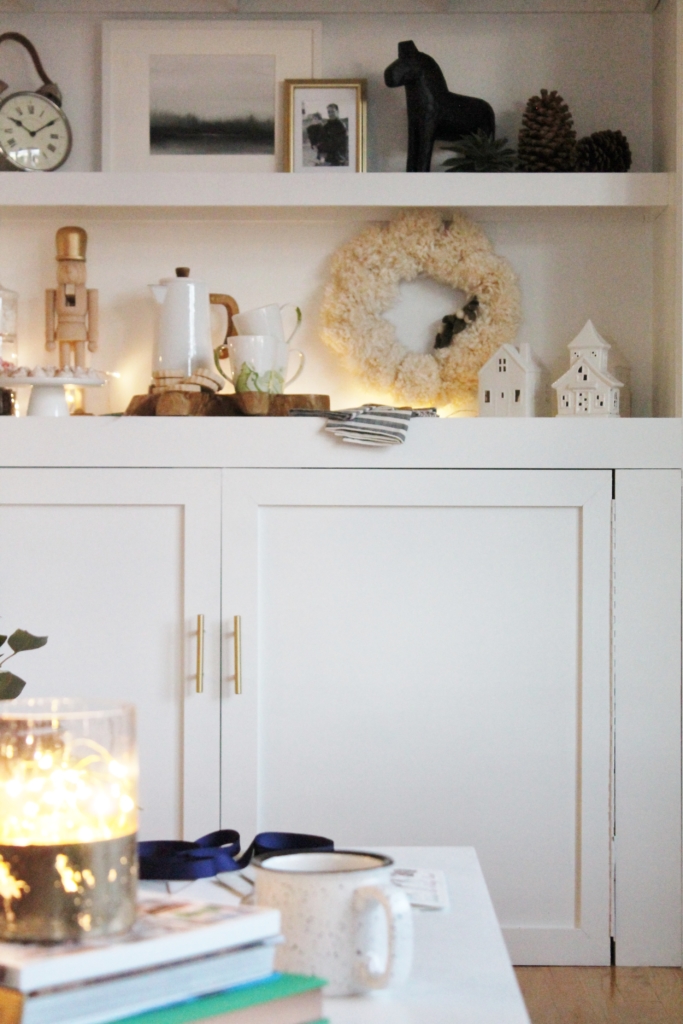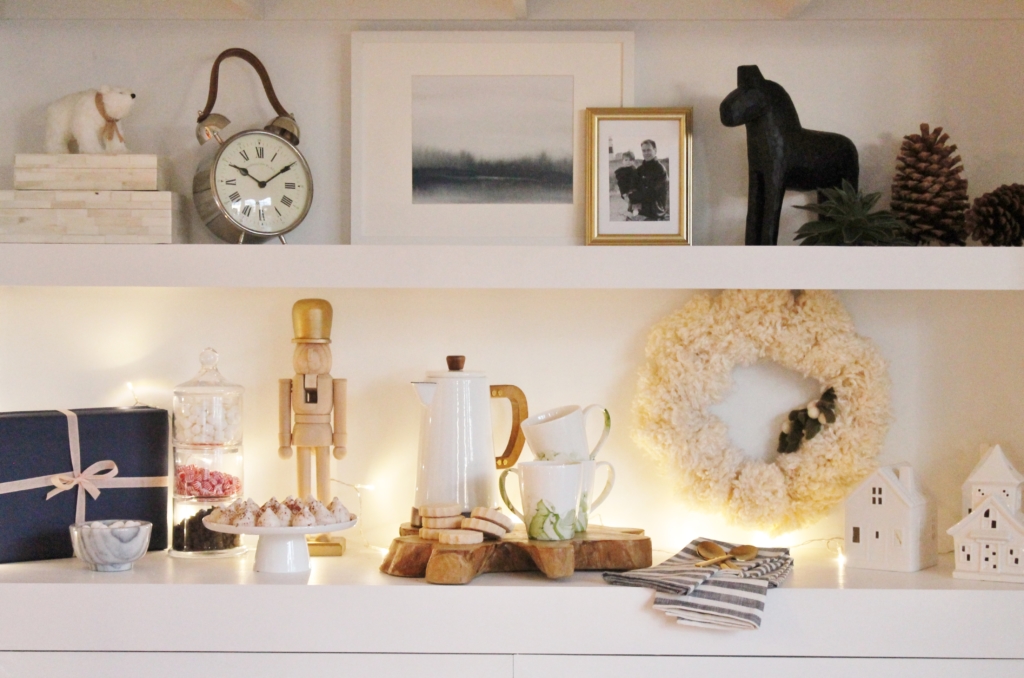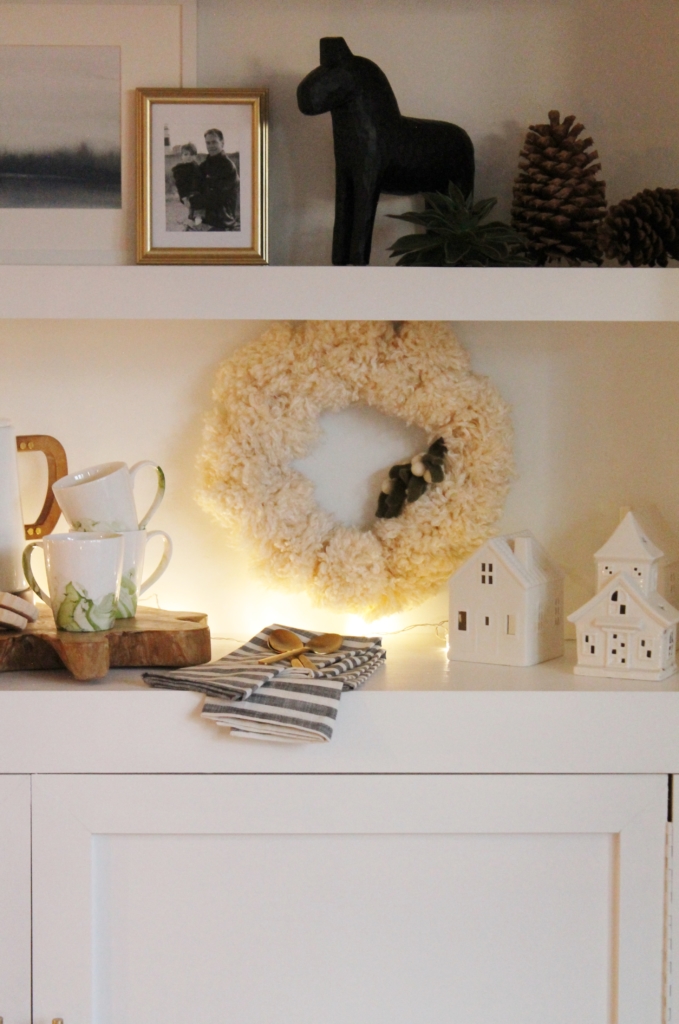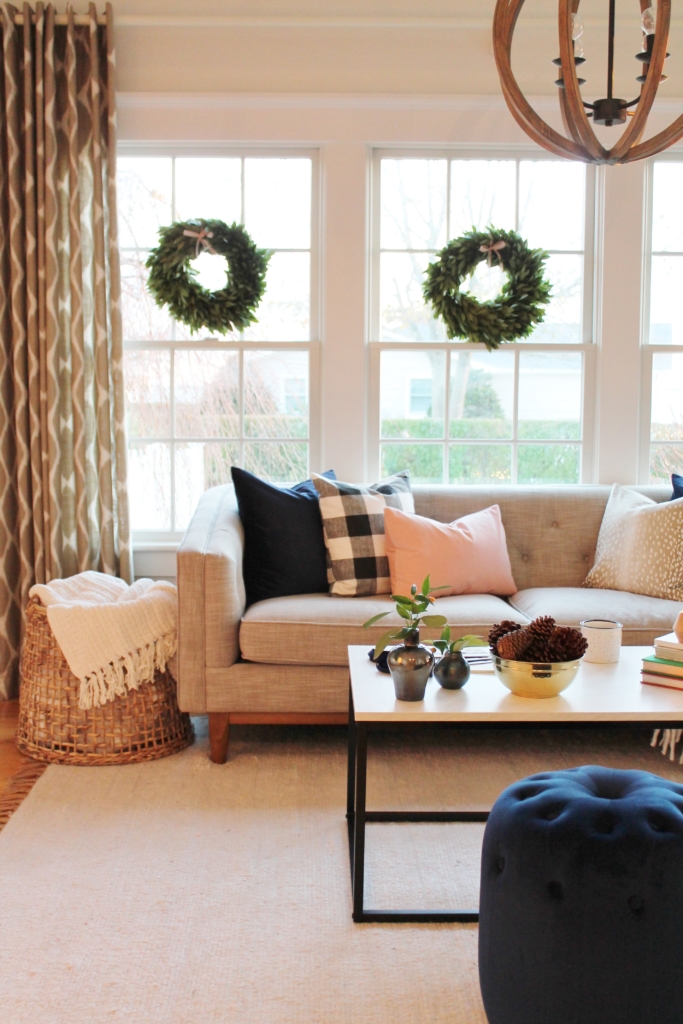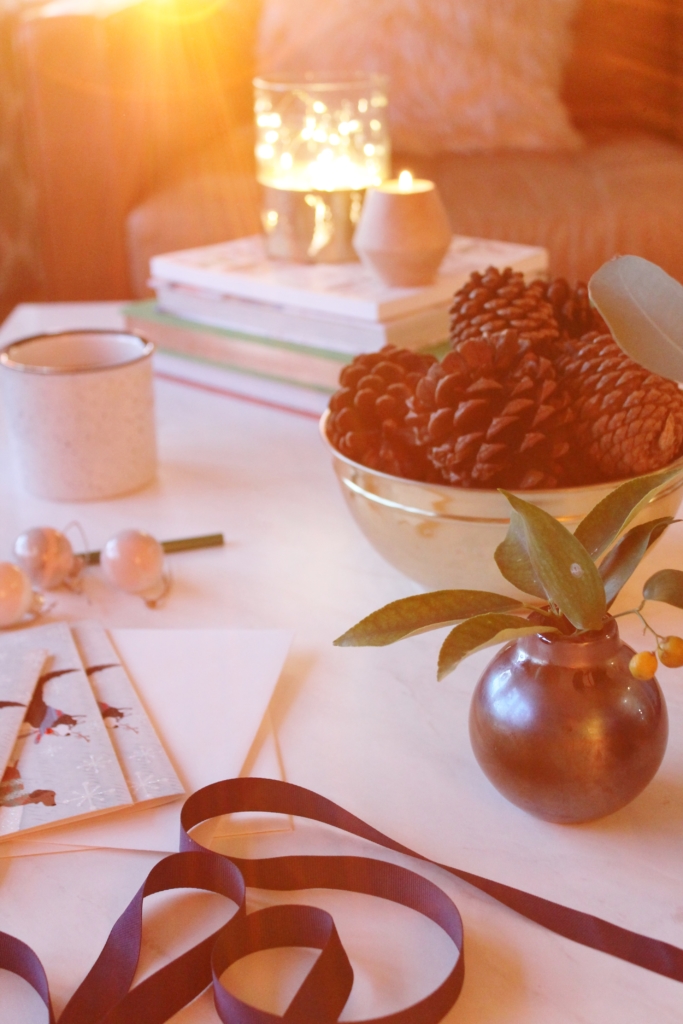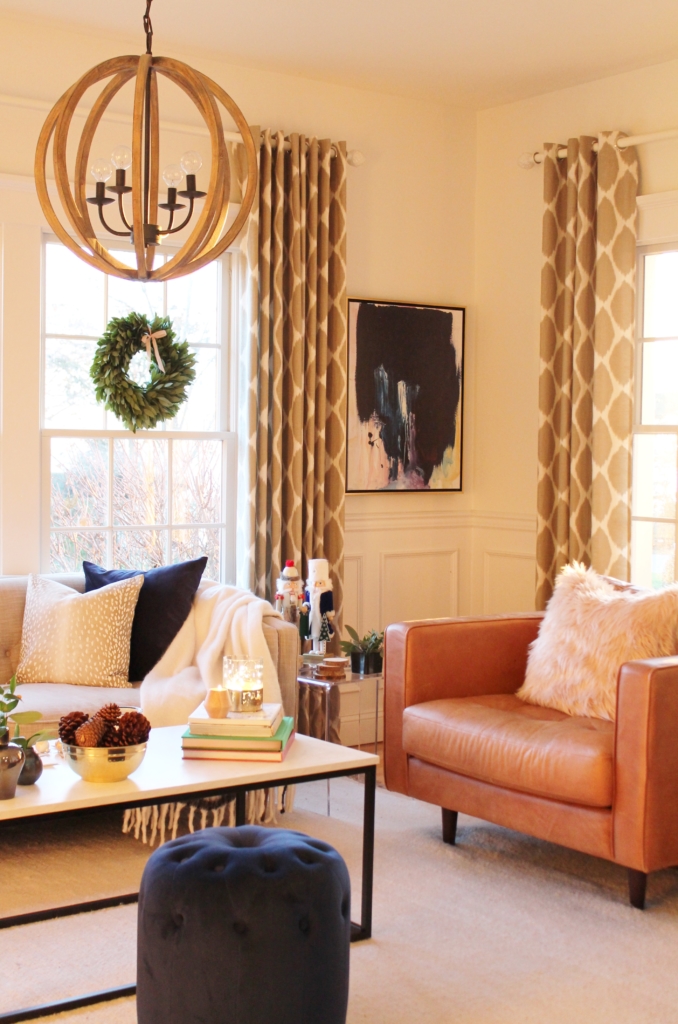 My kitchen nook during the day…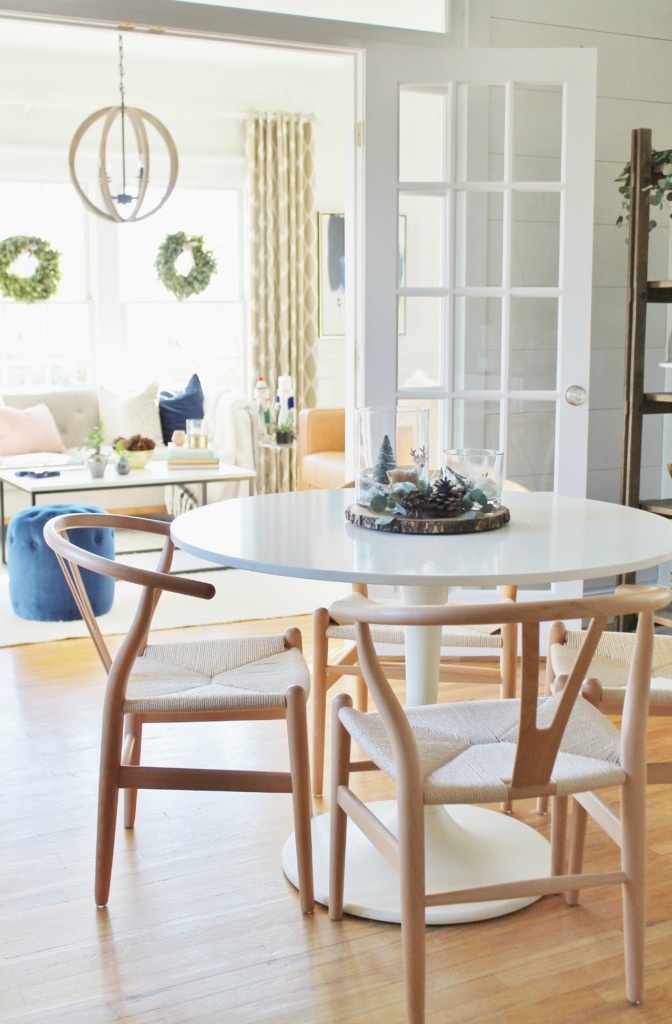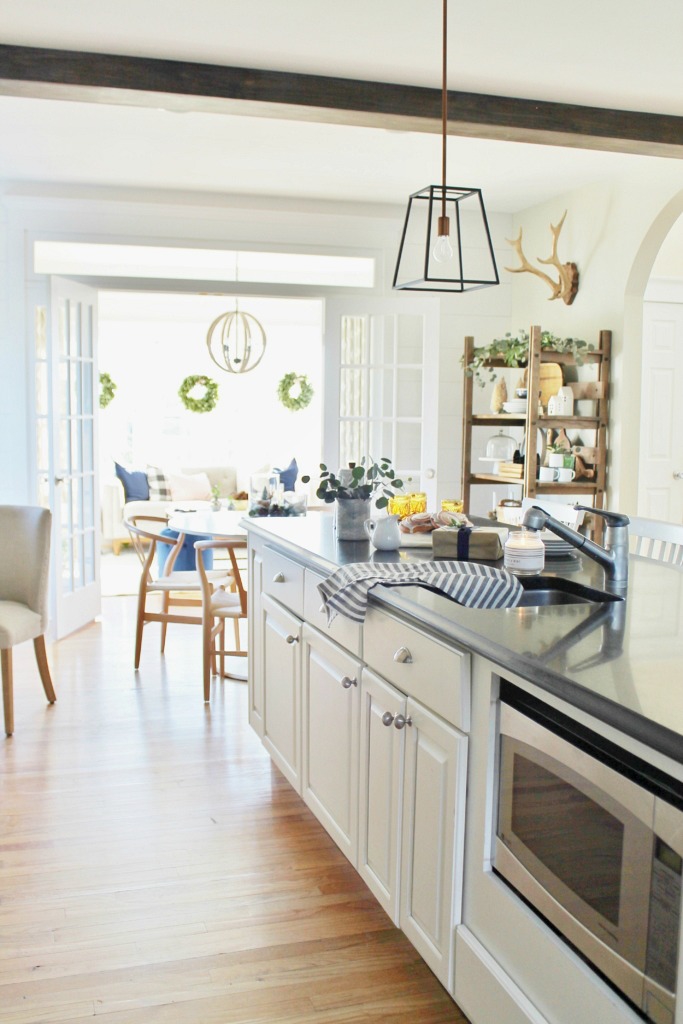 And my festive kitchen with new lights and beams.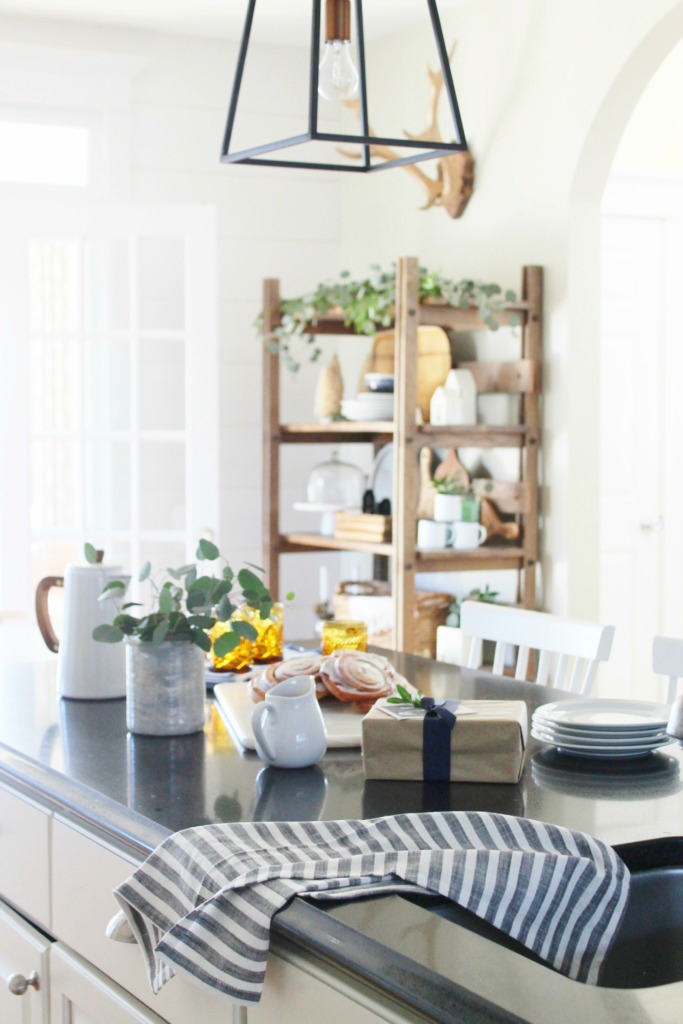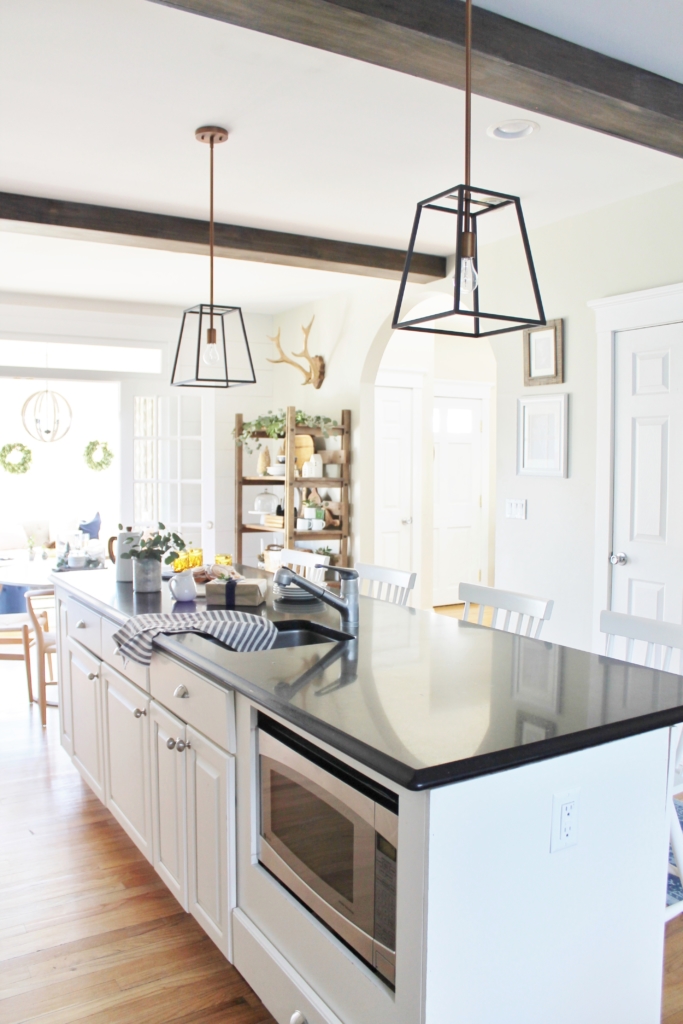 My little nook under the stairs is always fun to decorate.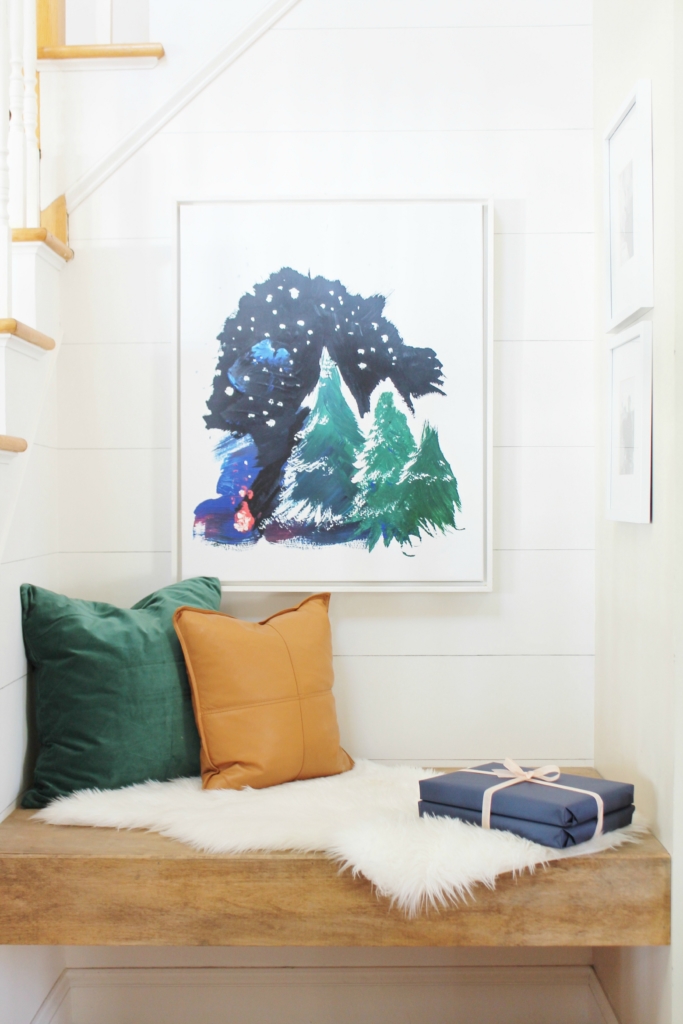 Onto the bedroom. I added simple touches that feel like Christmas. You can take the FULL tour HERE.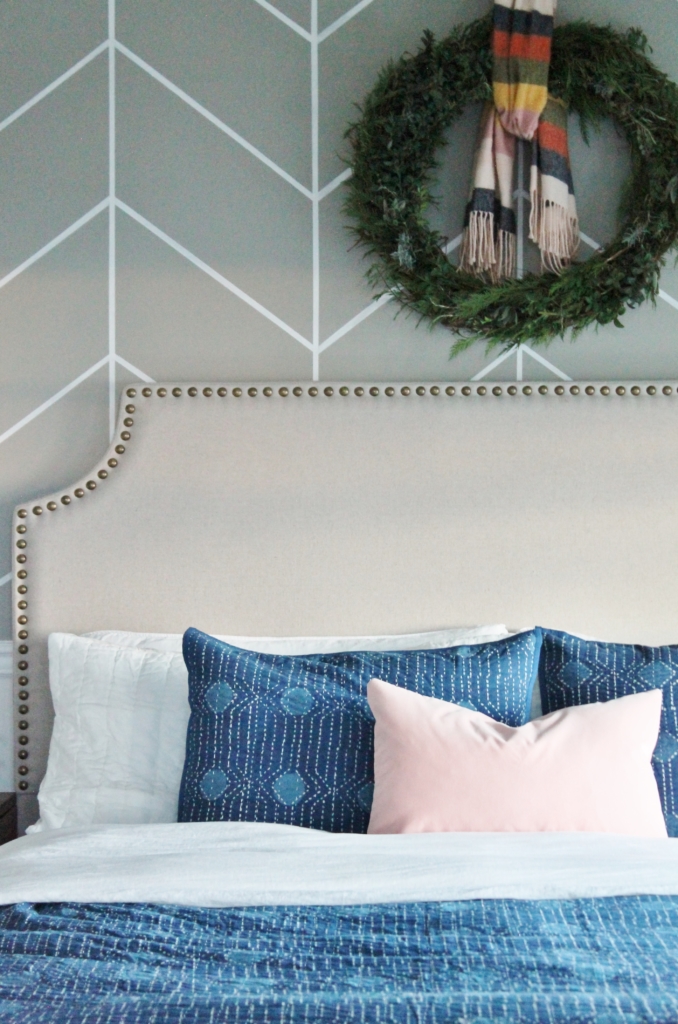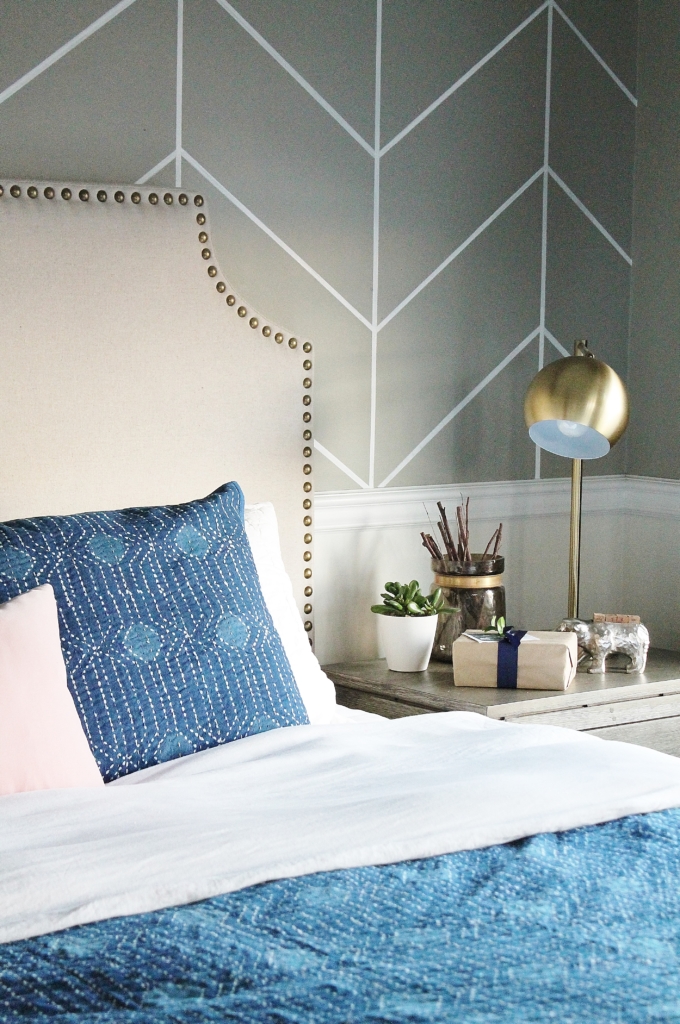 Simple craft paper with Photo Gift Tags adds a personal touch.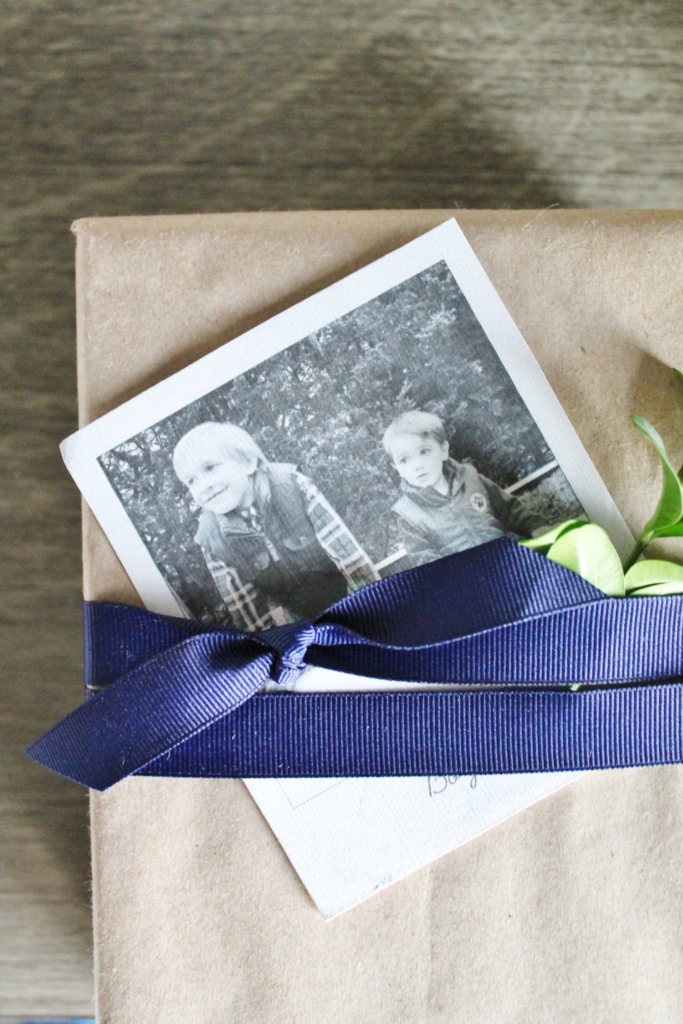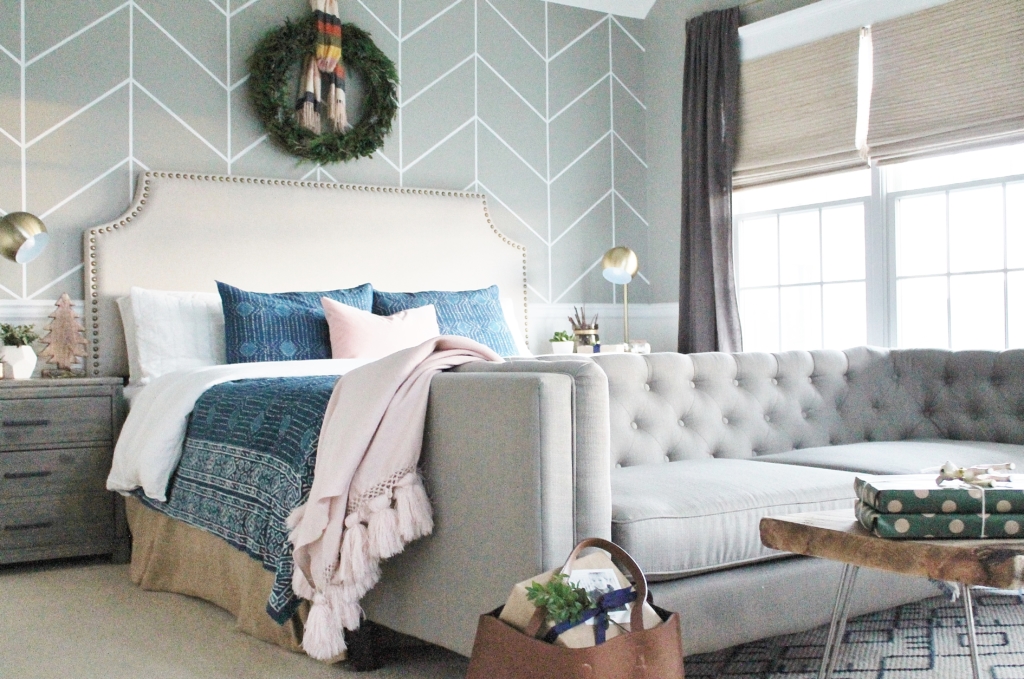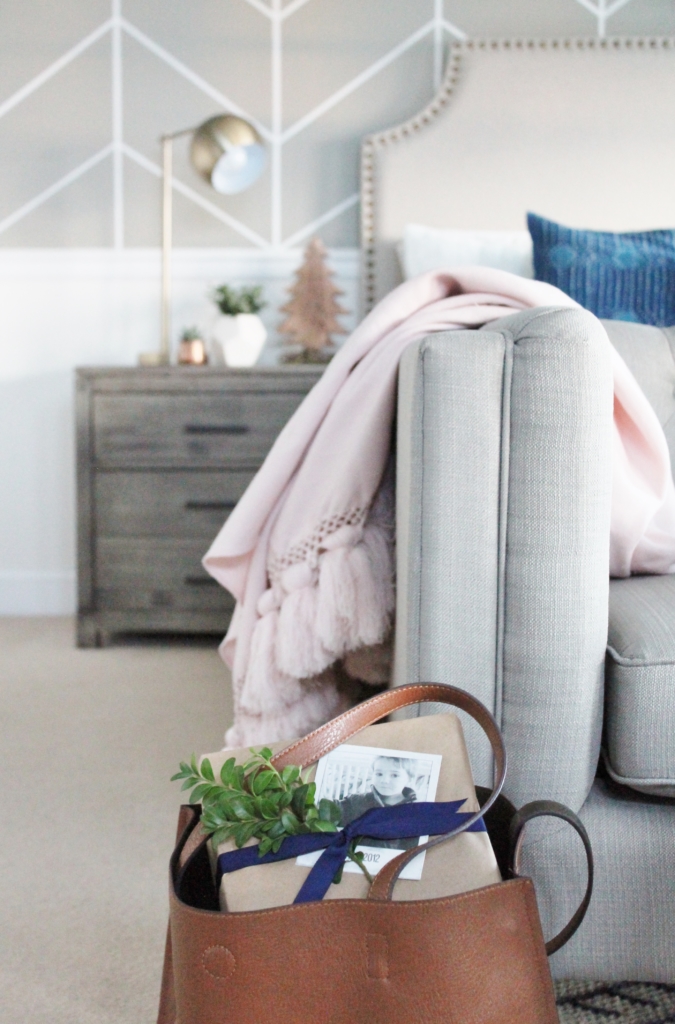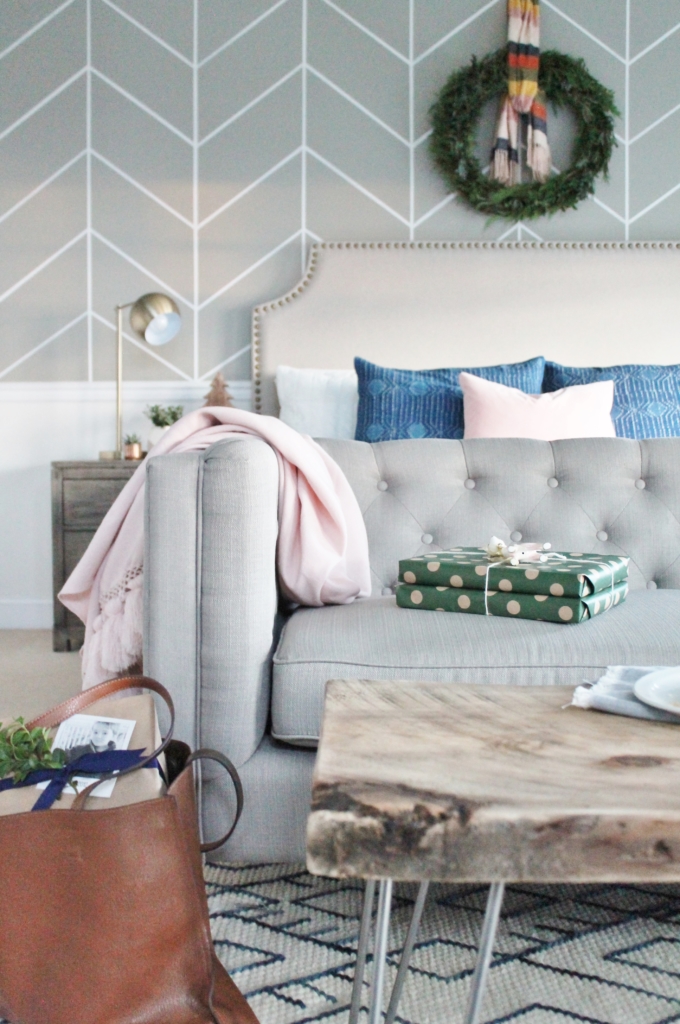 You can take my Holiday House Tour from last season to get even more decorating ideas.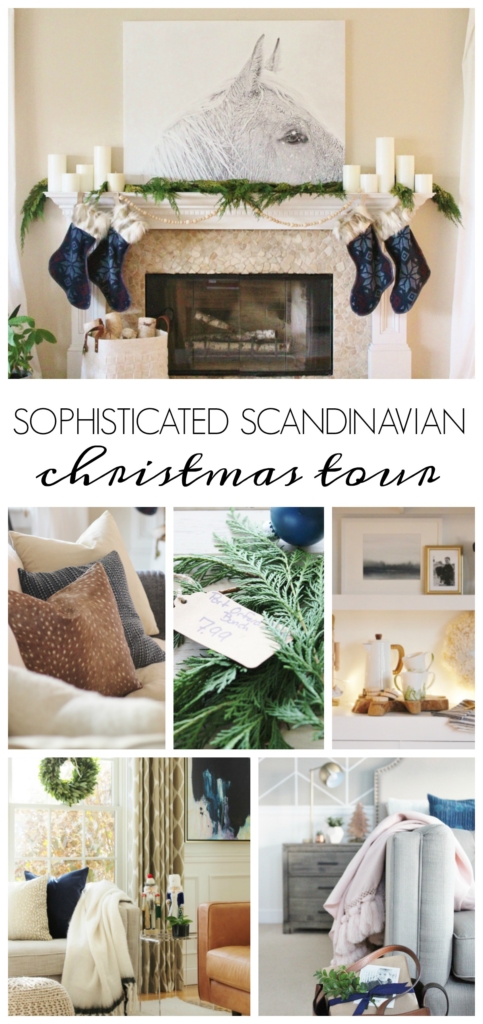 Next up is my friend Traci from Beneath My Heart, you will LOVE her home!!!
This post contains affiliate links, which will not affect the price you will pay for your purchase.
Happy decorating!