Cozy + Sentimental Christmas Tree
Hi friends! It's Christmas tree sharing day!!! And another installment of the Farmhouse Holiday Series hosted by my friend Kristen from Ella Claire. Many bloggers this week are also sharing their family rooms so be sure to follow the links below, they are stunning! I will share mine next Tuesday in the Holiday Housewalk;).
Earlier last week John put the tree up and it sat many nights all lit up with nothing on it. The tub of ornaments lying next to it and each time I walked by I found another holiday project to do. I put undo pressure on myself with the tree each year. I want it to be pretty and blog worthy but I also want to showcase the beautiful moments and memories we have created around this tree.
After much procrastination, I just jumped it and went with my heart. What came was a cozy & sentimental Christmas tree that was inclusive of all our ornaments.
When I was little my mom would buy or make me an ornament each year and put a little tag with the date so I would remember. Not sure what made her begin this tradition but I am so glad she did. I started this with my own boys at their very first Christmas and each year I buy, make or both and tag them the same way with the date. We also make a lot of ornaments together, you can see some on the tree. I want them to be able to use them when they are all grown up and have a tree of their own someday.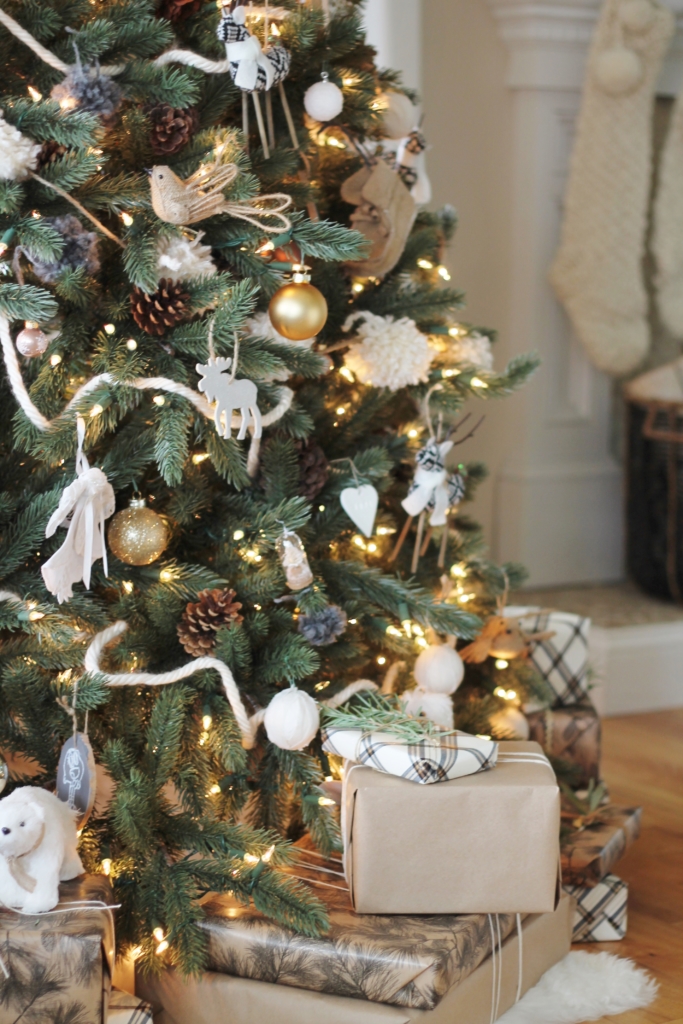 When I was 16 my mom bought me 2 white linen angels. She never bought me 2 of the same, which is ironic because each time we put them up now we say they are my mom (grandma) and sister (aunt Jackie) looking over us. You can see one above. So every time I see an angel ornament I buy 2, for our guardian angels.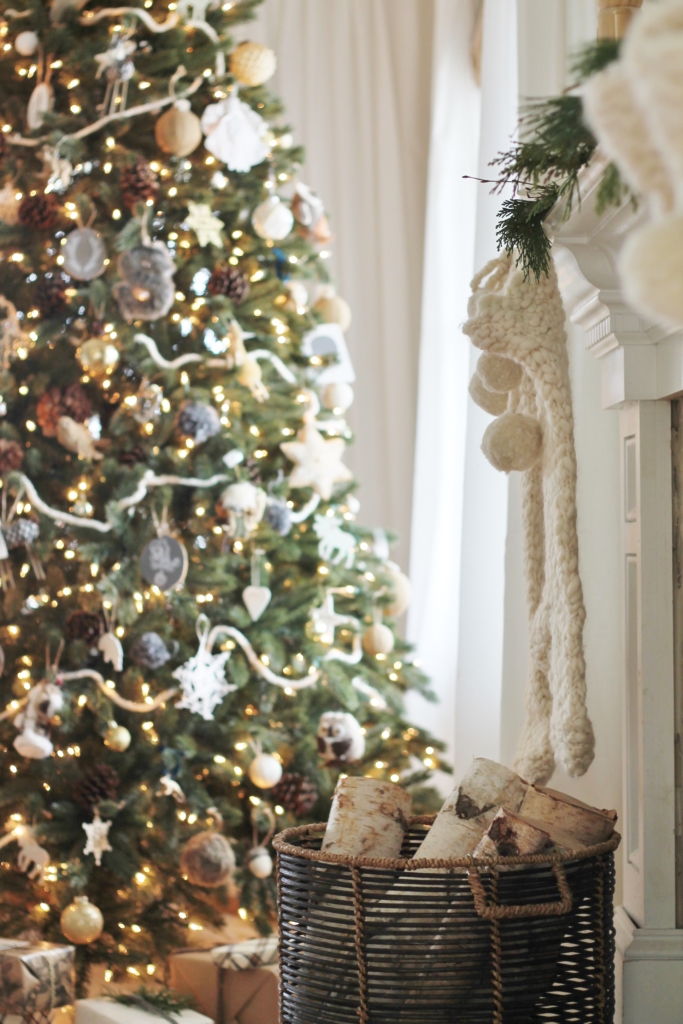 I used lots of texture, from shiny gold balls to mercury glass, pom-poms, faux fur, wood slices and linen hoops. I also used old mittens, shoes and anything sentimental of the boys that would fit. One of my favorites is still the hoop ornaments I made a few years back in a class I taught with Jeanne Oliver. I wrote each of my boys a letter, Shane was 8 and Jack was 3. I had it printed on linen then applied it to a hoop. I love, love, love these!
I also made antler ornaments with my boys, gilded woodland animals and did time capsules with them. Shane bringing in Denver to look at the tree, isn't he getting big?!
The look at night says it all, doesn't it?! Pure magic!!
The wrapping paper is from Spoonflower and Home Goods in case you were wondering.
I will be featuring my holiday house tour next Tuesday, be sure to stop by!
Here are the other beautiful Christmas trees and family rooms….

Ella Claire  |  Kindred Vintage  |  French Country Cottage |  Dear Lillie
Jennifer Rizzo  |  Jeanne Oliver  |  Shades of Blue Interiors  |  Love Grows Wild
Rooms For Rent  |  City Farmhouse  |  Liz Marie Blog  |  Craftberry Bush
And our Featured Guest: Beneath My Heart
Have a beautiful day!