Hamptons Inspired Small Backyard Reveal
Hi there friends! I have partnered with Lowe's to bring you a backyard makeover inspired by the Hamptons. This reveal has been 5 years in the making, so I am beyond thrilled to be sharing it with you today! And what better time than the spring to share it, well almost:). When we first walked into our backyard, even though we were warned by our realtor we were a little shocked. It was small, really small, and to be honest it made me nervous. But…that quickly subsided as we walked through and saw the beautiful bay view and the rather large privet hedge. Sold, that was it and I have been plotting and planning this space ever since. Living on the East End of Long Island there is a certain style the Hamptons have and I wanted to capture a small bit of that in my backyard. If you drive through any of these towns you will find a plenitude of pea gravel driveways, beautiful architecture with cedar shake, gorgeous landscaping and lots of privet! If you were to peek into a well manicured backyard you would also most likely see lots of white, rattan and/or wicker, teak woods, classic prints, beautiful gardens, maybe a pool and a pool house too. Well…some of that is just not possible for a few obvious reasons but I did create a functional, private and pretty space within a modest budget. Come check it out….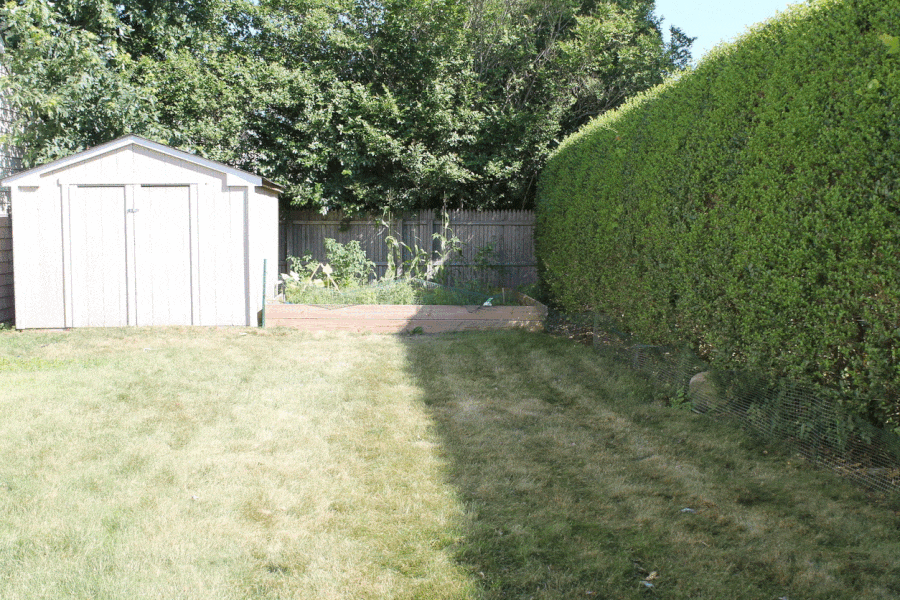 This is a before shot of what our small backyard looked like when we first moved in.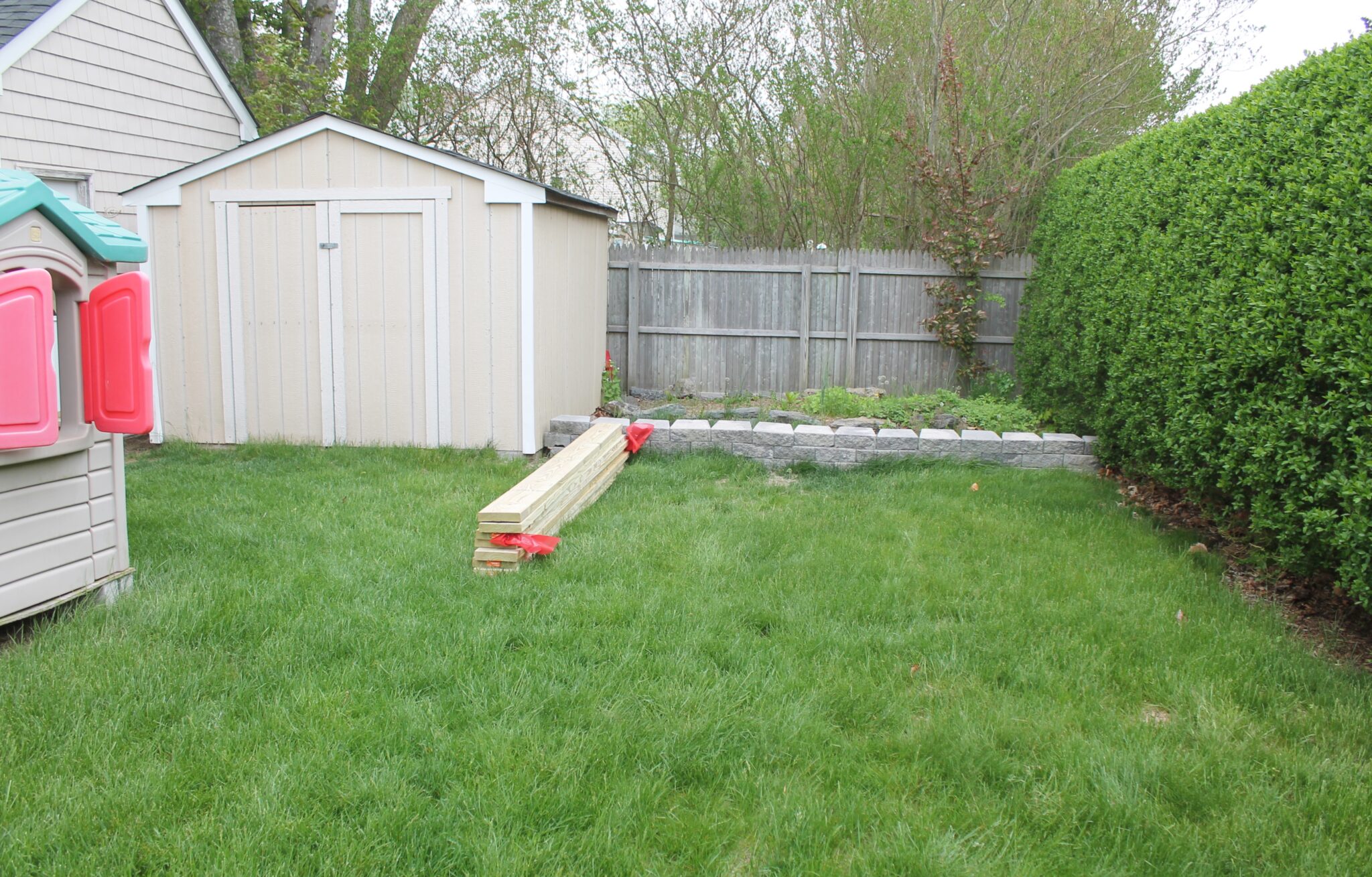 This is a slightly updated before shot, with my overgrown garden and shed that went through 2 hurricanes in the last 5 years since we have been here.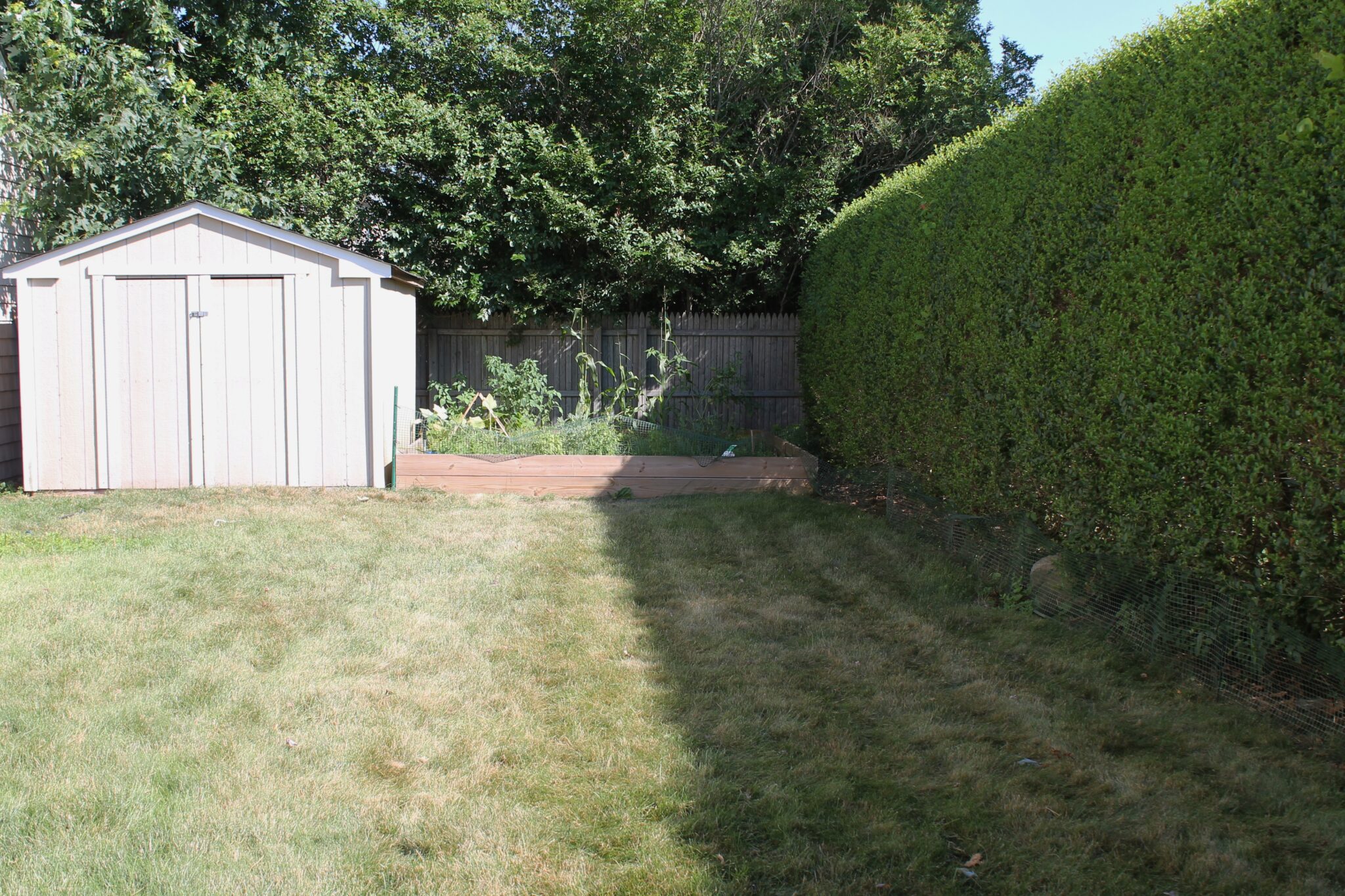 Last but not least the after shot of my Hamptons Inspired Small Backyard Reveal…..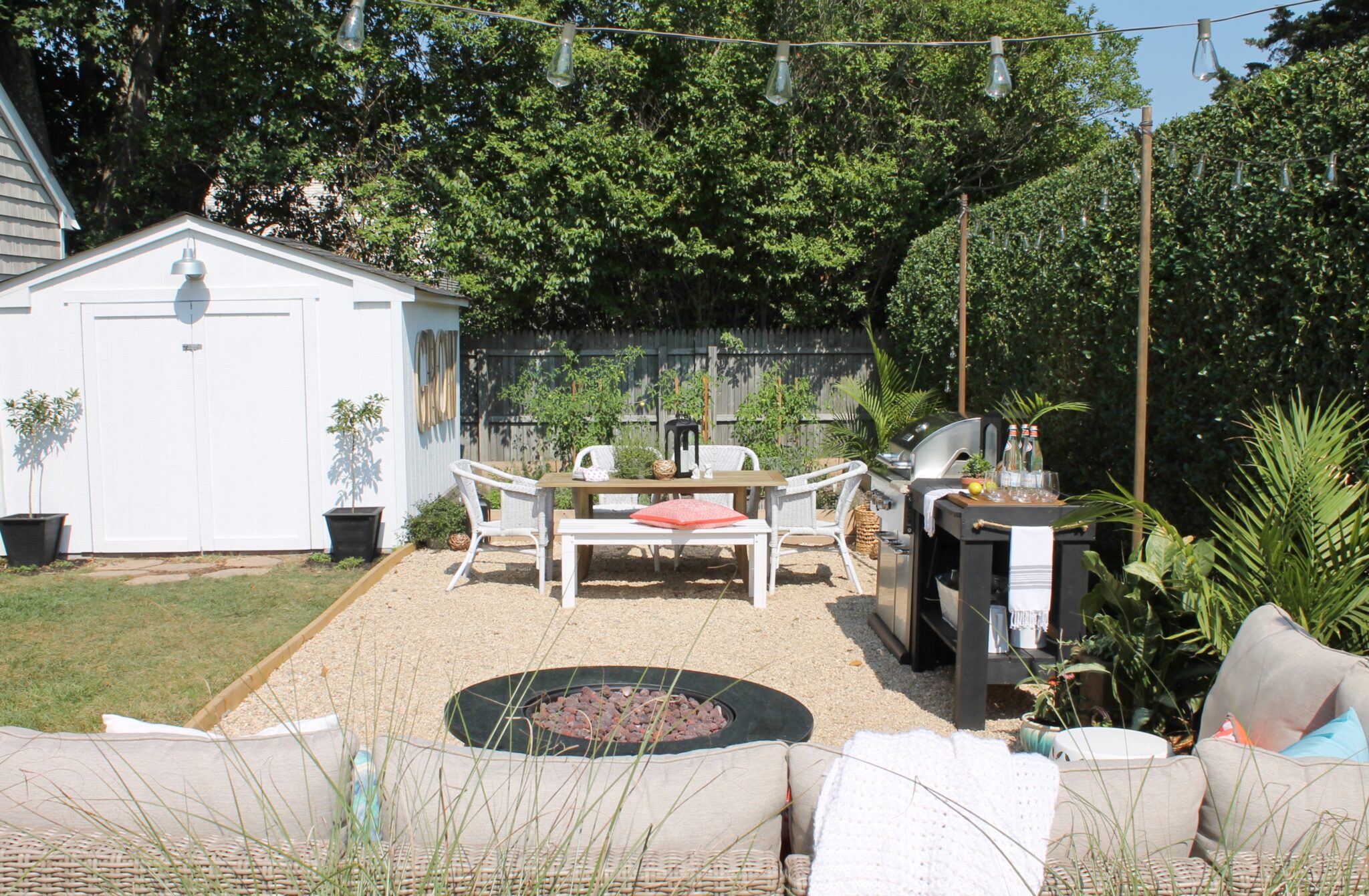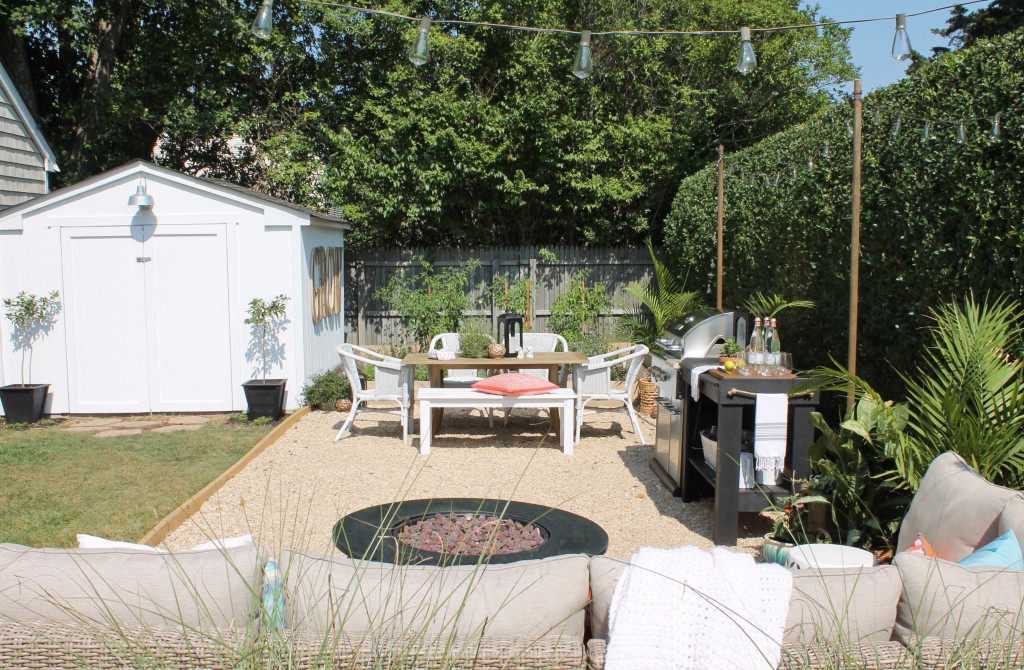 I designed the space to use the most length we could out of our yard for this patio without it seeming off balance. I knew if we were going to do this then we needed it to be functional, so I broke the area into 3 parts. I created a sitting area for chit chat, relaxing by the fire and just lounging, I also added a purposeful dining area with a bench for the little ones and a DIY outdoor kitchen.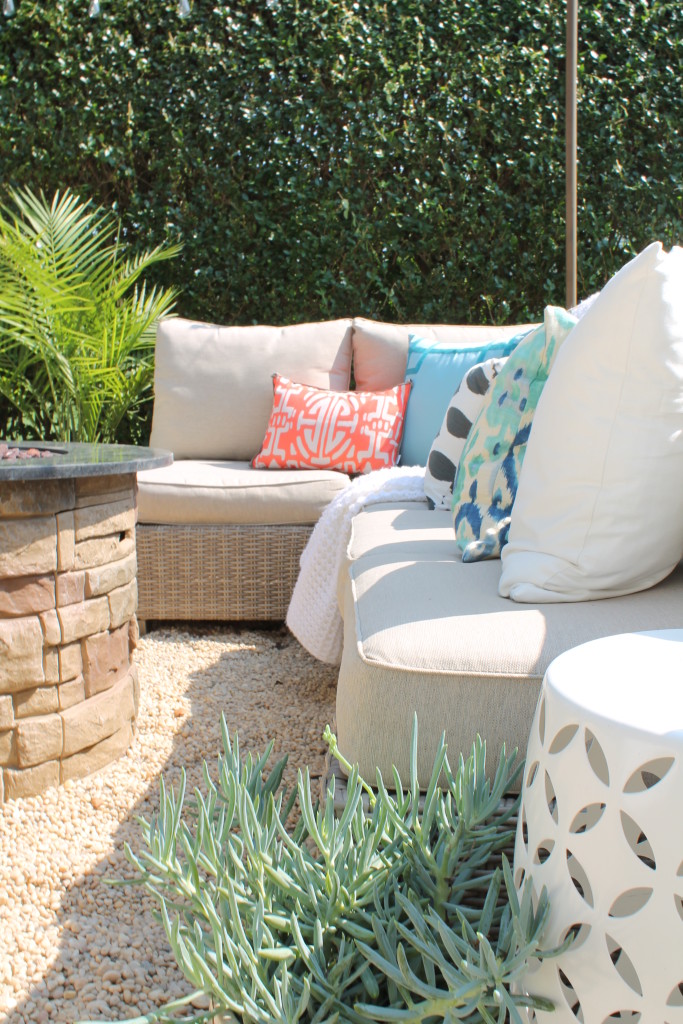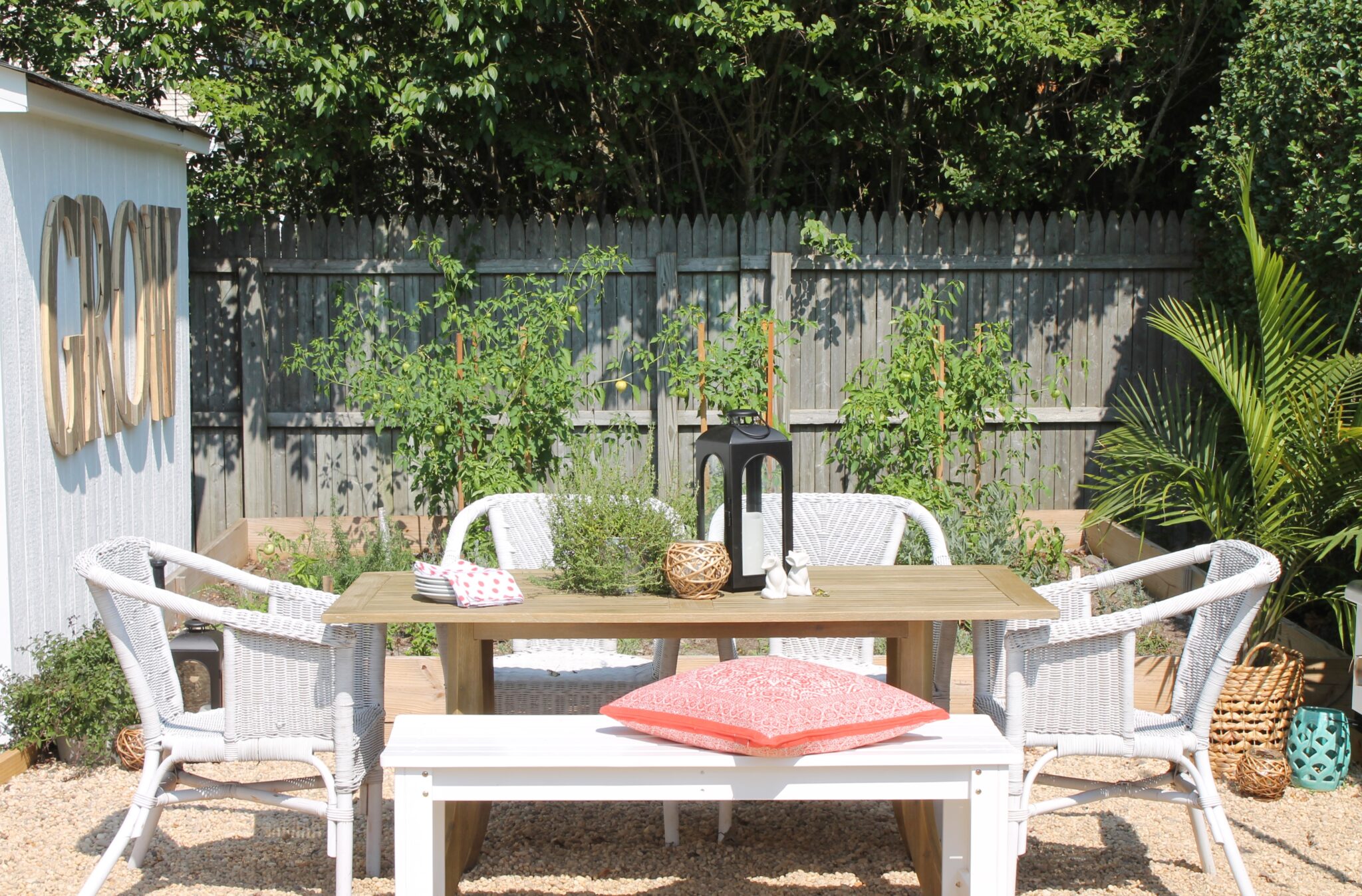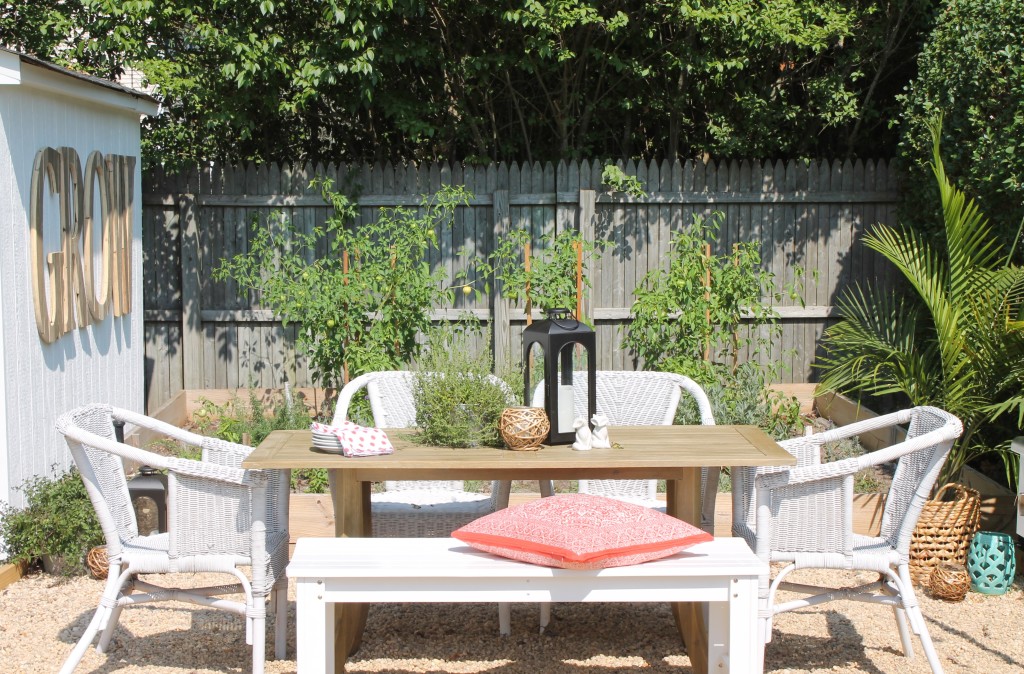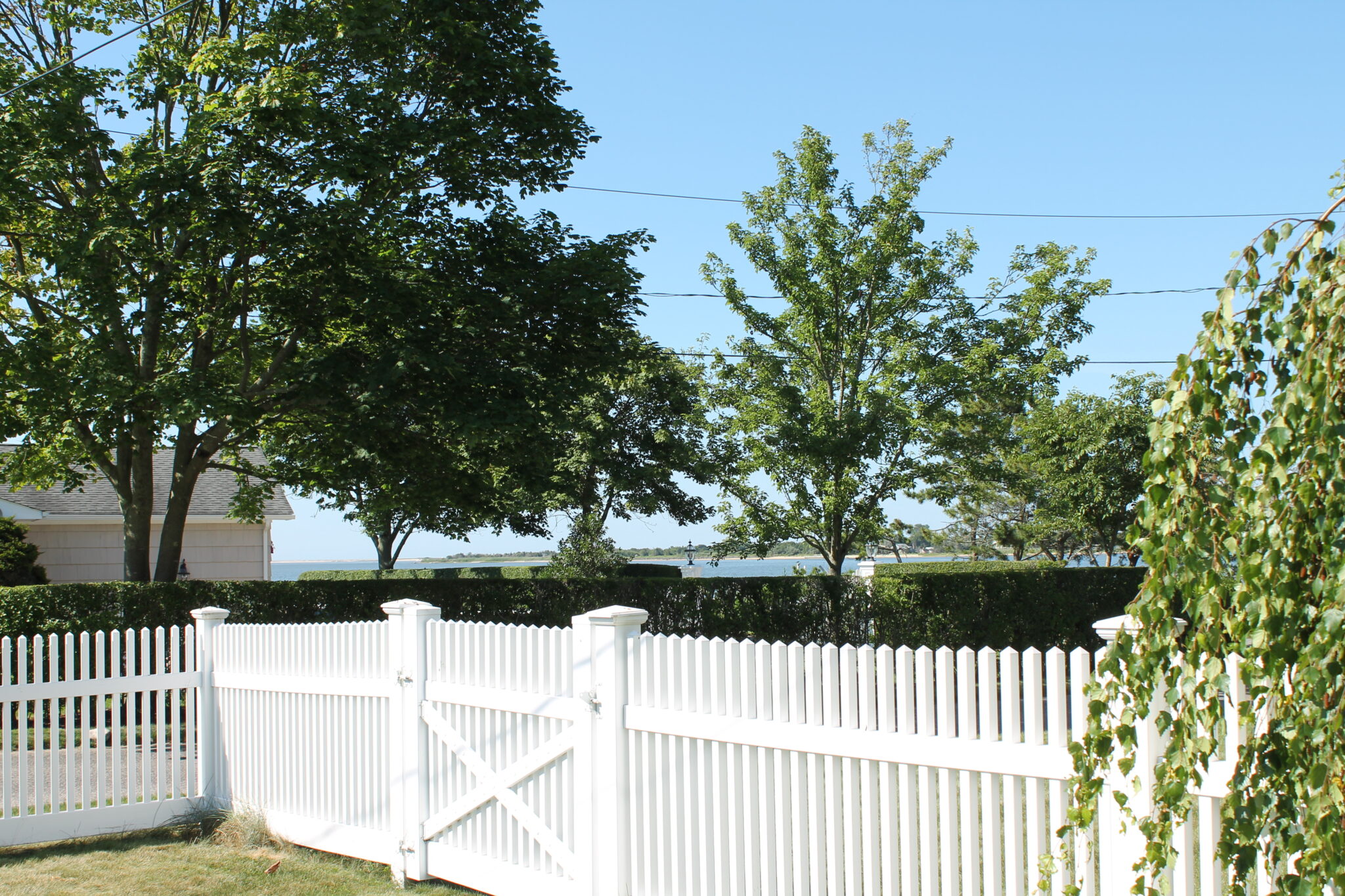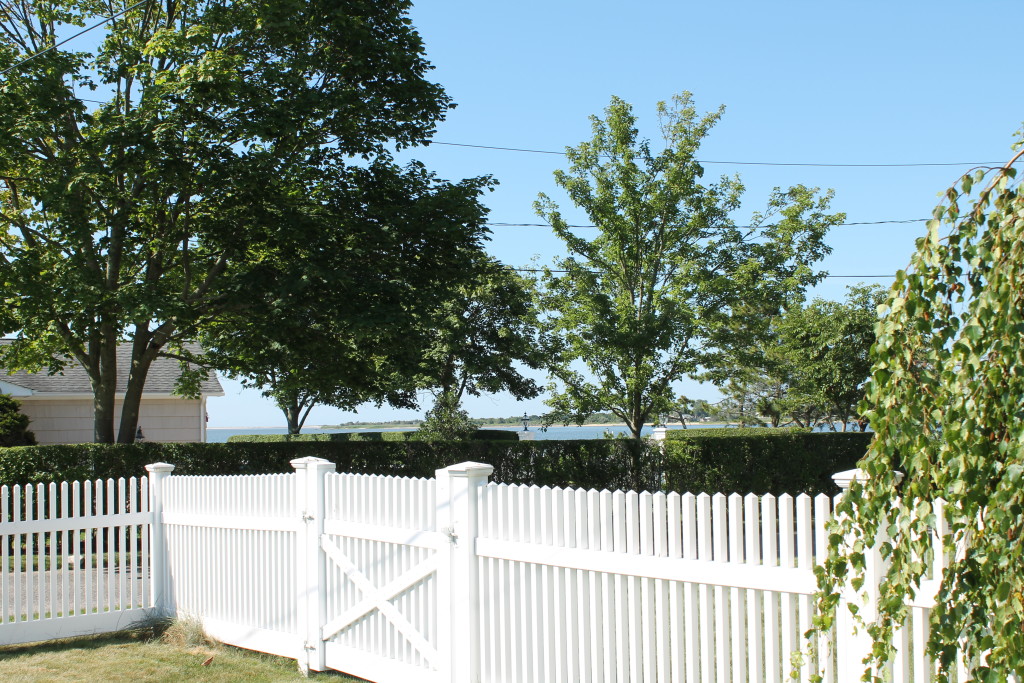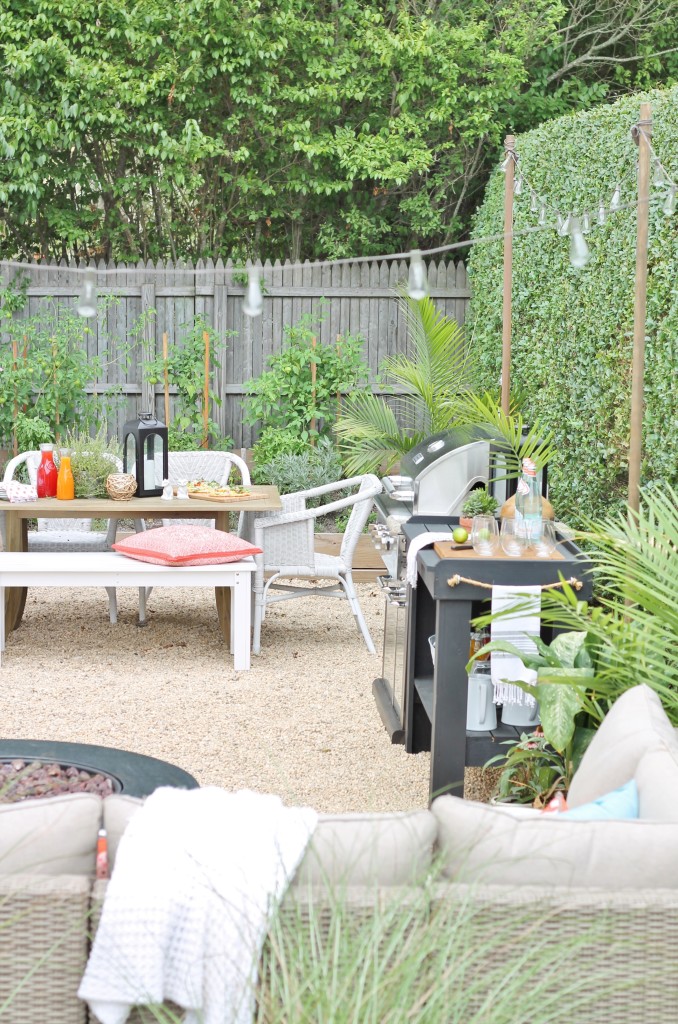 We decided to go with pea gravel for a few reasons. First we thought we could do it & not mess it up and second, we loved the look. I will be posting the tutorial soon, stay tuned.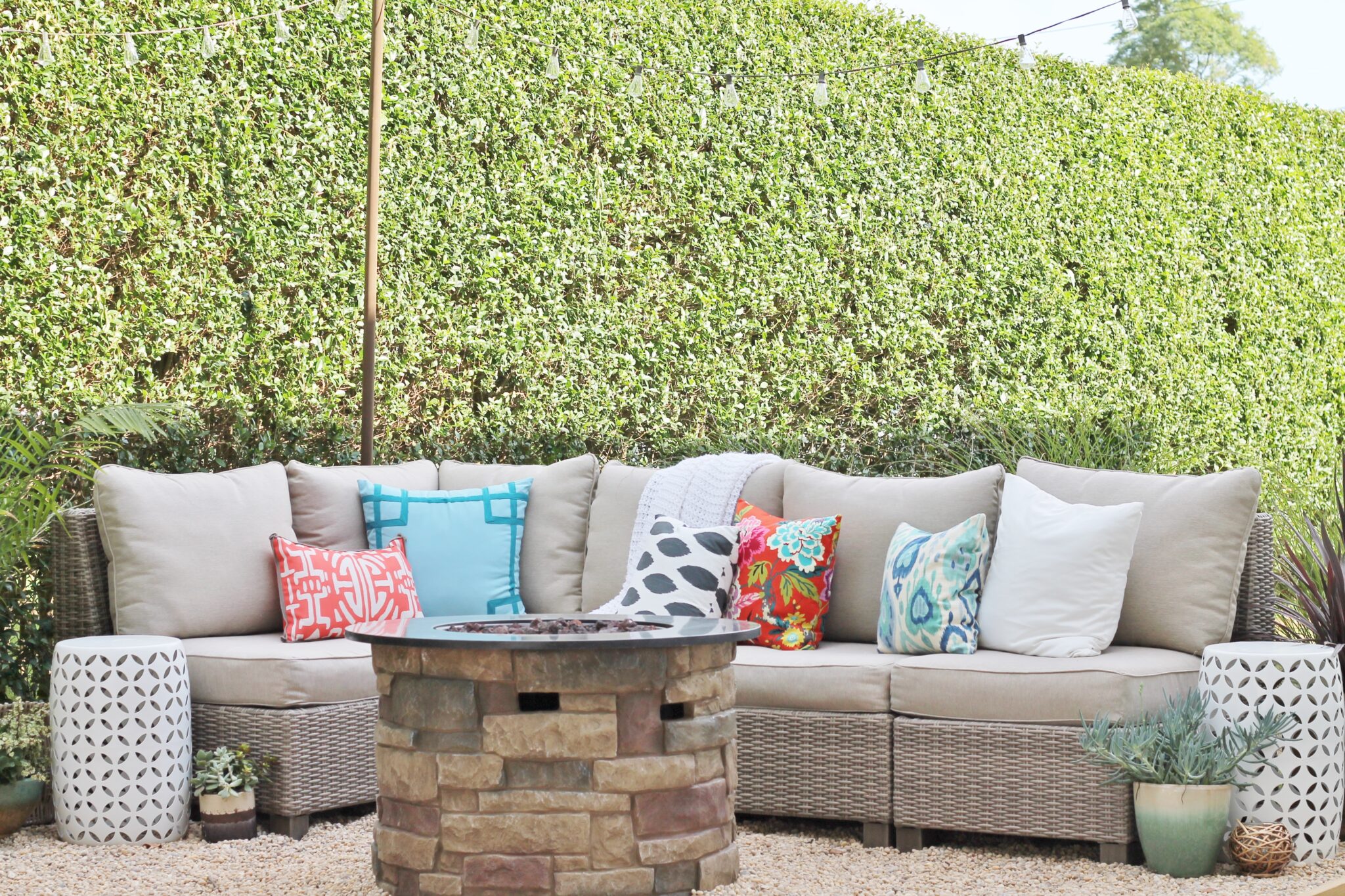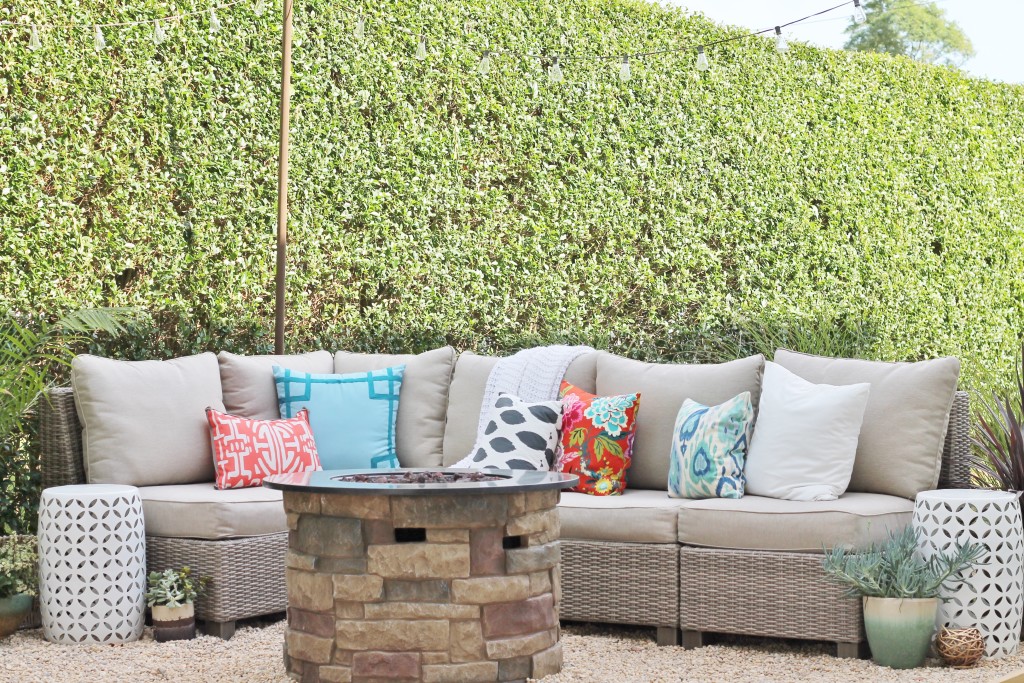 You can find this beautiful Nantucket gray wicker sectional HERE.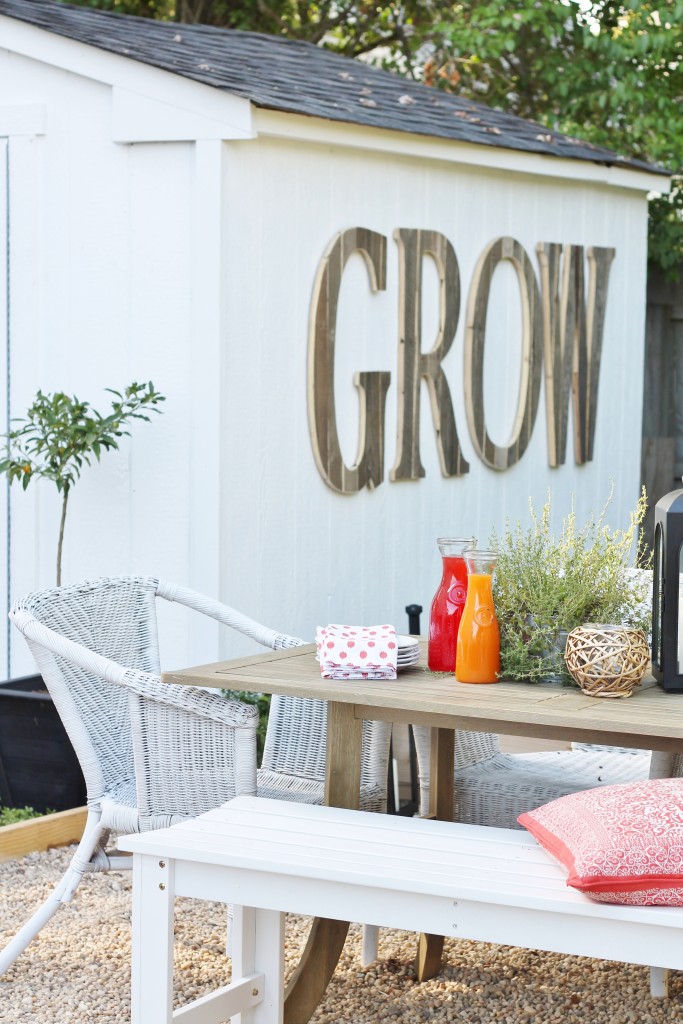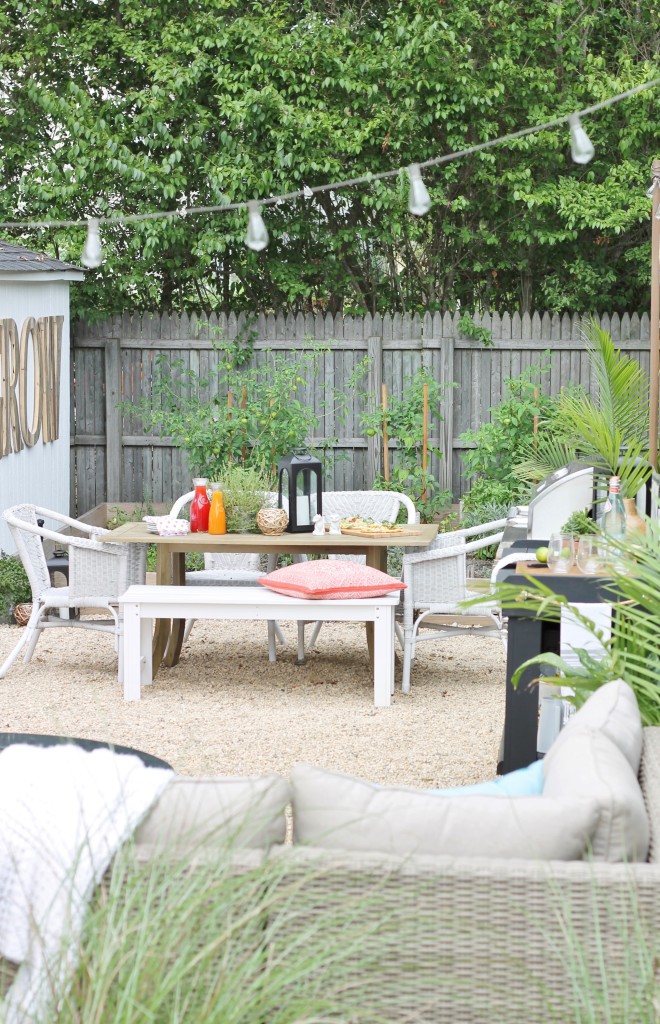 The lights are a favorite, they are Allen & Roth Edison string lights, you can find them HERE. You can also find my tutorial for the DIY Light Poles HERE.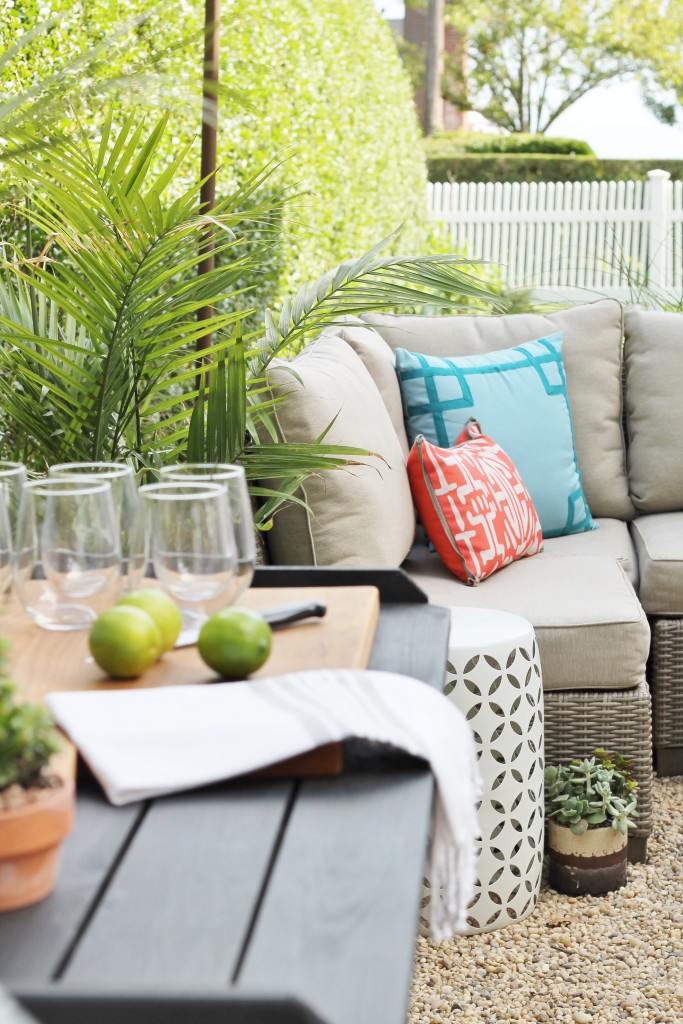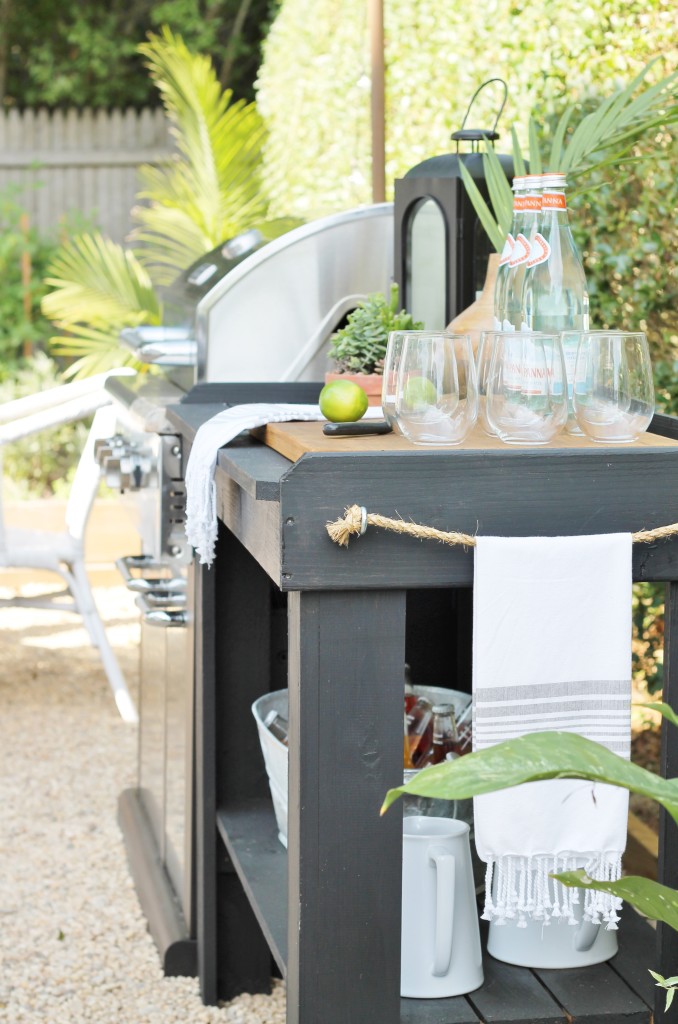 This is actually a potting bench I painted in HGTV Home by Sherwin Williams Tricorn Black, I added this DIY towel holder on the side using simple eye hooks and jute rope. By combining it with THIS grill I was able to create a DIY outdoor kitchen.
All of my vegetables and herbs were purchased at my local Lowe's store.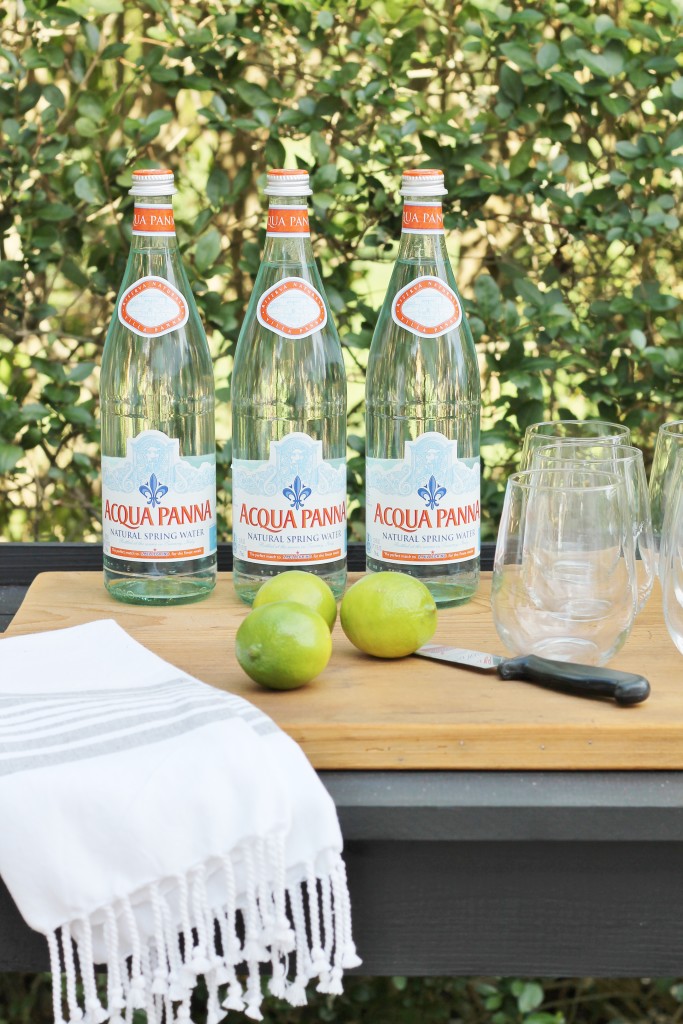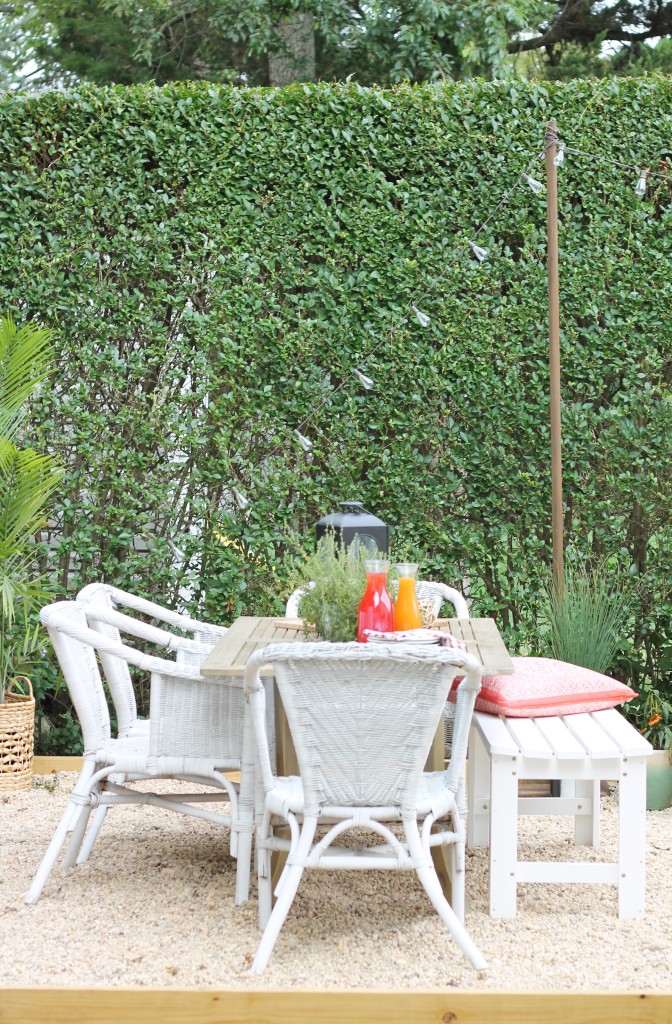 By adding these 4 vintage wicker chairs and giving them a fresh coat of white paint it fits right in with the Hamptons look. The outdoor bench is the perfect addition and is so convenient with kids.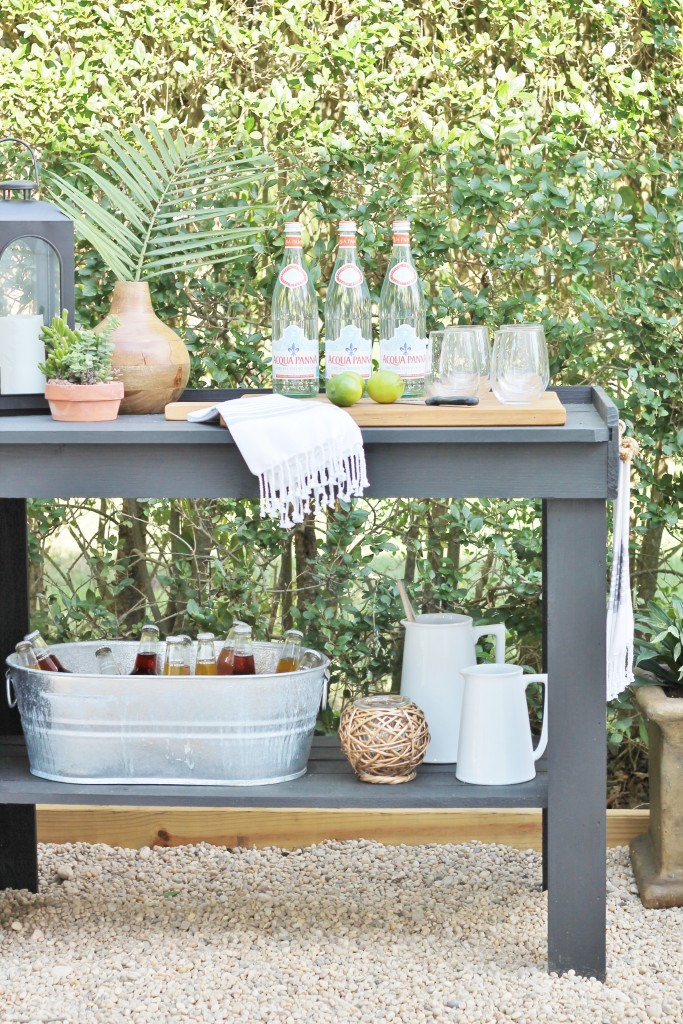 I love styling bars, it is my thing, you can find my all time favorite styled bar HERE.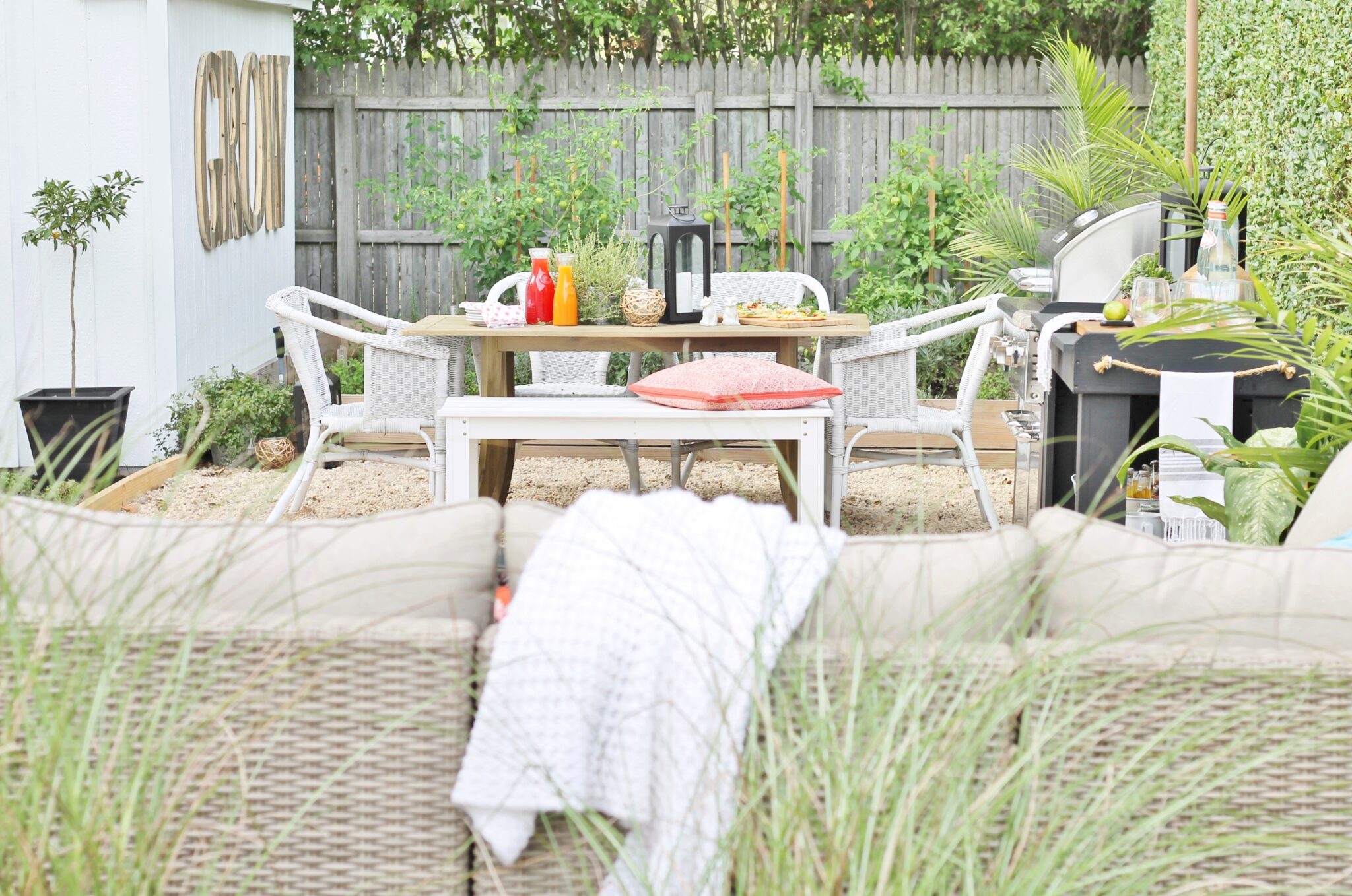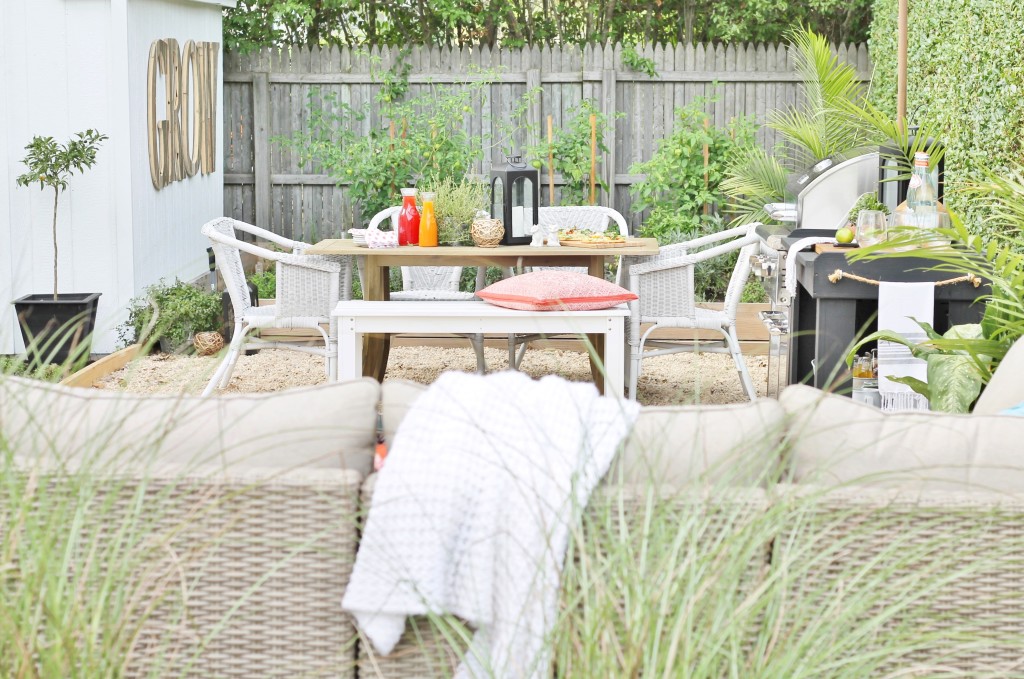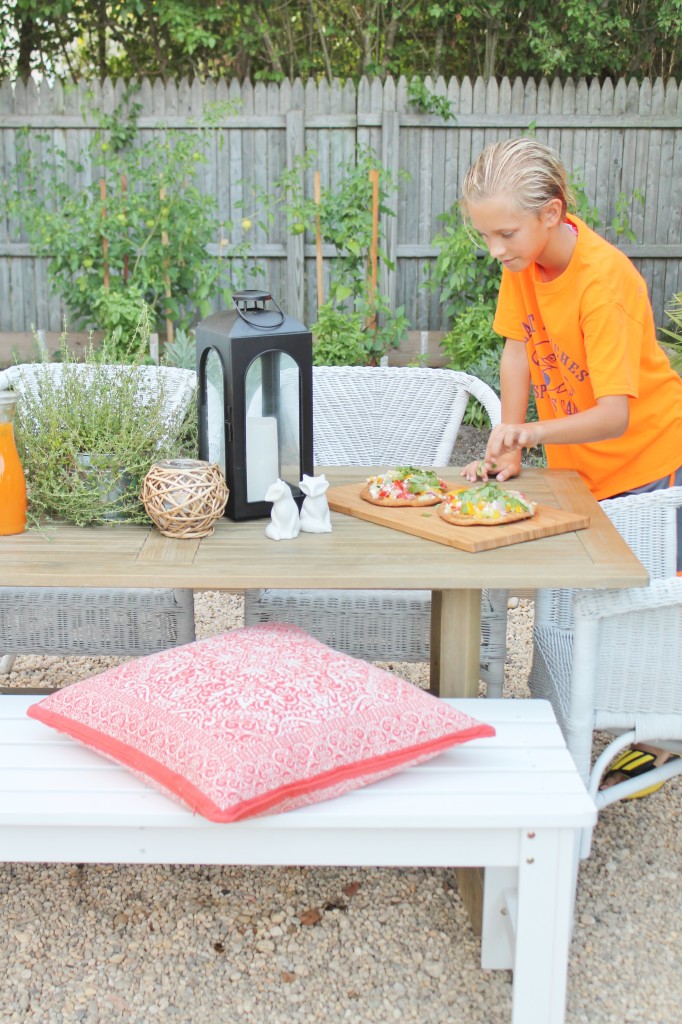 There are no words to describe how happy I am to have this space done. It is such a functional area to entertain our family & friends and cuddling up by the fire at night is an added bonus. We debated about whether to do gas or the "real thing" and I have to say, do GAS!!! It is so nice at night once we decide it's time to go in my husband just turns it off, no waiting and no mess. I highly recommend it.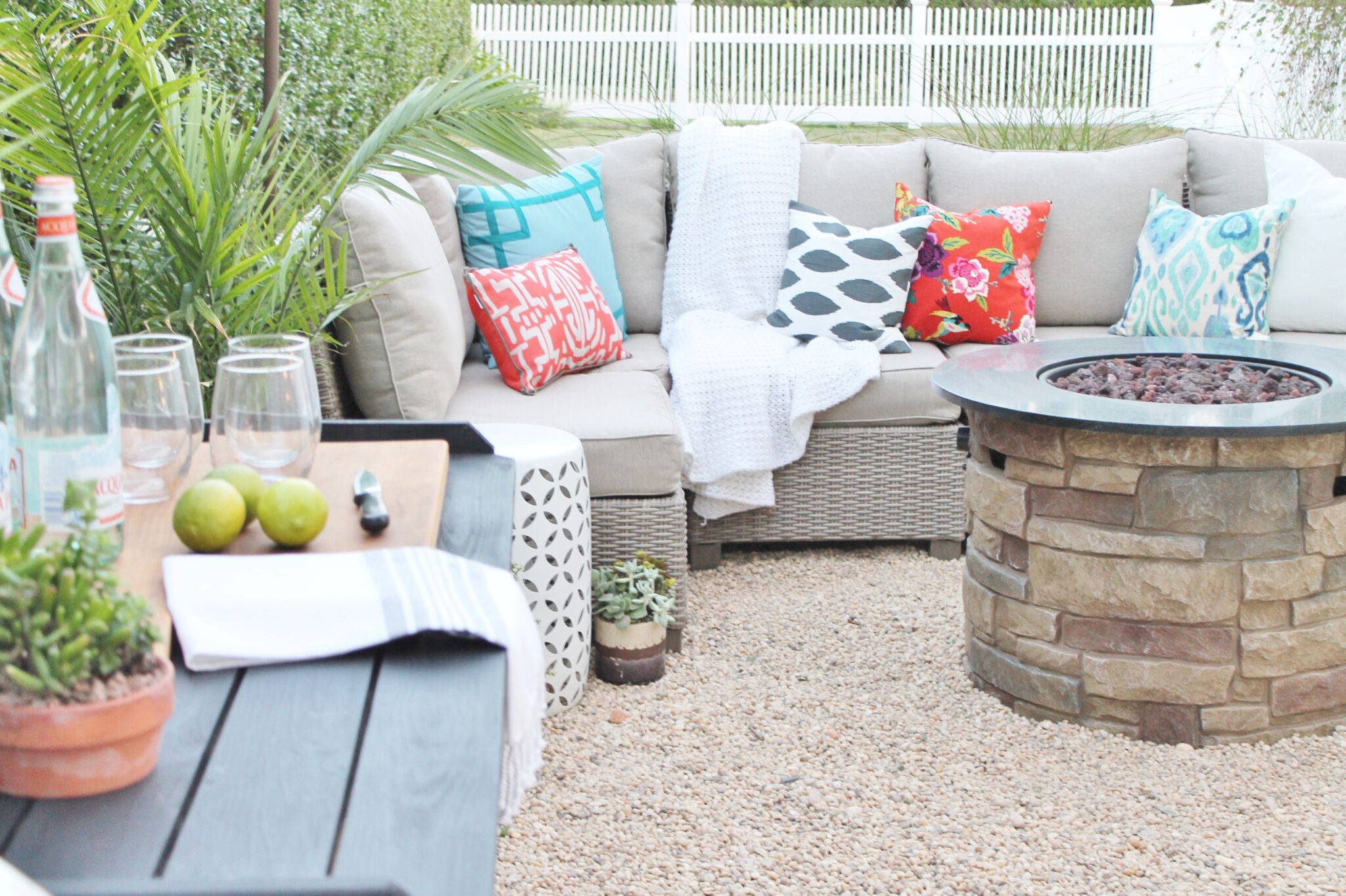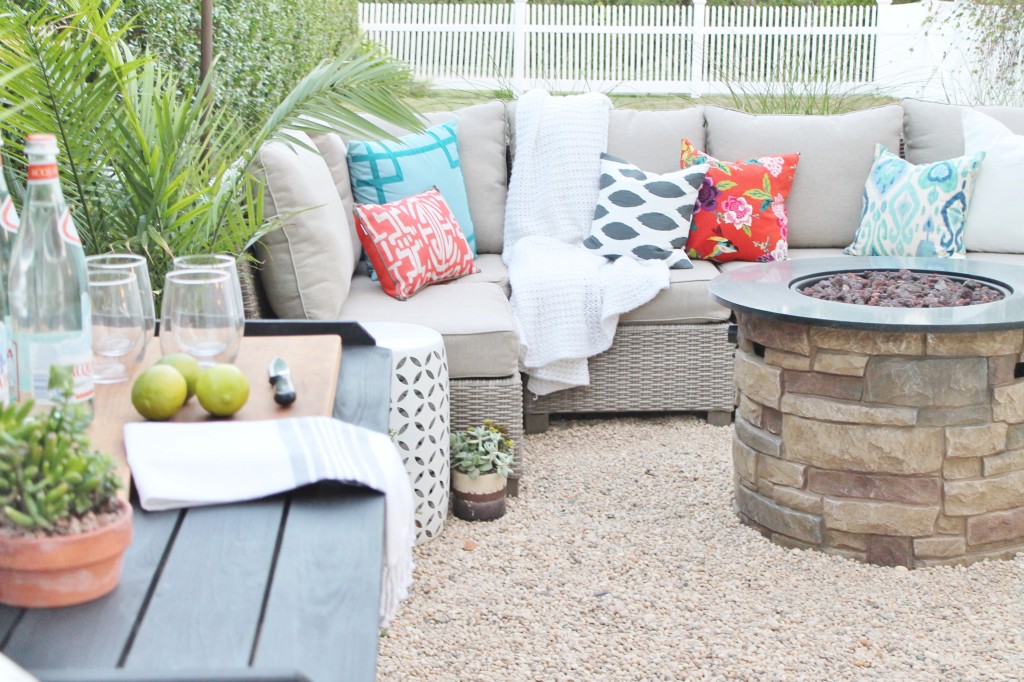 At first when this large umbrella arrived I was second guessing myself but guess what, is it the best! It gets hot here on Long Island and this umbrella makes it possible to be outside during the day.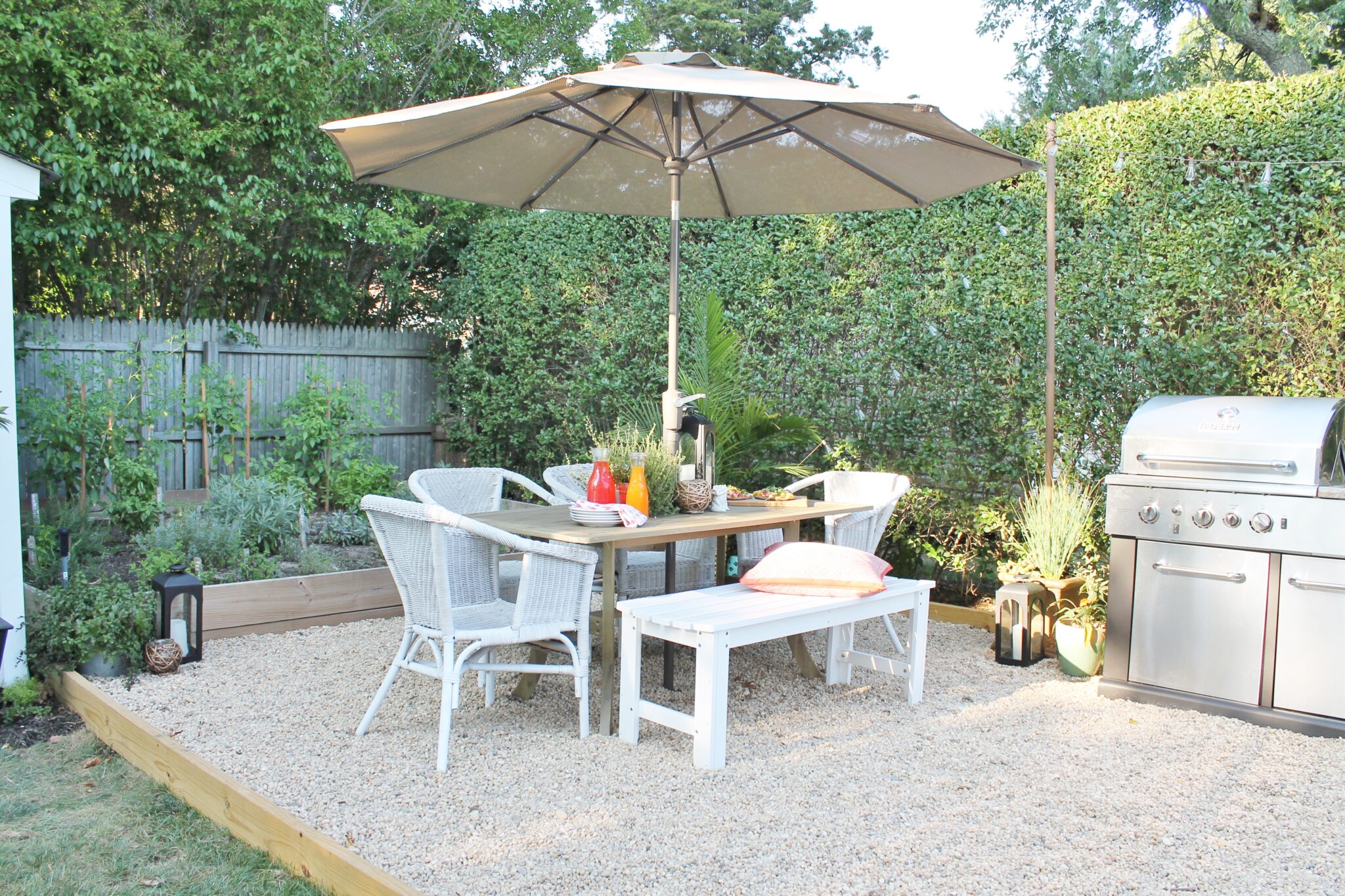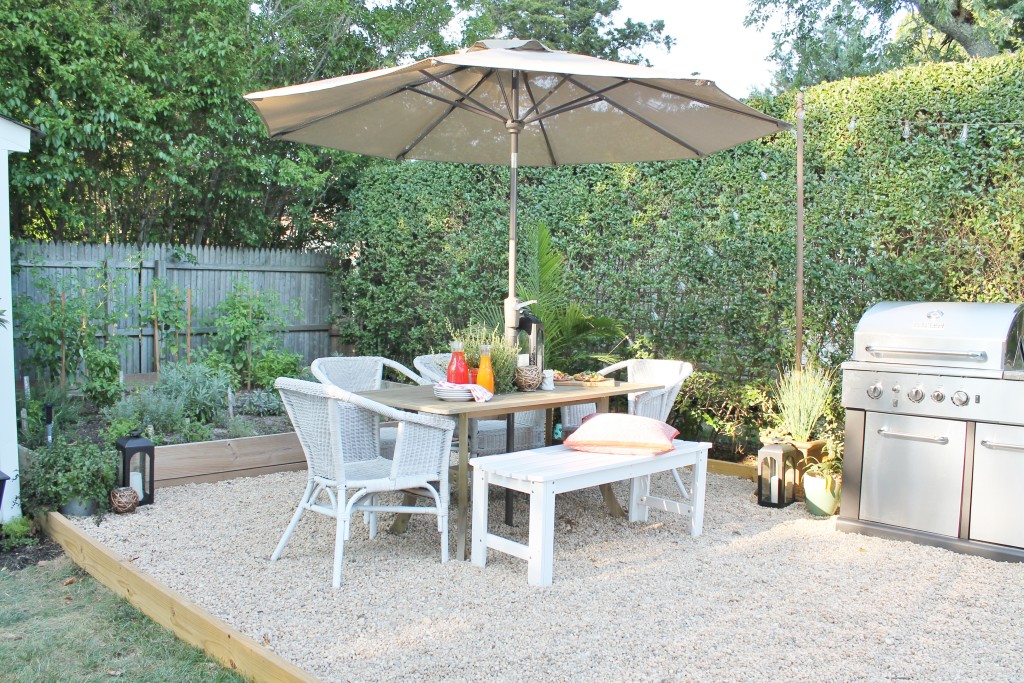 As the sun went down I thought it would be nice to show you how it looks when the lights are on.
The lights create such a serene & peaceful mood out here & makes it fun to dine under the stars.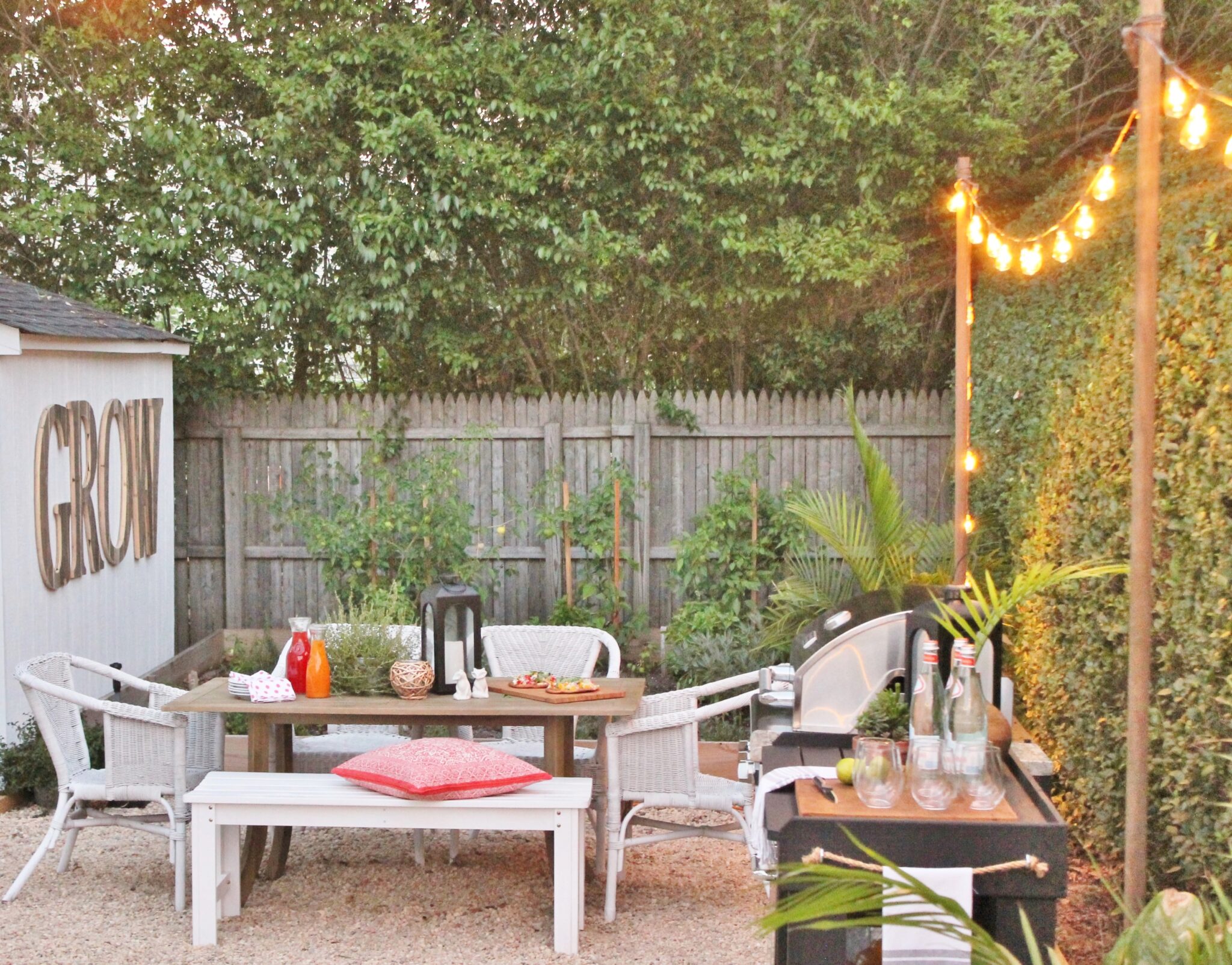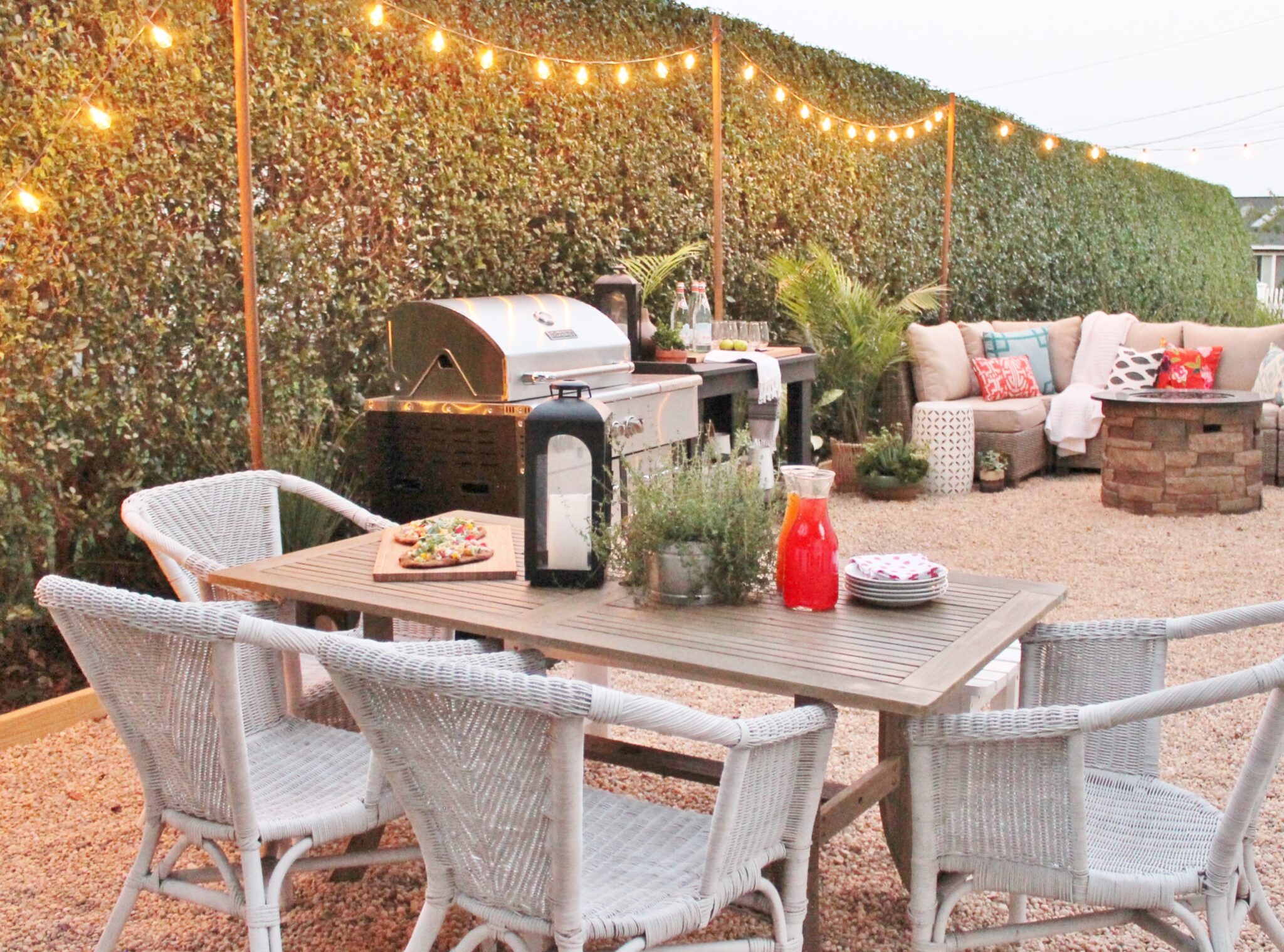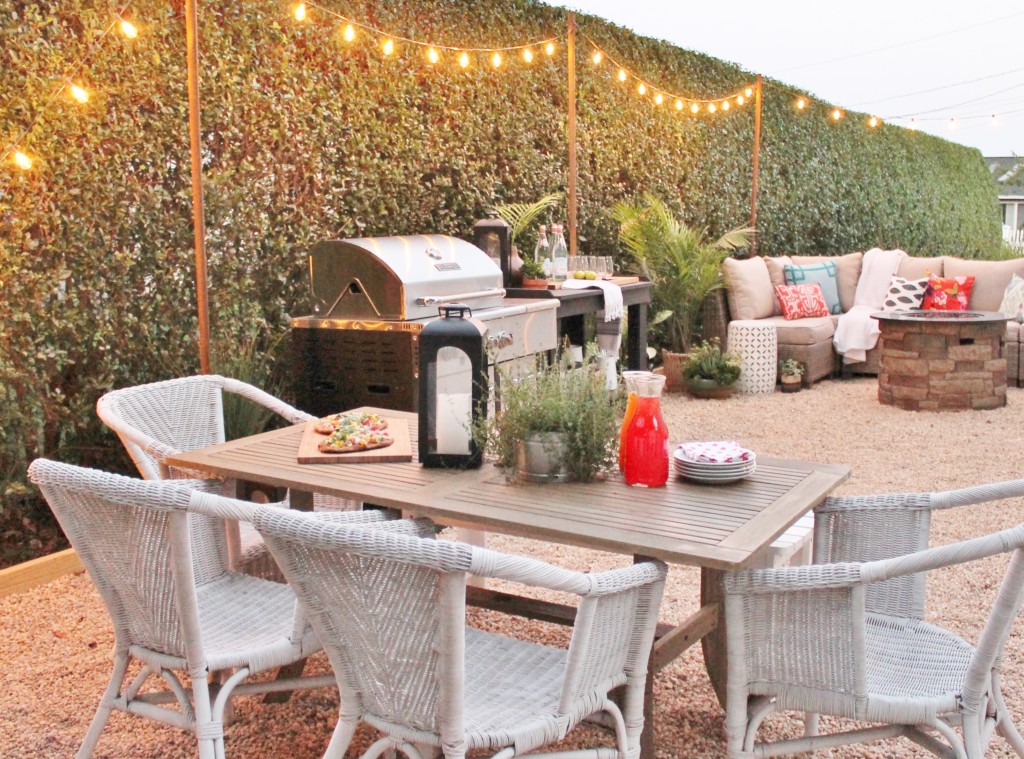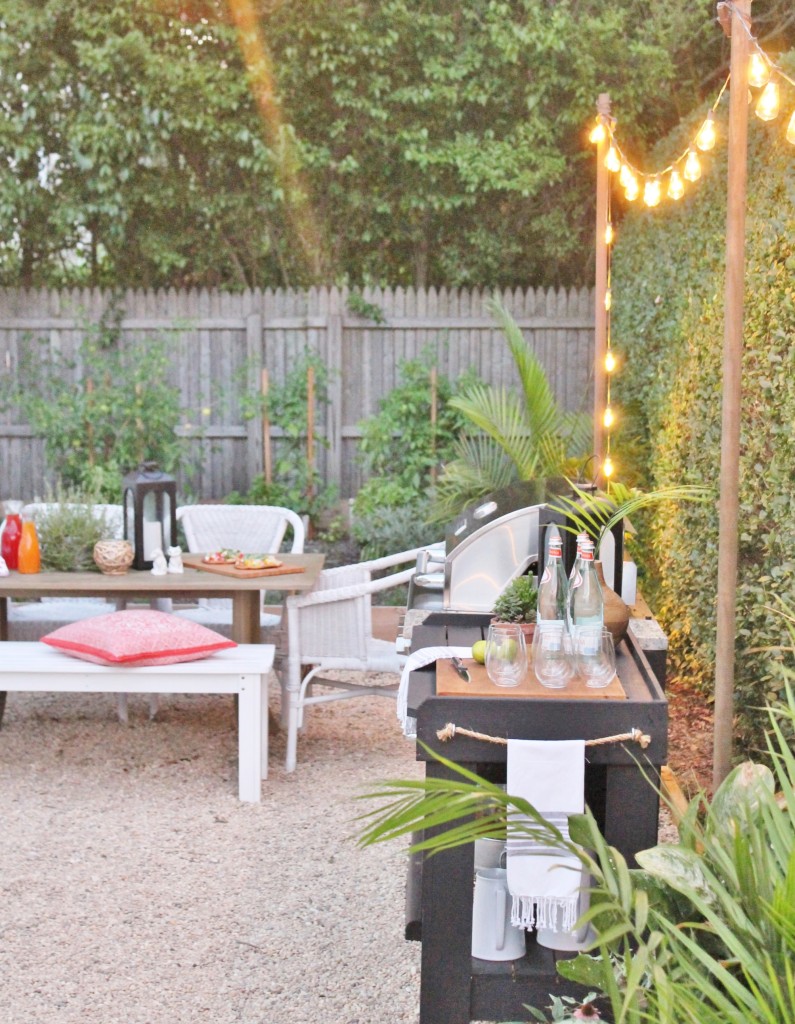 I hope you enjoyed my backyard reveal and can see the potential in even the smallest of backyard spaces.
I will be back to share my FULL source list with you, so if you have any questions please leave them in the comments so I don't miss anything. In the meantime you can shop Lowe's Outdoor Living section, you will see the fire pit we used right at the top.
THIS IS A SPONSORED POST BY LOWE'S, PRODUCT WAS GIVEN IN EXCHANGE FOR THIS POST.
Have a beautiful week,