Simple Tips For Making A Casual Magazine Worthy Fall Tablescape
Hi there friends! The crisp smell of fall is in the air & I couldn't be more excited! There is something welcoming about it after the busy summer months, isn't there? Seasons of Home is back today with another amazing segment and it's all about fall tablescapes!!! A big thank you to Kristen from Ella Claire for hosting this incredible series!!!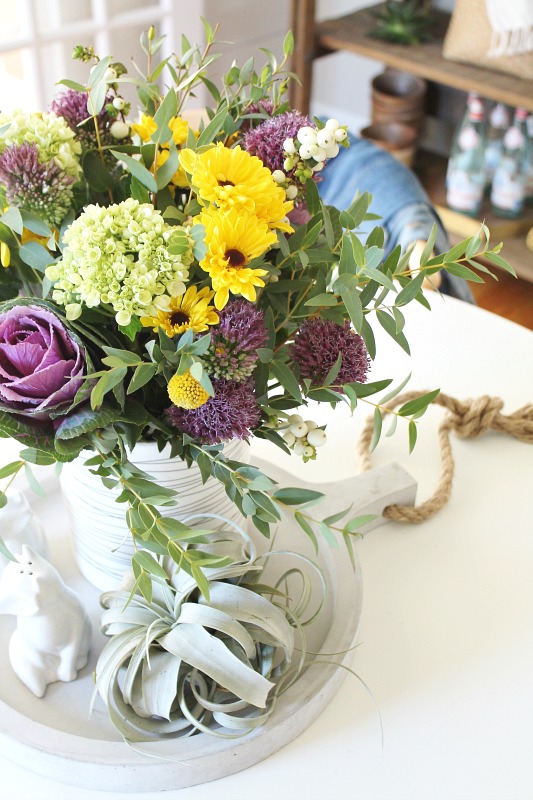 When I was asked to be a part of this segment initially I thought I would sit this one out, since I no longer have a dining room. But…I still have an eat in nook and realized not everyone has a formal dining room so I would create something that was casual, pretty & cheerful and lend some tips for creating a simple fall tablescape.
Just a quick recap, this is last year's fall dining room. If I am being honest, on those few occasions a year that I decorate it, I do miss it! The reality of it was, it was a room that was hardly used. I host Christmas Eve every few years & parties a few times a year and we make do without it.  My kitchen island can seat up to 6 stools, so that does help since I have an open concept.
  In cased you missed it, this is the new den/old dining room.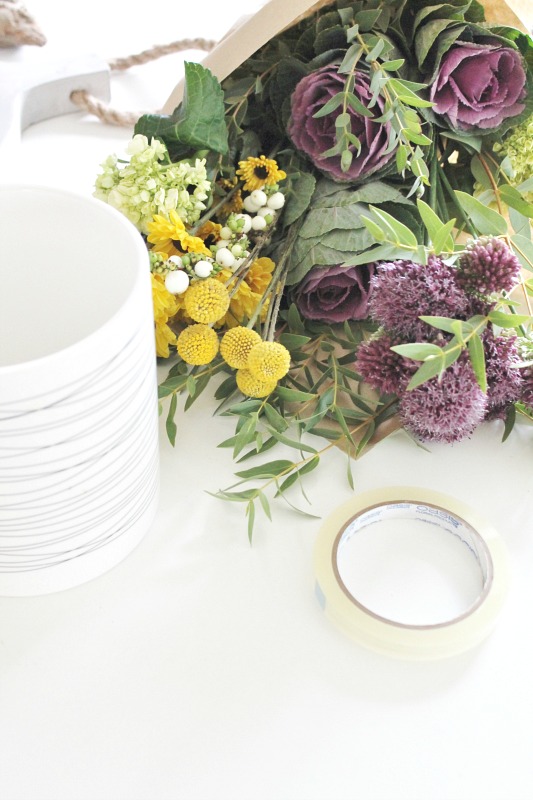 I recently did a makeover with BHG & Rebuilding Together for the most wonderful person, it will be in the upcoming October issue, eek! I pitched the idea of a deserving homeowner makeover to BHG last September and they loved the idea of giving back. As we moved along in the planning and then the actual makeover process they let me know that I would be the stylist for the shoot. What?! First thing that came to mind was, "this is a dream come true" and  the next was "oh crud, that means I am in charge of the flowers."
My sister actually got the flower gene, not I. But like most things in life, it just takes practice and asking the right questions to those who know what they are doing.  I took a class a few years back at the BHG Stylemaker event & began to brush up on my skills. What I found was that it was fun, creative and sort of therapeutic.
Here are a few simple tips I learned along the way…..
1. Get creative with your vessel. I happen to like chunky cylinders right now, this is a utensil holder, you can use a canister too, I have seen really pretty marble ones. If your vessel isn't suited for water (like wood) then put a plastic container inside it.
2.  Tape it. My wholesale florist showed me how to do this right before the BHG shoot and it made a world of difference. This is floral tape but she said you can make a grid with even a thin, clear household tape.
3. Vary textures, shapes & sizes. Whether you are buying from the grocery store, farmers market, florist or finding flowers in your own yard, be sure to mix it up. I start with a larger item and then work down, keeping in mind scale.
4. Think outside the box. You don't have to spend a ton of money on in-season flowers, the produce section has plenty to offer like artichokes, kale, grapes, figs, tangerines, etc…. If it doesn't have a stem then stick a skewer in the bottom.
5. Play with your palette. I love creating fall palettes, you can find last year's colors HERE. I usually stick with variations of 2-3 hues so it feels cohesive.
6. Start with the largest items and work down. I like to start with the larger items first and stagger the distances in the vessel. In this case, the mini kale was the biggest, then I worked my way down in size, making sure they were in off setting locations.
7. Greenery is important. I like to use olive branches, eucalyptus, fern, sage or any small to medium leaf variation. It's amazing what you can find in your own yard or in your indoor pots.
8.  Ground your arrangement. Use a tray or runner whenever possible.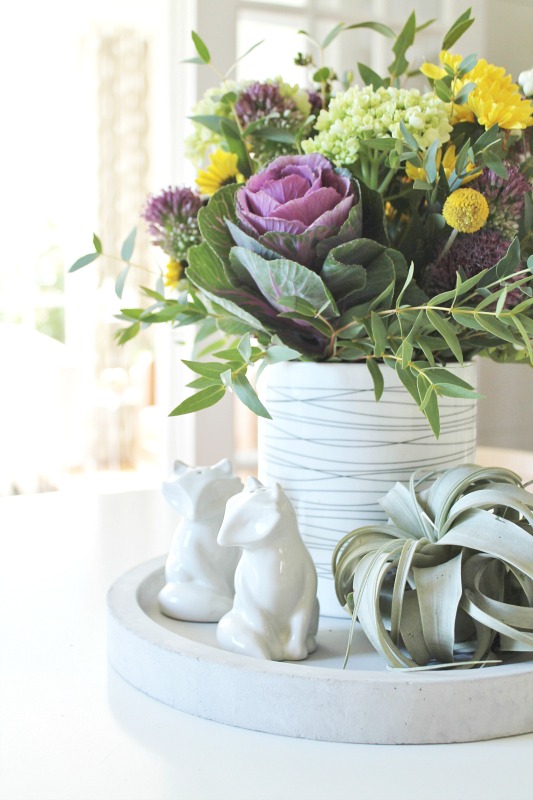 9. Stagger heights, dimension and numbers.  You want your floral piece to be the highest or 2nd to highest, then go down for the next item and so forth. You can usually tell by eyeing it what looks best. Use sculptural items, natural items or other plants whenever possible.  Also stagger your numbers, odd is always best, because the salt & pepper shakers are a pair it works.
10. Have fun!!! I know when we buy flowers we put pressure on ourselves so maybe practice with what you have in your yard or even a friend's yard first.
You can shop this look here….


Be sure to hop on over and visit the other stunning & creative tablescapes…..

Ella Claire | Craftberry Bush | Love Grows Wild | Shades of Blue Interiors
City Farmhouse | Dear Lillie | French Country Cotage | Miss Mustard Seed
Liz Marie Blog | Rooms for Rent | Julie Blanner | Kindred Vintage
My Sweet Savannah | and our beautiful featured guest,  The Inspired Room
Have a happy day!