Linen + Leather: Den Reveal (Part 1)
Today is the day, I am finally revealing my new den! After months of anticipation & decision-making I am happy to say it is almost finished and we couldn't be happier about the switch up. As I was editing the photos it occurred to me the texture combo was why I loved this space so much, hence linen & leather. I am so thrilled to be partnering with Article on this room. Their mid-century tufted sofa was the jumping off point and inspired the rustic modern mix of textures, styles and accessories.
In case you are wondering I do still need to paint the walls, I found a shade of white that will look beautiful with THIS piece of art I created for over the sideboard.
If you remember this was my dining room. I really wanted an additional space the family could hang out while I was cooking, to maybe enjoy a quiet moment in the afternoon to read or play games on the weekends. From the moment we made the change we have been using it ever since. This is also where I binge watched Netflix in the wee hours of the mornings over winter break, lol.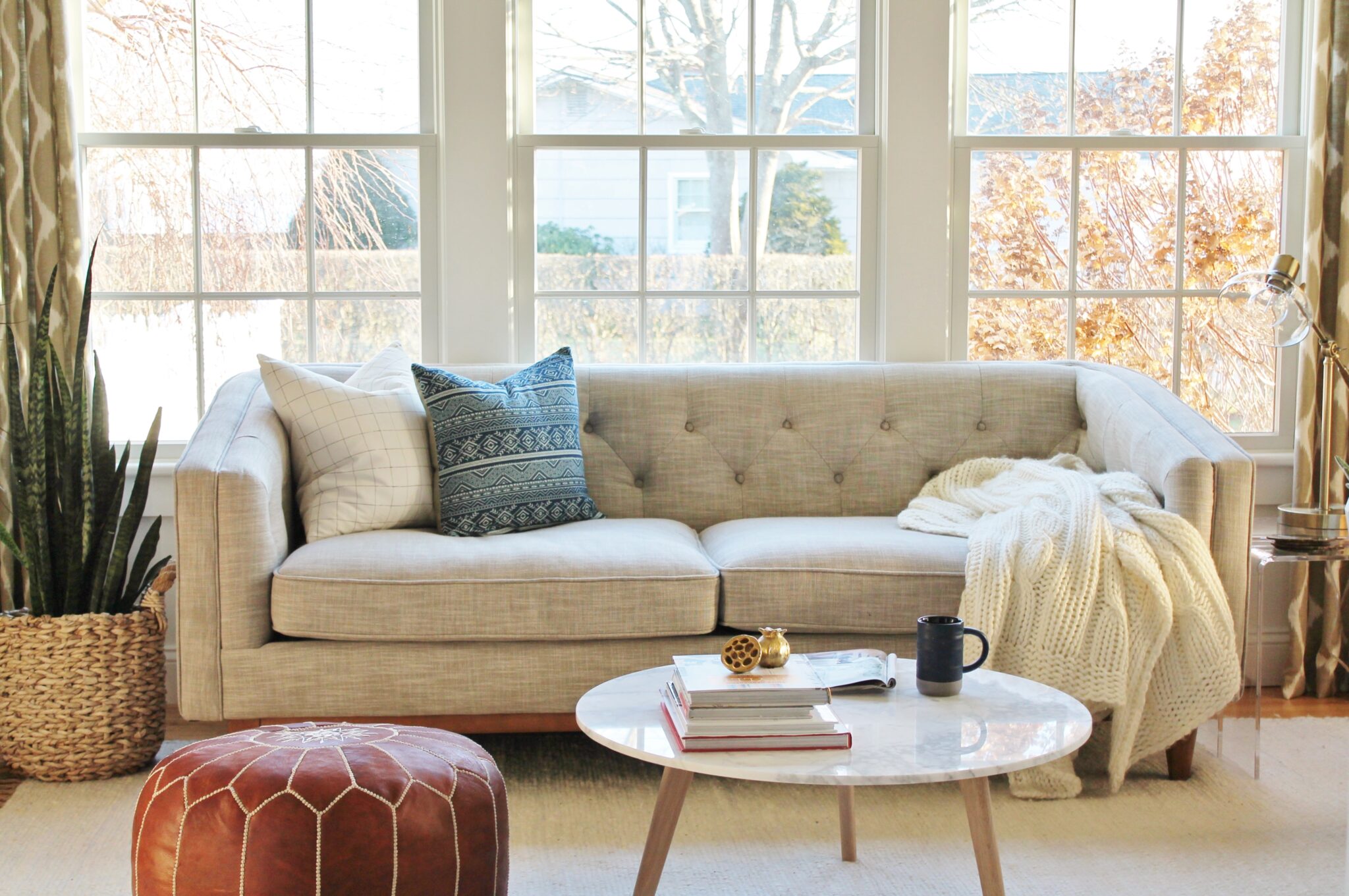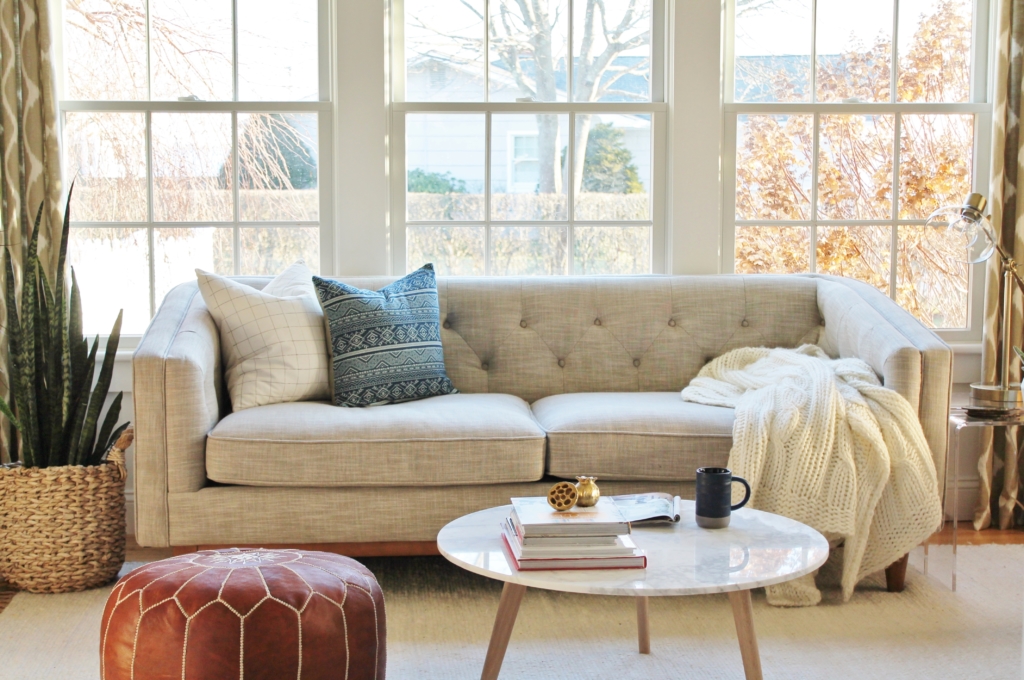 Denver likes it too, it is warm & bright and he gets to watch all that goes on outside. On the weekend mornings Jack snuggles right up next to him with lots of blankets and they catch up on a show on his iPad, it's really cute. I said when we got this little guy, no furniture but he was so small and cute, how could I resist? Just look at that face.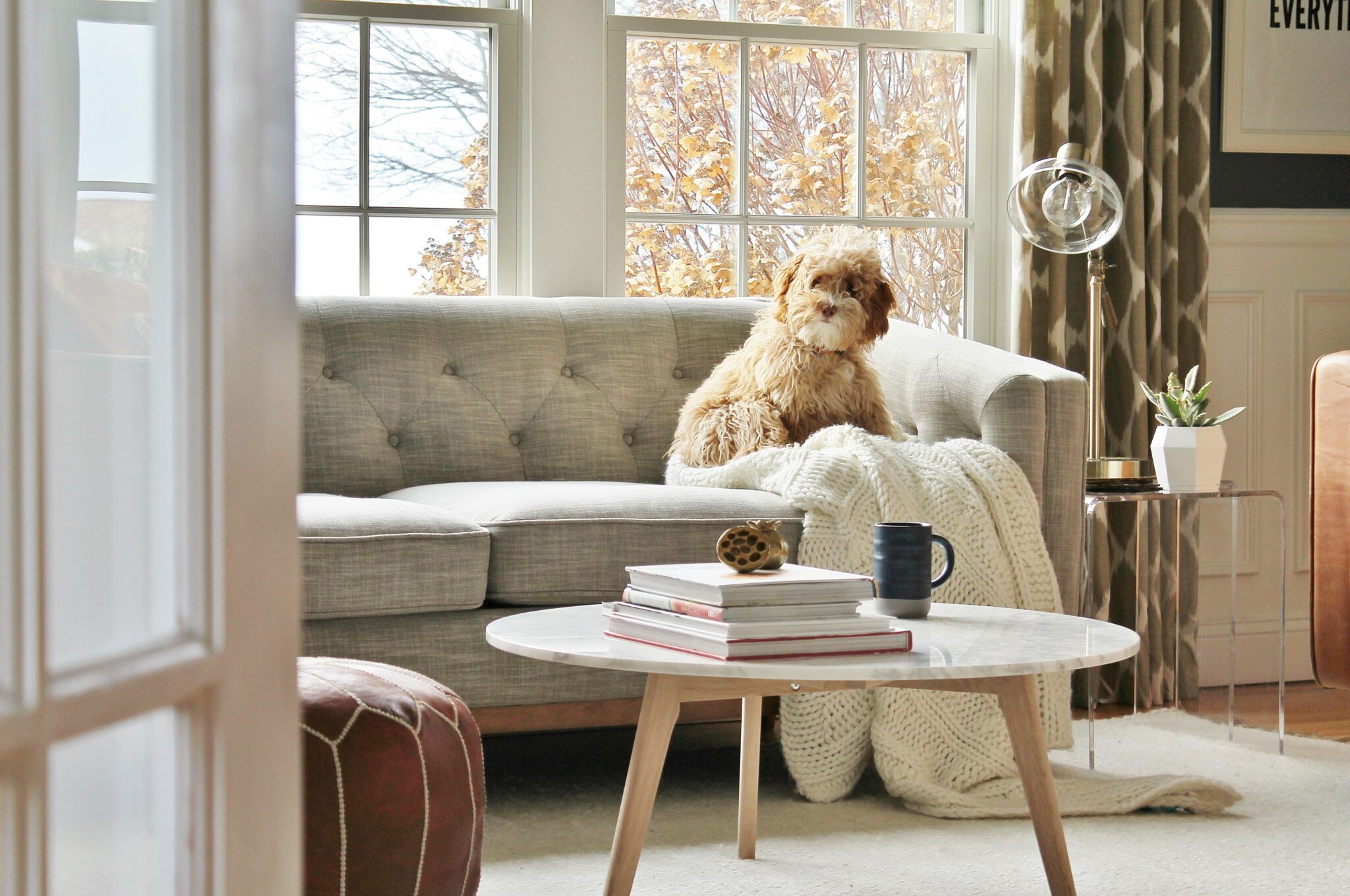 The marble table was also love at first sight. It is so well-built, sturdy and not to mention beautiful!!! It is perfect right under my orbit chandelier.
The mix of rustic, glam and modern styles gives the space personality & the textures play so nice together.
This is my favorite chair of all time! I had been searching for almost 1 year for a leather chair for my family room when I found this one. The Sven is the perfect size, color and is so comfortable. I can't tell you how many leather chairs I have sat in that felt firm and stiff. This one is absolutely perfect! Oh and the lumbar pillow is from Home Goods, just $12 on clearance, what?!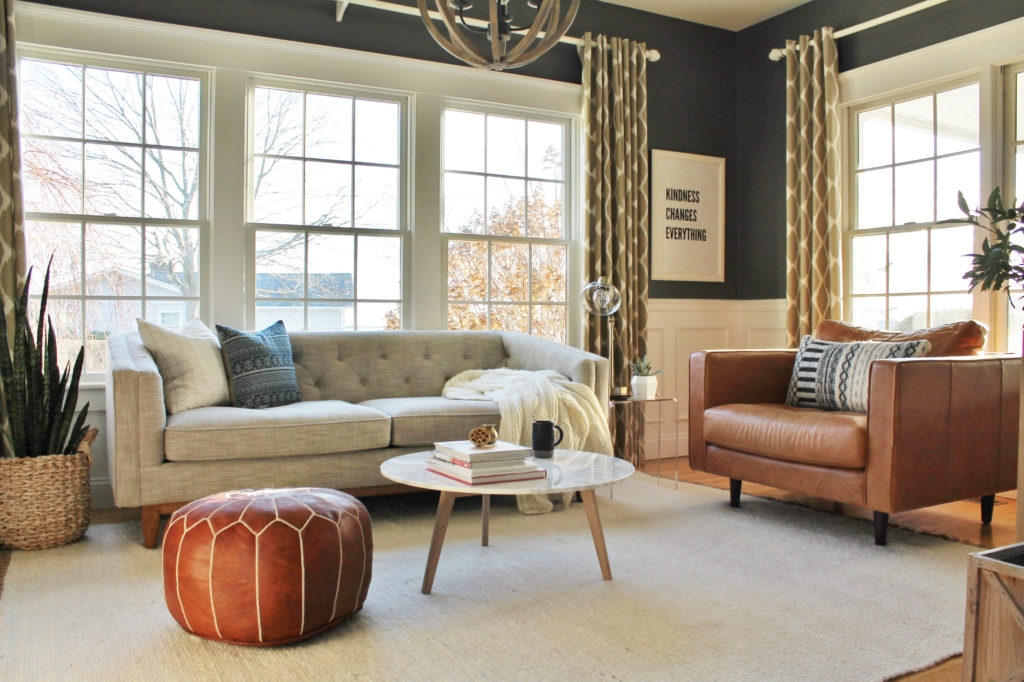 I actually moved the leather chair from my family room and replaced it with a dark gray woven chair about the same size.
The pillows just arrived from Etsy, can't wait to share those with you, they are perfect in here. The artwork will be changing as well. I envisioned a more artsy, rustic vibe on the walls. I am adding more of my own art as well.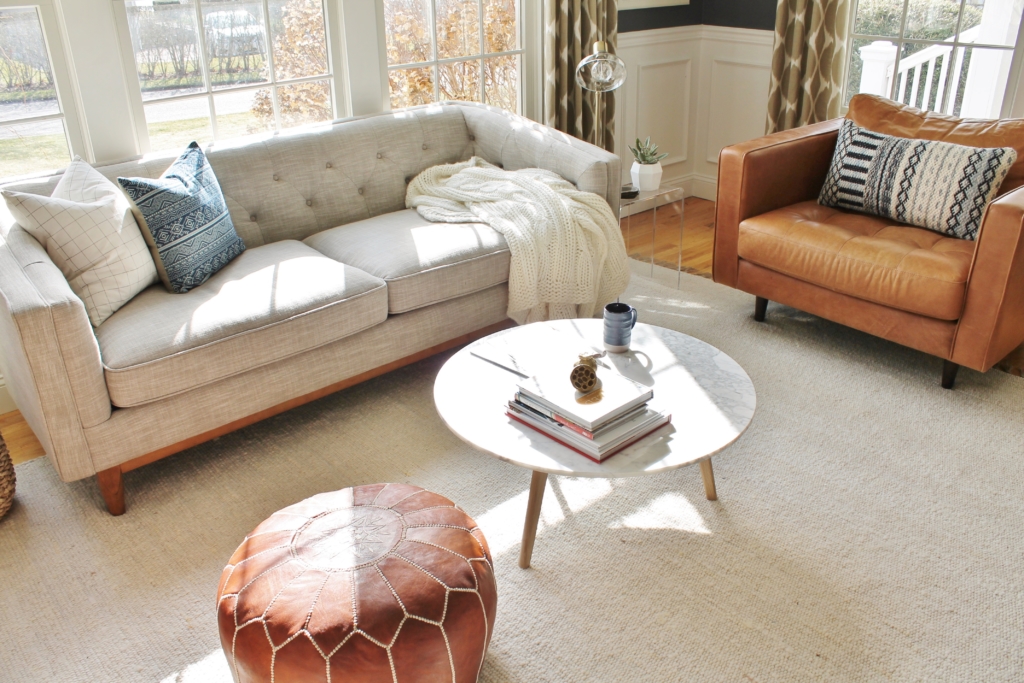 I have had a lot of questions about my plant on the left, it is actually a snake plant. I buy a good amount of my house plants either at Lowe's, my local nursery or Ikea. This one is from Lowe's.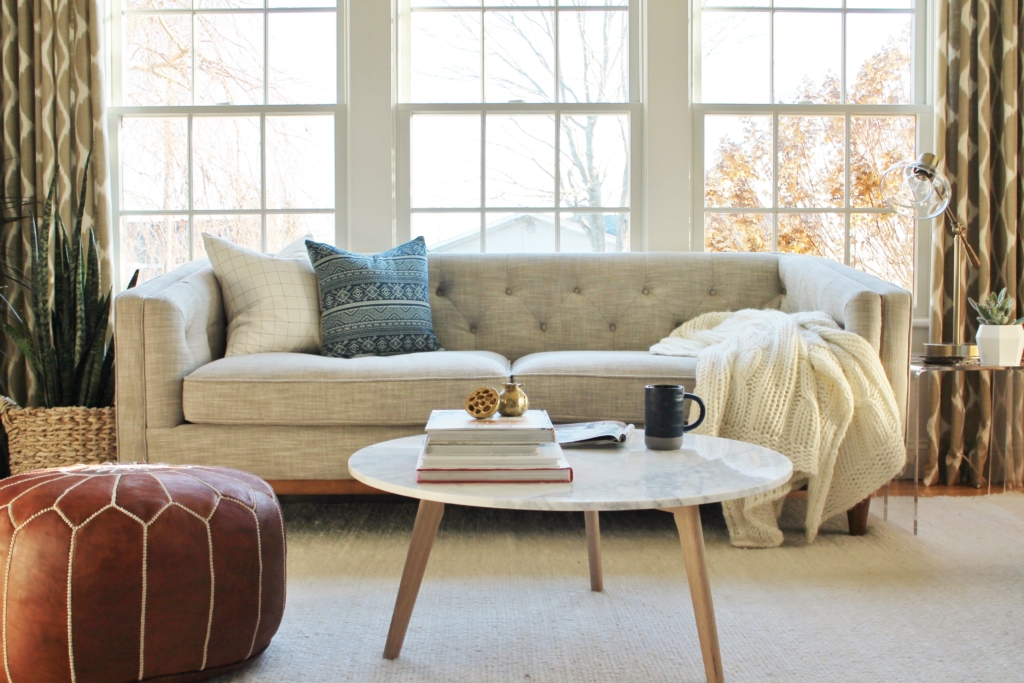 The mobility for this space was important so I opted for a smaller, round coffee table. I still love this print, it is such an important message, especially now.
The grid pillow is a DIY and the indigo one is from Etsy.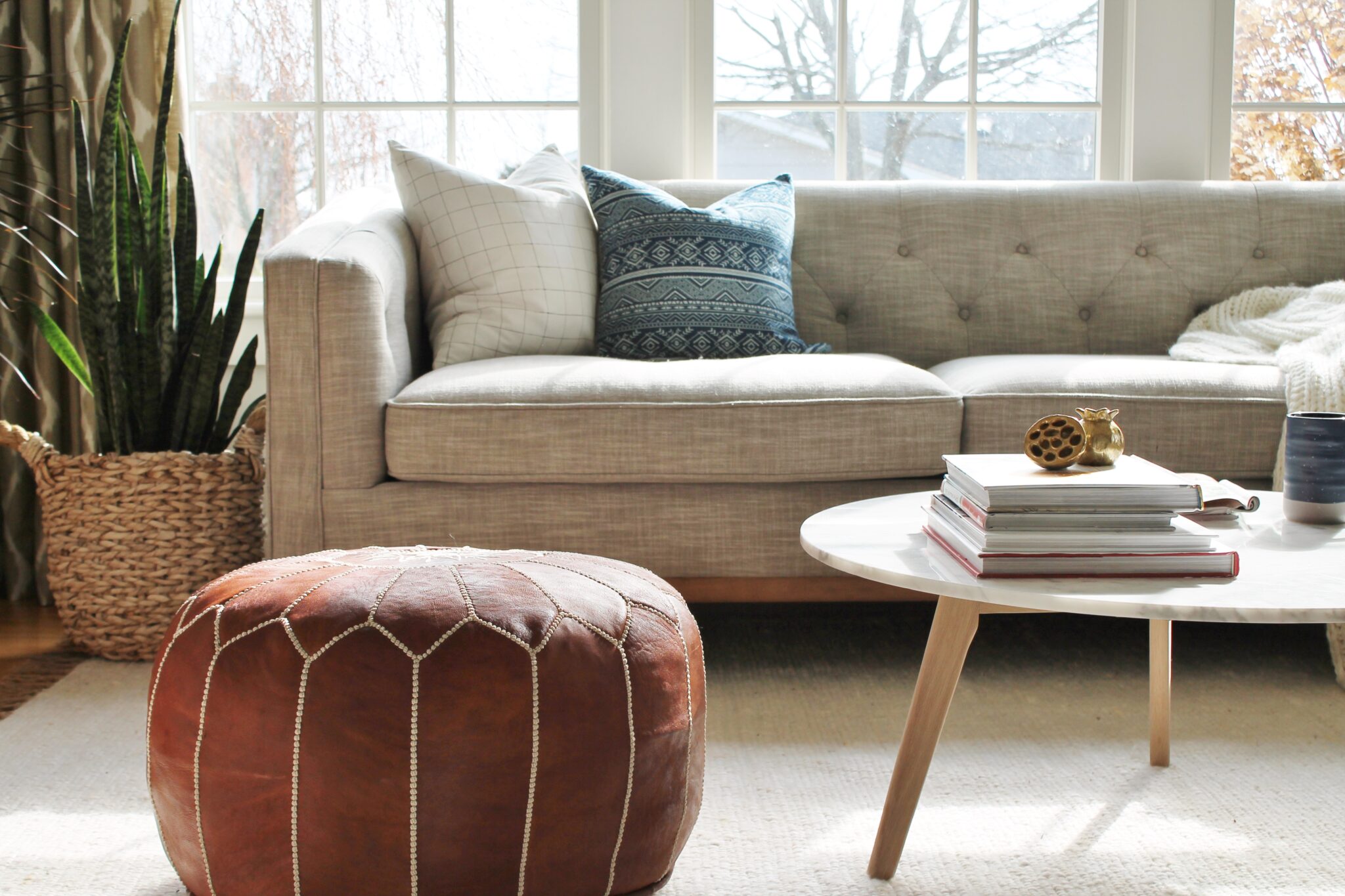 The arms on this sofa are extraordinary! I love that this piece has traditional elements with a modern sensibility.
This is how is looks in the early morning when the sun is just coming up. It is my favorite time. You can't tell from the pictures but you have a beautiful view of the bay from both sides.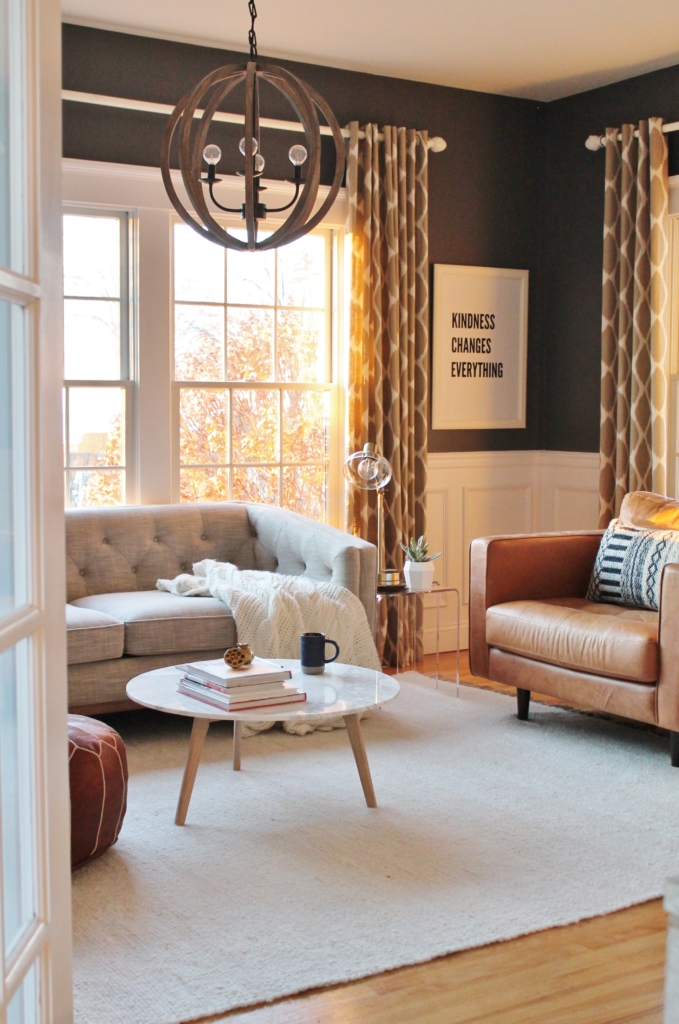 He sneaks in here every chance he gets, little rascal.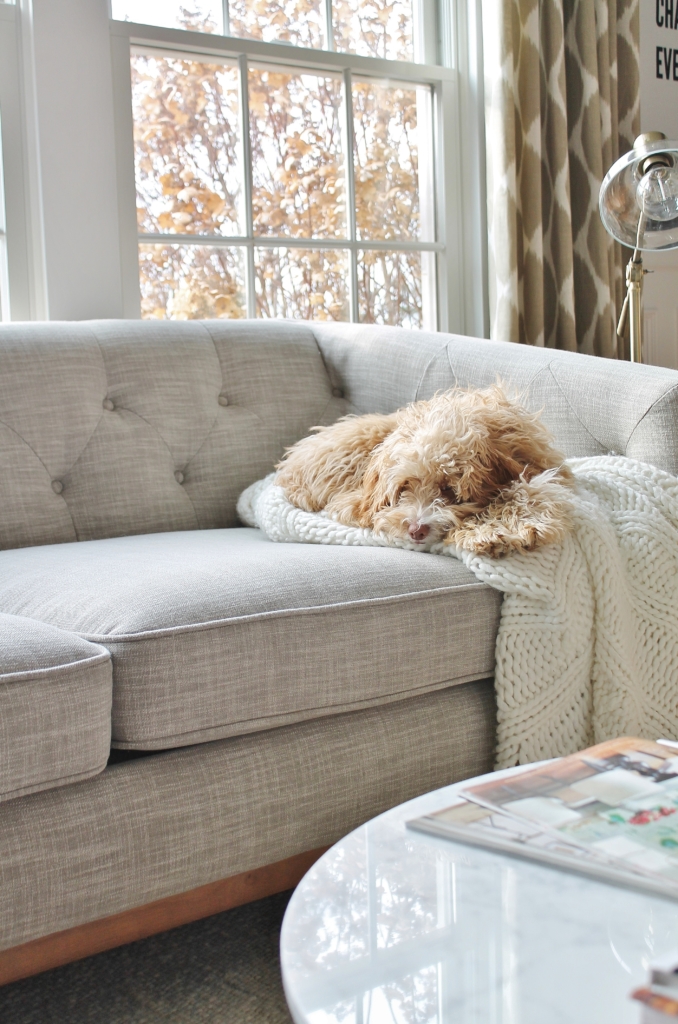 This is a sponsored post, all opinions are my own.
Let me know if you have any questions, happy to answer. Stay tuned for part 2 and the paint reveal!
Have a beautiful day friends!