Top On Trend Pillows + Tips For Picking The Right Ones
Thank you all so much for the sweetest comments you shared about our new den and furniture. I am in the thick of painting today and so far, it's looking good. My pillows & my art arrived yesterday and my vision for this room is finally coming together, yay! Pillows & art are a great way to personalize a space, make it feel current and authentic to you & your family. I wanted to take the planning of my den and break it down to offer some advice and/or ideas to you as I go along. Today lets talk pillows.
Here are 7 no fail tips for selecting the perfect pillows and my top 20 on trend picks….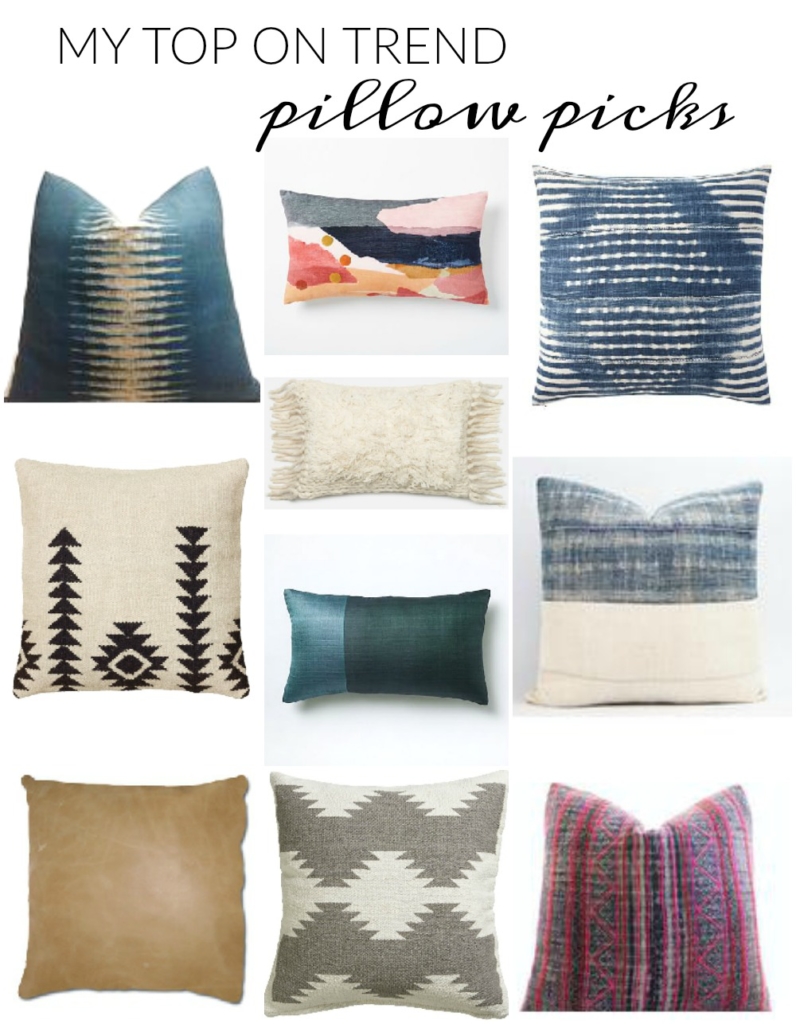 Think texture, this is always a top priority for me. Do mix linen, leather, woven textiles, embroidery, crewel, mudcloth, hand-dyed, shag, faux furs, etc. There are so many textures out there to play and have fun with. You can usually tell if a texture is off, for example I wouldn't mix a shiny sequence with a linen or mudcloth.
Know your style. Some of you may have more experience with this than others and usually time is the factor. We all want our homes to be feel pretty. Well knowing your style not only will save you time but money as well. I know this from personal experience. My advice, start a Pinterest board and if you do already, revisit them to see what your pin pattern is. I also wanted to add this, you can have a few styles within your personal style, like "modern farmhouse or "refined Scandinavian."
Stay within a color palette you are drawn to. I know I am fond of blues, creams, whites, grays, black, organic hues and at times a pumpkin or pale blush. Knowing this I would stay away from reds. The fun part is you can introduce new colors within your palette. For example, in the summer I might introduce a green palm print to mix in with this combination. It still keeps within my coastal, organic & textured aesthetic so it works.
Vary your sizes. Typically I will start with a 20 x 20 and go down to a 16 x 16. Your sizes can be symmetric but do not have to be. And throw in a lumbar from time to time for fun.
Mix patterns together. My rule is alternate the scale. You can have a large print and mix it with smaller scale prints, textures, geometrics and mini prints. You can repeat your patterns say on your sofa for a symmetric look but many times I do not.
Vary your sources. I find pillows everywhere from Target, West Elm, Pottery Barn, HM to Etsy. When you feel confident to mix styles and patterns you've hit a home run, that showcases an authenticity than not everyone else has.
Pillow covers with feather inserts. This one little thing will make your lives so much easier for 2 reasons, you can wash the covers and pick your inserts. I love the ones from Pottery Barn, they are a feather mix and plump up really nice.
In the search for pillows for my den I have found quite a few that I really love so I thought that I would share my favorite top 20, on trend pillows with you. Personally I do so many DIY's myself that it is easier for me to find pillow covers already made. But I do know many of you sew which is awesome!


While we are on trends, brass is a favorite these days too. I am sharing 5 reasons to bring back the brass and my own feelings about it growing up it everywhere over at BHG.
via
Please note this post may contain affiliate links, which allows us to make a small commission from your purchase, but your purchase price stays the same (see our full disclosure policy here).
Have a beautiful day!