The Full Den Reveal With Pure White Walls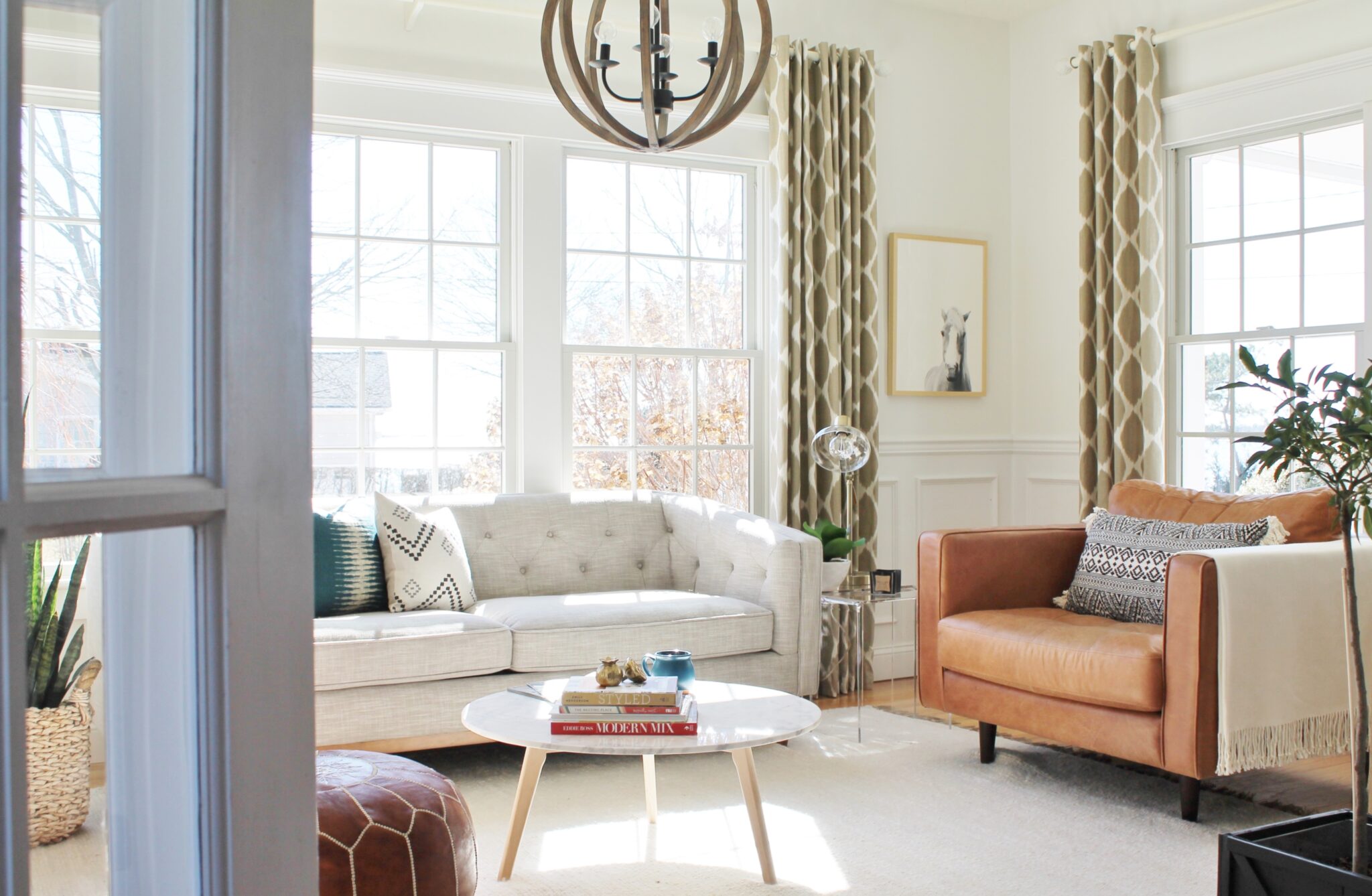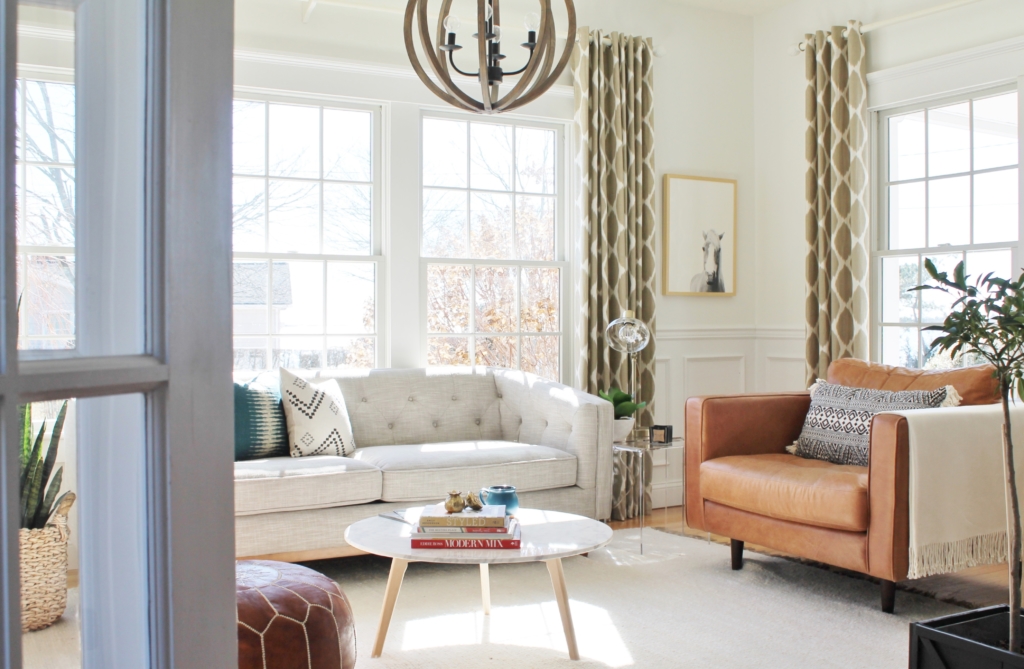 Hi friends! Today is the day, I am finally sharing the full reveal of my den with white walls!! The before and afters will blow you away, it really is amazing what paint can do. If you remember I was back and forth between another dark hue or going light in this room. After much debate and many paint samples later I decided white was best. I wanted the transition between the picture molding and the wall to be seamless. The color I selected was Pure White by Sherwin-Williams and I couldn't be happier!!! It feels fresh and bright in here, it was just the change I was looking for.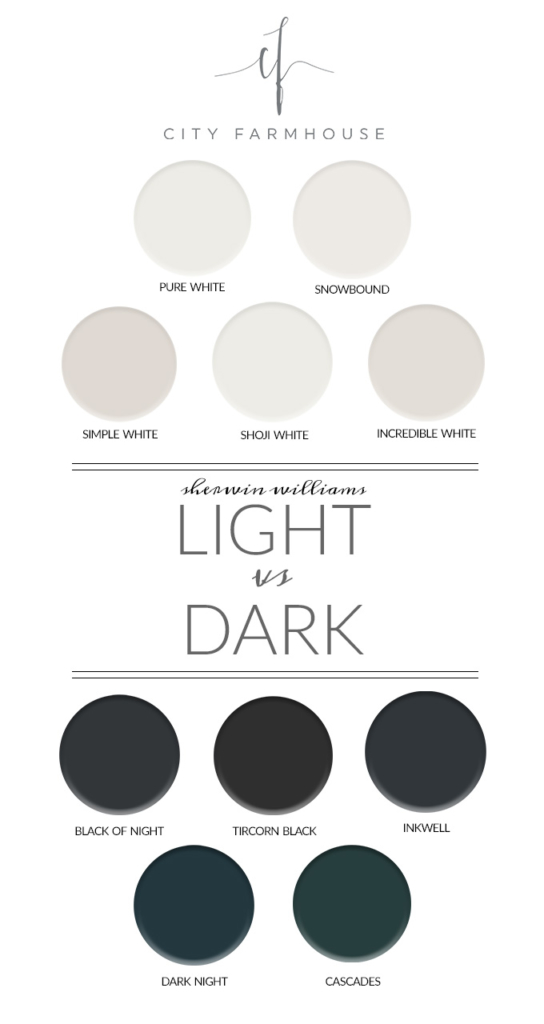 Just to recap, this room was my dining room but we realized it might get more use as a den so we made the switch. I relocated a dining table into my eat in nook and went to work designing a space that would be a nice break from the rest of the house. We have double doors which makes it ideal for some quiet time away from the rest of the house. The sun pours into this room which also makes it a very happy place to be. Check out these before and afters below.
When it was the dining room…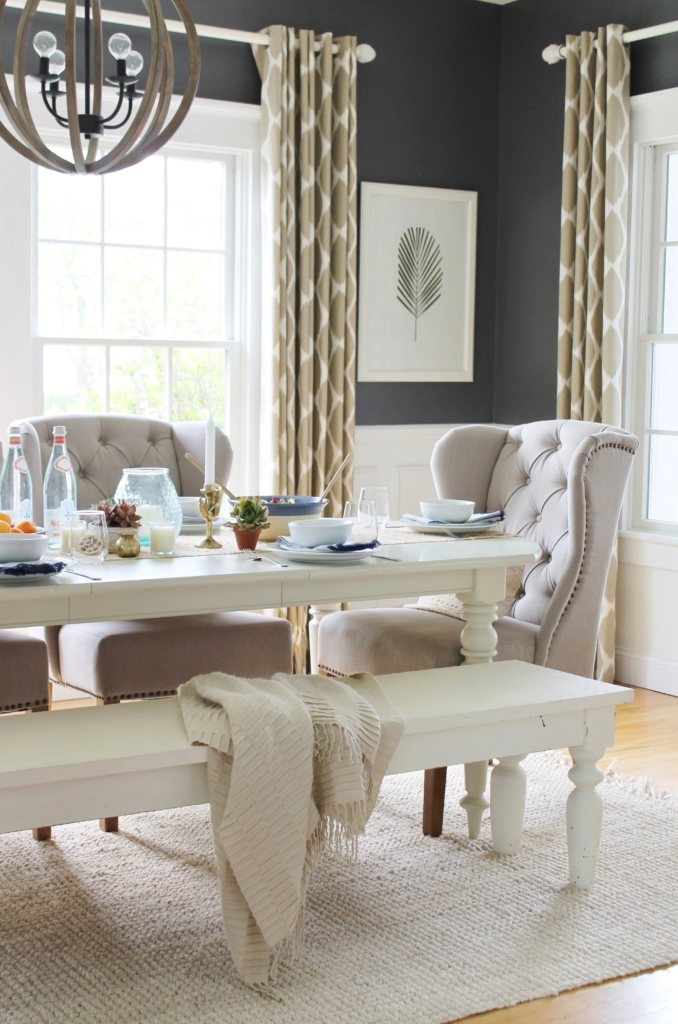 The transition to the den with navy blue walls…..
The den with white walls….
What do you think? Pretty cool what paint can do isn't it?! Here is another before and after below of the room straight on from the kitchen.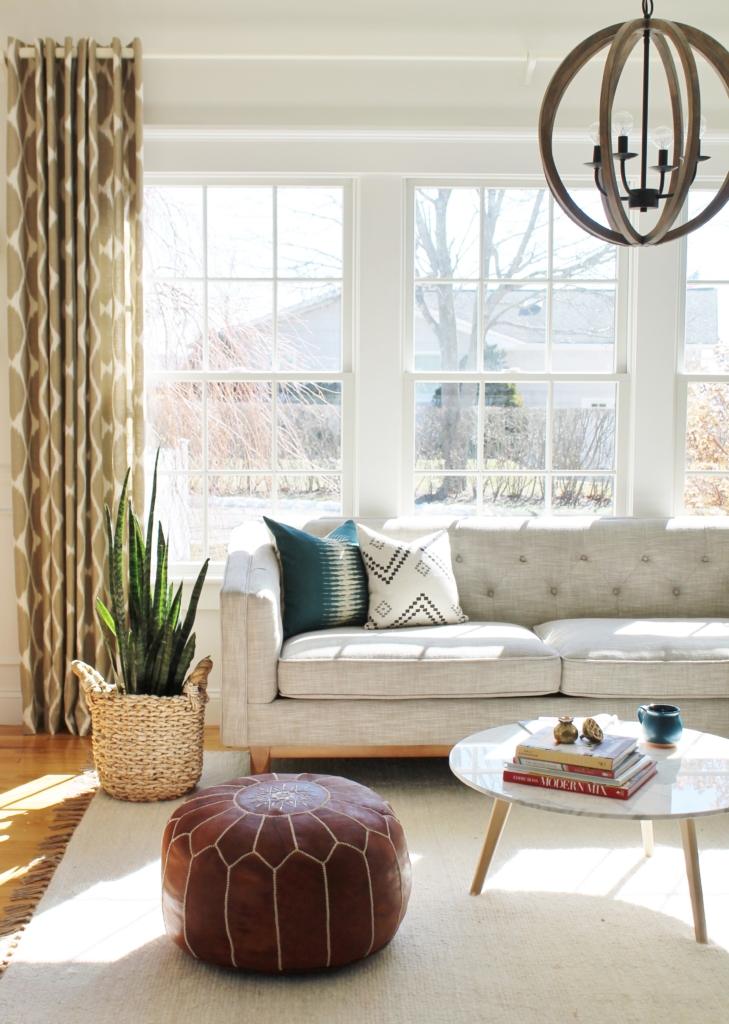 The white walls and the clean lines of the furnishings gives a Scandinavian vibe. Adding bold pops of color and subtle patterns, along with some amazing textures highlights my personal style. I have said this many times but don't be afraid to mix styles within your own.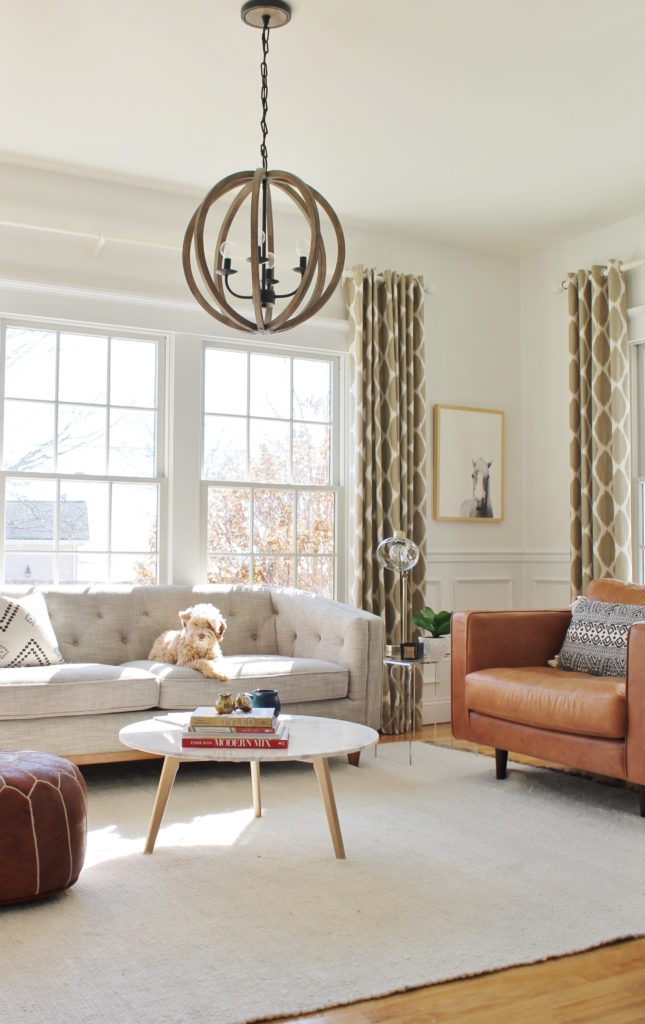 I have seen some amazing horse photography out there lately, especially on IG and knew a simple image would be perfect in here. This piece above is called Presence and it's by Debra Butler. I have the 18″ x 24″ , just to give you an idea on perspective.
This is Denver's favorite spot, he loves to lay in the sun.
This inspiration for this space came from a Sherwin-Williams color called Dark Night (you can find it above in the paint graphic). When you find a color you love you can use it as the primary color on the walls or you can use it as a secondary color in pops around the room.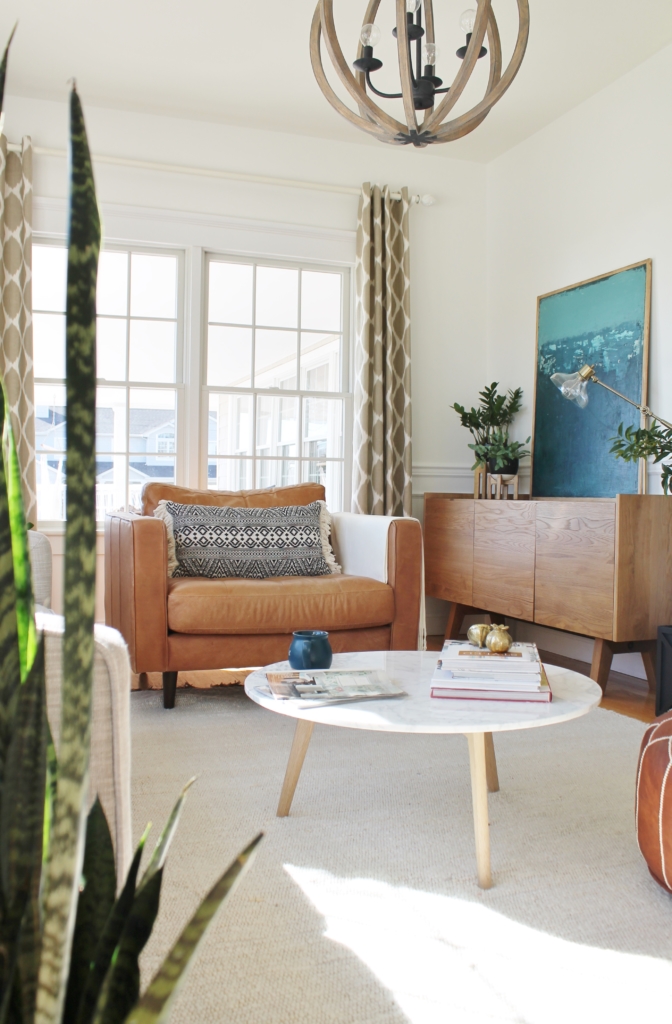 These built-ins are a work in progress, I would like to either add a rolling ladder or add sliding doors to the bottom, stay tuned:).
Another view of the space.
These pillows were a splurge but well worth it. Finding the right pillows can be overwhelming, you can find some tips here. 
The artwork in the frames are my pieces, I have been having fun creating again.
The full source list will be at the bottom of this post in case you see something you like.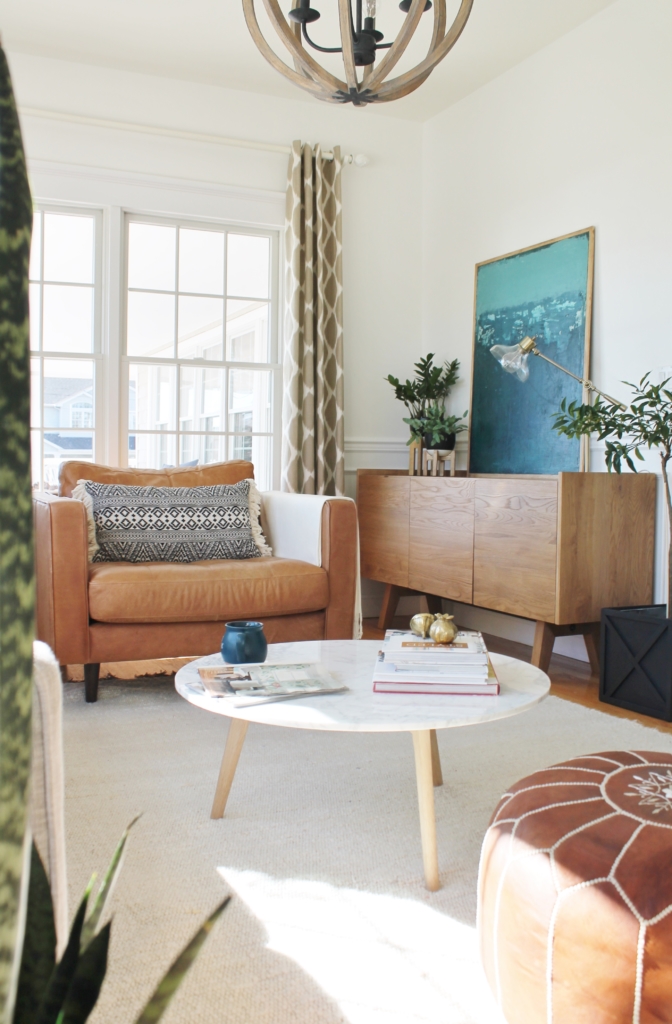 The best leather chair ever!!!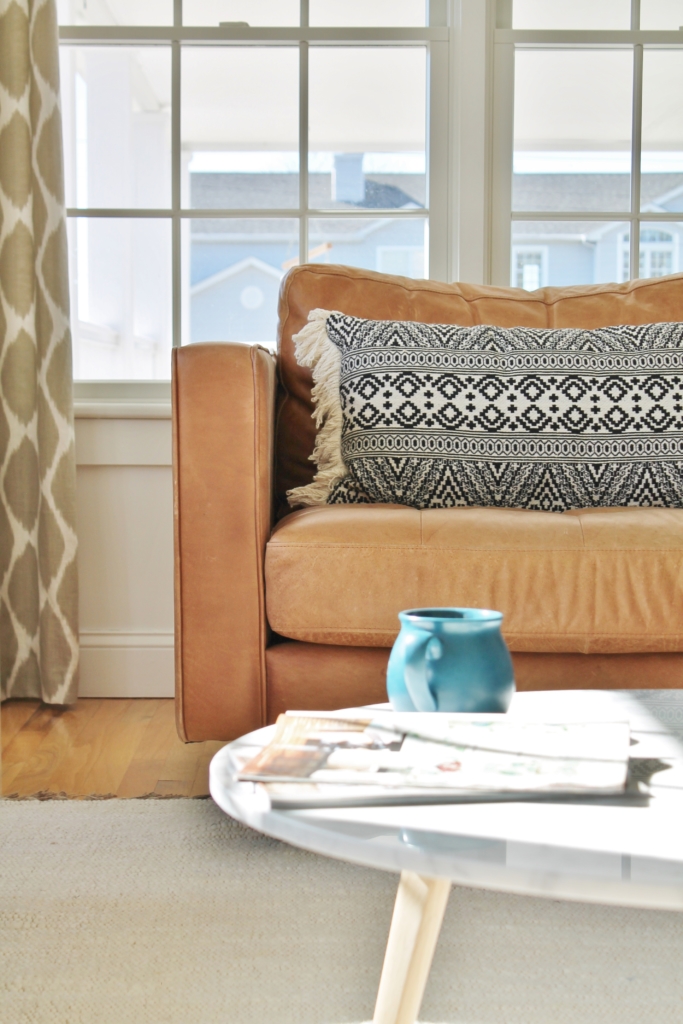 It was important that I use the same color and texture principals in the built-ins. I used whites, wovens, warm woods, subtle colors, a mix of metals and some greenery to strike a balance.
As you can see there are lots of windows so the sunlight drenches the space. On my list is still to get blinds for in here.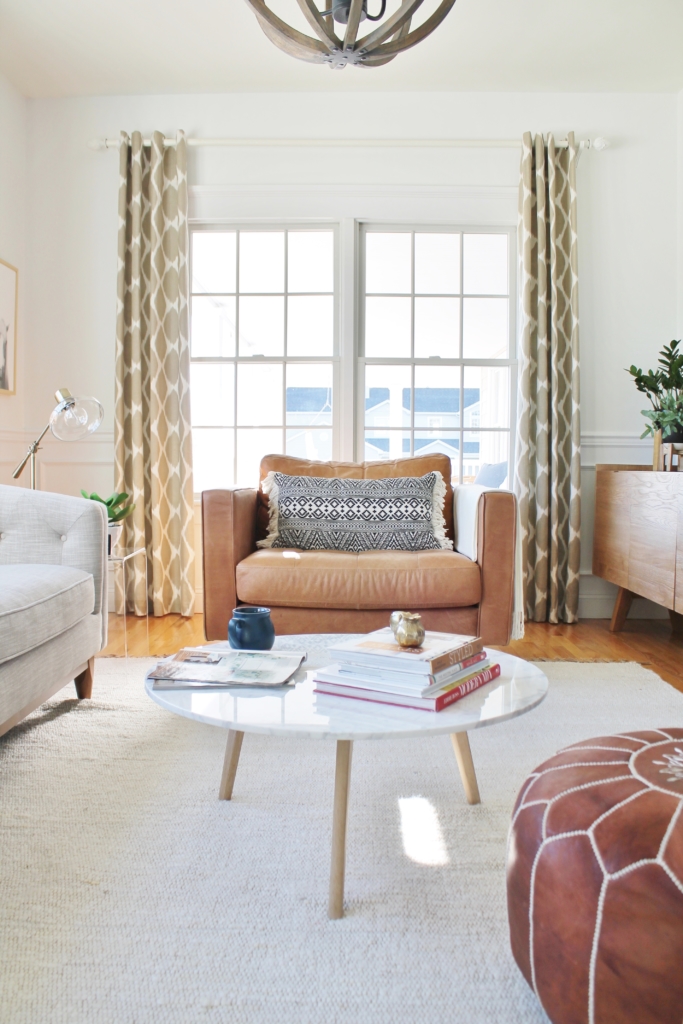 The king on his throne, haha!
And the other king…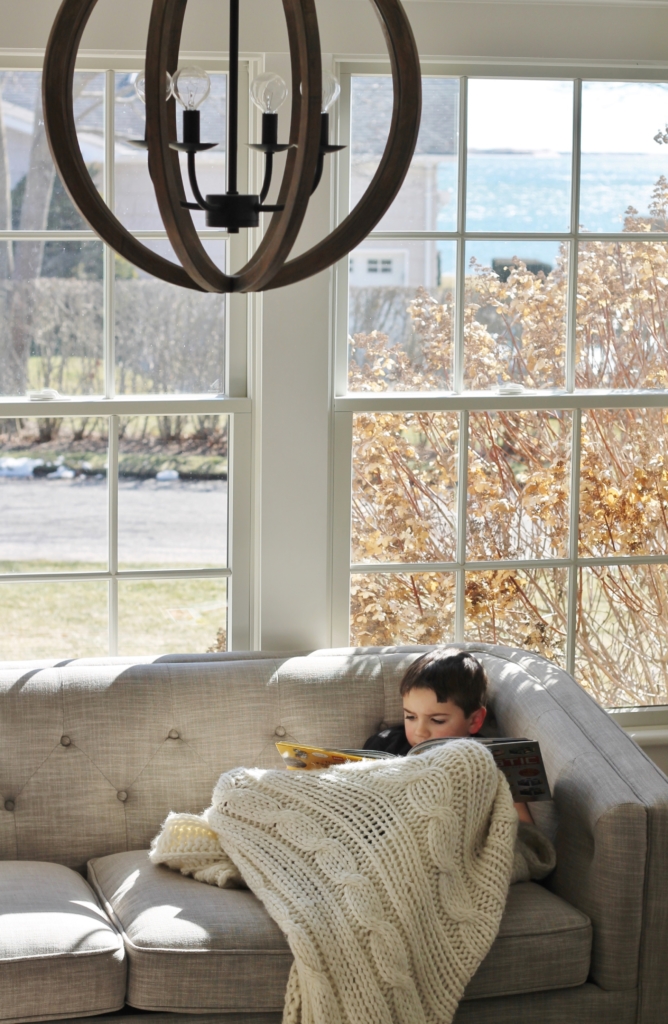 Source List
Alcott Sofa-Article
Sven Chair-Article
Marble Table-Article
Madera Sideboard-Article
Horse Print-Minted
Cream Rug-Birch Lane
Round Chandelier-Birch Lane
Acrylic Nesting Tables-Cost Plus World Market
Lamp-Target
Leather Pouf-ATG
Sofa Pillows-Etsy
Fringed Lumbar Pillow-Target
Wall Planters-All Modern
Elevated Planters-Target
Art-me
In case you where wondering about the plants, the one next to the sofa is a snake plant, the one in the black planter is a kumquat tree and there are various ferns, tropicals and succulents around the room. I love having the room surrounded by greenery. These are all super easy to take care of as well, so I love that.
If I missed any sources just leave me a comment and I will be sure to get back to you.
Have a beautiful day!