DIY Leather Cabinet Pulls
I have always been a huge fan of hardware and changing it on a piece to create a one of a kind look. Typically I buy a piece second hand or from Ikea and by simply adding new cabinet/draw pulls it makes the piece seems more high end and custom. When I bought these Billy Bookcases from Ikea I knew I needed to upgrade the pulls so I searched my favorite places like Anthropologie and Urban Outfitters for the perfect addition. I even ordered a few but unfortunately they didn't make the cut.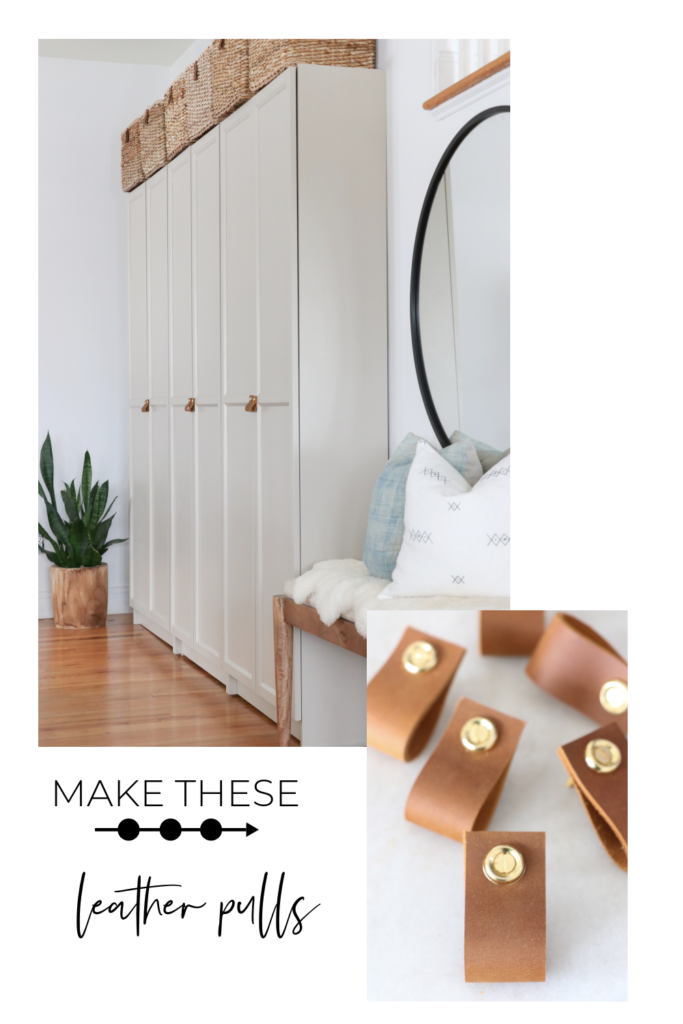 Then I bought these baskets from Target and immediately thought leather! I could buy leather pulls and that would complete the look. But…it was the weekend and I didn't want to wait a whole week for new ones to arrive. I was impatient but it paid off because I started to think, what do I have at home? Then I remembered I had left over leather from this project.
With the left over leather from these leather wrapped candles I was able to make 12 leather pulls. I only needed 6 but I'll save the rest for another project. Wait until you see how much they cost, your mind will be blown!
What you will need for this project:
a sheet of leather (mine is light khaki, buy 12″ x 12″ or 10″ x 10″)
a ruler
an exacto knife or scissors
brass bolts ( mine are 1/8″ x 1 1/4″)
decorative brass washers to go around top of screw/bolt (mine are 1/2″ in diameter)
nuts (mine fit 1/8″)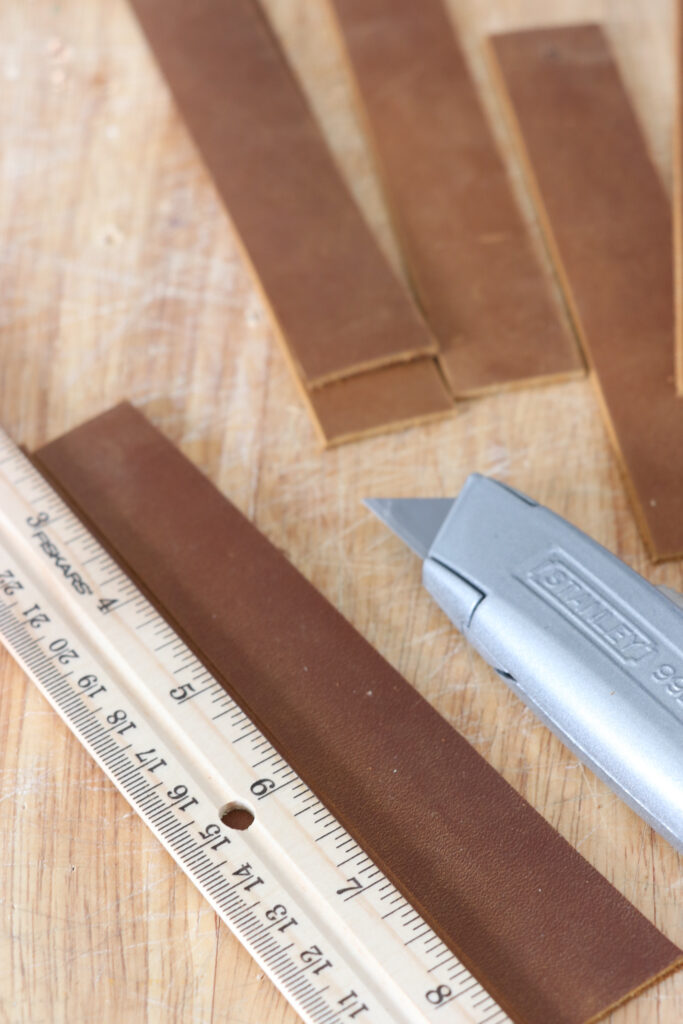 First you will need to cut your strips. I used the width of the ruler which is a little over an inch. You can adjust your width to any size.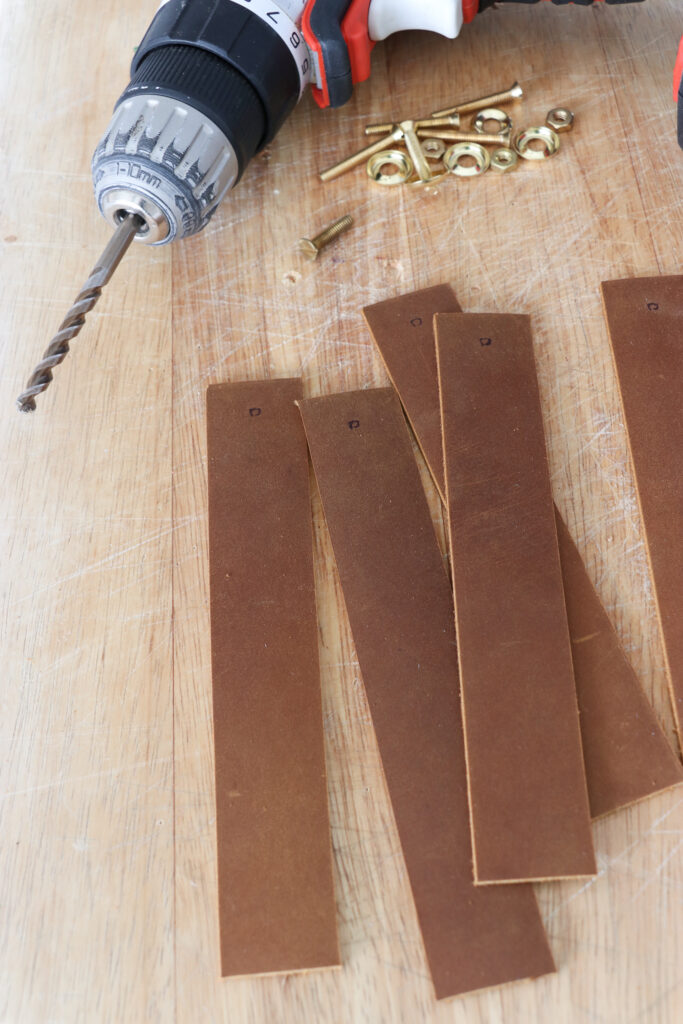 After I cut the strips I trimmed them to the length of 4.5″. They will make 2″ loops. You can trim this length before you cut the strips, it might be easier. I also marked holes on the top with a cardboard template. Then I drilled with a drill bit that fit the bolt. Do the top and bottom holes separately for better accuracy.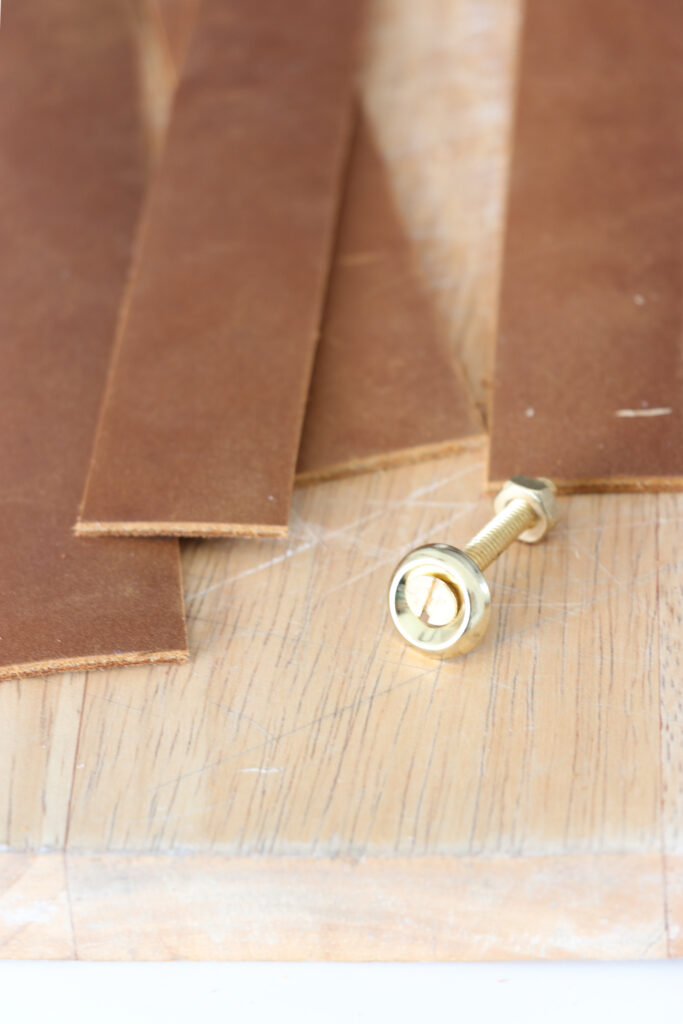 This above is what your 3 parts will look like; your bolt, washer and nut.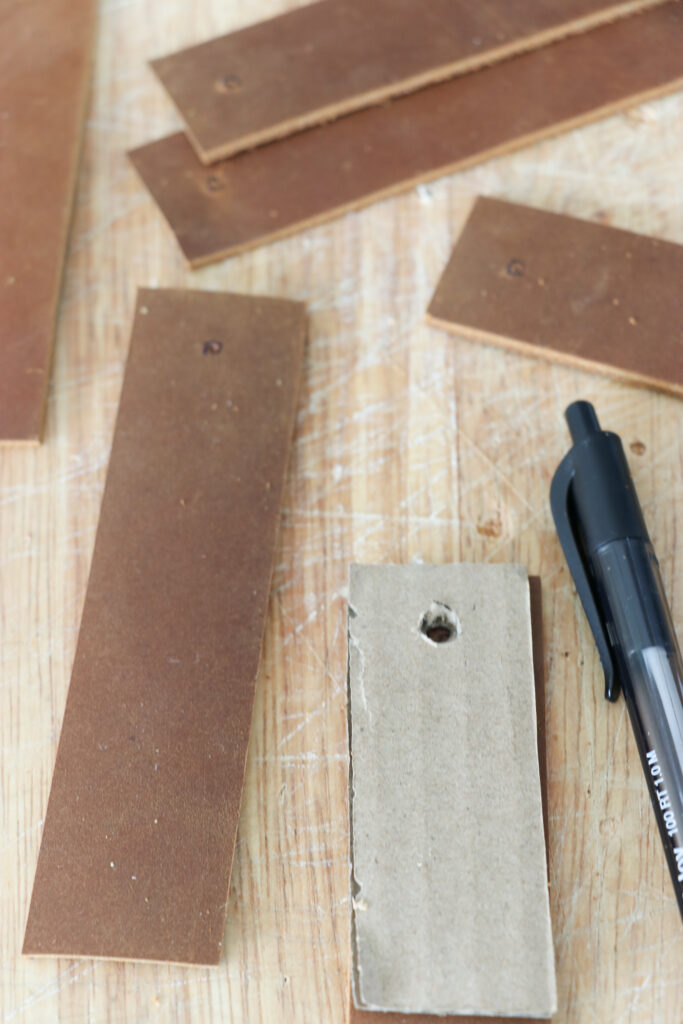 The holes you make on the top, for the face you will also need to make on the bottom. I put them together and marked with a pen. Then I drilled the bottom hole.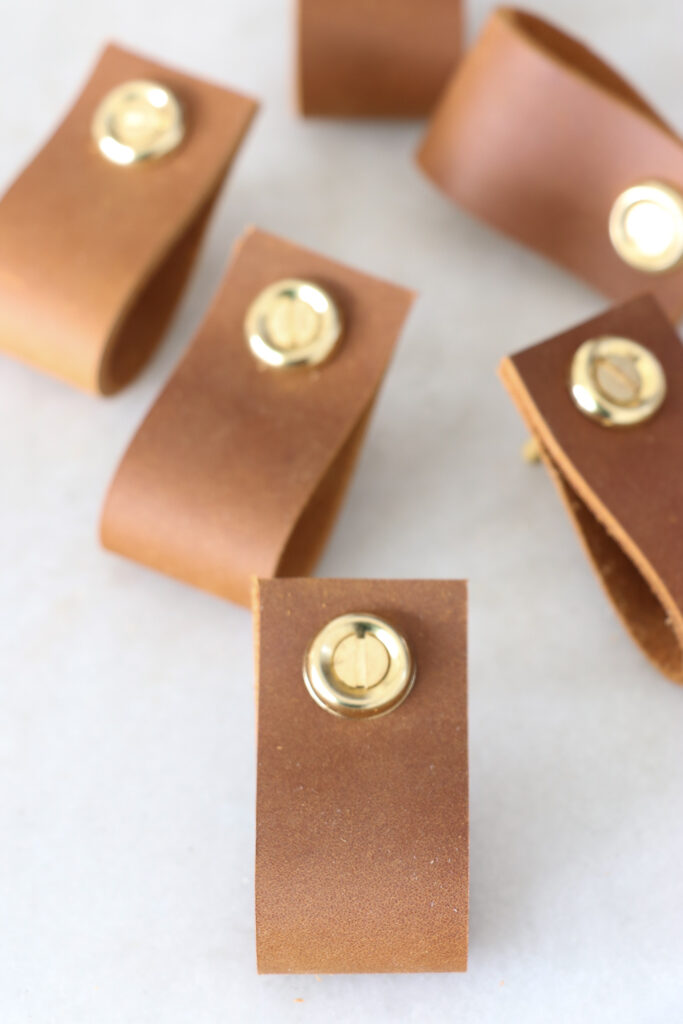 Loop them together and insert your hardware. Viola, and there you have it, simple DIY leather draw pulls for $1.10 a piece!!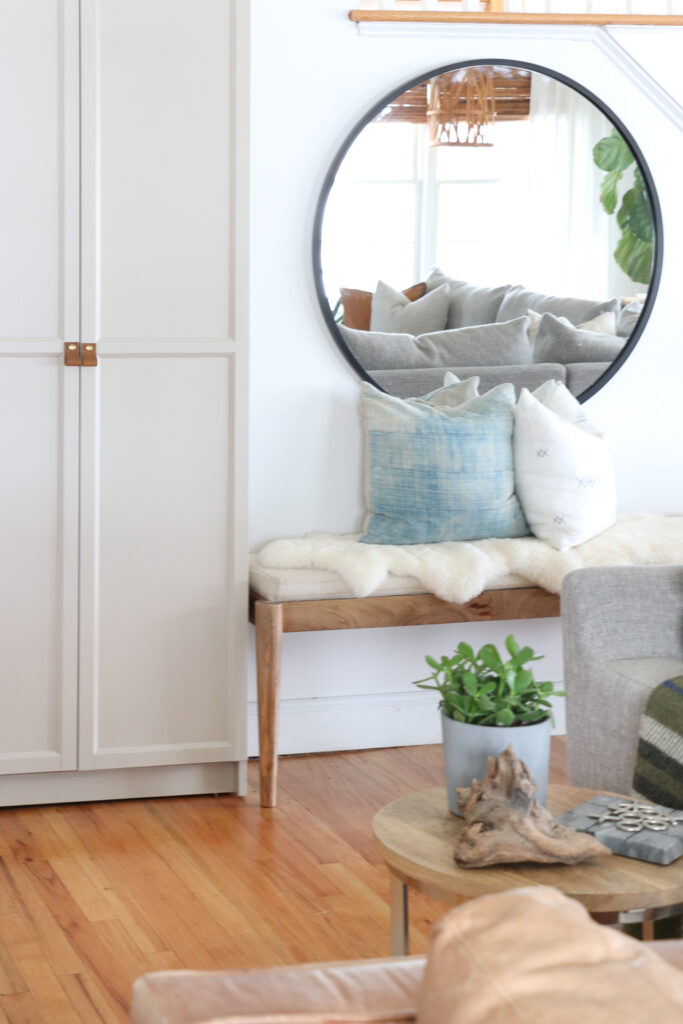 I love how it complements the darker wood tones in the room as well!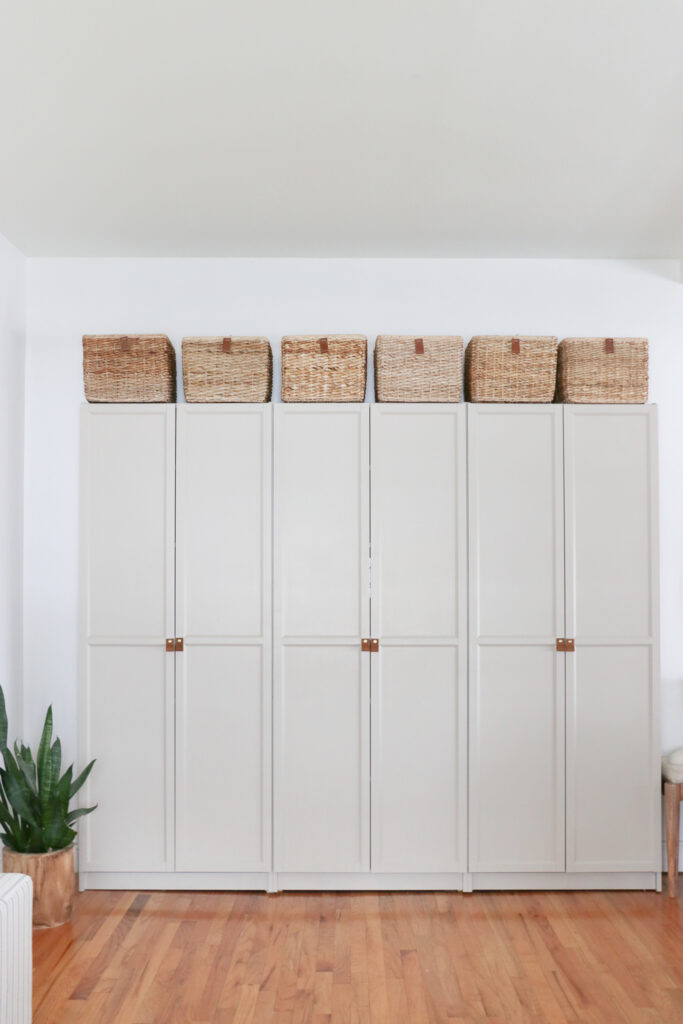 You can find the Billy Bookcase Hack as well as my latest Cane Console over on the blog.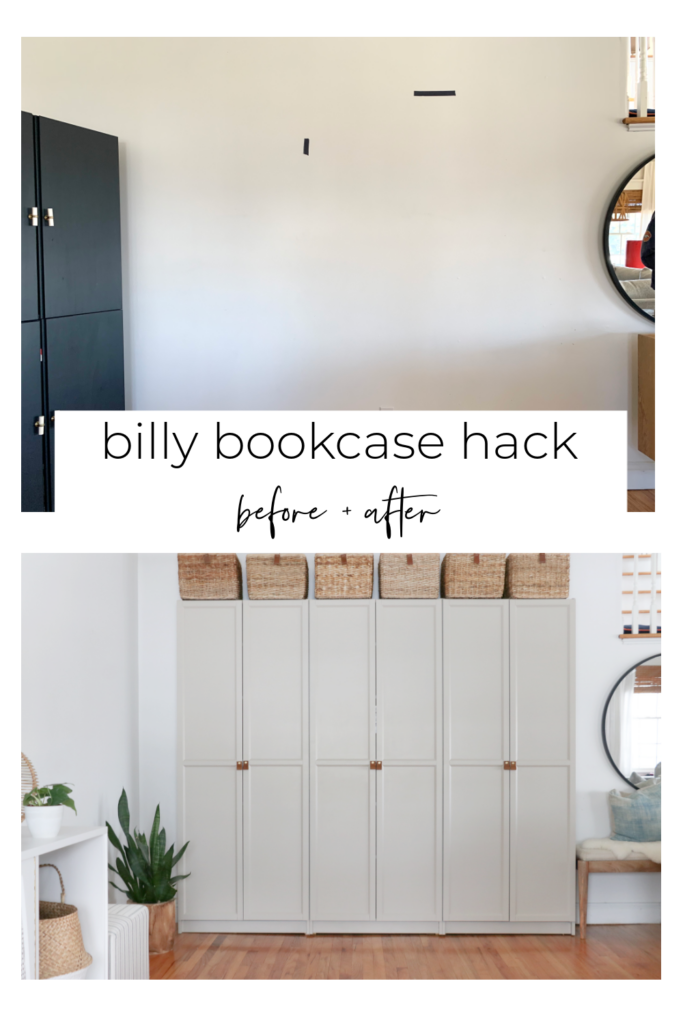 Have a happy day!