The Best Skinny Watermelon Mojitos + Simple Summer Tablescape
Hi there friends! Today is the second post of the Outdoor Extravaganza series and it's all about entertaining and decorating. Thank you to our host Shauna for motivating and inspiring all of us as we head into the summer months. I have a confession to make ever since I bought this collection of outdoor glassware I have been looking for a reason to make something yummy and pretty in it. That + my fondness for watermelon gave me the idea to create a skinny watermelon mojito using the mint from my herb bar.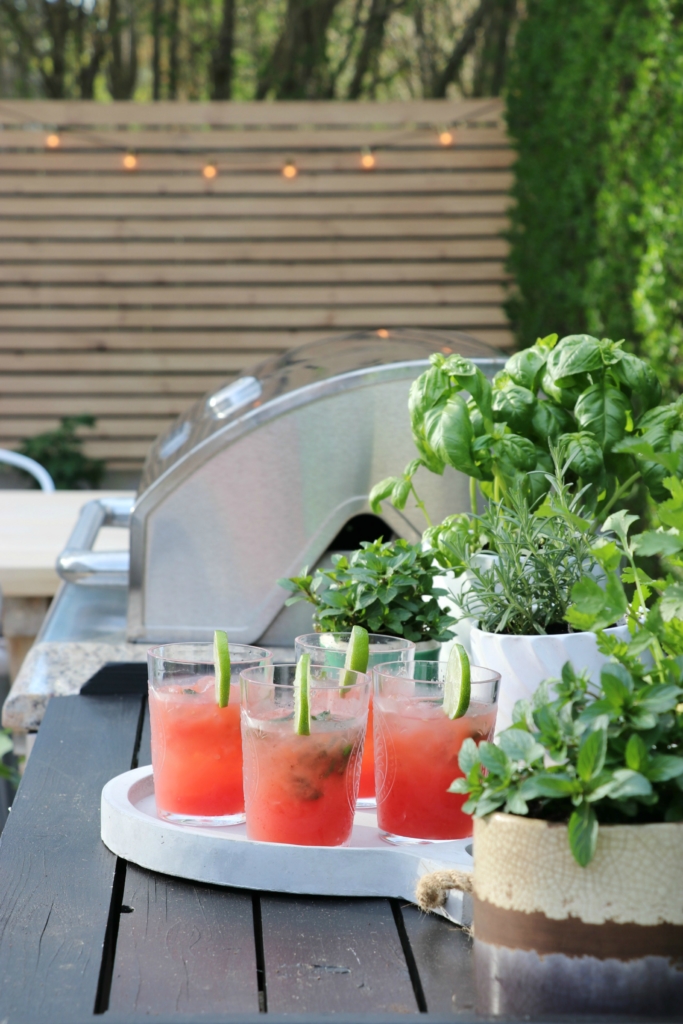 I love to have a refreshing summer cocktail but not the calories that go along with it! Honestly I am not a big fan of any drinks loaded with sugar or ones that taste too sweet. My taste buds just can't handle it and the additional sugar calories are just not wanted:)! My trainer has been encouraging me to cut the sugar, which is such a tough thing to do, oh my gosh!!! But when I do I feel so much better. With the warmer months approaching (it's still a bit chilly here) I would like to keep that momentum going without sacrificing and indulging here and there. We all need to be able to do that every once in a while, right?!
Don't they look SOOO delish?! Well, they are! And the best part they are guilt free!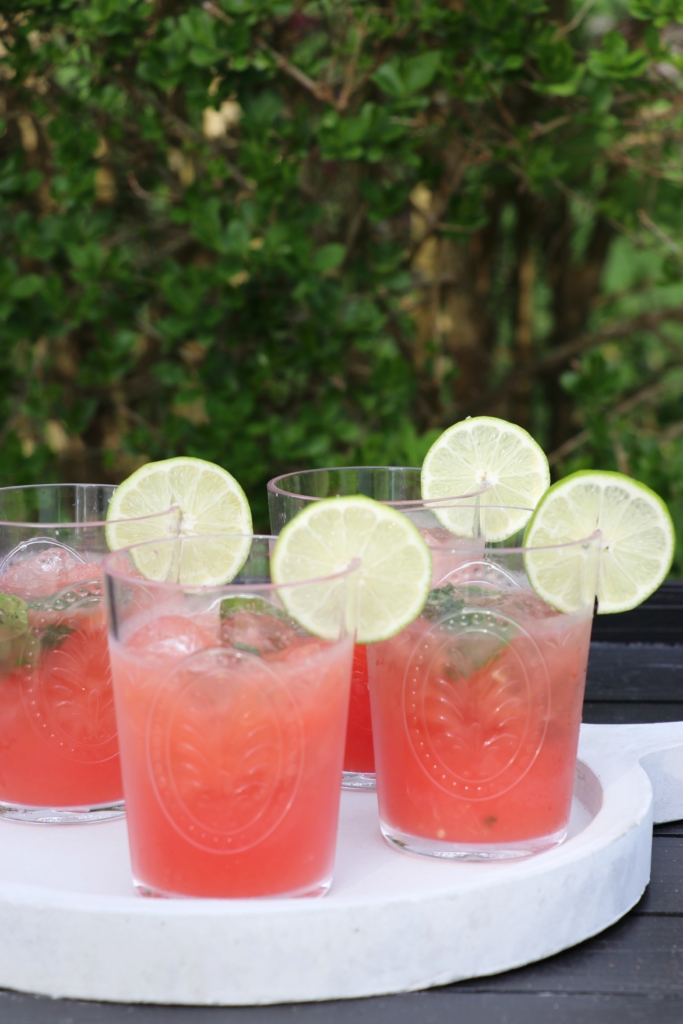 After I photographed our NEW backyard, I had one by the fire with John. It felt magical and the watermelon mojito really hit the spot. Be careful, they go down really easy:)!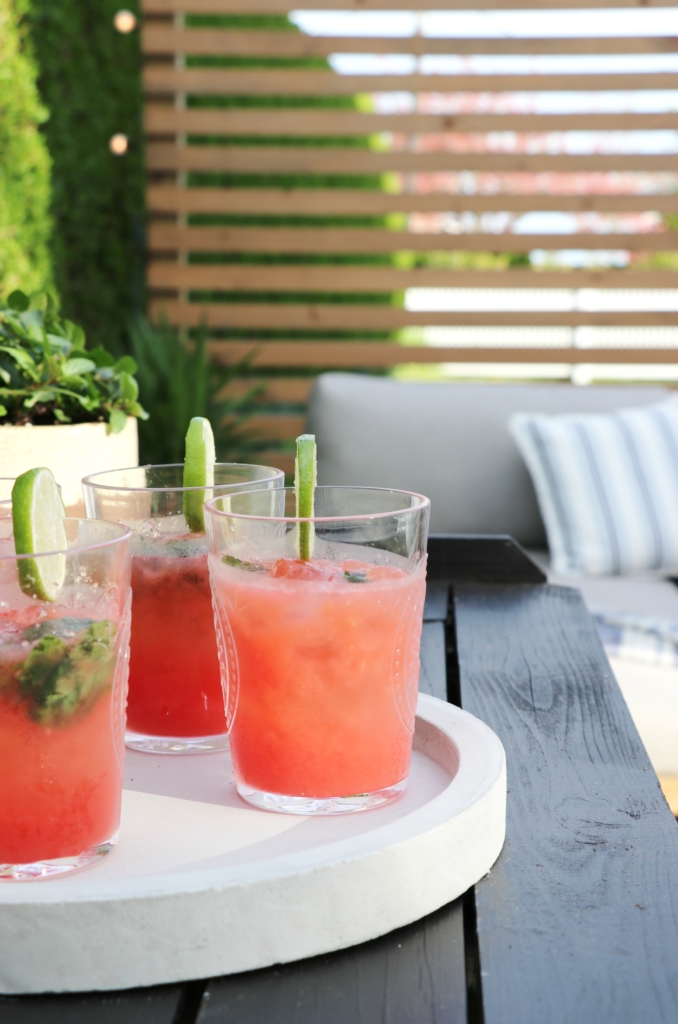 My goal is to do more last minute, impromptu get togethers with girlfriends, ones that are simple this season. Late evening drinks and snacks, that way it isn't too complicated. Our lives are complicated enough.
Onto to another simple outdoor entertaining idea, this time it's for your table. Think illumination & plant life, along with the rule off odd numbers plus varying height and you have a casual yet playful tablescape. The concrete lanterns and blue planter you can find at Target. The tiny succulents are from Lowe's and they were a great find!! Sometimes it can be hard to find an accessory that is interesting with a short height.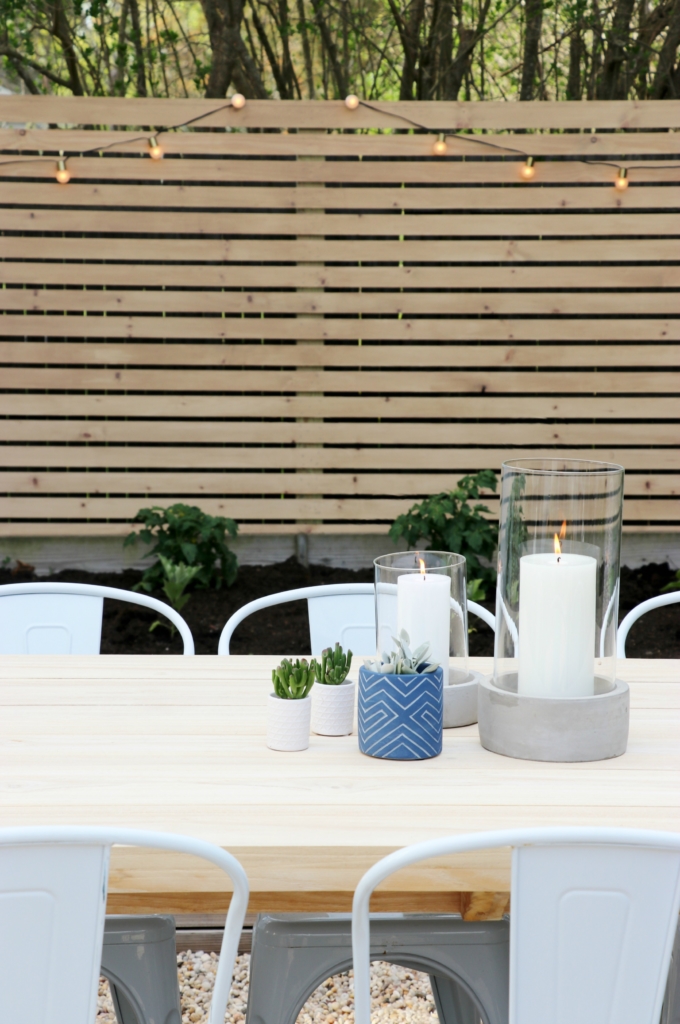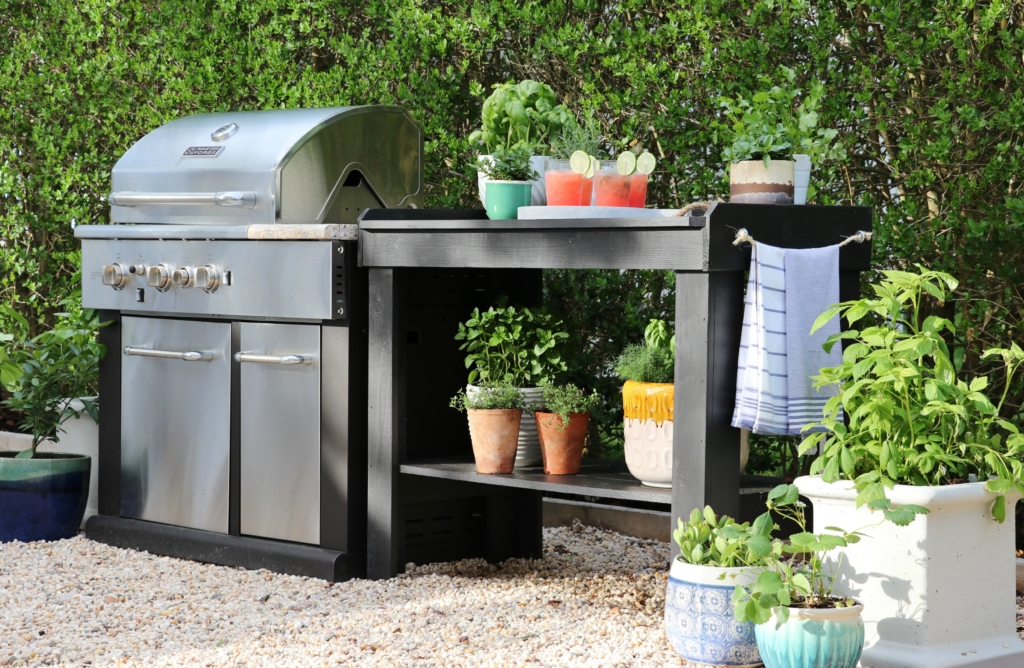 You can check out the before and after HERE of this area, it will blow your mind.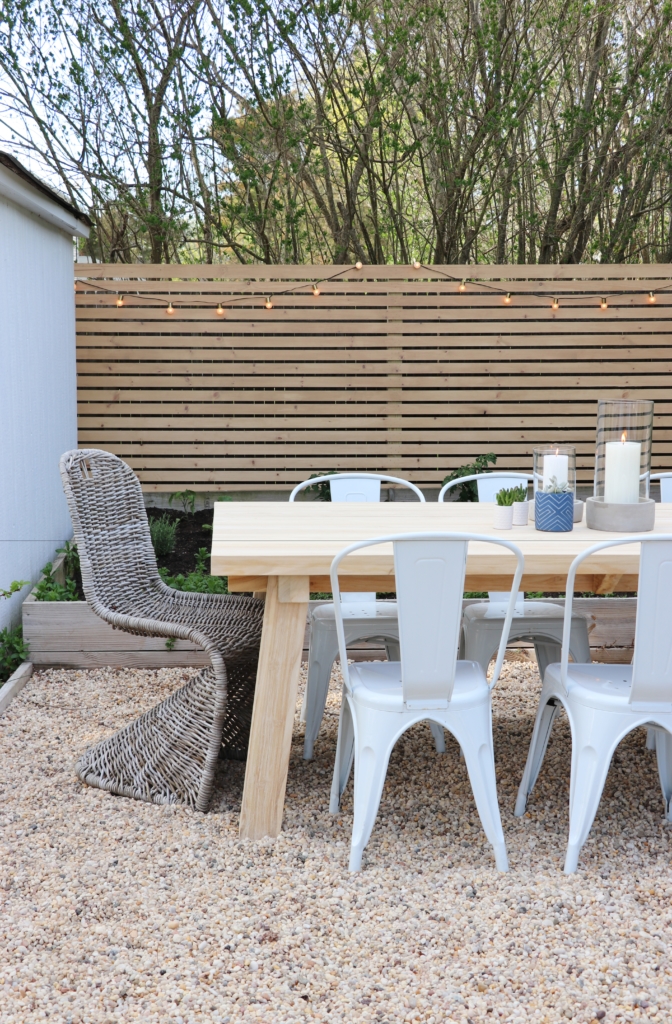 My new URBA outdoor sectional sofa is so comfortable and I love the sleek new modern look. You can check Article's BIG Memorial Day sale HERE.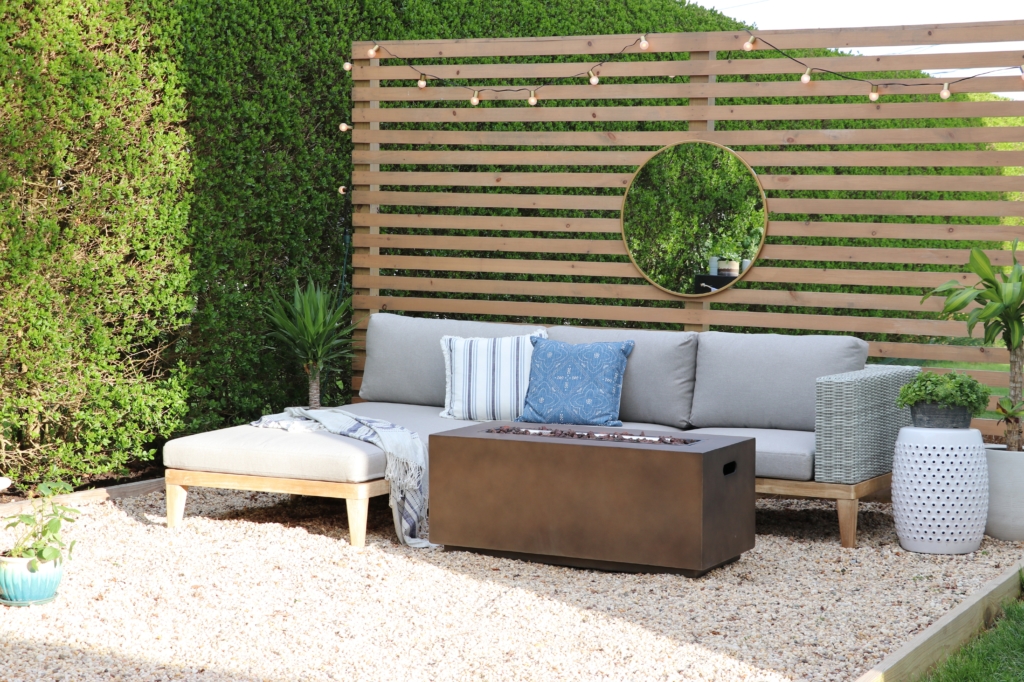 Here is the recipe for the best Skinny Watermelon Mojitos…
Ingredients:
6 cups chopped watermelon
40 mint leaves (give or take)
2 tablespoons agave syrup
2/3 cup fresh lime juice (4 limes)
1 cup white rum
club or seltzer soda
ice
You will also need a muddler for the mint and a pitcher.
Directions:
Take your chopped watermelon and blend it. Strain it to remove pulp and seeds. It should measure around 2 cups of pureed watermelon, give or take.
Muddle your mint. You can squeeze some lime and/or watermelon juice in to enhance the flavor.
In your pitcher mix the watermelon puree, muddled mint, lime juice, rum, agave syrup and a good pour of soda. Stir well and chill. Add ice when you are ready to serve and garnish with lime.
Enjoy!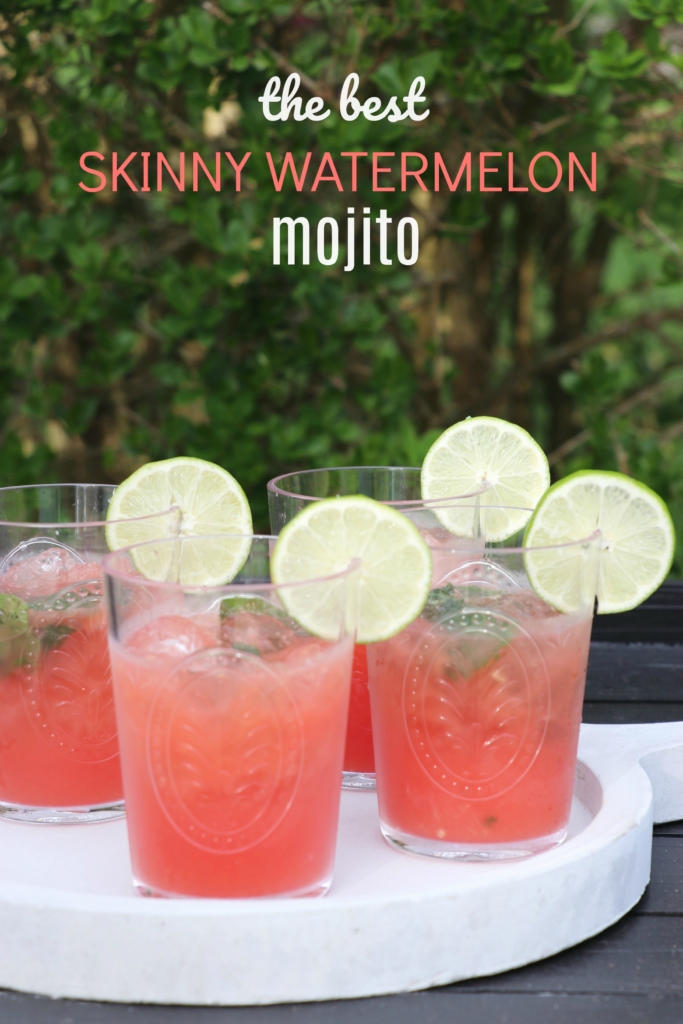 If you missed by backyard reveal, you can find it HERE….
You can find all of the amazing projects from today below….

Satori Design for Living | Craftberry Bush | Finding Silver Pennies | So Much Better with Age

Zevy Joy | Amber Tysl | Postcards from the Ridge | The Happy Housie

Casa Watkins Living | City Farmhouse | Clean and Scentsible | Vinyet Etc.   

Maison de Pax | A Pretty Life | Life on Virginia Street | On Sutton Place | The DIY Mommy