Favorite Posts of 2016 + Projects For 2017
Happy New Year friends! I hope you all had the most wonderful break with your loved ones and had some much needed down time! I am thrilled to be traveling back in time today with some amazing friends who I participated in the Farmhouse Holiday Series with. We are each sharing our favorite post(s) from 2016 and also giving you a glimpse of the fun that is to come this year on our blogs.
My favorite post of 2016…This was a tough one, since I have a few. Ok, I have a #1 but the others are not too far behind so I wanted to share those as well…
The #1 title goes to my DIY Floating Bench for a few reasons. First off, I wasn't sure I could make it the right way, you know so that it would actually be able to hold people, lol. Well…not only did I do it right, I had zero help, well outside from the nice guys at Lowe's who cut the pieces for me. So for me this was the most challenging but also the most rewarding, as I LOVE this space!!! I also want to mention, with the exception of my husband (not complaining) I have a LOT of really handy individuals in my family and they all thought I did a great job. If I am being honest  they were actually surprised I did it myself. Go me! If I can do this, then so can you.
You can check out how I do my the abstract from above HERE.
You can see how quickly I can change the look with pillows and art. Even though the nook has a modern sensibility with the floating element I can bring in different looks and style for each season.
My next favorite post from 2016 is a simple but so cool project that is beyond easy to do. It is art created from an iPhone picture, you can find the post HERE. You can also check out Jack's Modern Coastal Bedroom for more details. Oh and the print is FREE, hop on over!!!
I also had to include my Backyard Reveal because lots of sweat & tears went into this project, you have no idea:).
This is the space decorated for fall….
Looking ahead I have many of ideas for 2017. First up, I am changing out my dining room for a den. The switch has begun but the final touches are underway. Stay tuned for all the exciting details from paint, to lighting, art and tons of DIY's. I know many of you are sad by this transition because you all loved my dining room and believe me, so did I! But…this is so much better, every time I walk in the back door into the kitchen I know I made the right choice, plus we are using it so much more already.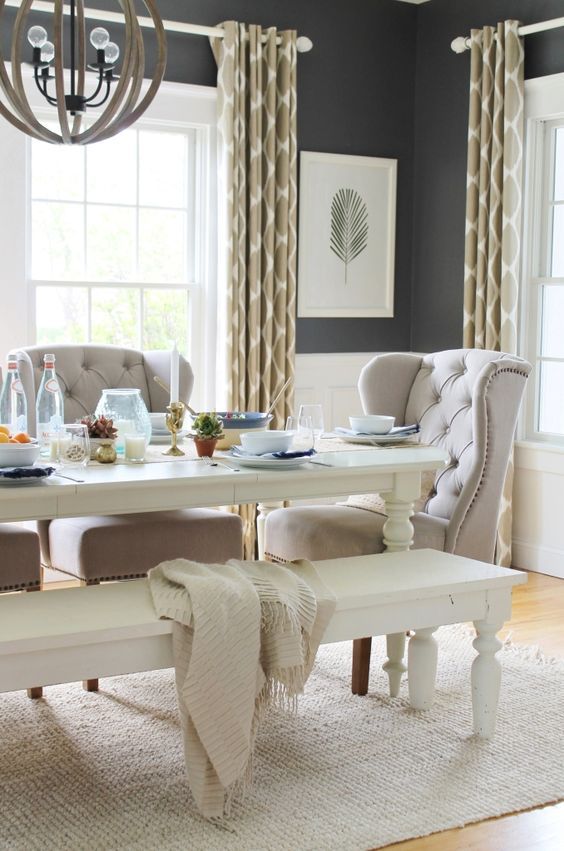 I am also painting and doing some updates in the family room, like modern shelving, art, wood detailing and more. Then onto the upstairs, bye bye stripes, it was nice knowing ya! I will paint and add some large art of the boys from our days at the beach. I also have a project on the horizon that involves giving back, I can't wait to share more soon. The kitchen will also be getting some doable updates as well.
Please head on over to check out my friends favorite posts from 2016 along with their blog ideas for this year, I know they are going to be amazing!!!

Ella Claire  |  City Farmhouse  |  French Country Cottage  |  Miss Mustard Seed
My Sweet Savannah  |  Craftberry Bush  |  Rooms for Rent  |  Shades of Blue Interiors
Jennifer Rizzo  |  Kindred Vintage  |  Liz Marie Blog
Have a beautiful weekend!