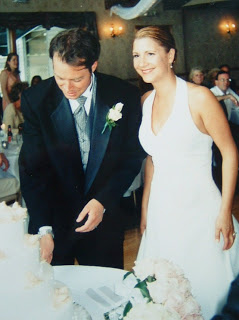 Six years ago today on the ONLY sunny day in June I married my best friend John.
Through the last six years I can honestly say, I wouldn't change a thing.
We have lived in Colorado, owned a new home, got pregnant, moved cross country to VA, had a flood in our NEW home while it was for sale, had to move back to Colorado 4 weeks before my son came and drove back(crazy), got preclampsia, had a c-section 2 weeks early, had a beautiful baby boy, loved our son, sold our house in Colorado, moved back to NY, lived without John for 4 months until he got a job, lost someone I loved immensely, John finally got a new job in NY.
Huh, life started a new chapter….
We became a family again, John started commuting to NYC, working long hours, enjoyed summers, endured long winters, loved every minute with eachother & our family,dreamed of owning our own home again, saved, saved and saved more money.
Which brings me to today.
I am a very happy and grateful person who has been married for 6 years to a GOOD and handsome man.
Life has been a journey, but all in all a good one. We have had an amazing time.
The tough times have made us stronger and we are more appreciative of the gifts we have
&
after six crazy years we are still very much in love.