Spring Wardrobe: Affordable + Stylish Trends This Season
Hello Spring! I couldn't be more excited to welcome you back into my life! It's been a long, long  winter! I look forward to this blissful season and spicing up my wardrobe with something besides a chunky knit sweater and jeans. Although I am not a big shopper, for some reason I actually enjoy it this time of year. Plus, we are going away in a few weeks to Florida so I am on the hunt for some new things to freshen up my personal style.
I have hit my favorite stores, a ridiculous amount over the last 2 weeks, at times it may have been considered borderline stalkish behavior, haha. But…if you are like me, you try something on, decide to leave it behind, then get home and realize you need it because….and you list the reasons in your head. Am I right?!
Since I have been doing a ton of "research" in this area I thought I would save you some trouble and share what I am loving right now in fashion and what's on trend for spring/summer this year. These are all places that hopefully are accessible to you, if not the links are below. I also wanted this list to be affordable, so although I wanted to add some "wish list" items, I know I wouldn't myself spend the extra $.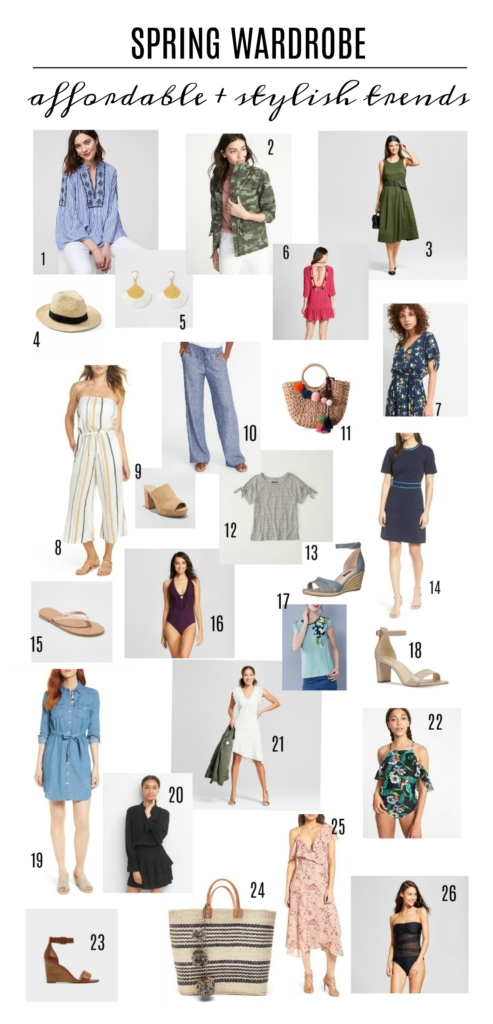 1/2/3/4/5/6/7/8/9/10/11/12/13/14/15/16/17/18/19/20/21/22/23/24/25/26
FYI, if you are looking for a bathing suit, Target has a great selection. I bought 16, 26 and the cover-up 6. They fit really good and still have a little edge, something I am needing more of in my life, lol! Dresses are an easy way to wake up and go, especially when you are away, so I have included a variety, at different price ranges. The shoes are moderately priced because comfort is priceless and the accessories are just plain fun!
(This post contains affiliate links)
Happy Friday! Have a wonderful Easter friends!