Aspen Inspired Christmas Mantle & Why It's My Favorite
You will love this story, and how my Aspen Inspired Christmas mantle came to be. I have been waiting on pins and needles to share it with you. This is my last post with Seasons of Home but stick around, I have more holiday projects to share in the coming weeks. A big thank you to Kristen from Ella Claire for putting this special group of bloggers together.
It was fate I happen to be cleaning out the basement right at the time I was rummaging through my brain trying to come up with a Christmas concept for this year. I was craving something that had a sentimental flavor, but didn't know where to start. That was until I stumbled upon an old box labeled "Aspen" piled atop two other boxes. Inside, I found a ton of memorabilia including pictures from John's days (years) in Aspen. Looking through remnants of his past life, one where he was carefree and adventurous, tickled my soul and made me smile. I knew in that moment on the damp, dusty basement floor I had my Christmas idea.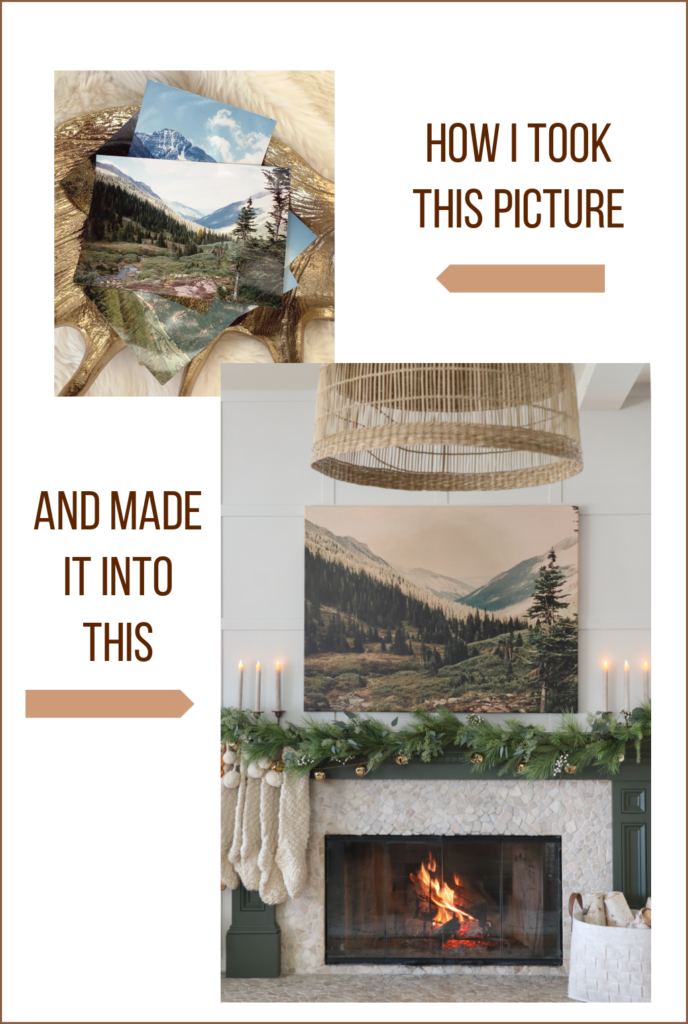 After scouring the box for hours (with John) I found THE image that encapsulated the spirit in Aspen. And I knew it would be perfect above the mantle. John took it while on a hike with friends behind Aspen Mountain one Sunday over 20 years ago. All I have to say is thank goodness for actual photographs.
I took a photo with my phone in natural light. A scanner is always best, but I didn't have access to one and I need to order it asap. I uploaded it to Pic Monkey, you can also use Canva. I applied a vintage filter called Time Machine-Norma at like 30-50% and a very light Edge Sketch filter.
I then had it printed at Canvas Discount. They have the best prices around for large scale art.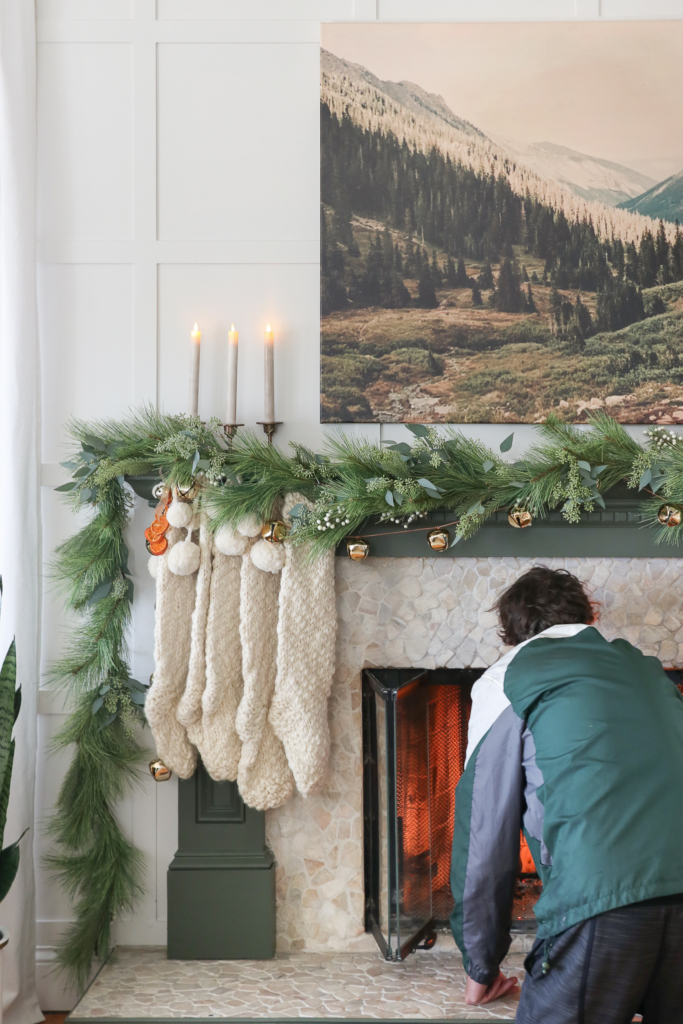 The man himself, making a rare appearance facilitating the fire building process.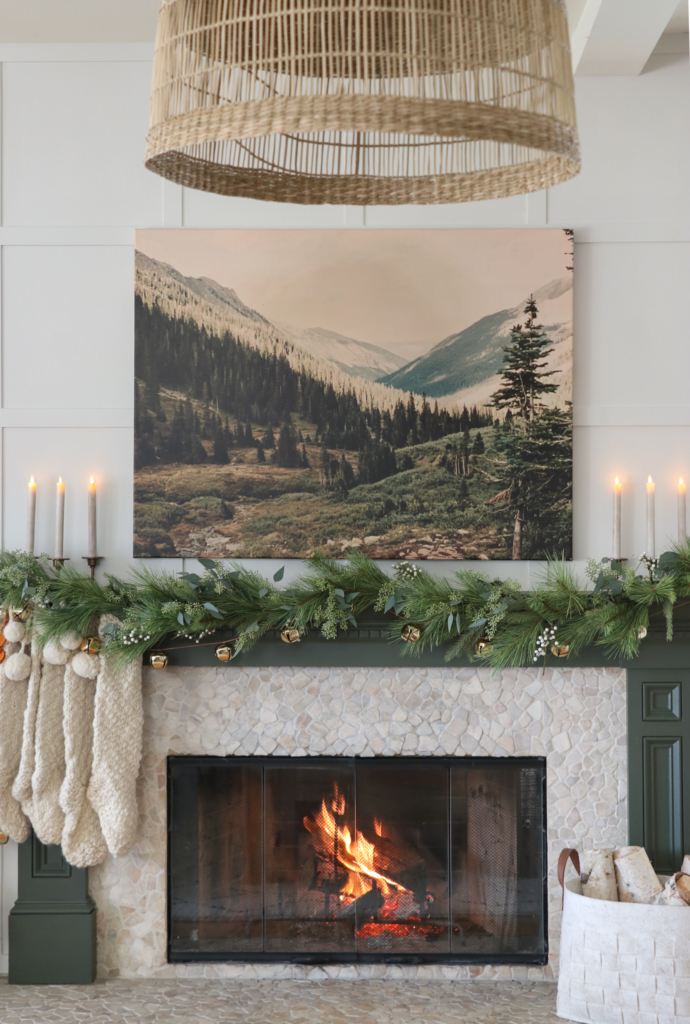 I love that it is a quiet reminder of the time he spent there. It was a place he worked hard, then played harder but also found lifelong friendships. Although the decades have passed, Aspen will always be a huge part of his story and I wanted to honor that.
The garland is from Target-Studio McGee with some fresh eucalyptus sprigs layered in. The bell garland I made from large bells at Target (last year) and the stockings are from PB Kids Outlet. The copper candle holder is also from Target. You can find these items below in the shop the post.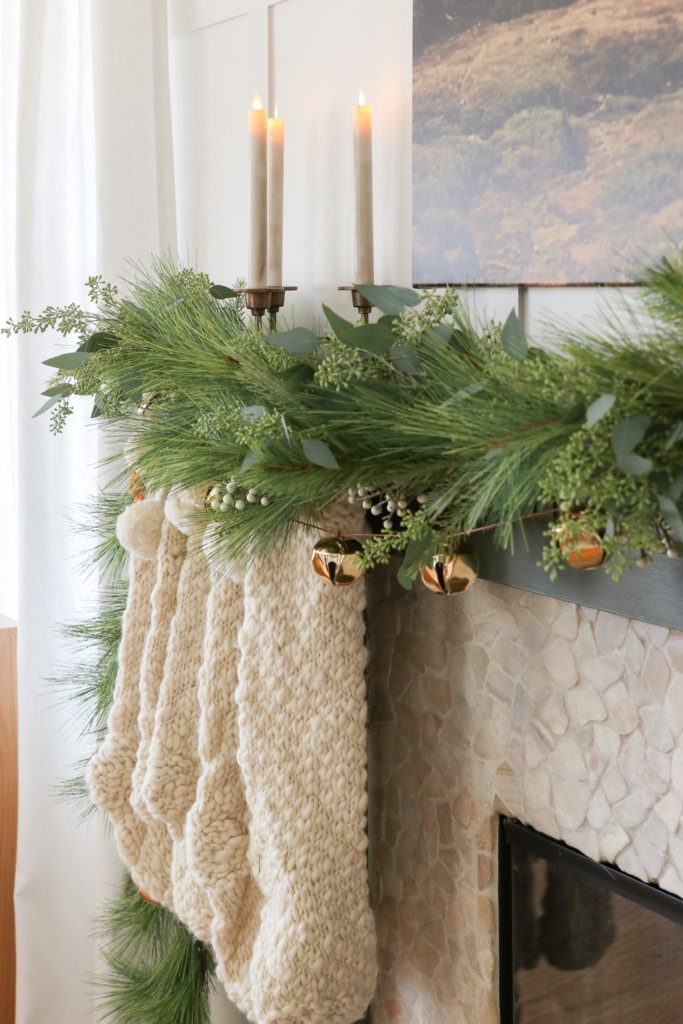 The LED tapers are the BEST!!! You can find them on Amazon.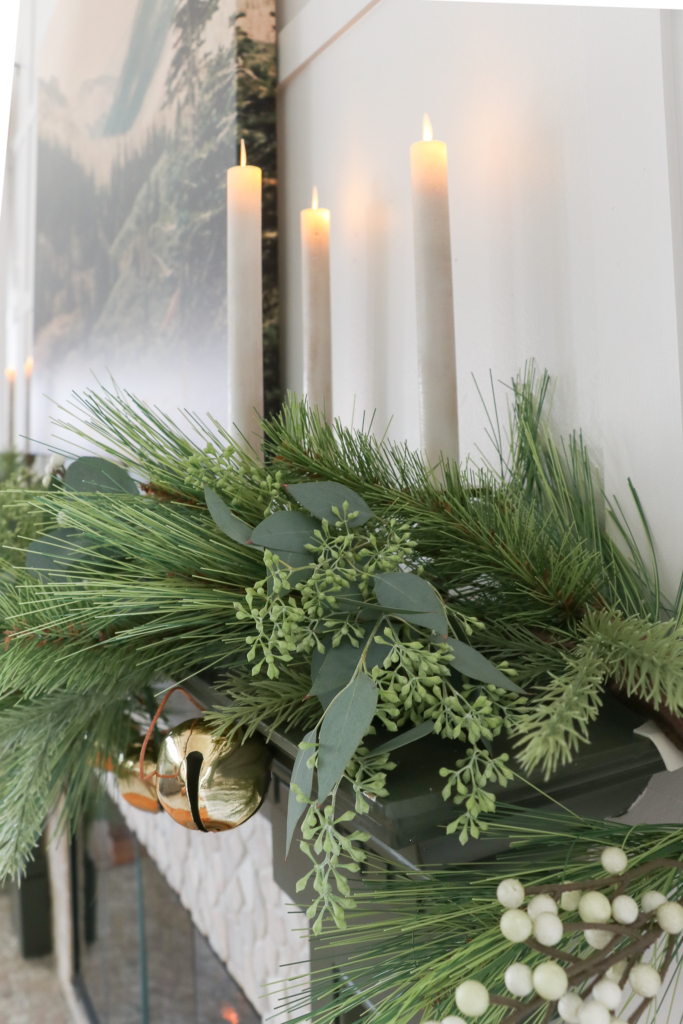 You can watch this quick video HERE.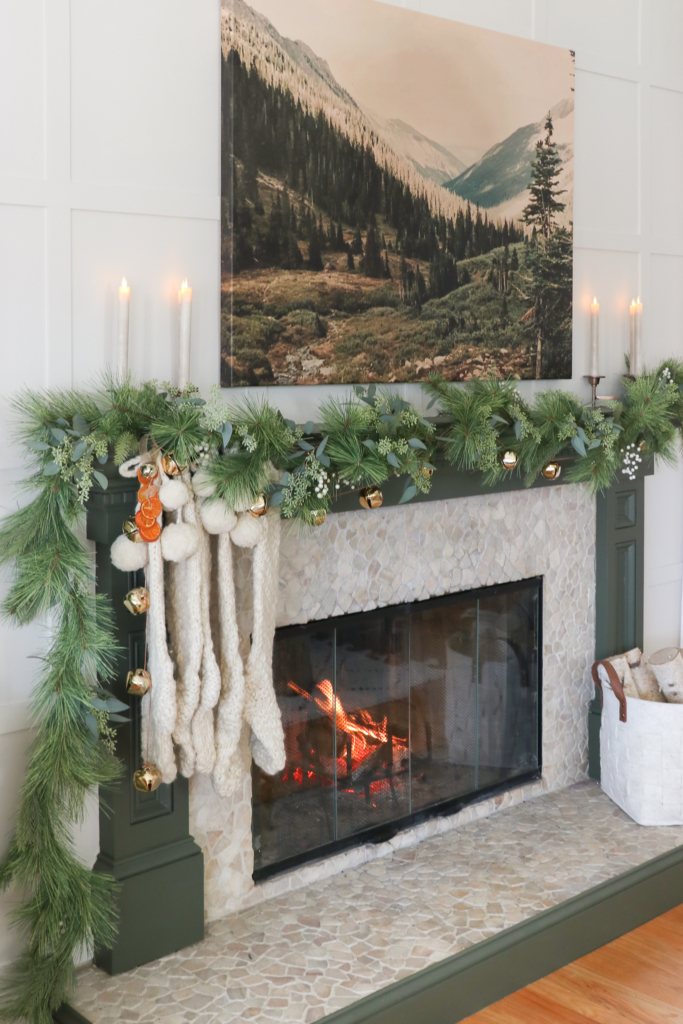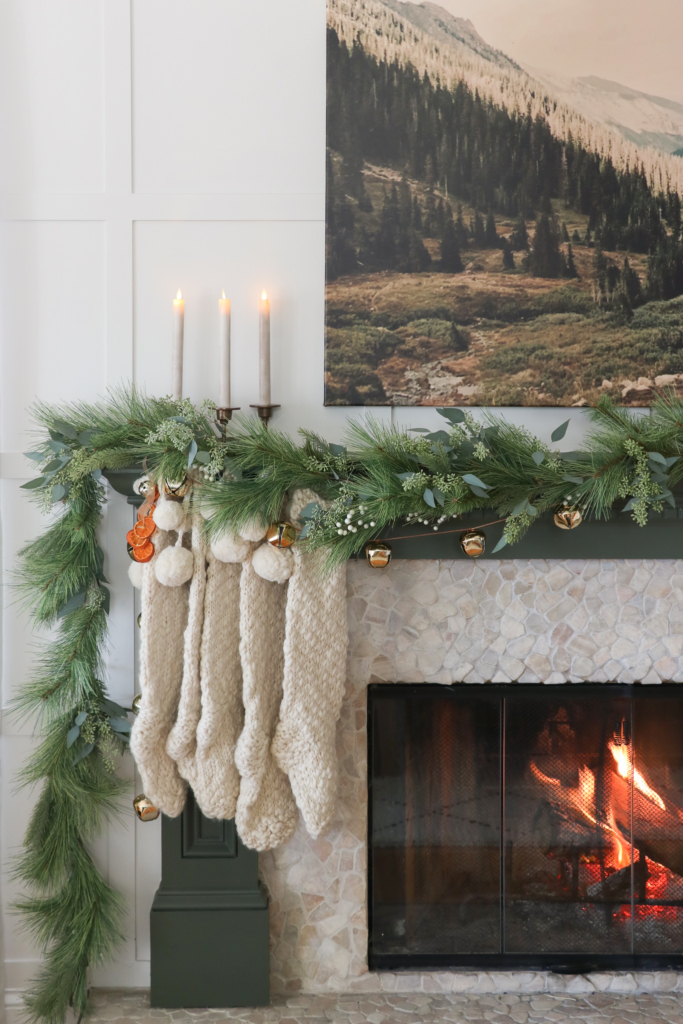 This post contains affiliate links…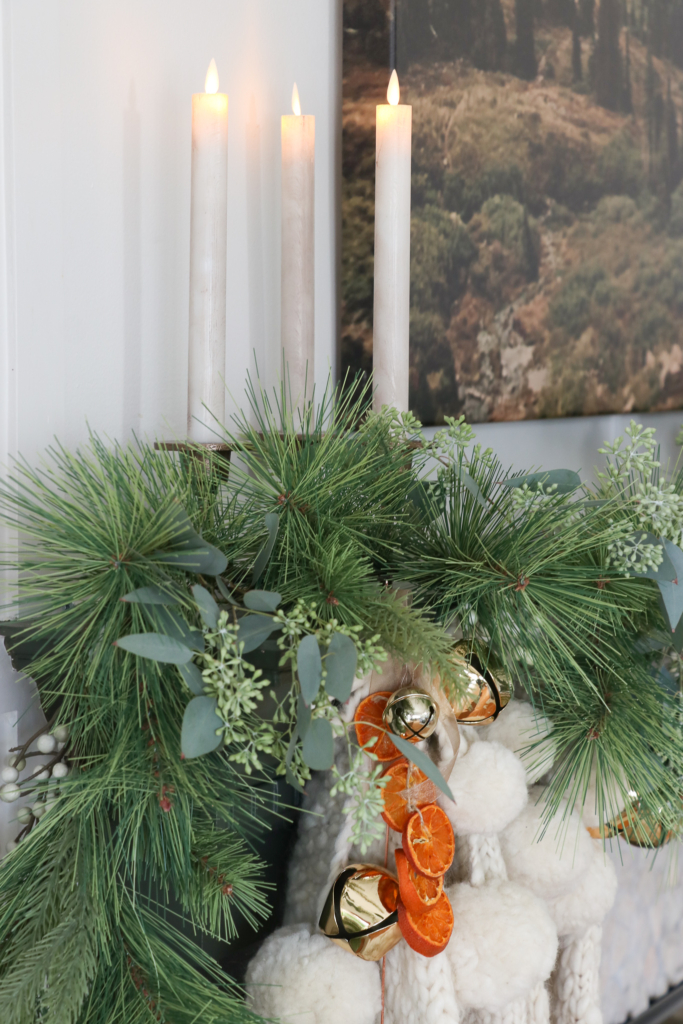 You can shop the look below from your computer…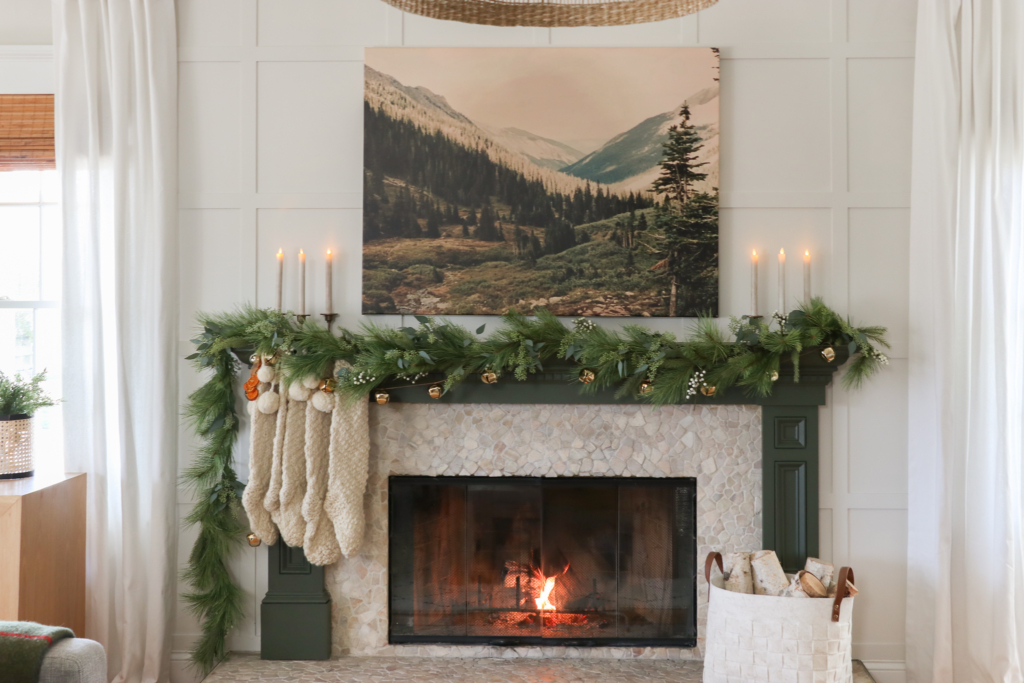 Are you ready to be blown away and dazzled with holiday magic? To tour the rest of the Christmas mantles click the links below…
Have a happy day!