Woven Lights + A DIY Of My Own Using A Target Find
Happy Friday friends! Do you ever fall head over heals for something and search for ways to bring it into your home (or life) just because you are so enamored by it? I know instantly when I love something but it can take some time before I actually take the plunge. My mind can be everywhere with decorating, I see so many things I adore on a daily basis, that I have to constantly reign myself in. And decide if it's something I am loving for the moment, just because it's on trend or if it truly speaks to my style. Otherwise, I know it will eventually go in the donate pile.
Target is the one place I must have total self-control, anyone else with me? I walk in with my list and find myself stalking the home décor isles over and over again. The good thing is, if I find something I usually leave, unless it's small and will go back if I can't stop thinking about it. I recently did this with a basket of all things, I kept walking past it, thinking I loved the composition but where would I use it. Of course I left (many times) and just yesterday went back 2 weeks later and bought it. I will come right back to this.
So the "something" I haven't been able to shake is the idea of a woven light pendant. I have seen so many images on Pinterest and fell in love with this light  below. But, the price tag was a little high so I decided to keep looking.
I continued to search online, hoping to be inspired to do a DIY of my own. I stalked the West Elm outlet as well, seeing if I could craft one myself. But then I thought back to that basket at Target, ah-ha!
BHG
I am looking to replace this light below. This pendant and the one I will DIY are both plug-in pendants, you can find the light kit on Etsy, West Elm, Cost Plus World Market and Amazon. They usually run about $10-$12 but I spent a little extra this time, I wanted a more decorative feel. With these you can create the look of a beautiful light fixture without it being hardwired.
These are some examples of the light kits….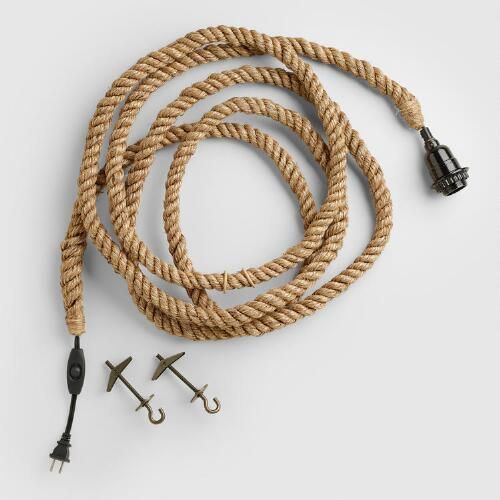 Not sure if this look is for you or just needing more inspiration, head on over to Better Homes & Gardens for details on this beautiful & organic lighting trend and why it is a style friendly choice for any home.
Have a happy weekend!