Holiday Cookie Swap-German Chocolate Cake Cookies
It's that time of year again friends! Yup, you guessed it, the holidays and today we are talking cookies. Whether you are looking for a yummy recipe for Thanksgiving, a festive event in between or Christmas, this post is for you! Welcome to this year's cookies swap, 20 incredible recipes from 20 of your favorite home bloggers! The biggest thank you to Kristen from Ella Claire for hosting this joyful event!!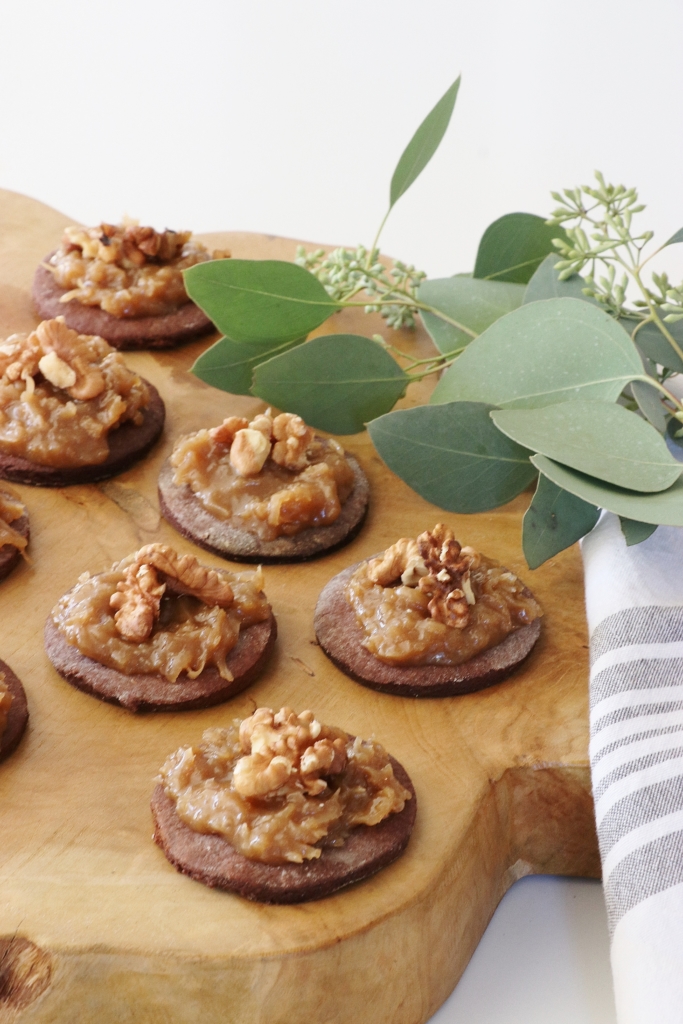 My favorite cookies to make during the holiday season are either chocolate or almond anything. This year I opted to share a recipe that oh my gosh, is so flippin good! If you like German Chocolate Cake then this recipe is for you! It's an easy 2 part recipe, double chocolate sugar cookie base with a rich coconut frosting topping..
German Chocolate Cake Cookies
Bake for 9 min. at 375 F
Makes 24 cookies
Double Chocolate Sugar Cookie:
1 stick of butter cut into cubes
1/2 cup brown sugar
2 1/2 cups all purpose flour
1 tbsp baking powder
1/4 cup cocoa powder
1/4 tsp baking soda
1/2 tsp salt
2/3 cup whipping cream
1 egg yolk
1 tsp vanilla
6 oz. dark chocolate melted
1. In a large bowl mix flour, brown sugar,cocoa powder, baking powder, soda and salt. Add butter, use your hands to mix together.
2. In another smaller bowl whisk egg yolk, cream and vanilla. Add to the flour mixture. Fold in melted chocolate and stir until combined well. Knead dough for a few minutes. Roll dough onto floured surface to 1/2″ thick. Use a cookie cutter (round) to cut your cookies and place onto cookie sheet.  Bake in oven at 375 F for 9 minutes.
German Chocolate Cake Icing:
4 oz cream cheese softened
3 Tbsp butter softened
1 tsp vanilla
1 1/2 cups brown sugar
1 1/2 cups of shredded coconut
walnuts for garnish (optional)
Mix all ingredients in a medium saucepan, stir well until melted. Once the cookies have cooled, add the icing to the top of each one. Garnish with a walnut.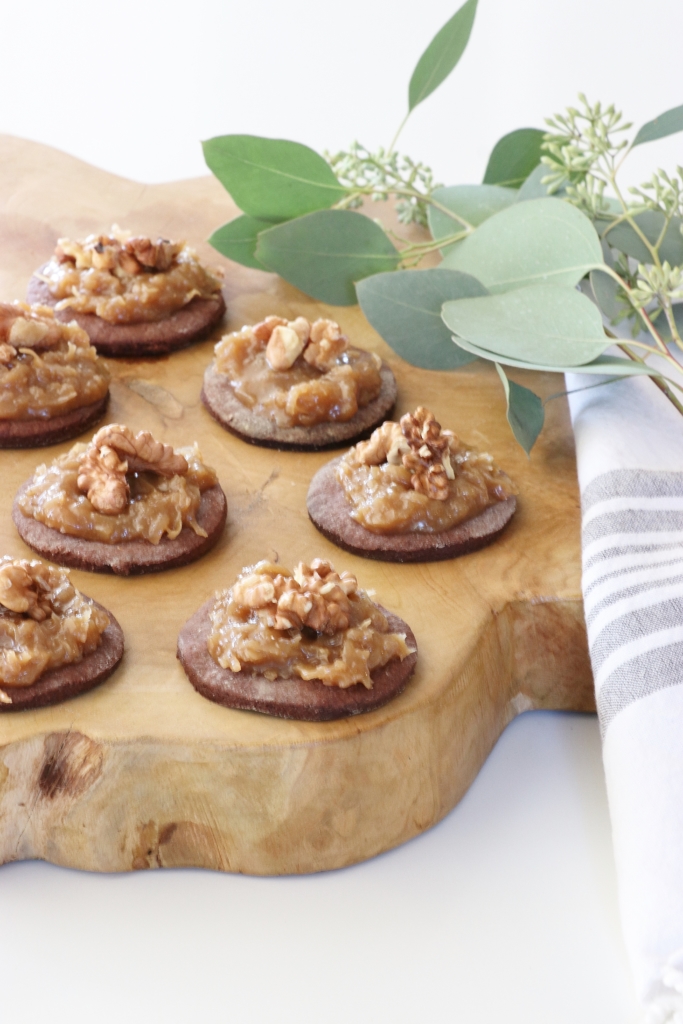 I am telling you, these are amazing! These you may just want to keep these at home:).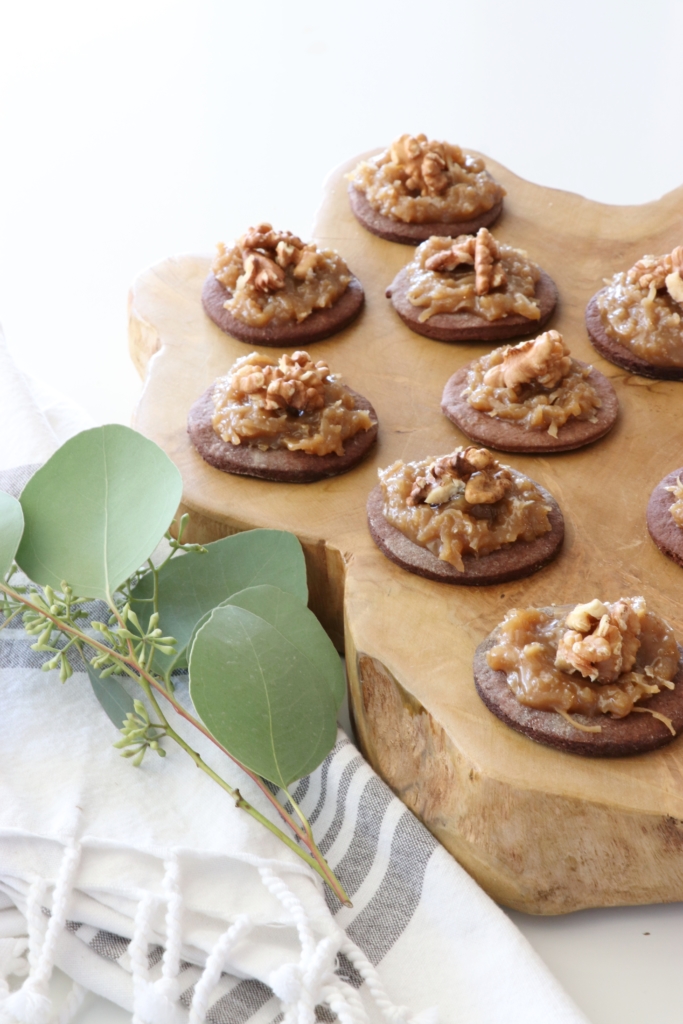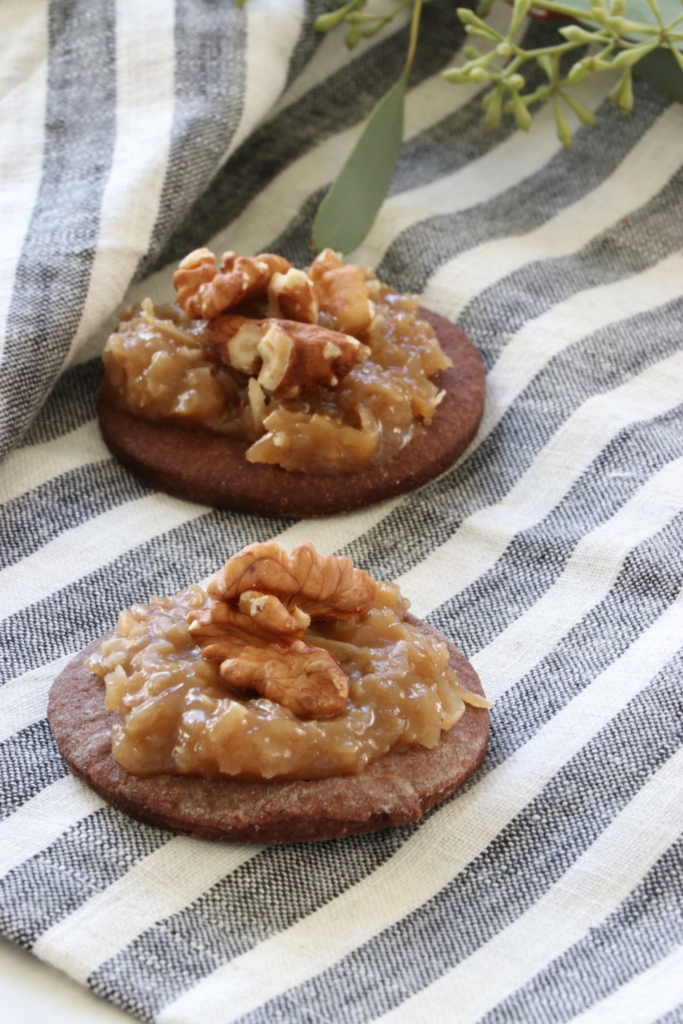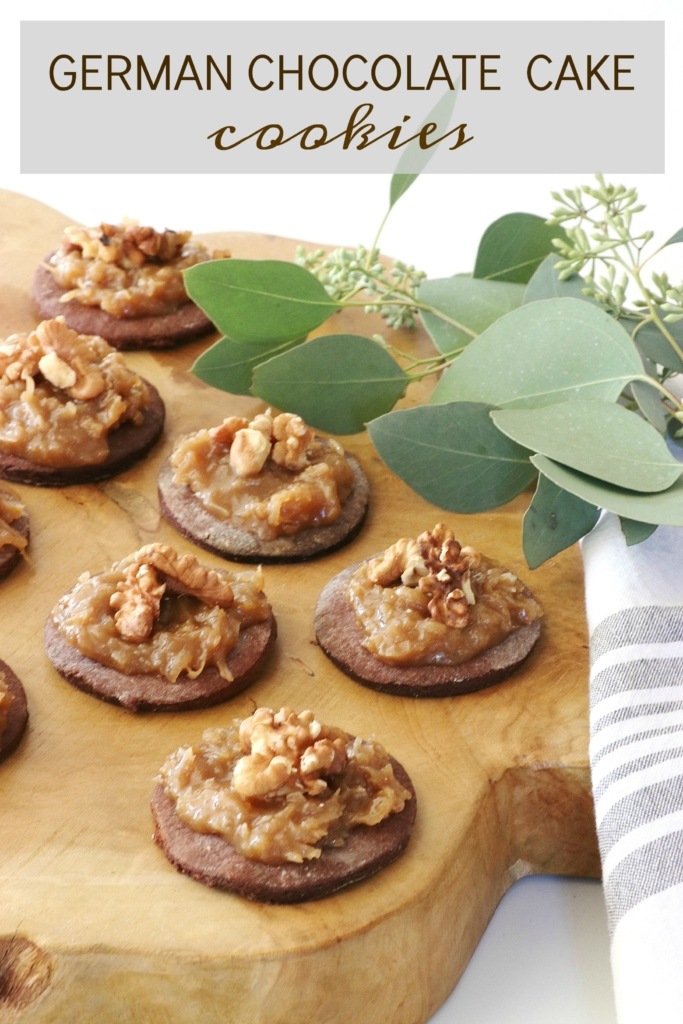 Enjoy the cookie tour…

The Perfect Soft Gingerbread Cookies by Ella Claire | Classic Sugar Cookies by Nina Hendrick Design Co. | Plaid Sugar Cookies by Craftberry Bush | Buttery Shortbread Cookies with Icing Sugar by A Burst of Beautiful | German Chocolate Cake Cookies by City Farmhouse
Cranberry Orange Walnut Tassies by Inspired by Charm | Eggnog Gooey Butter Cookies by Julie Blanner | All Natural Orange Almond Cookies by Tidbits | Choco-mallow Peppermint Cookies by Summer Adams Designs | Nutella Stuffed Chocolate Chip Cookies by Love Grows Wild
Paleo Chocolate Cranberry Cookies by Nesting with Grace | Raspberry Gingersnap Sandwiches by anderson + grant | Christmas Tree Gingerbread Cookies by Rooms for Rent | Large Thumbprint Cookies by So Much Better with Age | Rum Balls by Tidy Mom

Countdown to Christmas Cookies by House 214 Design | GF + DF Gingerbread Sugar Cookies by Zevy Joy | Salted Caramel Shortbread Cookies by Boxwood Avenue | Double Chocolate Christmas Cookies by Nest of Posies | Almond Sugar Cookies by My Sweet Savannah
M&M Peanut Butter Cookies by Sweet C's | Rustic Granola Cookies by Farmhouse on Boone
Have a happy day!