Southern-Inspired Shrimp & Grits with Ramp Biscuits
Hi there, Jessica here from 
JessicaBrigham.com
 sharing another delicious recipe. My Cousin Vinny quotes it best, "No self-respectin' Southerner uses instant grits. I take pride in my grits." I do declare, my kind sir, as do I. 
As do I. 
Ever since I caught the grit bug, never have I ever turned back.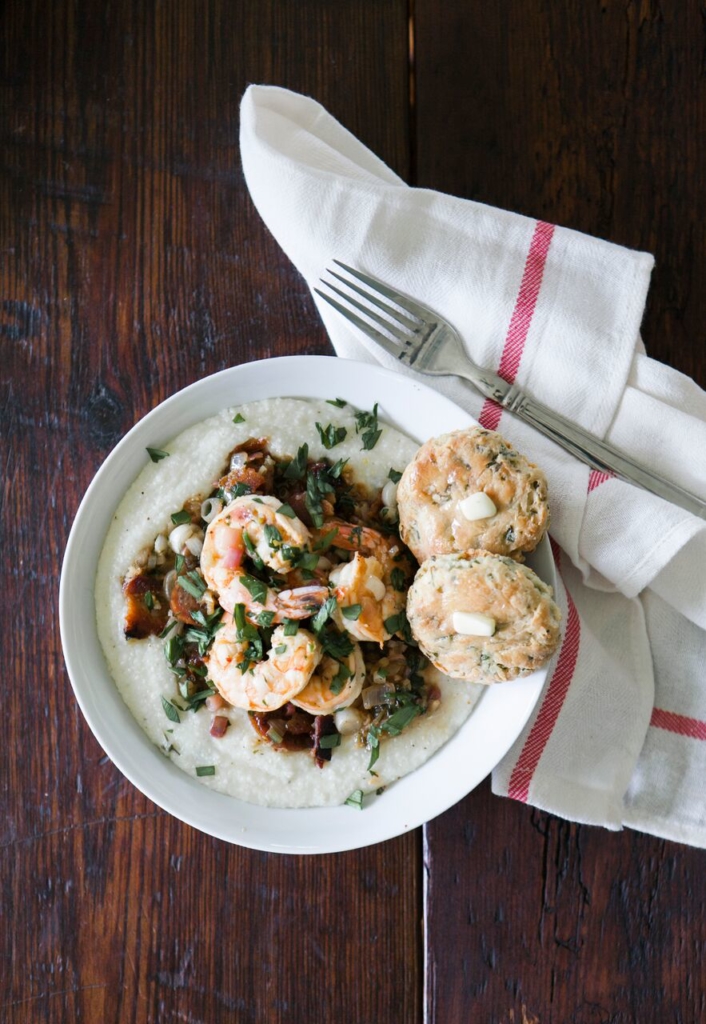 Charleston is where I fell madly in love with the silky-smooth, Southern delicacy that is grits. Chris and I stayed at the 
1837 Bed & Breakfast
 with the most amazing morning meals. Our last morning, there was one breakfast spot 
we had to try
. At 
Hominy Grill
, our waitress approached to take our order. Of course, I request my newfound fave, to which she asked, "Would you like cheese in those grits?" Curious as we are, we ask her preference. Well, her Mama 
always
 put cheese in her grits, so we duly obliged. The impending hominy love affair was sealed.
We've been hankering to get back down to Charleston. Strolling the 
CitySeed
 farmer's market, it dawned upon me this was the last week for a seasonal specialty: 
ramps.
 That and a yearning for authentic Southern cuisine, it made quick sense … shrimp, grits, and ramps are a match made in heaven.
What the heck are ramps?
 They're a peppery, crunchy, garlicky, oniony green that thrive on the forest floor as the weather warms until the leaf layers thicken, typically from late-April until mid-May. Call them ramps or a variety of their epithets – wild leeks, spring onions, wild garlic; the list goes on! 
Waldingfield Farm
 is the local purveyor of ramps and they never disappoint.
Ramps are delicious served raw, grilled, pureed, and in so many ways. It would be sinful to only sauté. This Southern-inspired shrimp & grits recipe uses ramps not two, but three, ways: raw, sautéed and best yet, freshly baked. One you bite off a piece of this ramp biscuit, you'll be hankering for next spring.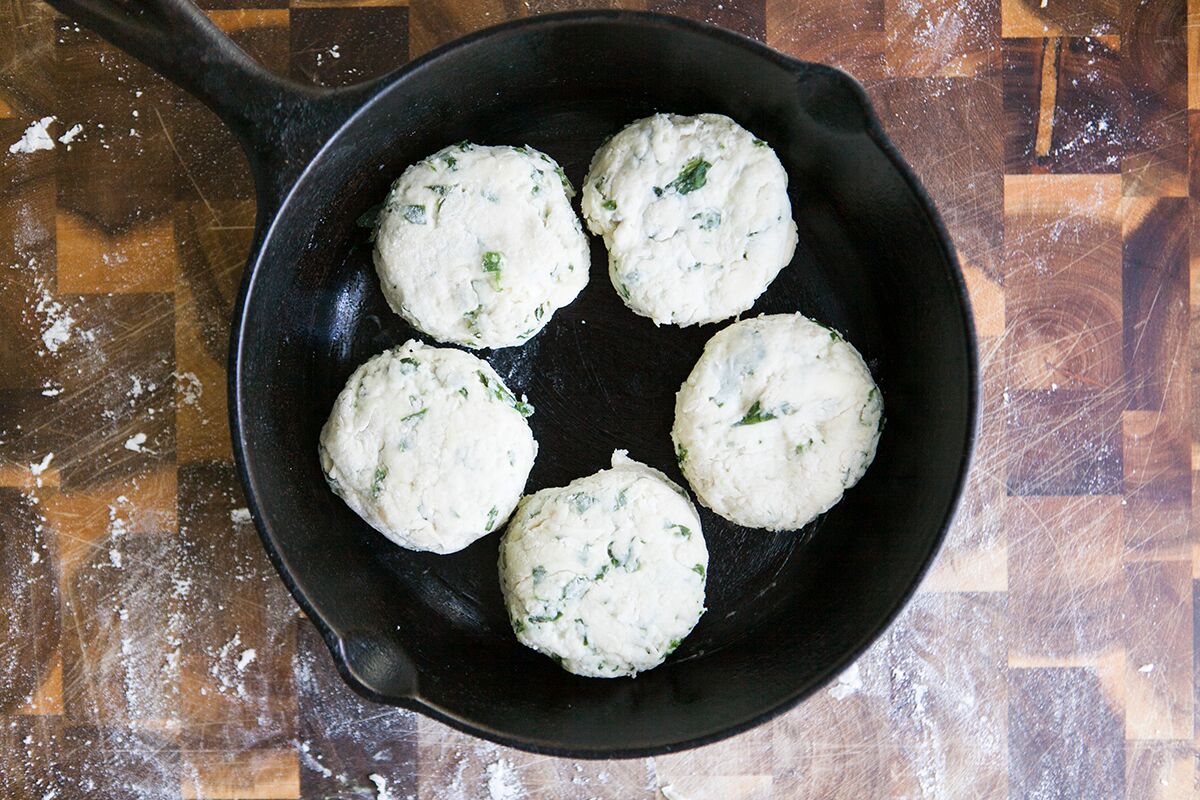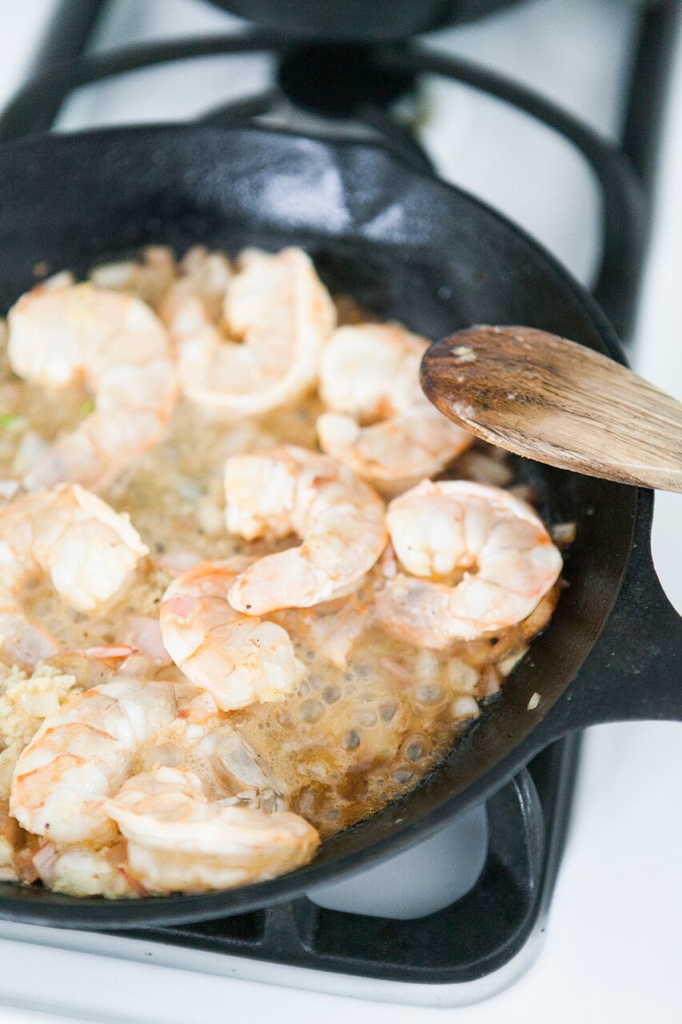 Southern-Inspired Shrimp & Grits with Ramp Biscuits
Serves three to four people
To Make Grits
1 cup white or hominy grits
3 cups chicken broth
1.5 cups sharp cheddar, grated
3 garlics cloves, minced
Salt & pepper, to taste
To Make Shrimp
2 lb. large gulf shrimp, peeled & deveined
8 thick-cut bacon slices, crumbled
4 Andouille sausage links, cut into ¼" angled slices
2 large shallots
3-4 cups ramps, whites & greens mix
5-6 garlic cloves
1 cups chicken broth
2 tbsp. butter
2 fresh lemons, juiced
1 tsp. sriracha
Ramp greens, chiffonaded for garnish
Salt & pepper, to taste
To Make Biscuits
2 cups flour
1 tsp. sugar
1 tsp. salt
1 tbsp. baking powder
½ tsp. baking soda
6 tbsp. butter, (supah dupah) cold
1 cup milk
2 cups ramps, finely chopped (mainly greens)
Kitchen Tools:
Small saucepan
Garlic Press
Juicer
Chef's knife
Measuring Spoons
Large Bowl
Silicon spatula
Whisk
Cast iron skillet or baking dish
Pastry cutter
Rolling pin
Cookie cutter or small jar
Metal rack
Mixing spoons
Preheat the oven to 425 degrees. Combine all dry biscuit ingredients in a large bowl and whisk together. Add cold butter. Using a pastry cutter, mix into a coarse texture. Make a center well. Add milk and ramps. Roll into a wet dough ball.
In a small saucepan, bring chicken broth to a boil. Slowly add grits, stirring as poured. Reduce heat to very low. Add garlic. Cook for 20 minutes stirring frequently. Remove from heat and add cheddar. Cover until serving. (If too thick, add water and continue simmering until creamy.)
While grits are simmering, marinate shrimp in ¼ cup lemon juice, sriracha, salt and pepper for 10 to 20 minutes.
Roll dough out 1.25-5 inch deep. Cut your biscuits using a cookie cutter or small jar. Place on a cast iron skillet or baking sheet. Bake for 15 minutes until risen and golden brown. Let cool on a metal rack.
In a cast iron skillet on medium-high heat, sauté bacon until crispy. Remove and wipe pan clean. Rest on a paper towel to soak up excess grease. Add Andouille sausage slices and brown on both sides. Remove and wipe clean. Crumble bacon.
In the same skillet, add butter, chicken broth and a dash of lemon juice. Let thicken for 1 to 2 minutes. Add shallots, ramps, garlic, and shrimp. Sauté for 2 minutes. Add bacon and sausage. Cook for 2 minutes. Remove from heat.
In a wide bowl, plate grits and lather with shrimp mixture and broth, top with tail-on shrimp, and garnish with ramp greens. Butter your biscuits and serve.
Bon Appétit!
The To Do List: Best Notepads to Stay Organized
One Room Challenge: Modern Boho Bathroom Reveal
Elderflower Lemonade Fizz