Front Door Makeover-It's Amazing What Paint Can Do

Hi there friends, happy Friday! Today is the day, I am finally revealing my front door color. People often say (including me) that it is just paint but it is still a commitment, so when it comes to selecting the right color it is always best to do a little homework, I call it color research. As you know I was torn between 4 tones, which were all a variation of my favorite hue, navy. Drum roll please…I ended up choosing Sherwin-Williams Anchors Aweigh.  I have to say this was a tough choice, Sherwin-Williams has some incredible navys, but at the end of the day I wanted a rich, dark blue that could work all year round with the changing faces of my front porch.

Anchors Aweigh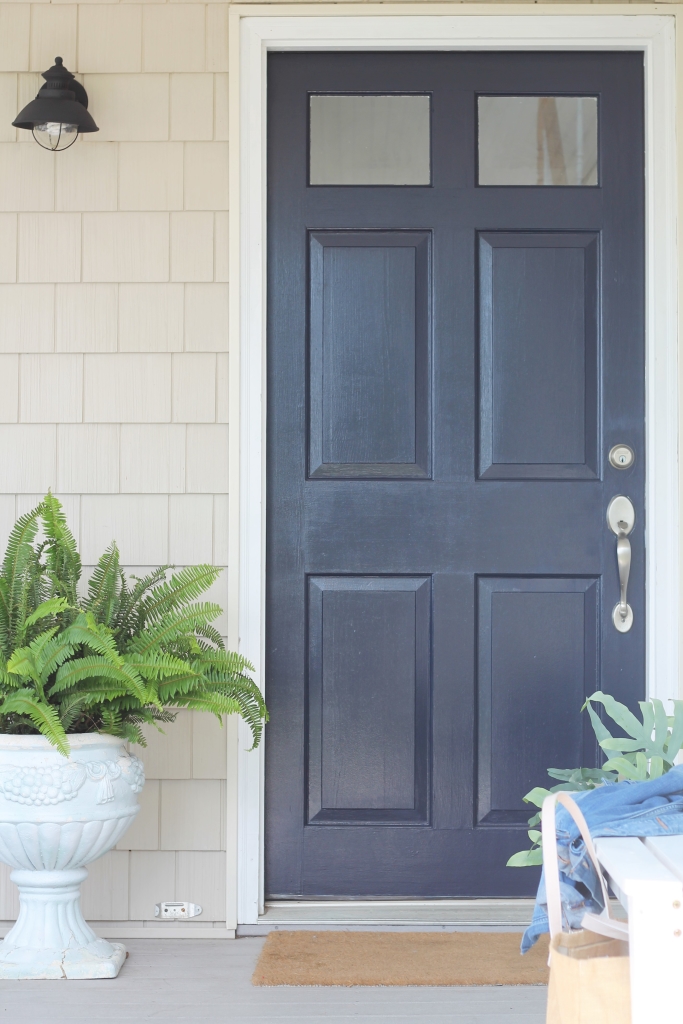 I mentioned in my previous post that I had been putting off painting my front door for a while, the sheer fact is that it takes so long to dry and it's a pain to leave the door open for hours at a time. After speaking with Robert at my local Sherwin-Williams store I was convinced SnapDry was for me.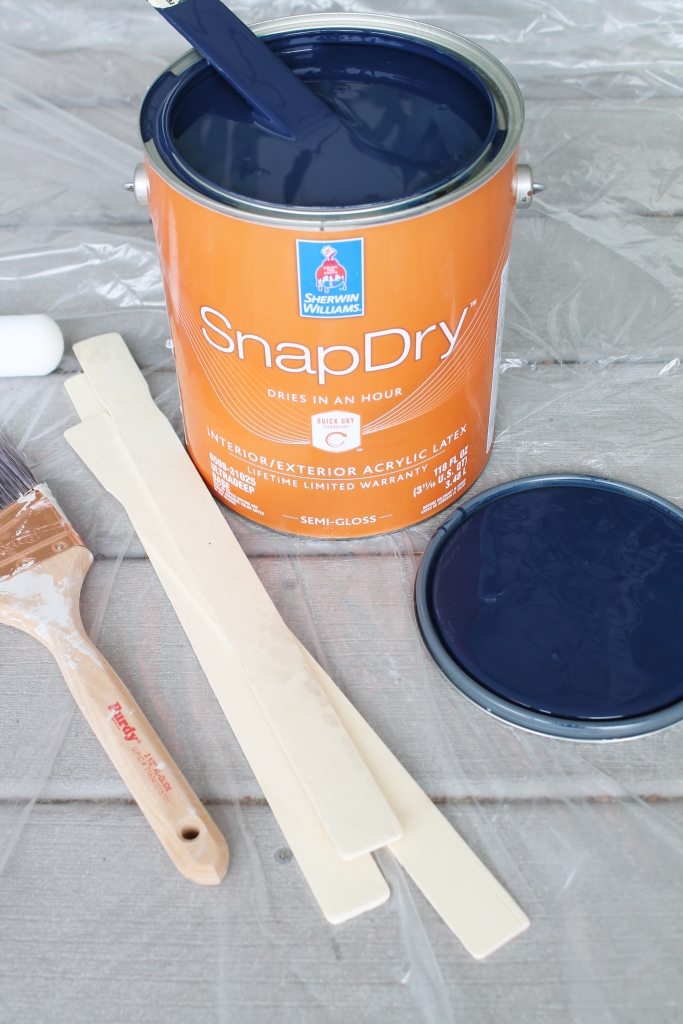 First off this product was a lifesaver!!! I painted the door on a day when the humidity was the worst, I almost didn't do it but after calling the store they assured me it was ok. I painted the door then left it open for less than an hour and then shut it and went out for the day. When I came home I have to admit, I was nervous to open it. When I did I was so pleasantly surprised, no frame marks, it was still perfect.
Some things to keep in mind when using this product, it does dry faster than regular paint but don't panic, you have plenty of time. You can pick up a very helpful cheat sheet at your local store it explains the directions well. One thing I found, especially if using a dark color, go with a satin, I used a semi gloss, which I think will hold up much better but you can see the variations more. Either way this product is awesome!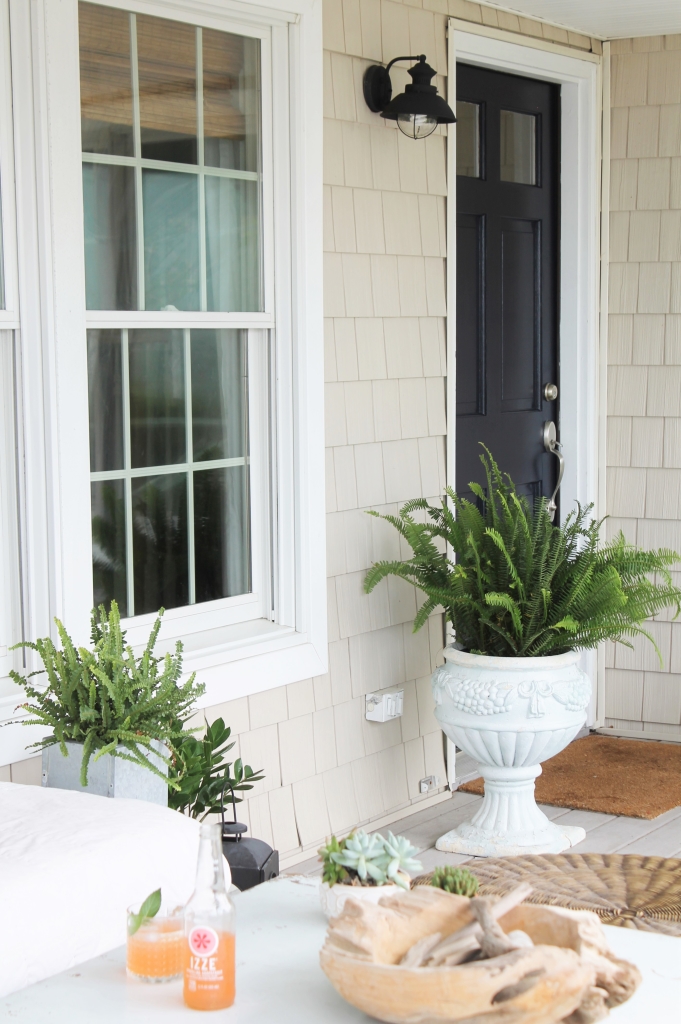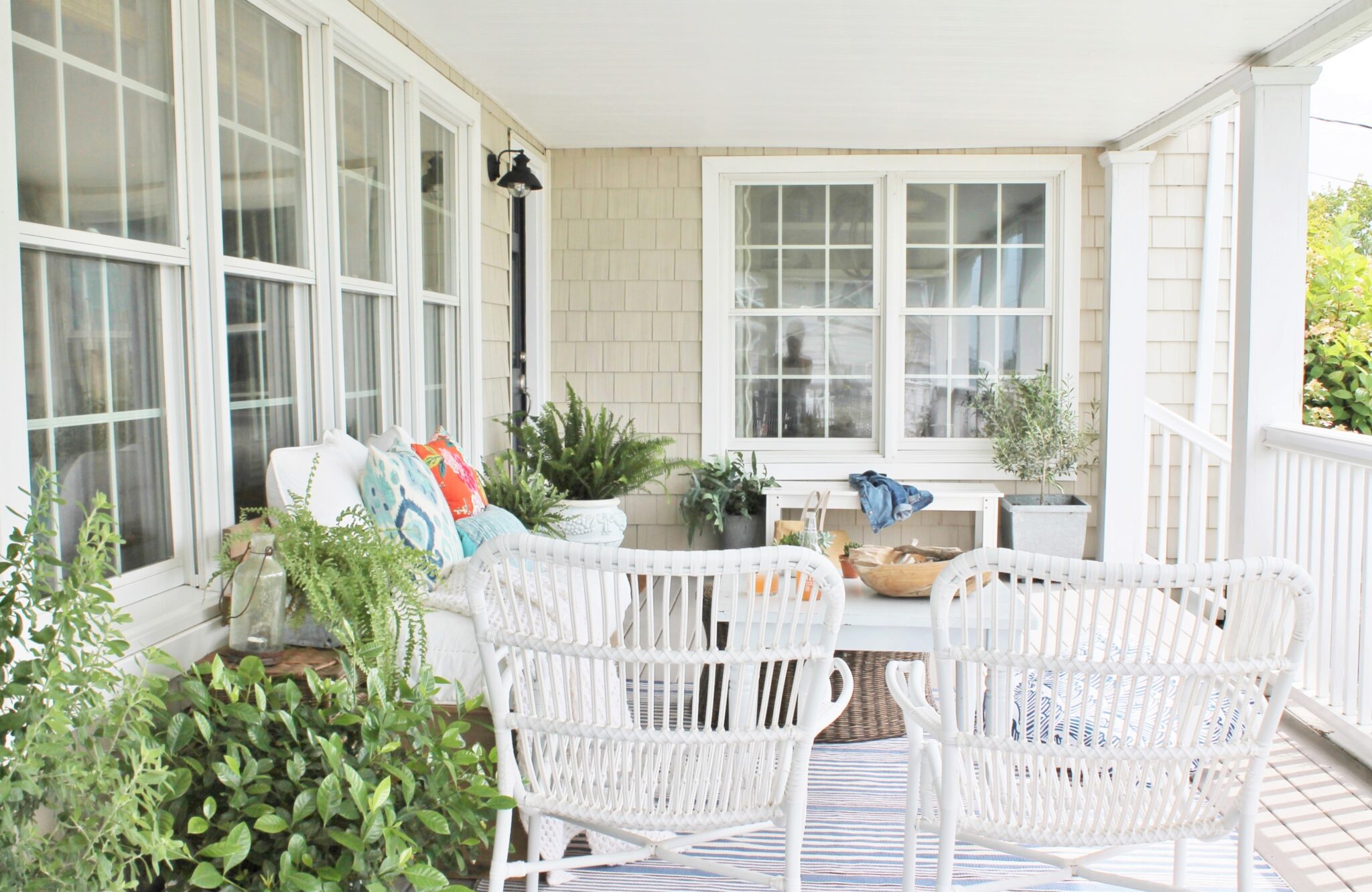 I wanted to show you how the new front door color looks with my front porch so I did a little mid-summer makeover. My favorite part of summer is layering my front porch and backyard with plants, ferns, tropicals, herbs and succulents, the more the better.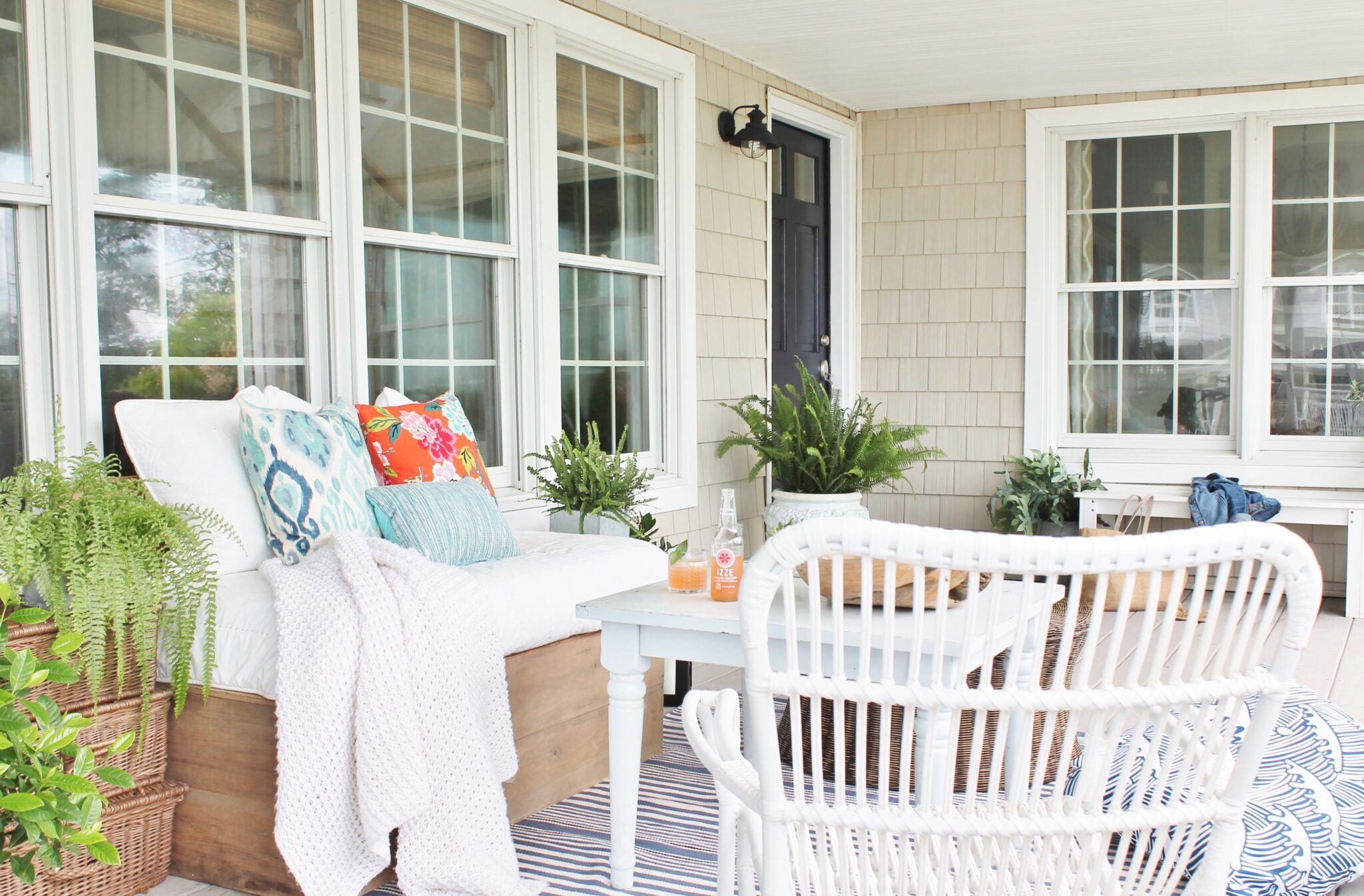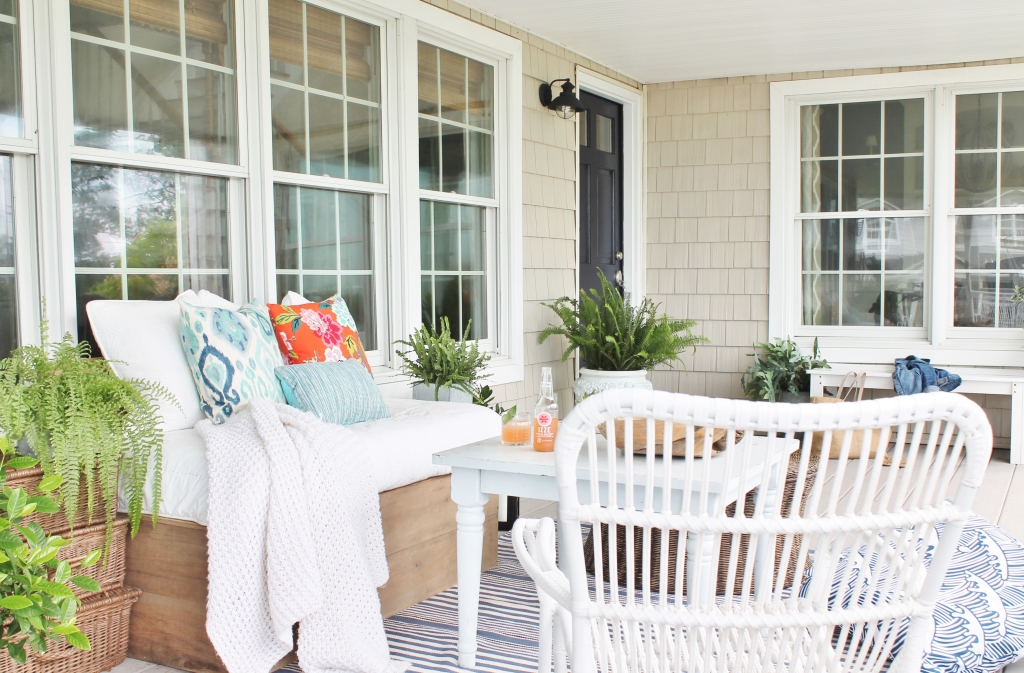 I used some newer items to refresh the space, if you recall I used the striped rug, garden stool and wicker ottoman in my backyard picnic post. I just love how the whites, blues and organic tones make the space feel fresh and happy.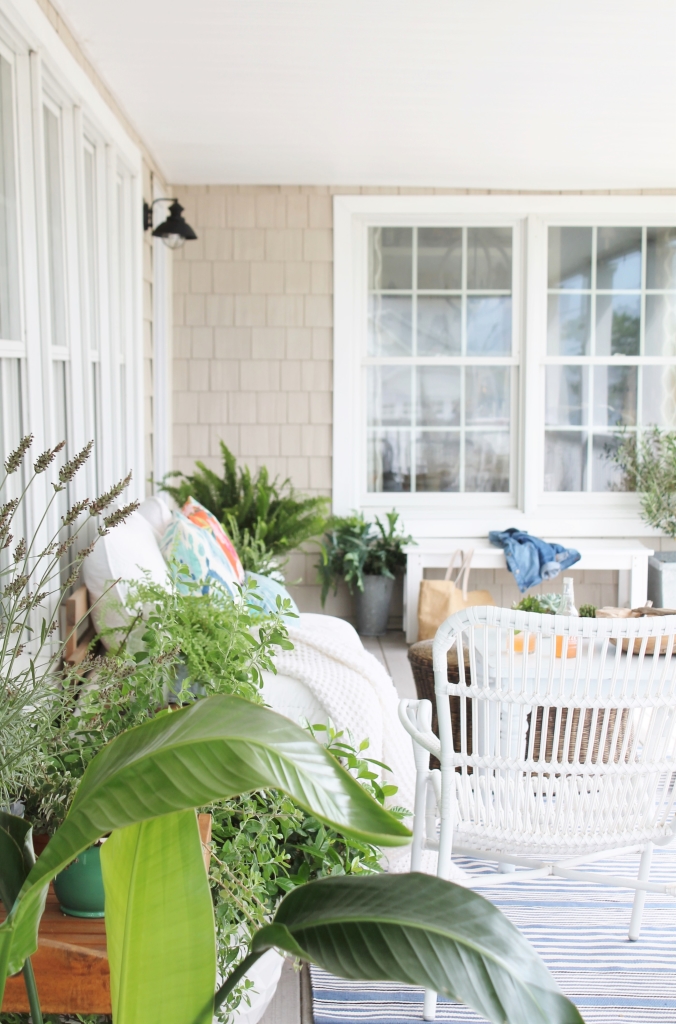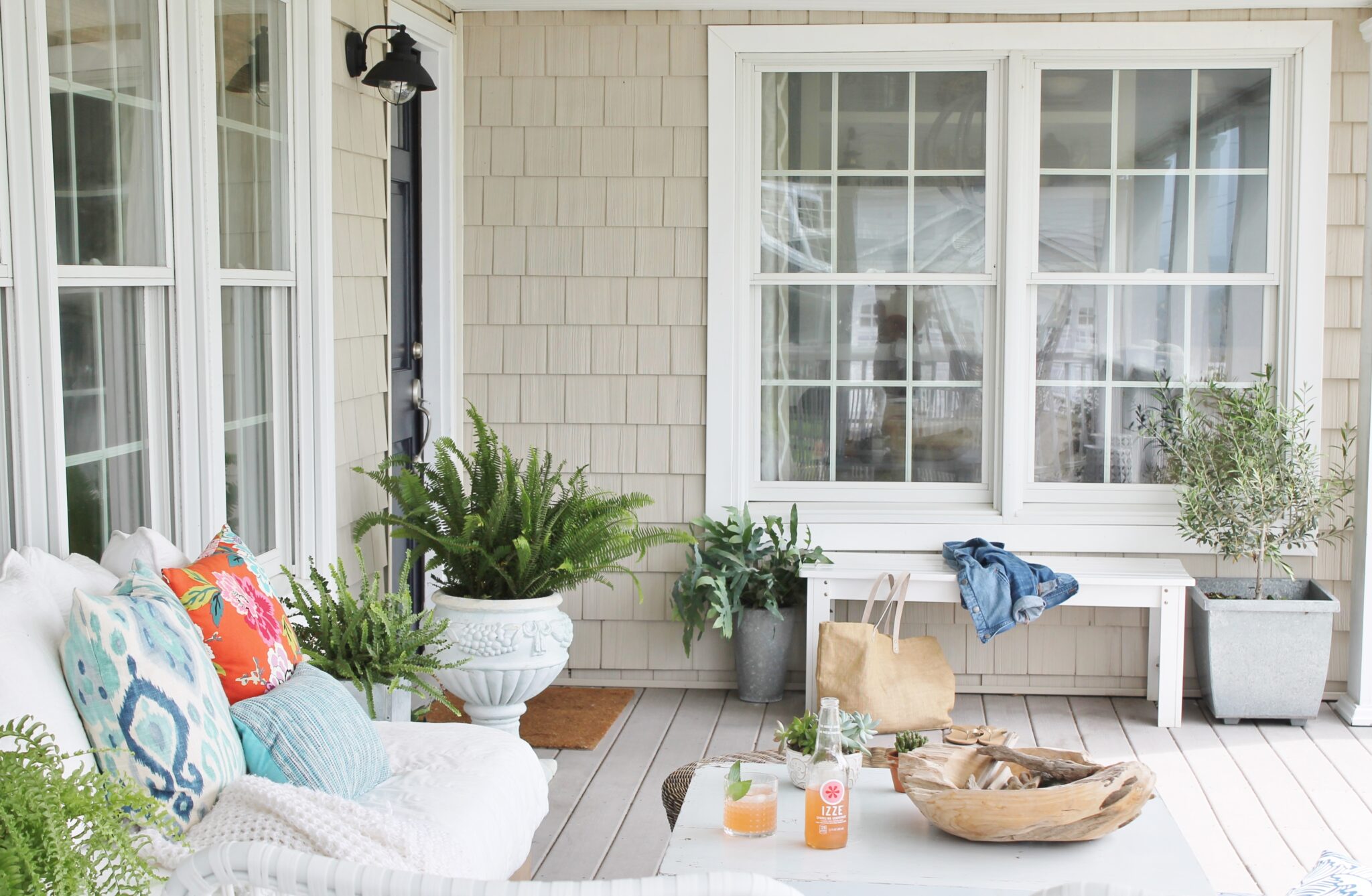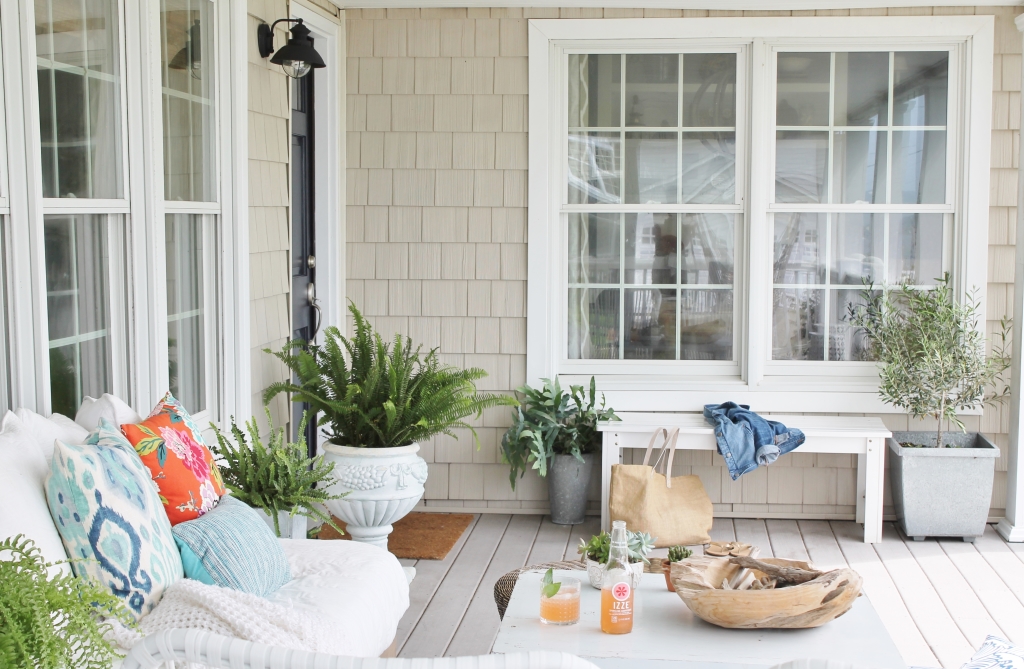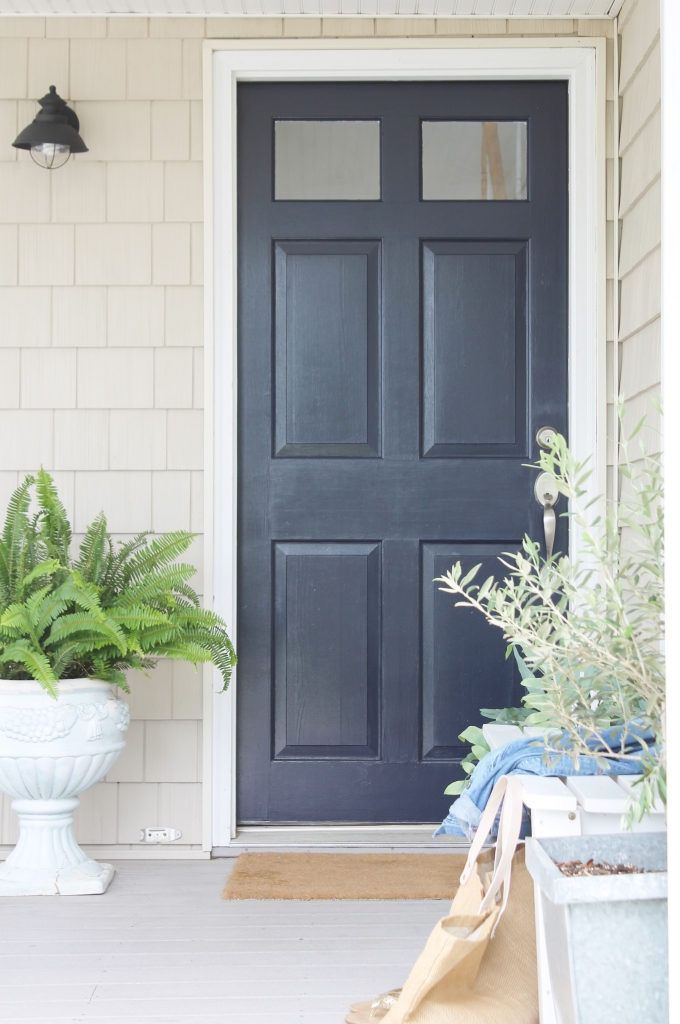 I honestly love it and am so thrilled to have the opportunity to collaborate with Sherwin-Williams on this project.
Here is just a quick look at the other side of my front porch.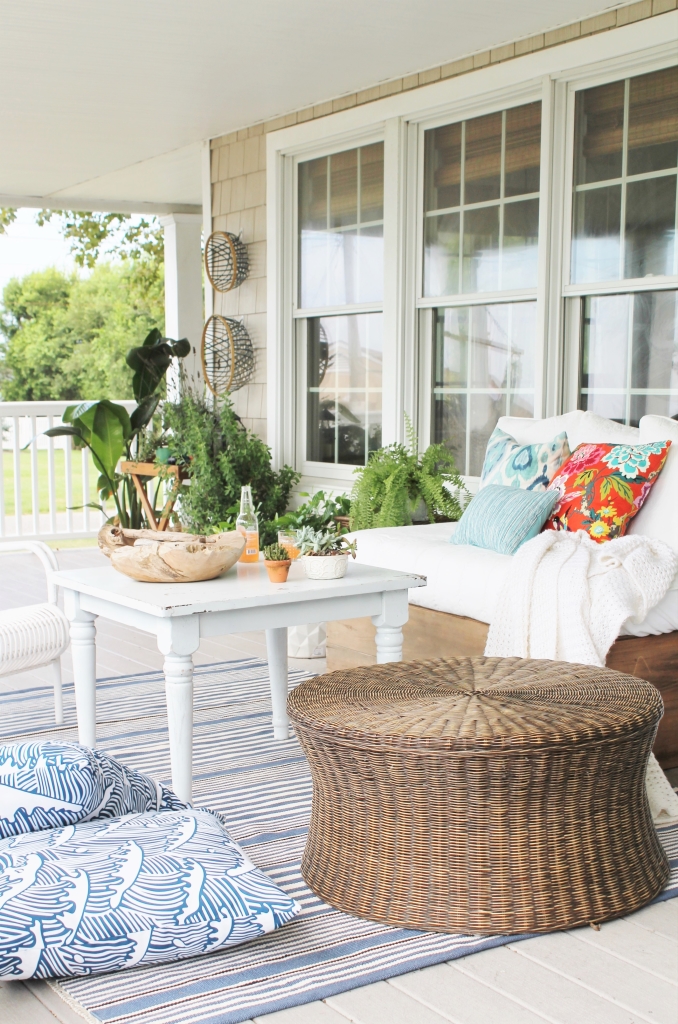 The great thing about this front door color is that I can change out the pillows and accessories with the seasons and it will look beautiful. Anchors Aweigh is one of those colors that looks great with everything, it's almost a neutral in a way.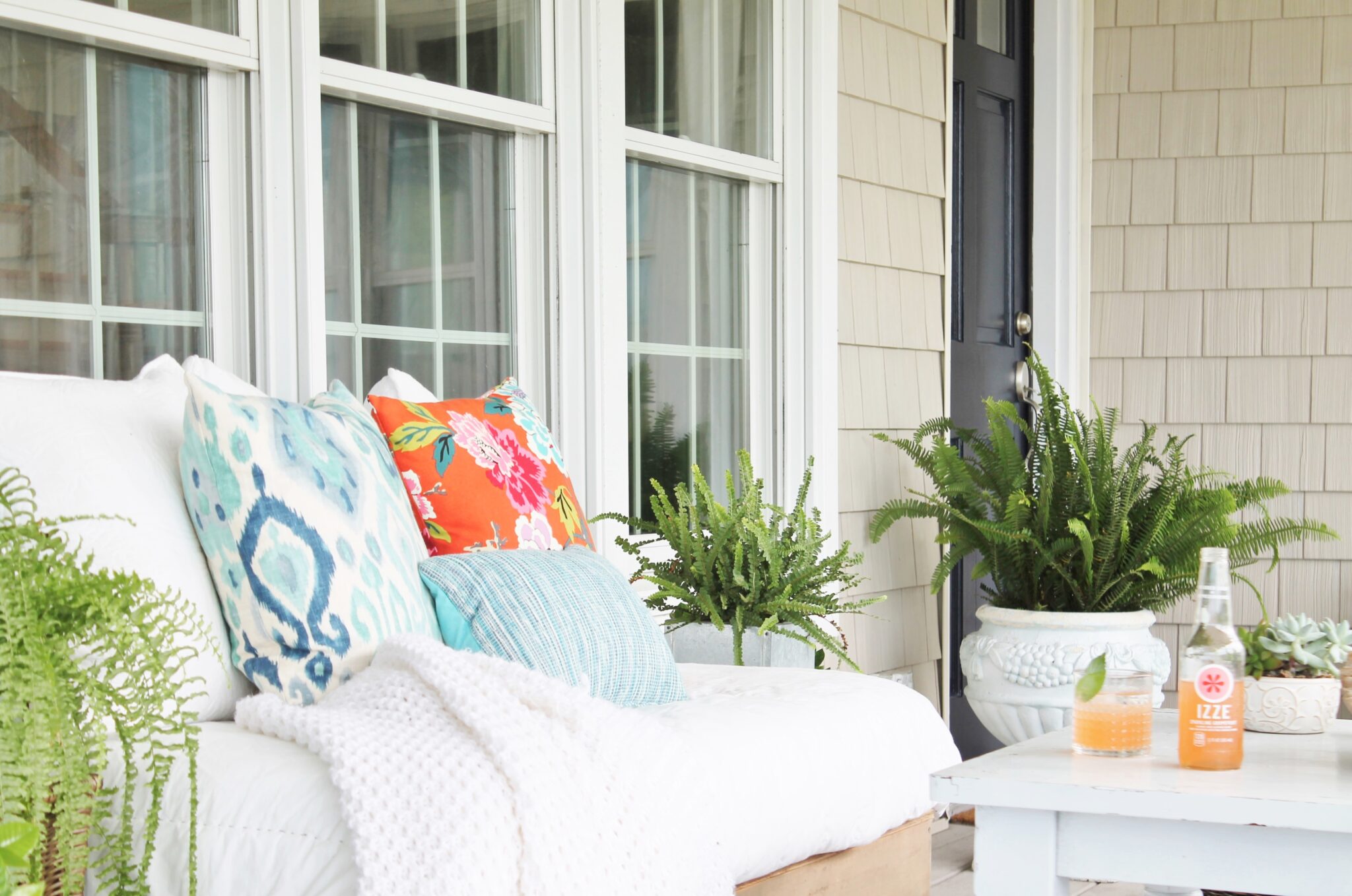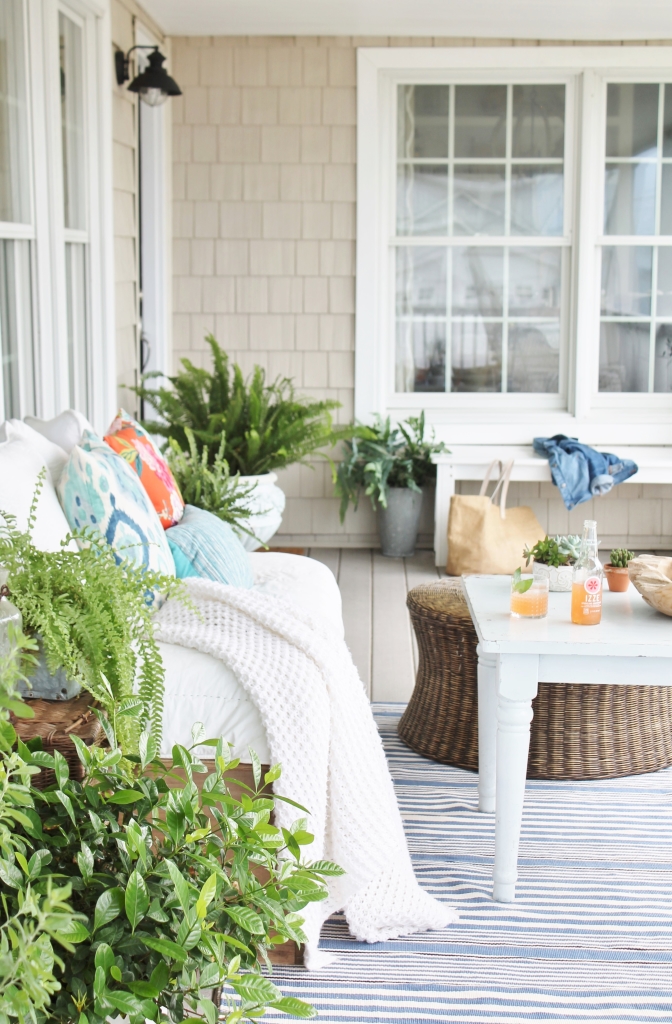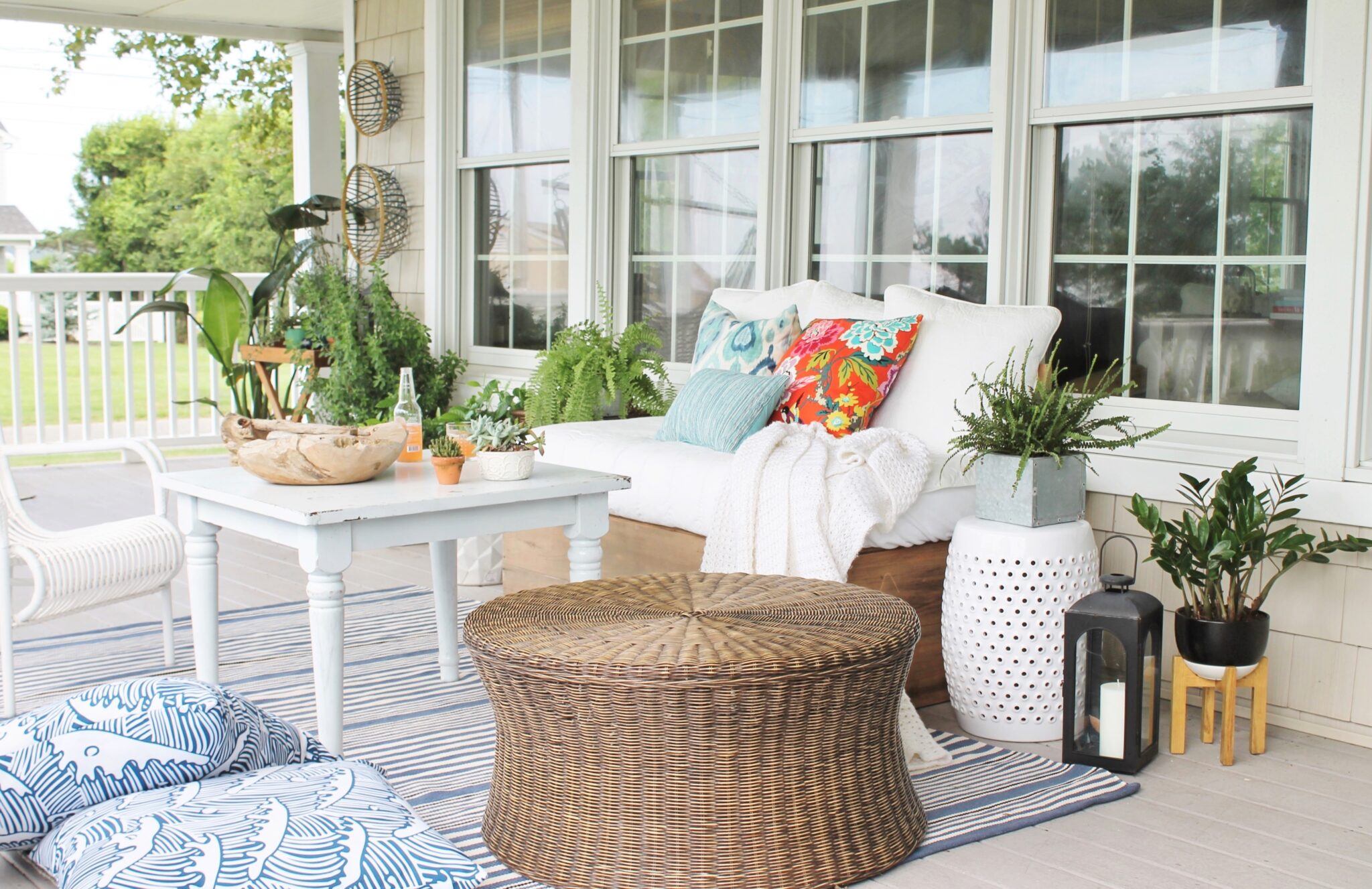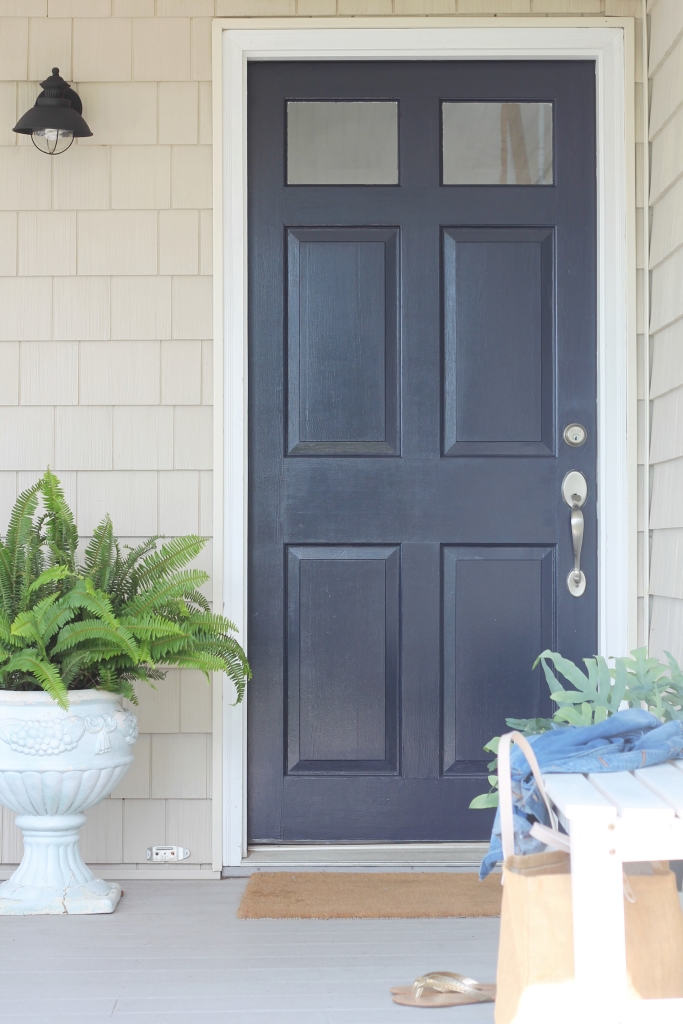 The response to the paint giveaway I shared on Monday has been overwhelming, thank you for taking the time to share your local store! In the meantime Sherwin-Williams is having a 35% off sale on paints and stains starting today, August 12-15, so if you need to get any projects done, now is the time, this is an amazing sale you don't want to miss!!
Have a beautiful weekend!