Coastal Sign Trio & Simple Tutorial
 A great big Happy Summer to all of you!
I hope you are all off to a wonderful start!
This post is very fitting since my family & I are enjoying an amazing New England getaway:).
I love signs-
in just a few words they can capture a moment, a feeling of a special place or time.
Living coastally I am always looking for original & unique ways to seamlessly incorporate a
"beachy" look into my home, especially during the summer months:).
Signs always seem to do that,
they are easy to make and always seem to spark conversation.
When I saw THIS image, instant inspiration.
Simple, yet meaningful(we live in the NE) & FUN!
Of course I had to put my own twist on it,
so I went rummaging through my scrap wood
&
found some left over driftwood from Hurricane Sandy.
I used a simple technique to hand paint the letters & voila….
A Pottery Barn Inspired Coastal Sign Trio.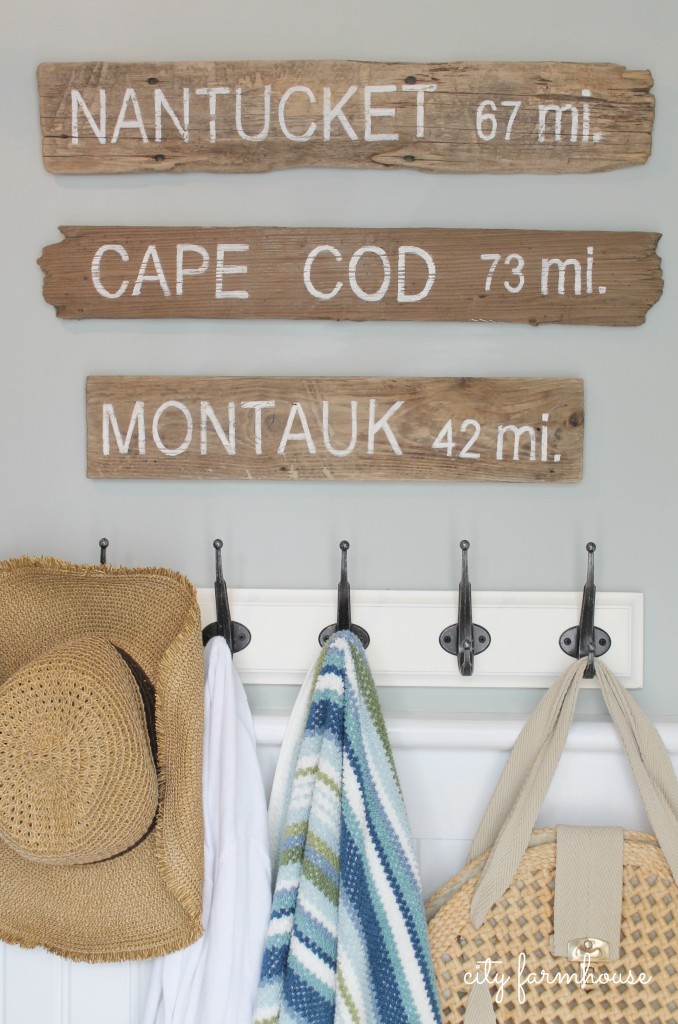 This is my simple & easy tutorial….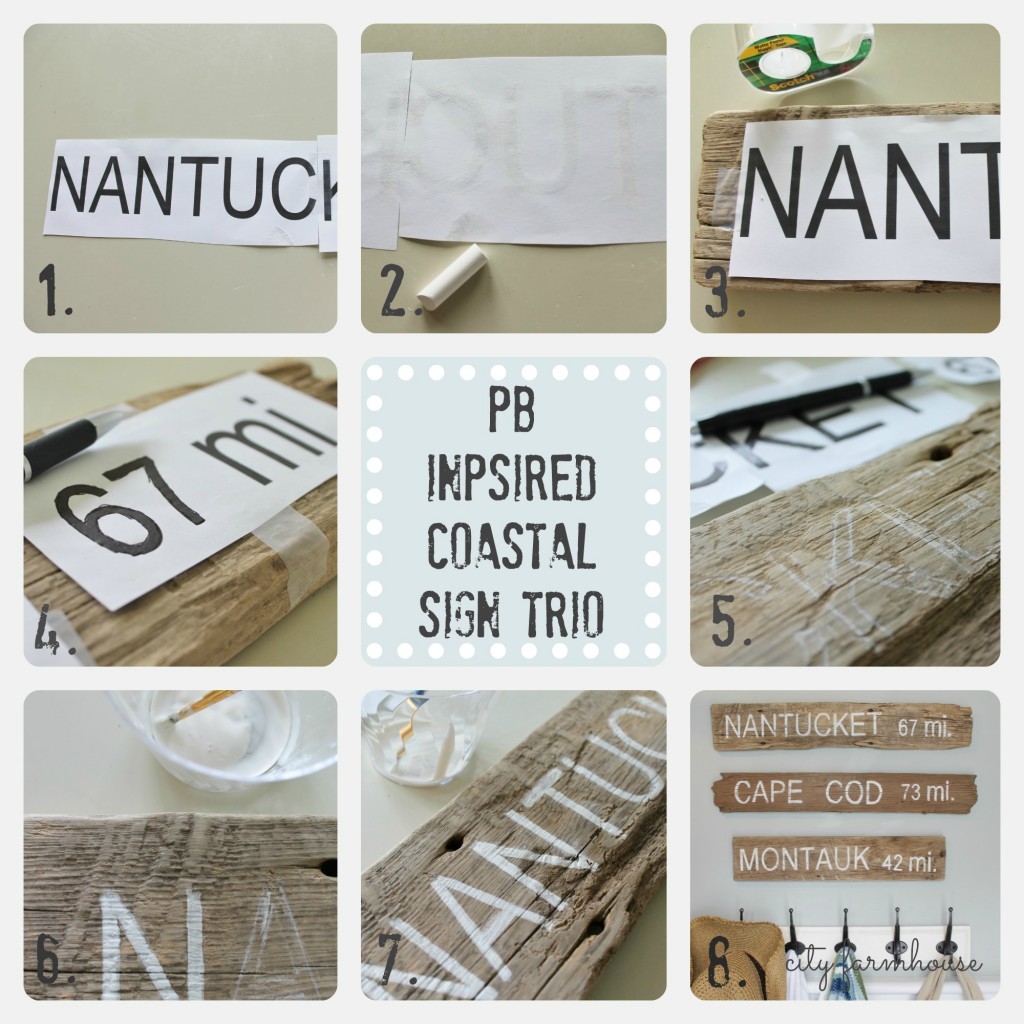 1. Print your words and tape them together if need be.
2. Trace over each letter with chalk.
3. Tape to wood.
4. Using a pen trace over the outside of each letter.
5. Pull off paper & make sure you have each letter clearly outlined.
6. Using a small brush, paint(craft or house) & a few drops of water paint the interior
of each letter.
7. Paint the entire sign, let dry & sand lightly.
8. Hang & enjoy!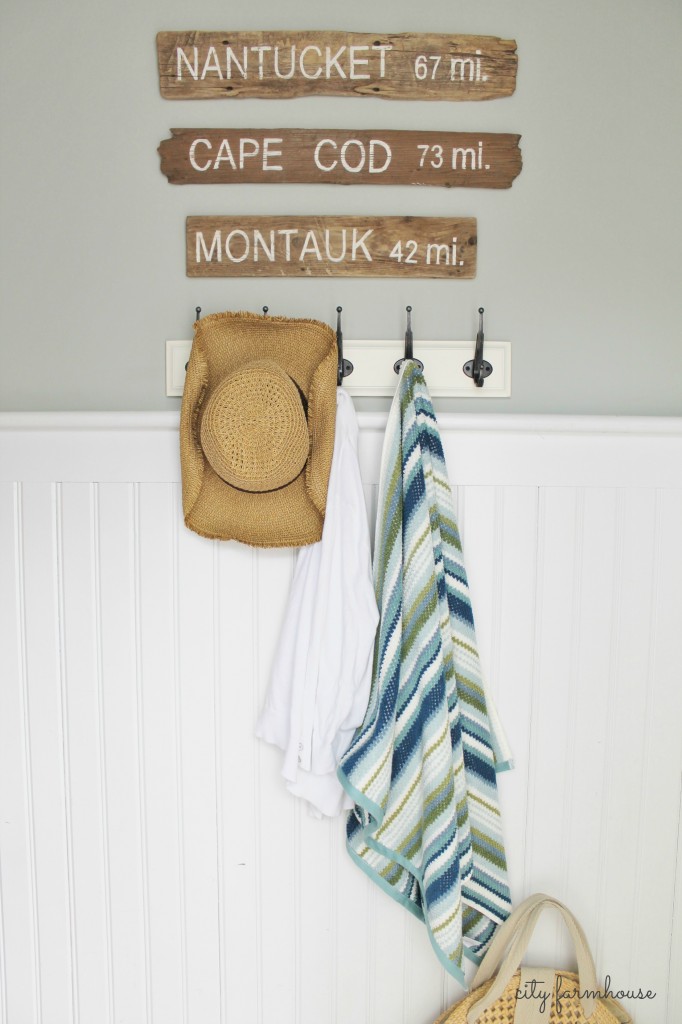 Tips-
Pallet wood also works well for this project.
You can also replicate using places that are important to you & your family:).
This project is also great for kids, they can stencil or free hand a word & hang in their room.
That way they are making their space personal & who wouldn't want that:)?
What do you think?
Not bad for a project that only cost a few dollars
AND the BEST part is knowing
there is a story of survival behind the wood.
If you liked this project,
then you may like these as well….
How To Build The Easiest Farm Table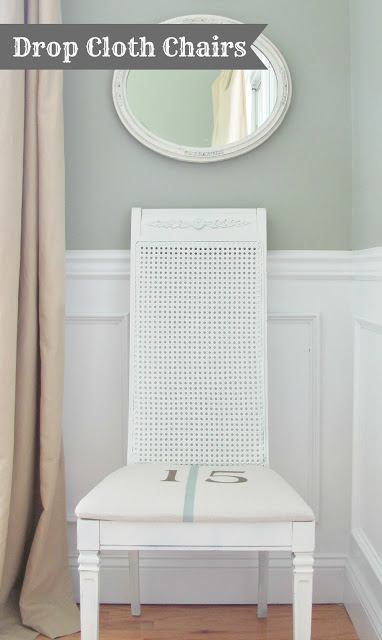 How To Turn A Crate Into A Coffee Table
(This project was originally posted on Jennifer Rizzo as a contributor post)
**********************************************
My e-course Inspired Decorating Ideas For Summer Begins July 8th, you can register HERE.
It will feature 4 original tutorials related to decorating & design that will carry over to every part of your home,
you don't want to miss this, the best part is it is $10:).
Sharing at