How To Build The Easiest Farm Table
Happy Tuesday!
 I hope you all had a wonderful weekend!
My husband & I got up early on Sunday(6ish)
and had coffee on our porch ,cuddled under a blanket watching the sunrise
& just caught up on life.
It may seem crazy to get up that early on a weekend but….
it was so nice to have that time together before the boys woke up,
before our little part of the world woke up.
It was a simple reminder of what porches are intended for.
To sit, talk, catch up, to slow down your pace and just enjoy the MOMENT
 &
the company you are with.
I want MORE time like this:).
So in the spirit of spending more time out there as a family,
I have been making some more changes.
As promised I have another simple,
budget friendly, functional & pretty outdoor/indoor project for you.
Remember I was telling you about our rather large farmhouse porch?
(which makes up for us hardly having a backyard)
It is the place everyone wants to be because of the views.
Our bay is separated by dunes layered in bleached white sand with beautiful organic coastal vegetation.
I am so grateful to see this everyday.
A MULTI-PURPOSE space is what I was going for…
Then the light bulb went off
(love that, don't you?)
we  need some kind of table out there.
THIS was my inspiration.
But at $4199.00…
I don't think so.
I looked EVERYWHERE & because I am kinda picky(yes, true:))
about what I spend large chunks of our budget on.
I decided to make one,
plus it needed to be just the right size.
And the cost- under $30.00
Wahoo!!!
I am being so honest when I say…
THIS WAS SO EASY!!!!
This is what you will need to do….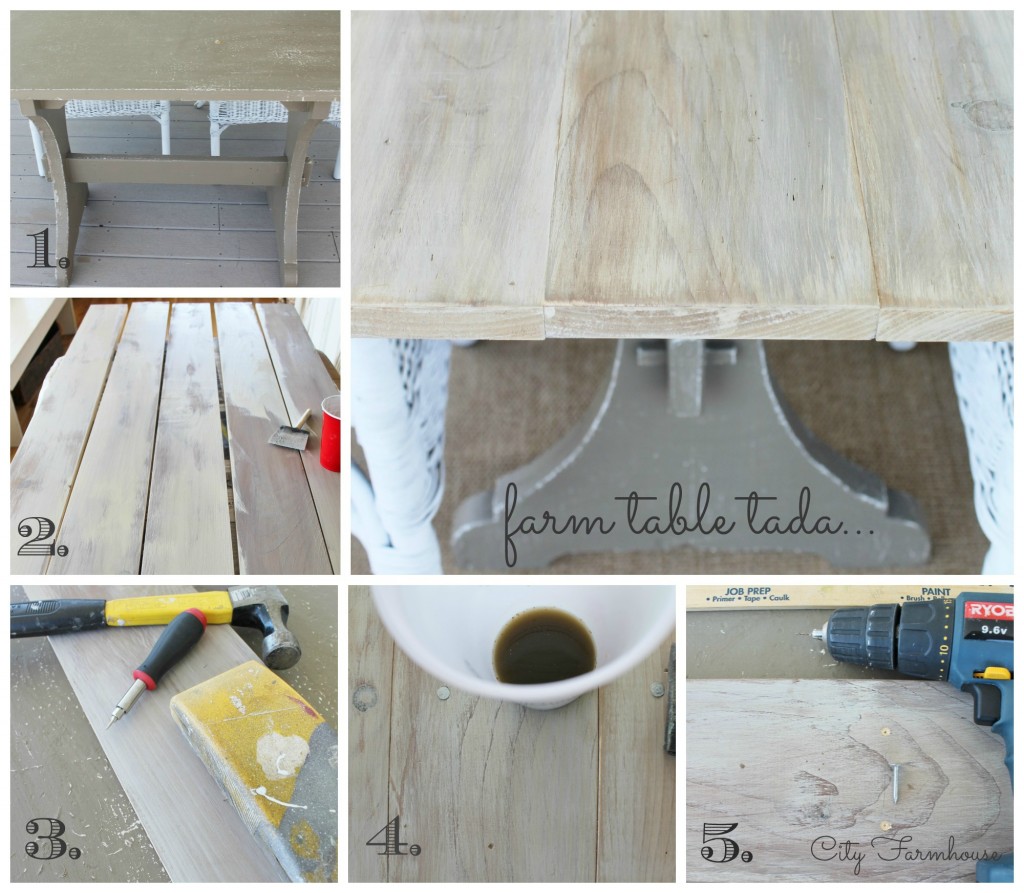 1. Find a sturdy table base.
2. Get planks cut to size.
When you decide on size, sketch it then go to your Home Improvement store with your calculator & run your numbers.
For your width you may need to measure the width of different boards to find a good width match for your table.
Ask them to cut your lengths if you can't or don't have someone at home to do it.
Make sure ALL boards are straight.
WASH them using THIS TECHNIQUE.
3. Find distressing tools, this will be therapeutic:).
Use tools then sandpaper to give a aged look
4. Vinegar & steel wool stain over top lightly to reveal imperfections.
5. I used Gorilla Glue and long roofing nails to attach to original top,
pre-drilled first.
If you want it more secure, then use wood screws and screw from under original base.
 Easy, right???
 Chairs-Pier 1 from 1st house.
Just sprayed them for a fresh look.
Cost $24.00
So much left to do,
rugs, accessories, plants, power wash, pillows….
stayed tuned!
On a different note,
I am so excited to FINALLY be on Instagram ,
come check out my photos, hope you will  follow along.
Sharing at
Have a fantastic week friends,