8 Simple Ways To Refresh Your Space
Hi there friends! Happy hump day to you! I hope you are all enjoying your summer! I have a confession to make, I haven't officially decorated my house for summer yet. In fact I am still working on my backyard, which I will be sharing over the next few weeks. I went from the deserving family makeover right into the Anne Selke rug challenge, then school ended, we went away and that was it, my brain was in summer vacation mode. But….not to fret, I have been going room to room and giving each a simple refresh. It's actually pretty easy to make small changes for a big impact.
Here are 8 simple ways to freshen your space for summer or any season….
Change your art. You can do this by moving art from one room to another, doing a fun seasonal project, adding new family photos or buying something new all together. I tend to like larger pieces because they are flexible when I decide it's time to move things around. This abstract is from Lindsay Letters, it's 24″ x 32″, I love that it's soft and neutral and goes with everything.
Add plant life. Any space feels happier with a few plants. I move mine around in the summer from indoors to out & from room to room. My fig tree doesn't move since almost loosing it last year but all my tropicals seem to be very resilient and so do my succulents.
Bring in some fresh accessories. This doesn't have to break your budget. Check your local yard sales, thrift stores or use what you already have from another area in your home. This time of year I like to use found objects from my beach walks with my boys.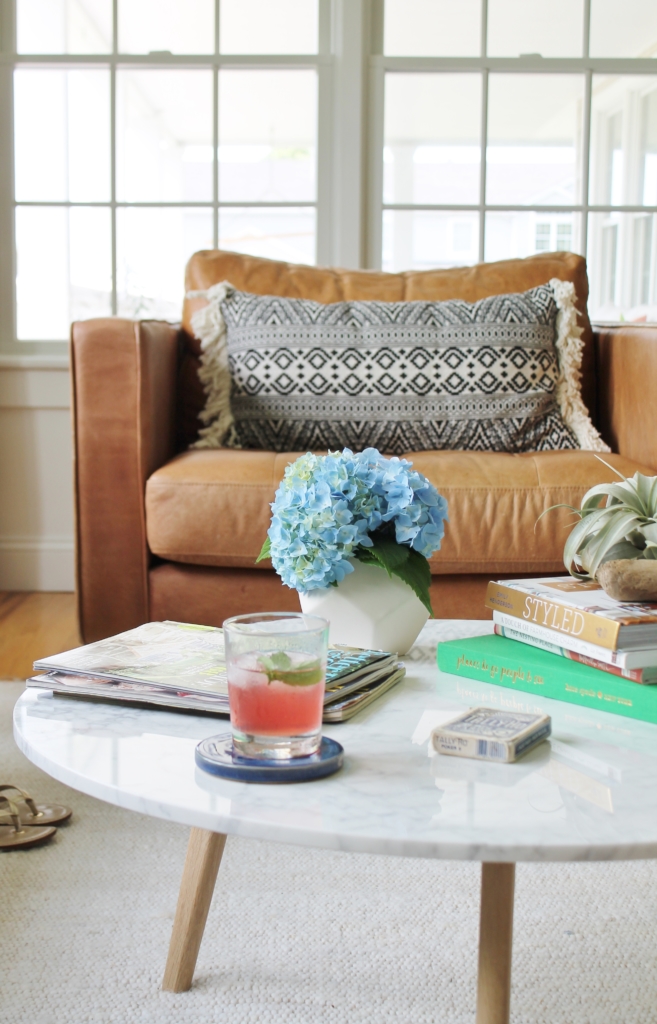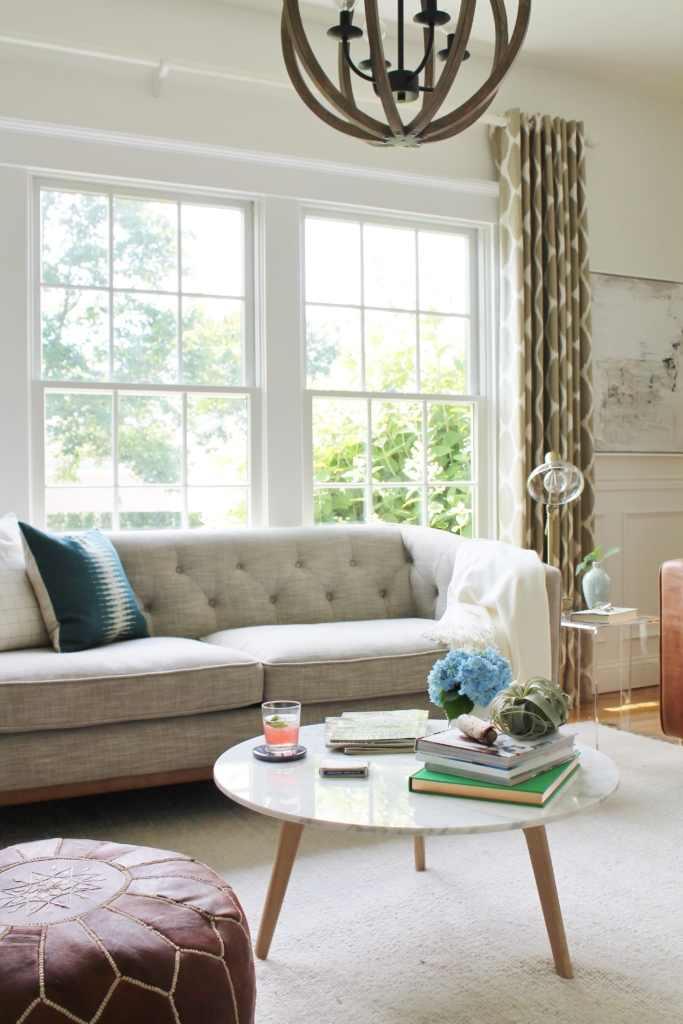 Change your pillows. This is much easier than you think. I buy pillow covers from places like Pottery Barn Outlet, West Elm, Etsy, H & M to name a few and I have them stacked in my linen closet. Typically I have a color scheme I stick with so it lends to more flexibility when I do modify my décor. Indigo, coastal blues and anything neutral is always a safe bet.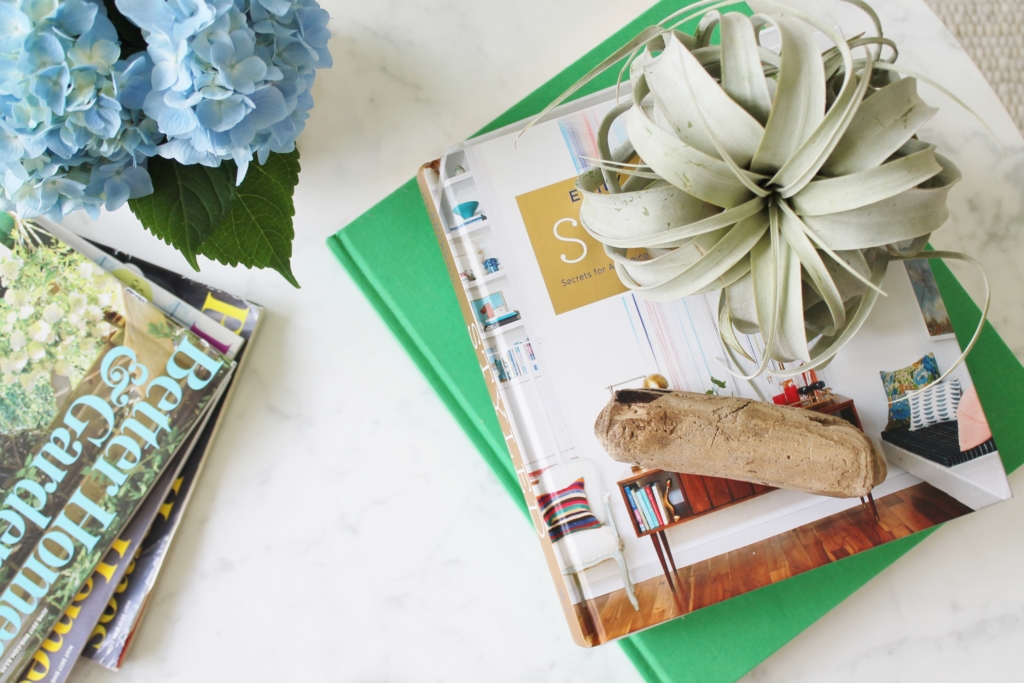 Layer on the white. Nothing feels better when you are needing a change than white, it's crisp, clean and feels fresh. I know there is a fear to use white but I have used this hue for the last 6 years with 2 boys and a dog & I still prefer it. If it can be washed and cleans easy then I am all about it.
Flowers make all the difference. During the summer months especially, bringing fresh cut flowers in from your garden or buying them at your local grocery store can add a big impact for very little. It gives a farmhouse sensibility that feels organic and homey.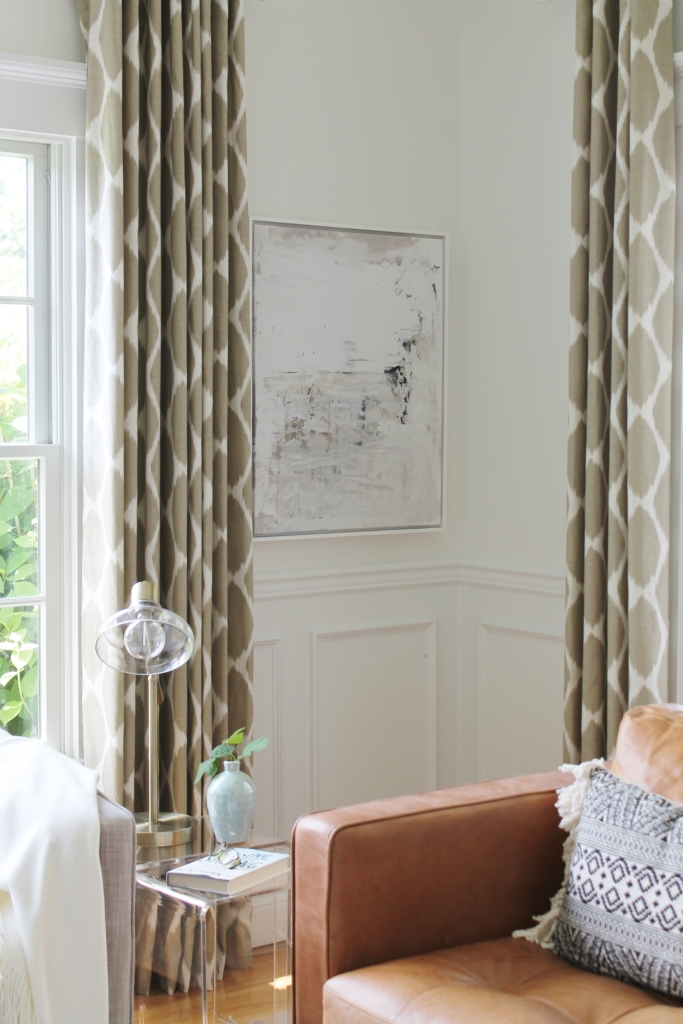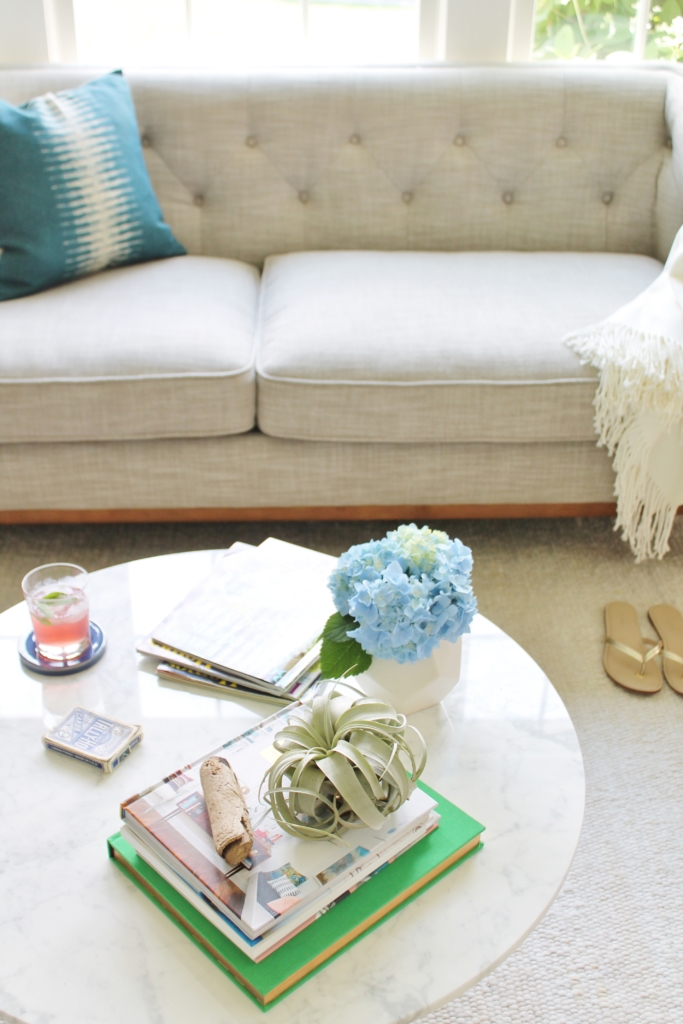 It's all about the texture. A good balance of texture whether is be seasonal or just what you love year round can give any space the lift it needs. It can be linens, nubby wools and wovens, velvets, faux furs, leather, hand made textiles, warm woods and even marble. Whatever your textures of choice are, a little can go a long way and don't be afraid to mix & have fun!
Move stuff around! You may have items in other rooms that are in need of a visual awakening, by merely moving furniture, such as side tables, poufs, ottomans, rugs, a coffee table to larger pieces, you can breathe new life into a piece without going out and buying something new.
There you have it, 8 simple & inexpensive ways to give your space a fresh lift.
**********************************************
If you haven't voted in the RUG CHALLENGE with Anne Selke over on her Instagram yet I would LOVE your support! I am close yet SO far away from making the Top 10. They are only taking the final 10 with the most votes, so please every vote counts!!! And share and tell your friends. I wouldn't ask if it wasn't important! You know those underdog movies well I am just that and I would love to make it into the led. Currently I am #11. Not sure I can pull this off but with your help anything is possible, just like each photo. Click HERE, HERE & HERE to vote. Thank you so much!!
Have a happy day!