Contact Paper Wall Stripes
I hope you are all enjoying your week so far.
Ours has been a little busy getting ready for all the
Halloween festivities to come this weekend 
but…it is all good stuff:)!
I have a little confession to make.
Although my husband is super NICE & very patient,
he doesn't deal well with change.
He likes things just the way they are.
Which for a person obsessed with decorating,
1. I either warn him well in advance & many times over,
with added reasons as to why & how.
Does this sound familiar?????
Well, this project was a #2.
I did meet him half way by making sure
" my project" wasn't permanent.
OK, enough stalling, my latest project,
it is easy enough to just paint them right on the wall
when I tell you the look on my hubby's face when he saw
it for the first time,  sheer PANIC.
(He doesn't get the whole "it's just paint" thing.)
When I then told him it was completely removeable he
now….they are growing on him:).
So…. I am glad I took the extra time to
create the stripes with contact paper.
Now if I get tired on it…..
I just tear it down, easy!
the BEFORE shots
(you can see lots of change since these where taken)
 The Afters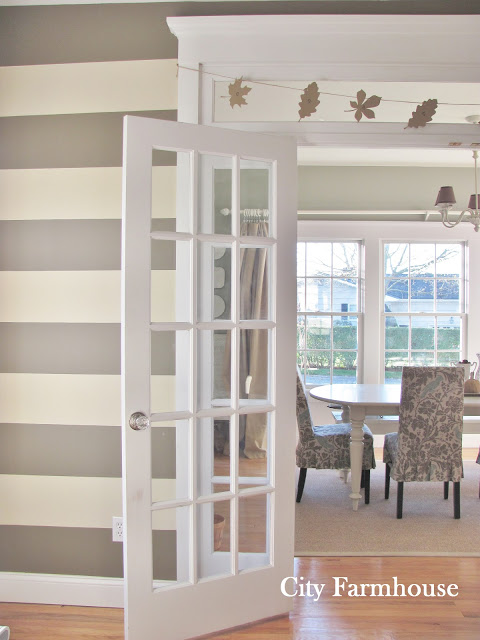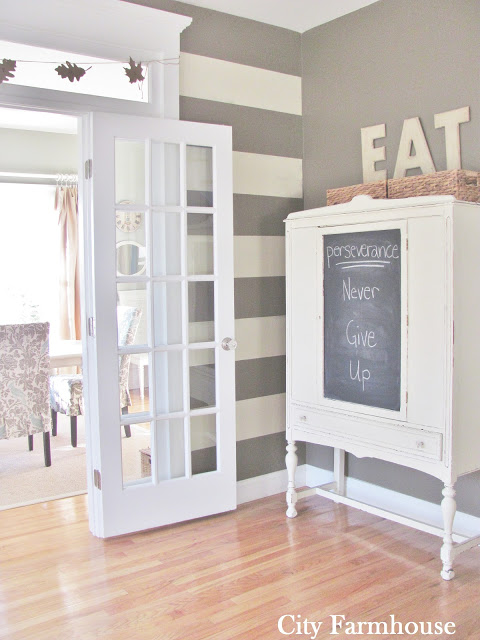 (my son Shane woke up that morning asking what does perseverance mean?)
I figured how many 9″(ht) stripes I would need
(I came up with 9″ because the contact paper was 18″)
I figured out my width & then added an extra 1″ for error.
So I rolled out & cut 5-18″ x 34″ pieces of contact paper.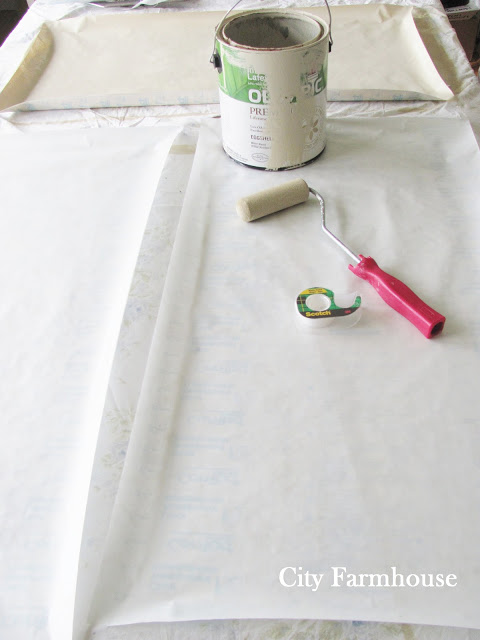 I taped the corners down.
Rolled on 3 coats- this takes time, be patient.
Cut them in half right up the middle.
Using a level make a faint pencil line on the wall,
every 18″ from the bottom up, on the bottom only.
Peel & stick and line up with the bottom line,
 this can be tricky, be patient.
Smooth out from center to edges.
Use exacto knife in corners to make a smooth line.
I learned the hard way to make them longer than you need:).
It is all a learning experience, right?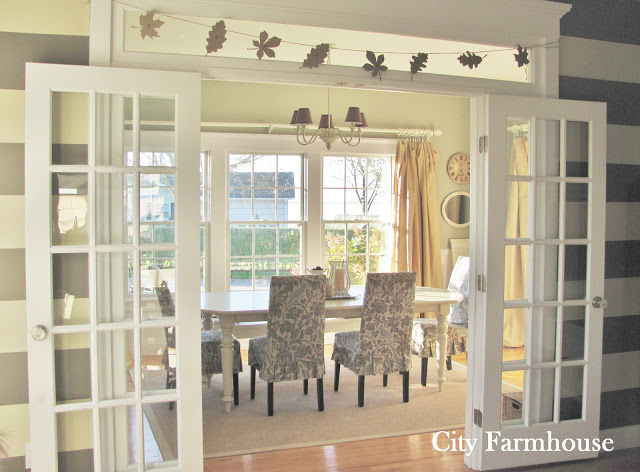 BTW,
this project is great if you are renting