The Only LED Lights You'll Need This Summer
Summer is my season. Perhaps it's because my birthday is at the beginning of July, and I'm a water sign. Or maybe it's because the smells, sounds, flavors, and colors are just so much sweeter. There isn't a season that awakens my soul and all five senses like summer. And I lean into this as much as possible. The energy charge I get from summer needs to carry me through the gloomy winters on Long Island.
With that being said, I go all out. Well, sort of. I like to find ways to add more mood and ambiance to my outdoor spaces without breaking the bank. Adding outdoor lights is the easiest and most affordable way to bring a calm and peaceful vibe to your space. So when I say that these LED fairy lights are the only ones you'll need this summer, I mean it:)! They are magic, and you can find them on my Amazon Store!
They come in a pack of 4, and they are waterproof. The only thing you have to do it let it charge for a few hours in the sun. And then turn the switch at the bottom. The glow is warm and inviting.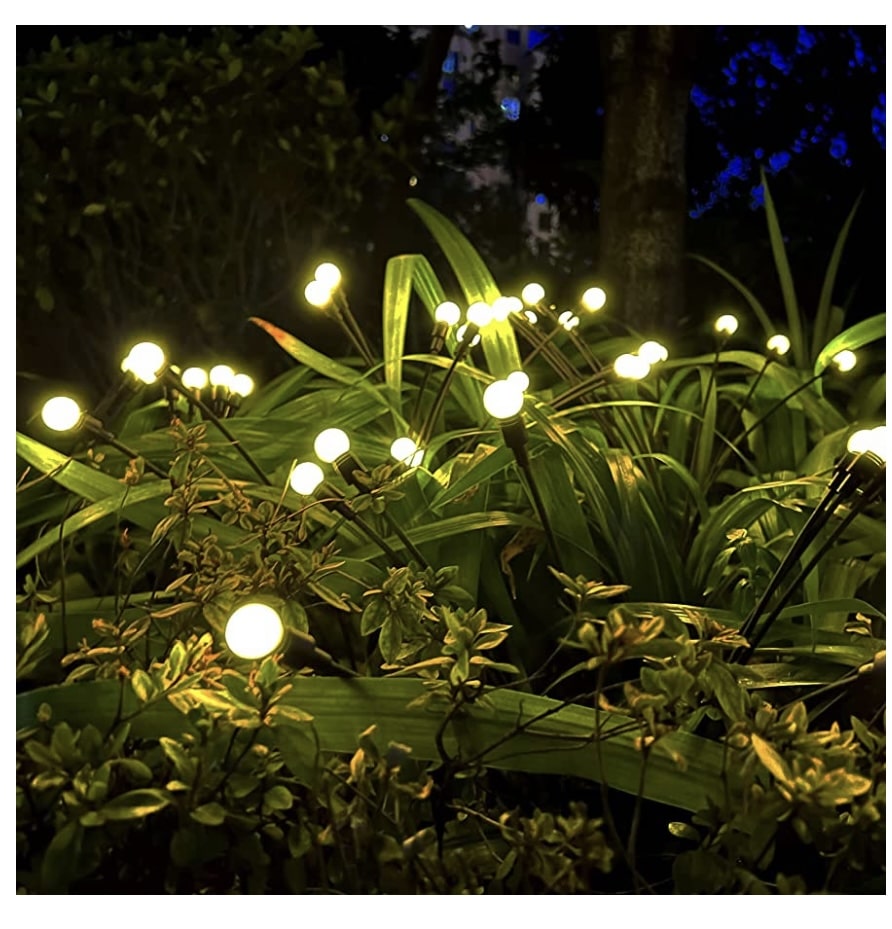 This is what they look like out of the package. They have a stake that goes right into your container plants. It's that simple. And no changing batteries!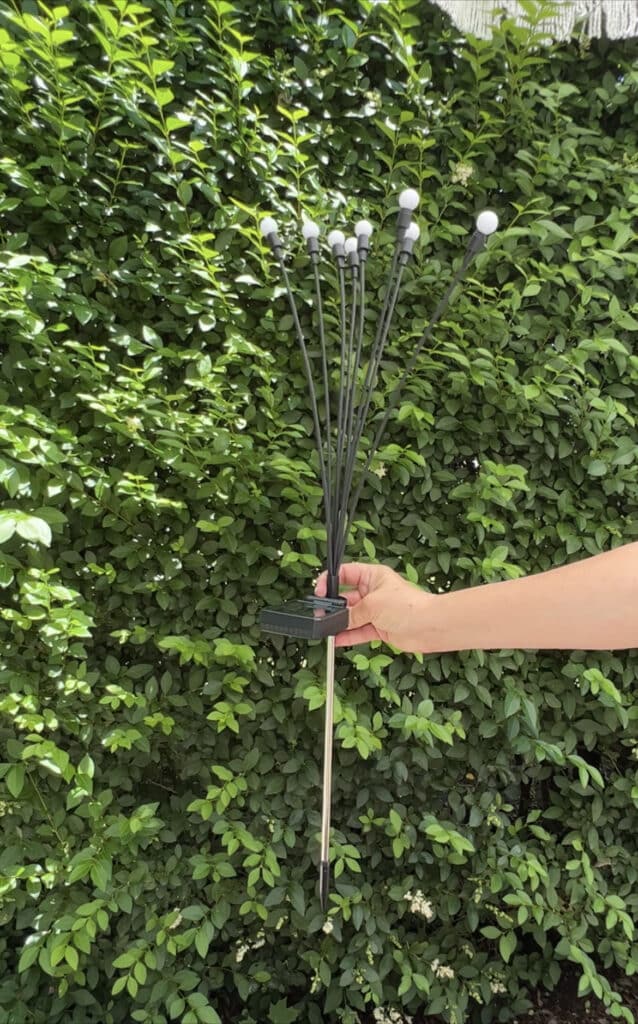 You can pull the arms and bulbs to get even coverage. I only added one to each container, but I may add another. I love them that much!
Just look at them below. Aren't they pretty?!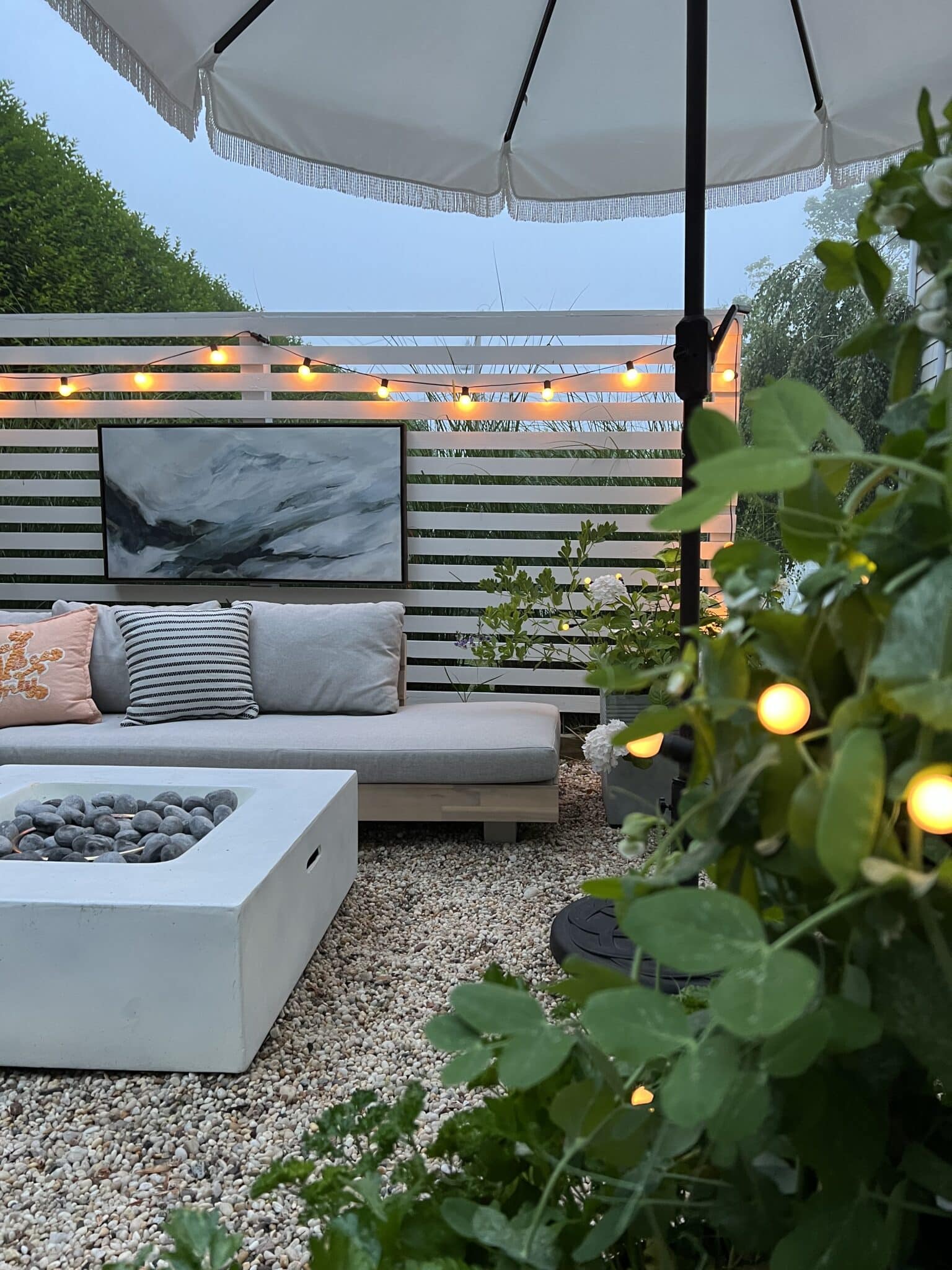 I've had tons of questions about my hedge. It's called privet. It's a northeast thing and very popular on the east end of Long Island. As you can see, it gets tall. I think this hedge is forty+ years old. The only drawback back they aren't evergreen, so the leaves fall off in late fall.
The sectional below is from Article. It's called the Lubek. It's low, but I love it!
I scored a deal on these 9FT umbrellas from Amazon. They are over $100 cheaper on Amazon than other places I won't name and are the same exact brand and size.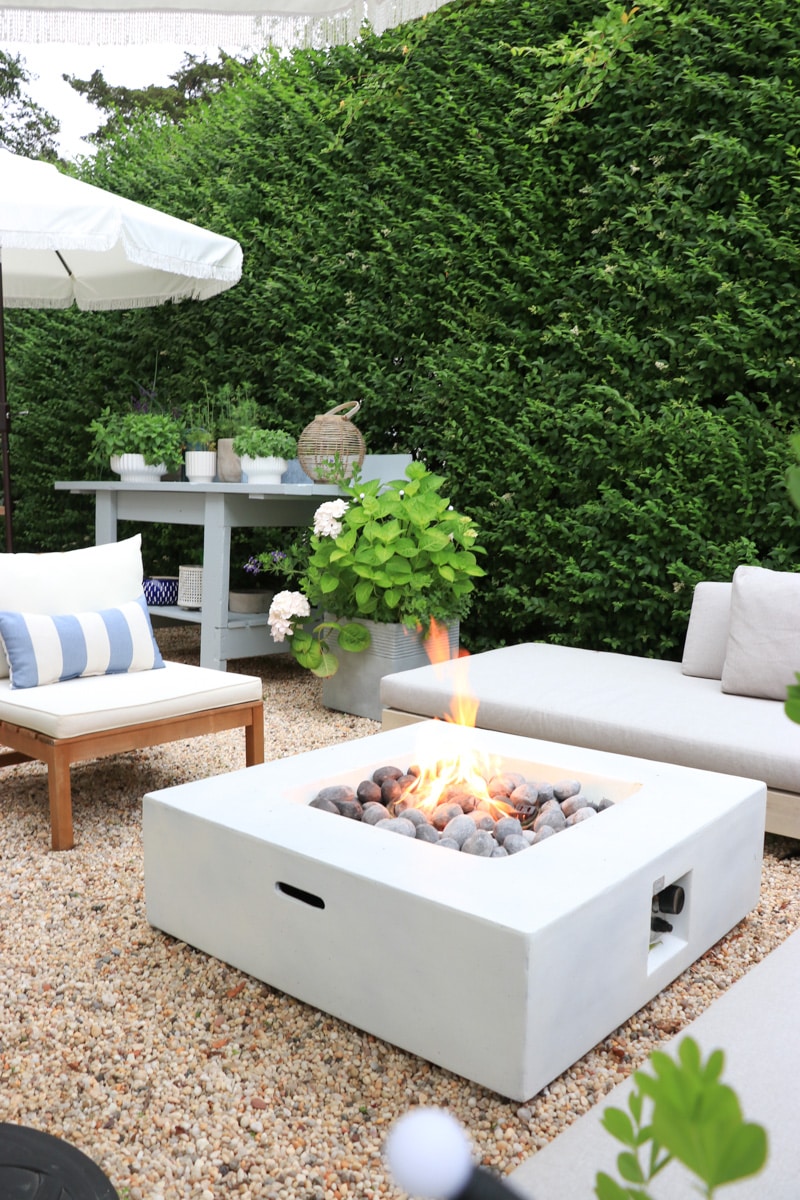 You can find the DIY workbench into potting bench tutorial, which is the best DIY I've done out here in a long time. Oh wait, I almost forgot about my privacy screen, that was a good one too!
Last year I potted hydrangeas with catnip and put them into my garage for the winter. I love the savings, and these pots are perfect as they grow larger each year. Eventually, I'll probably plant them in the ground.
The firepit is also from Amazon, and the square is back in stock! It's the spotted white 35″. The heat it gives is excellent, much better than my last. The price is right!
You can find the video HERE.
These tomato cages were a HUGE win. For years I've been looking for an alternative in my budget. Thankfully I found these bamboo trellises.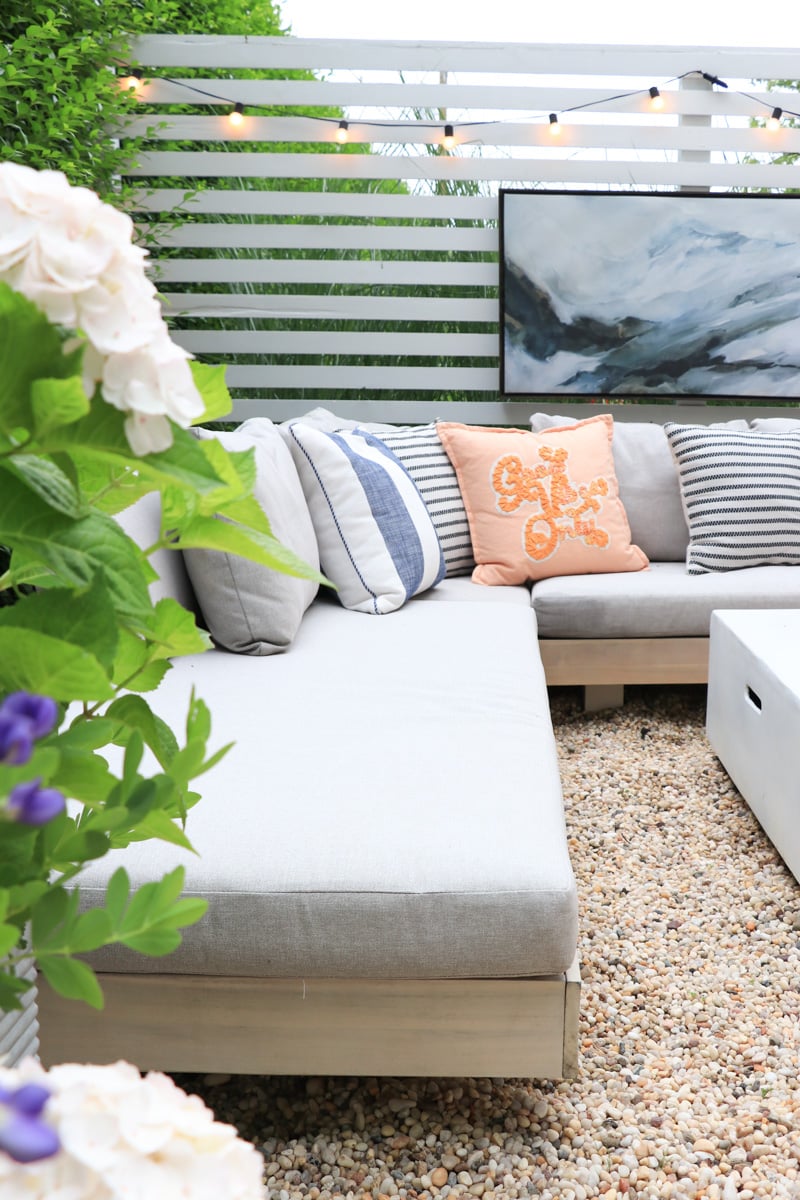 This post contains affiliate links.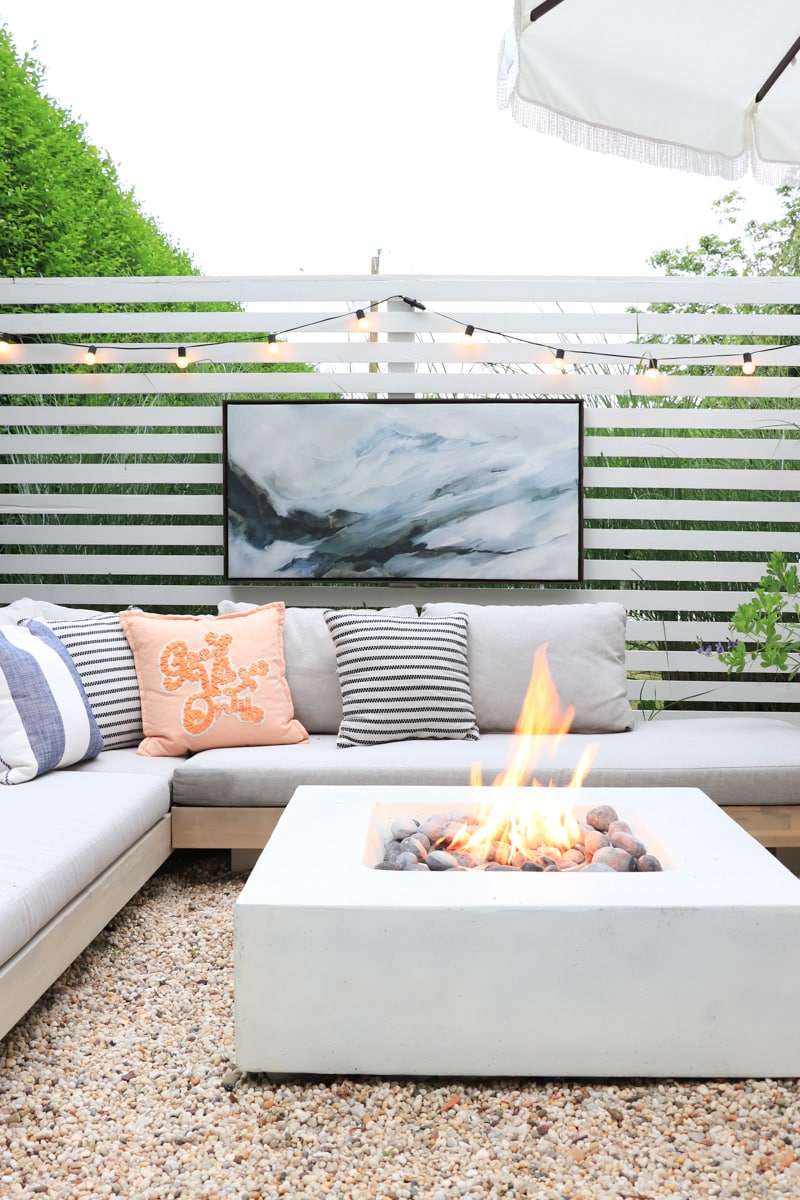 You can shop my FULL Amazon Outdoor to find more of the items you see in this post. You can also shop my AMAZON STOREFRONT for more items throughout my house.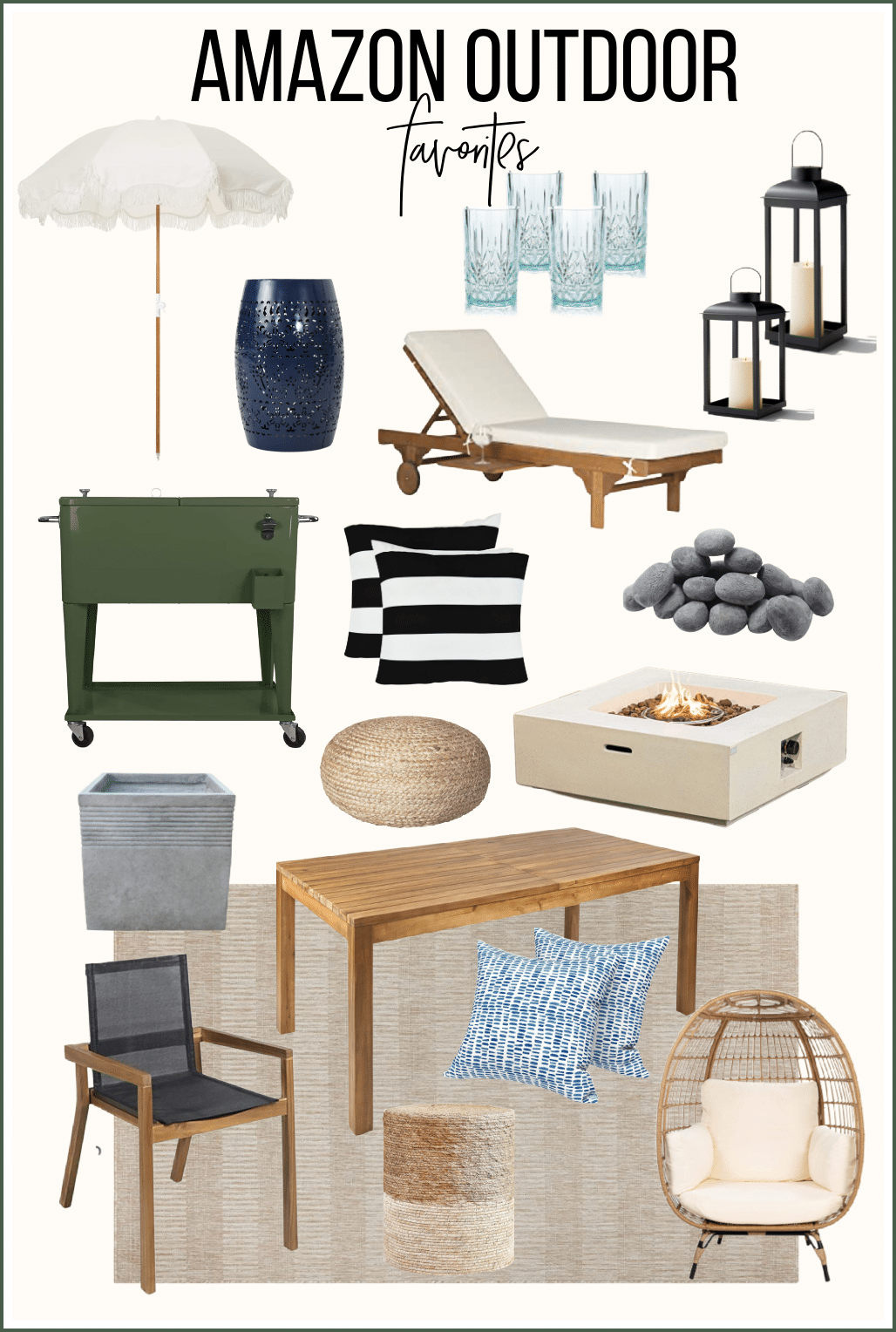 Have a happy day, friend!