California Casual Inspired Pea Gravel Patio
It was the summer before my junior year that we traveled the coast of California for three straight weeks. We flew into Burbank and spent time in LA, Big Sur, Yosemite before ending up in San Francisco. Looking back, it was the one of the best trips of my life, so it would only be fitting after all these years that California living would still inspire me.
It was my father's love for Cali that was the catalyst for my own fondness. He went to USC (on an academic scholarship) in 1953. He knew nothing about California, aside from what he read in magazines and books. "It seemed glamorous, and the farthest place I could think of from home." My father would say when I asked him why there.
One summer in my twenties, I landed a job working for an educational company and was lucky enough to travel across the state setting up for various teacher conferences. I firmly decided then that I wanted to live in California (like my dad), no matter what. Unfortunately, my entire family was back east, except for a cousin, so it never came to be. But nonetheless I loved it, with every fiber in my soul.
So what's a girl to do when she's inspired by an amazing place but can't actually live there? Decorate like you do, ha! That what traveling is all about, inspiring you to recreate a feeling you had while you were some place really special, that tickled you in your belly. Whether it be the colors, sounds, textures or simply just a sense of belonging or home.
When I was looking for outdoor sectionals (because I moved the one from the backyard to the porch) I immediately saw THIS one and instantly imagined the Palm Springs oasis I could create on my existing pea gravel patio.
Welcome to my California Casual backyard inspired by that epic road trip trip and all the cool stories my dad would tell from his experience of living there.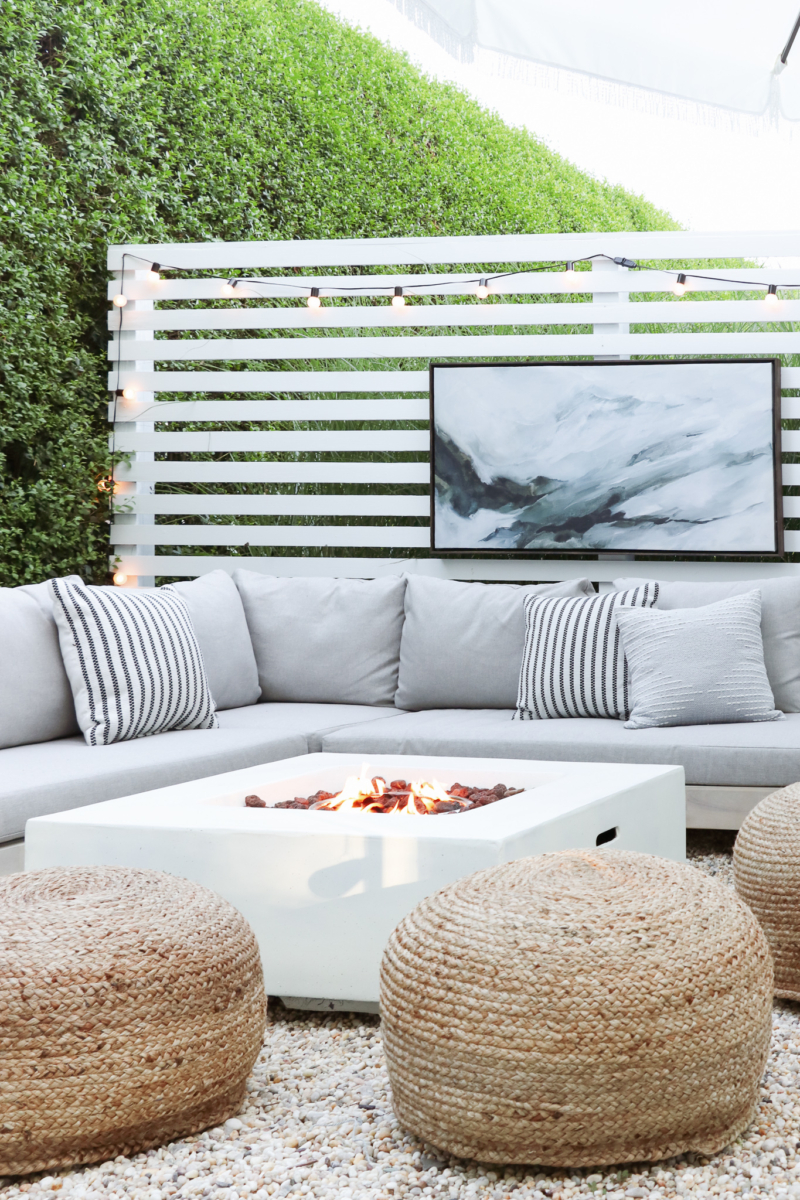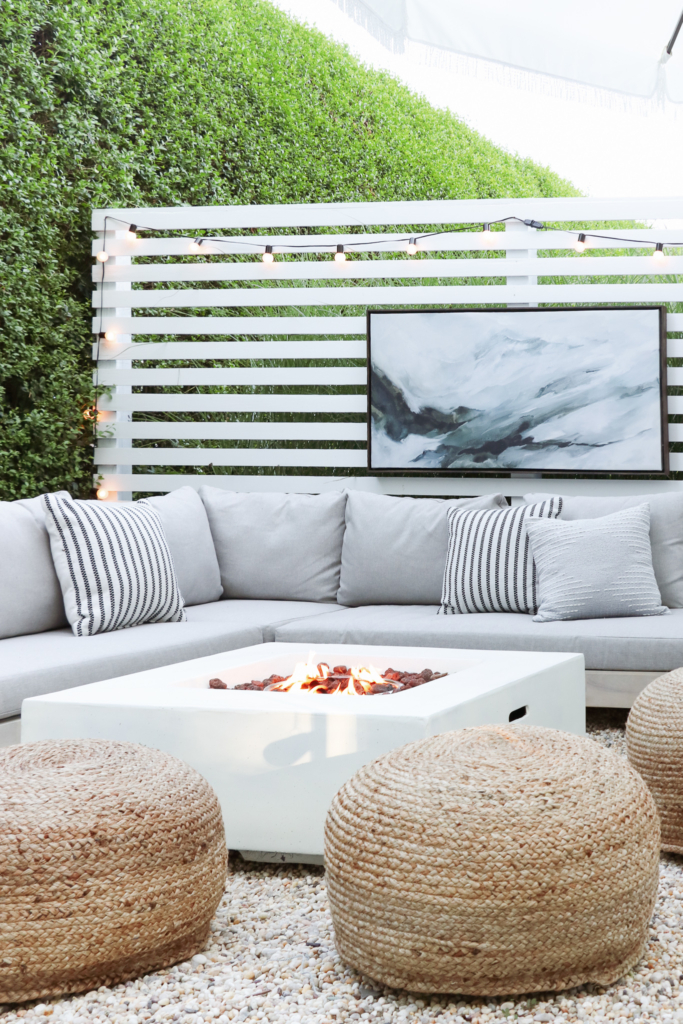 Notice anything different? Since painting the slatted privacy screens both white I knew I wanted a crisp sensibility. That mean light and bright hues mixed with blues. I also had my eye of THESE chairs, so I knew I had to introduce black but I didn't want it to feel cold.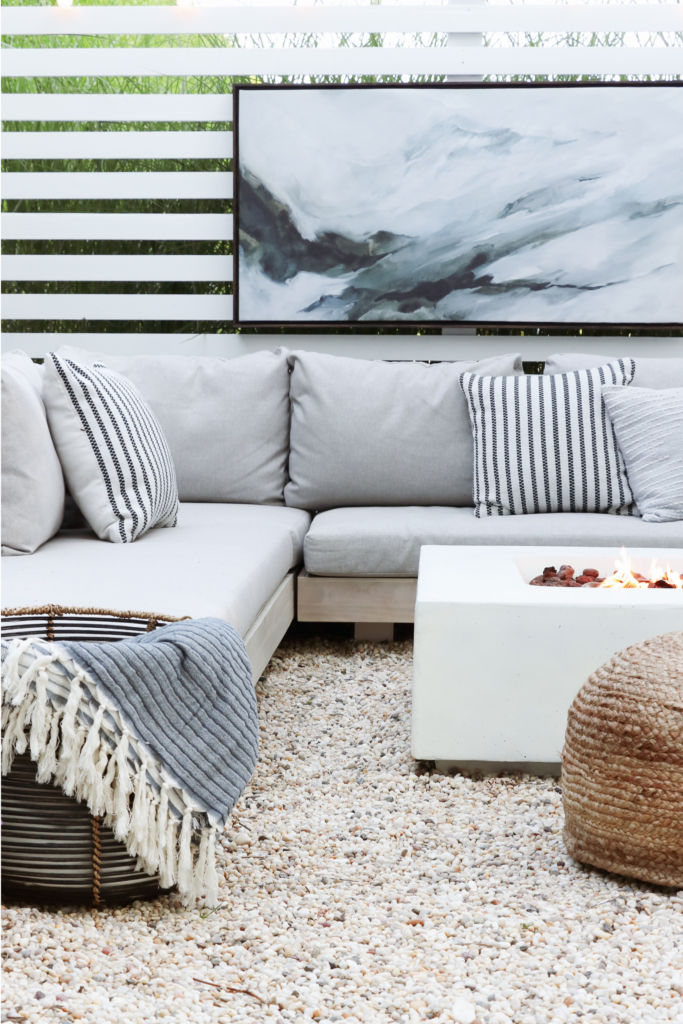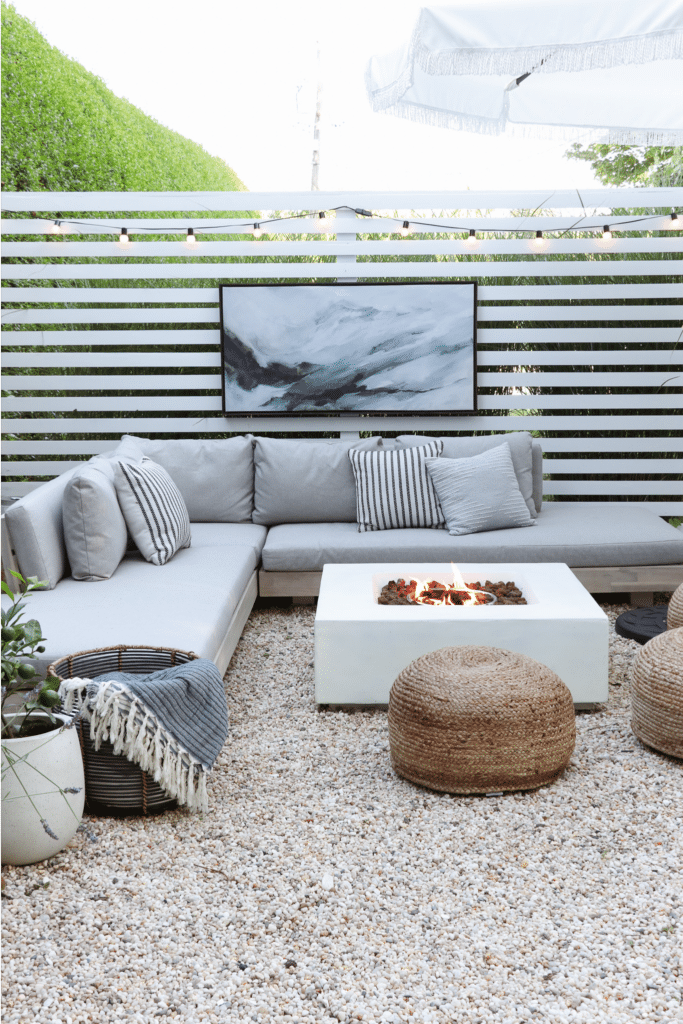 In case you are wondering about this hedge, it's privet. And it's really tall, as in 10ft high.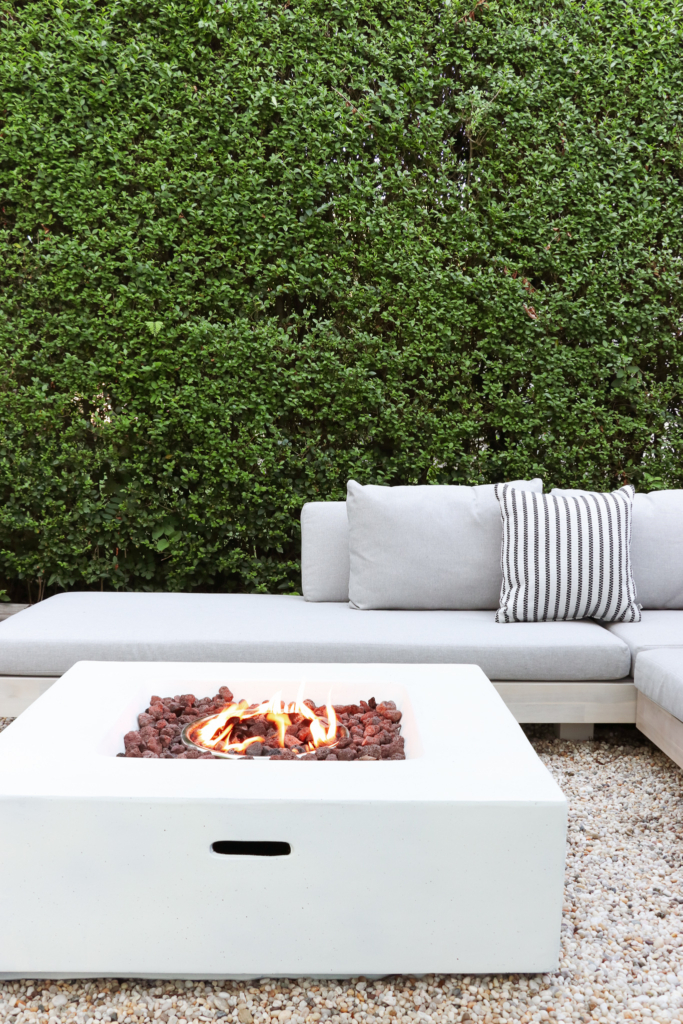 Okay, you might be thinking, do you bring ALL this stuff inside? Short answer, yes. I have a shed with a table that I store all these items on. For the most part the cushions stay outside, as do the outdoor chairs until it gets cold.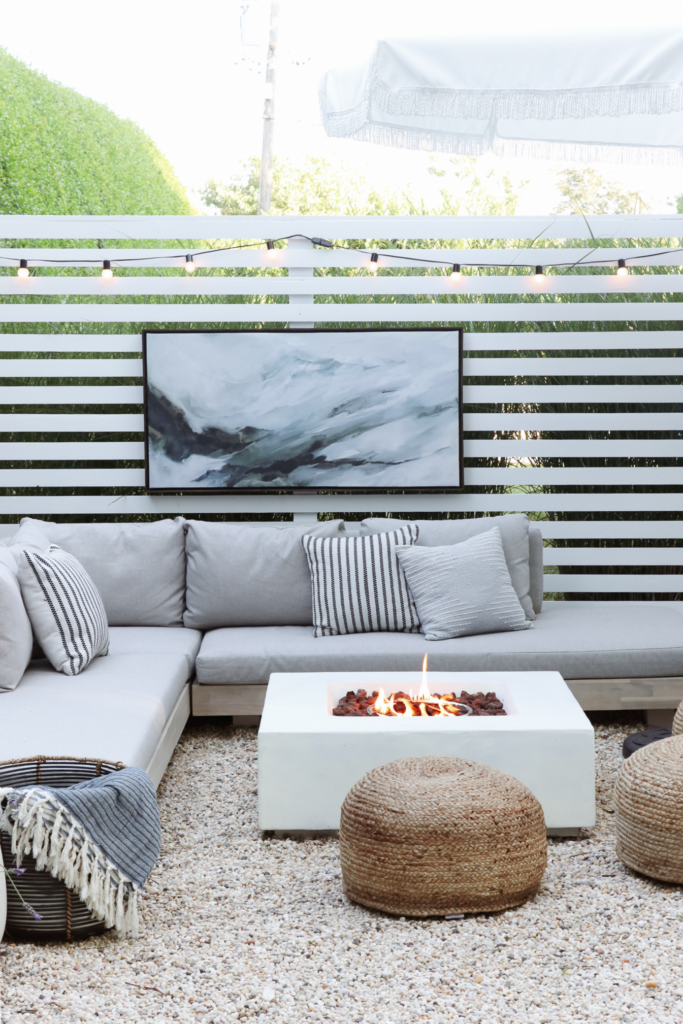 And yes you can use indoor art for your outdoor space. Just be sure to bring inside if it rains.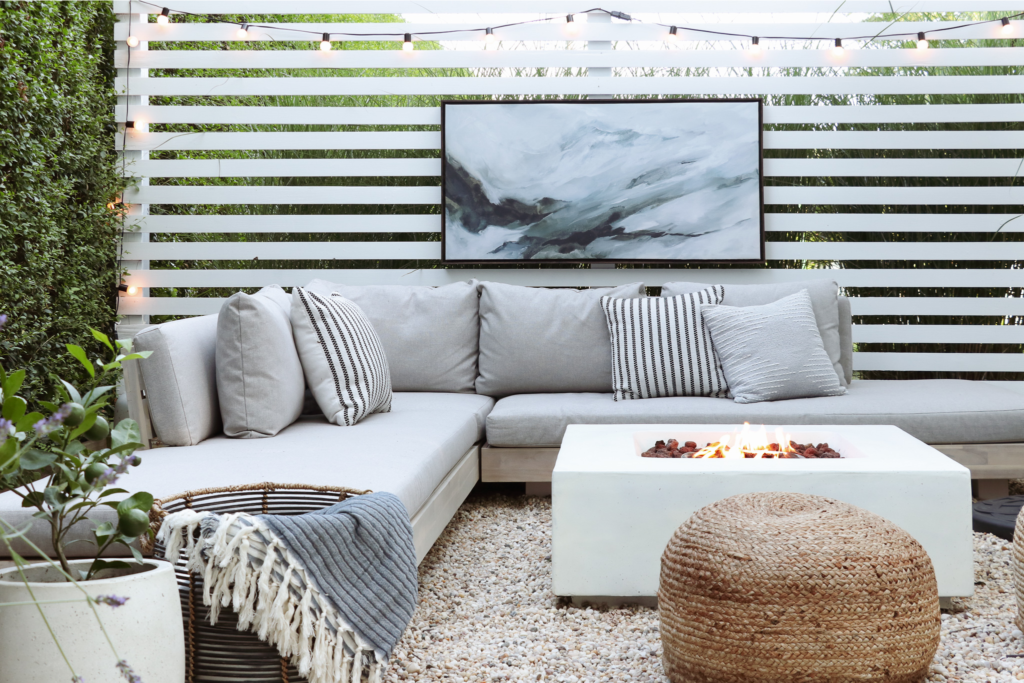 I love my new Lubek sectional from Article and I'll tell you why. At first glance the modern, clean lines caught my eye but it's so much more than a good looking sofa. This piece, along with every piece from Article is built to last and comfortable. The base is Acacia wood and the cushions are weather-resistant, the water just rolls off the surface.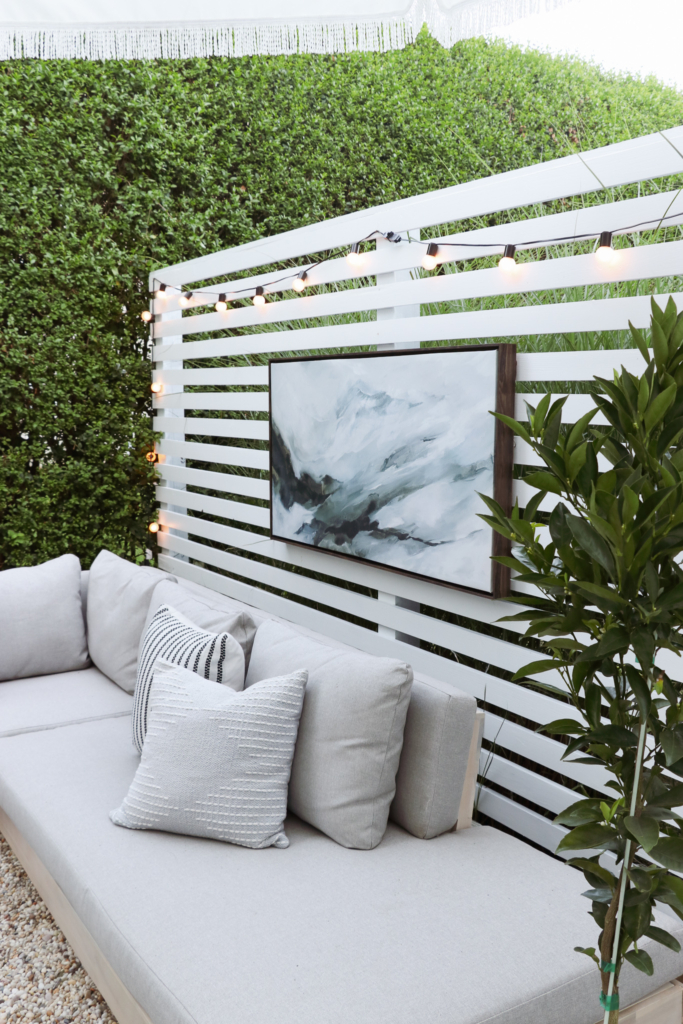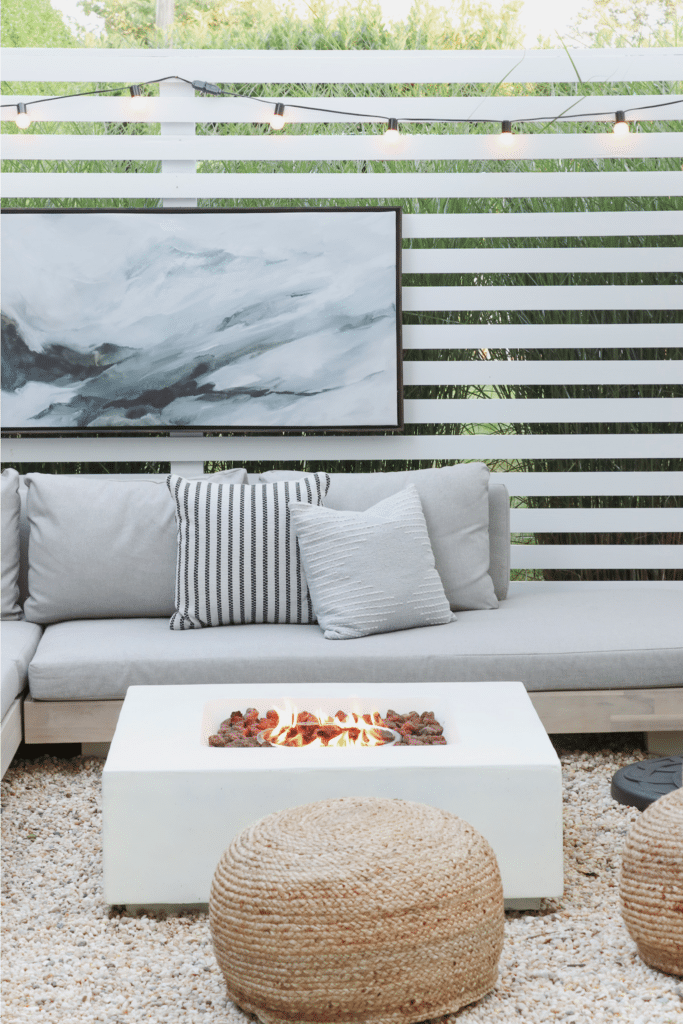 These jute poufs were a find at Walmart and they're priced right!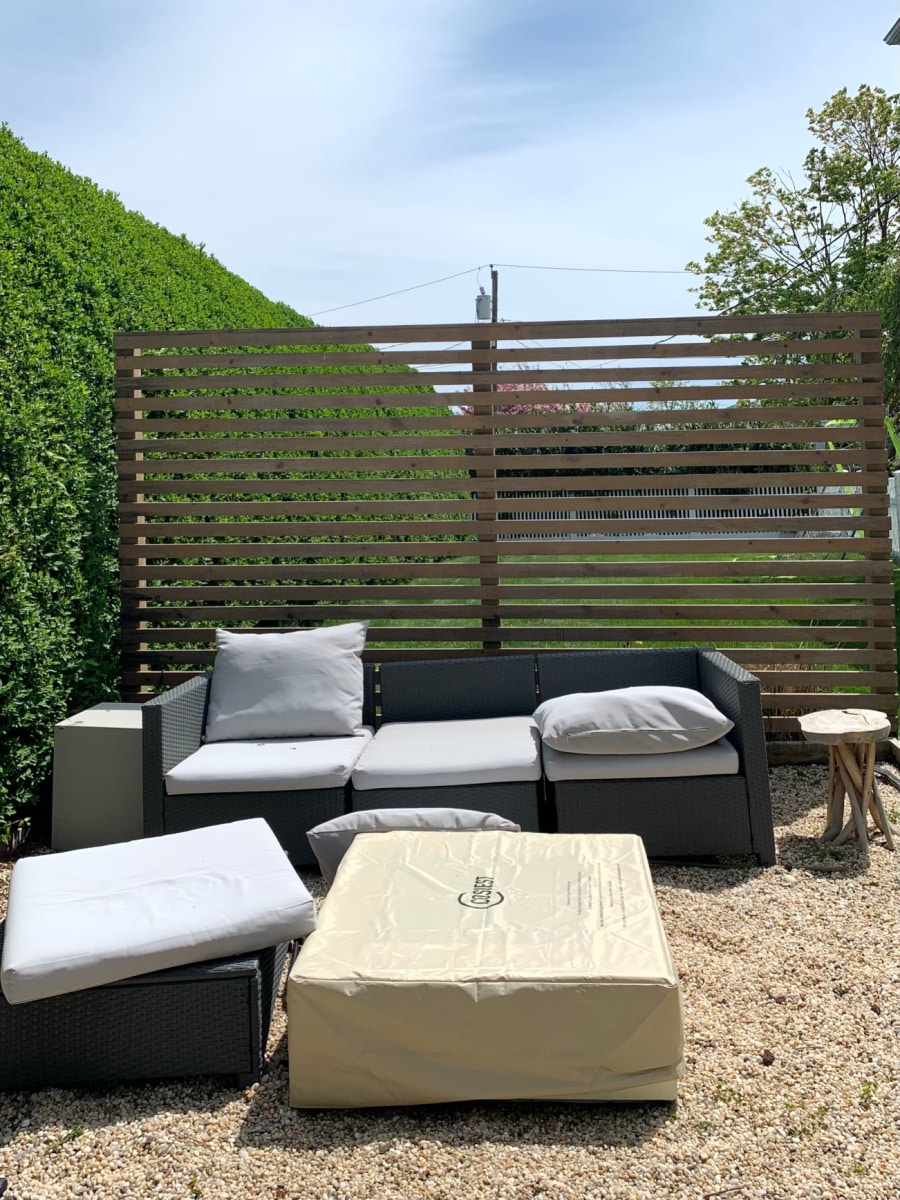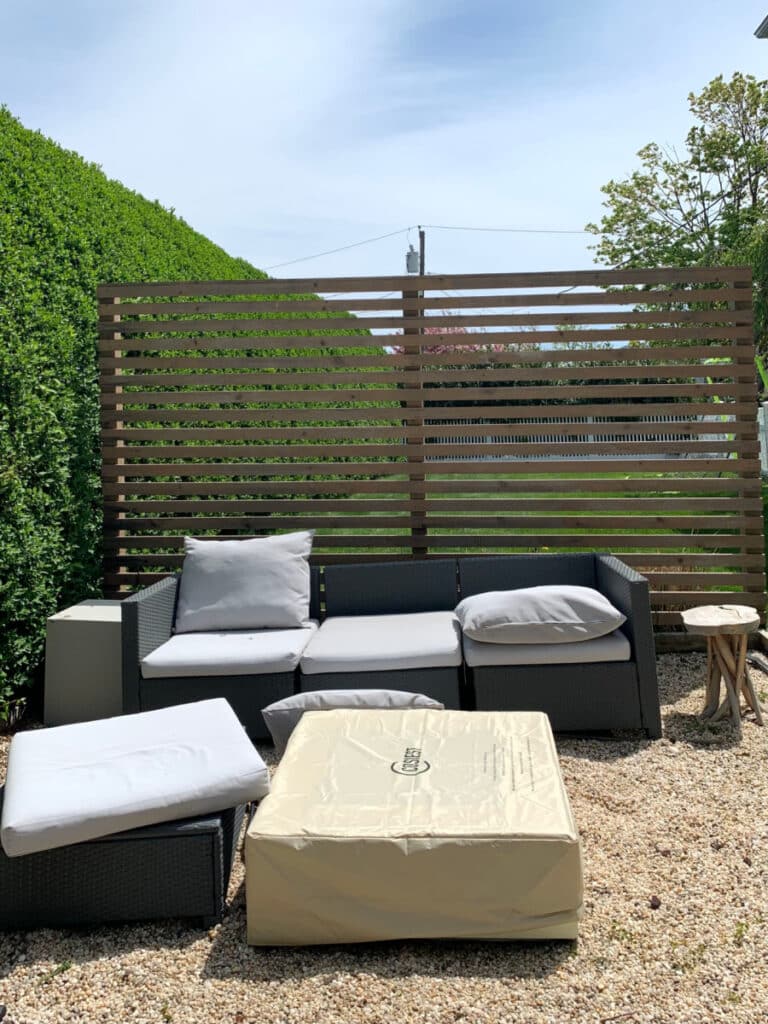 Check out the before above and the after below. It's a reminder that things take time and that the reward is in the progress.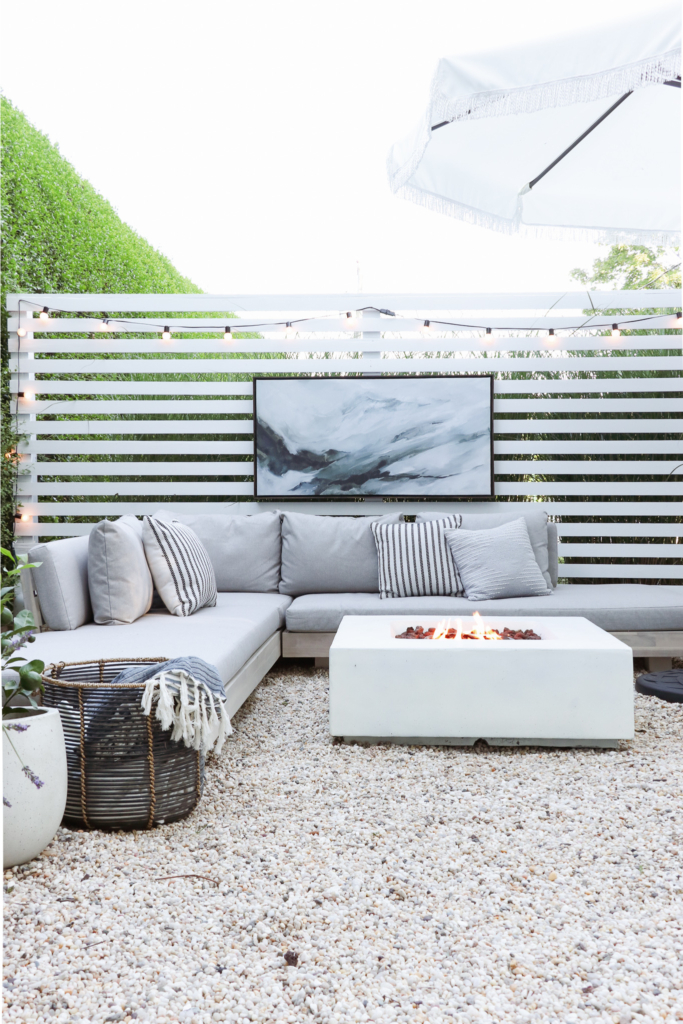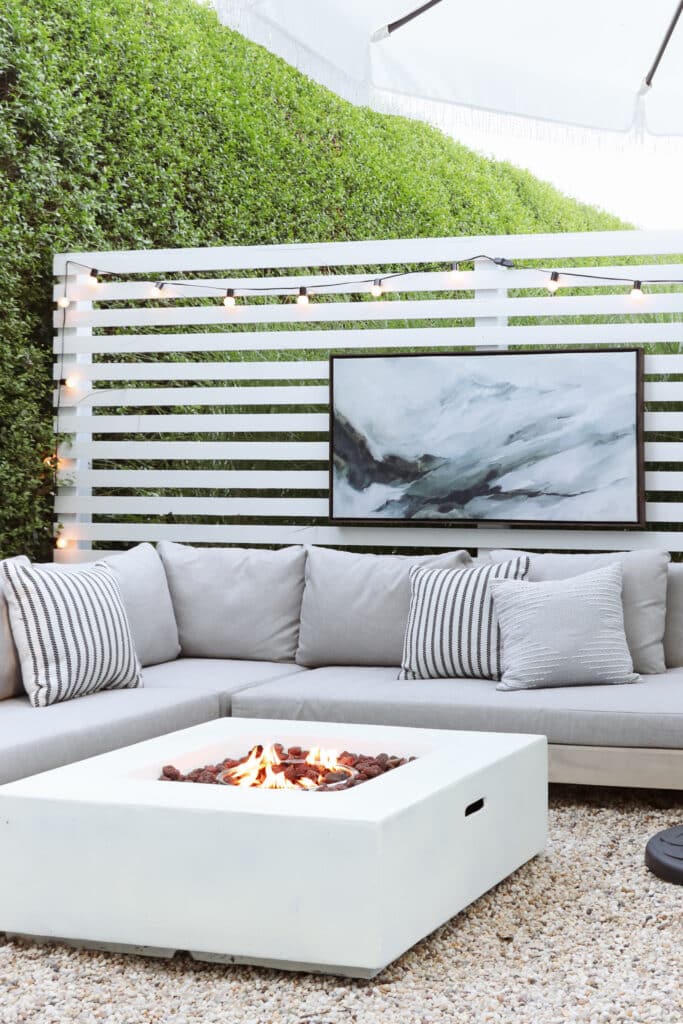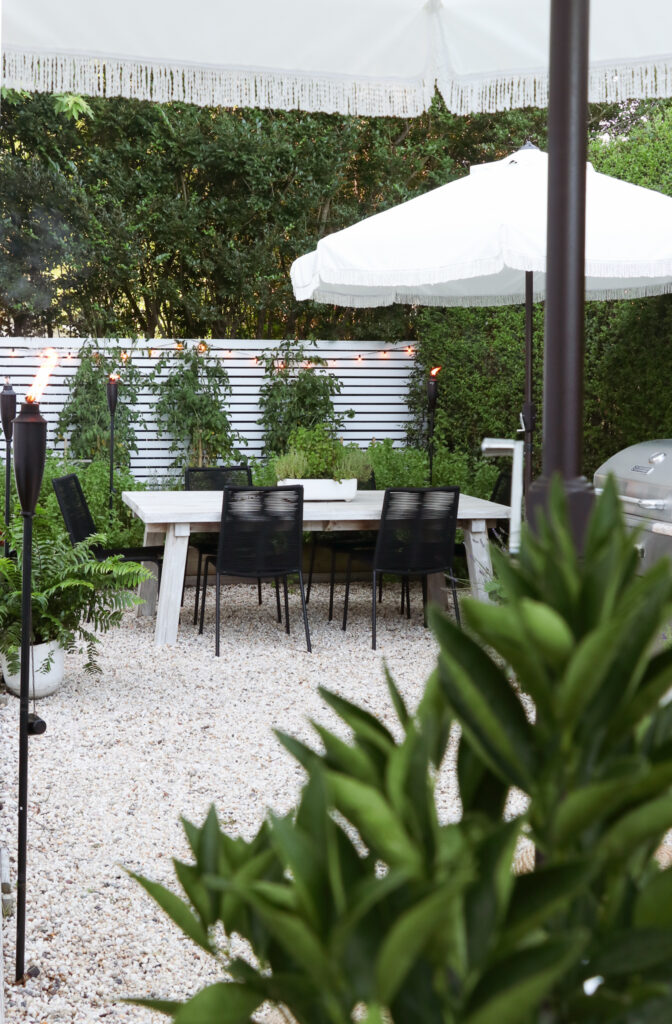 These are my new Zina Ember Black Dining Chairs. They are sleek, comfortable and UV resistant. They are also stackable and light, which makes winter storage simple.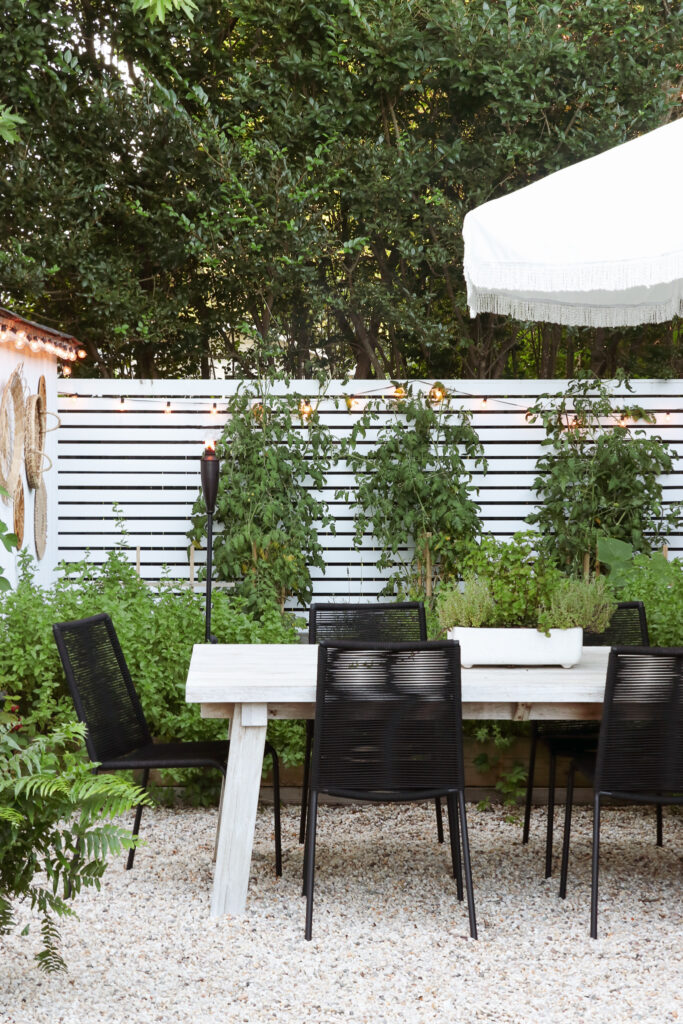 I added some round rattan accents to the shed wall. I didn't have to but a few came from my parents house and I've been wanting to use them somewhere.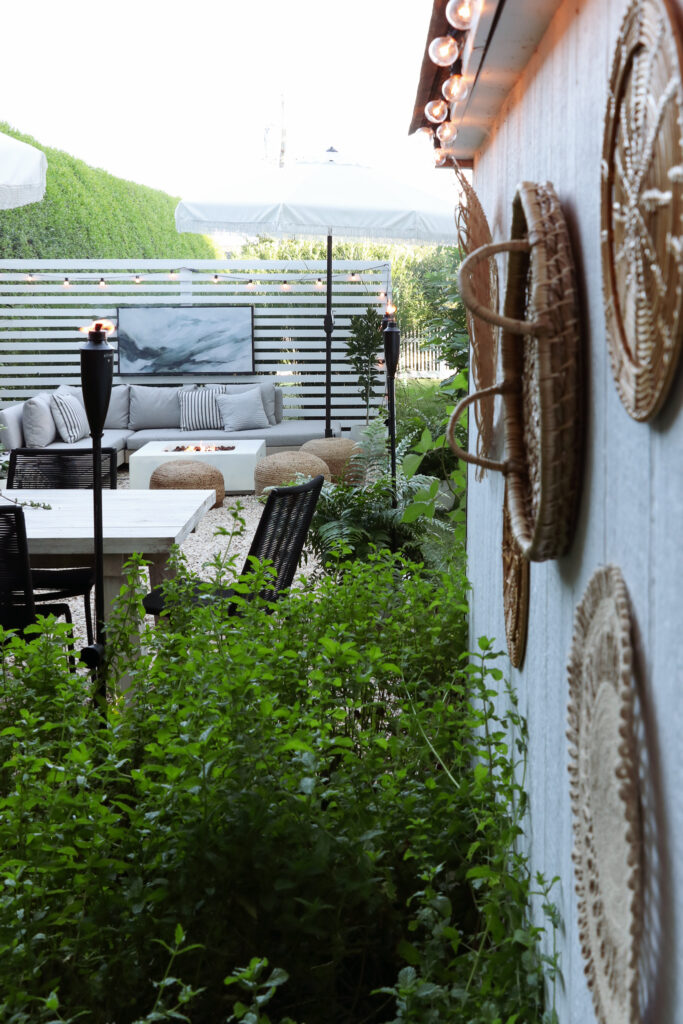 Buying furniture online can be scary but Article makes it easy with contactless delivery and free shipping on orders over $999.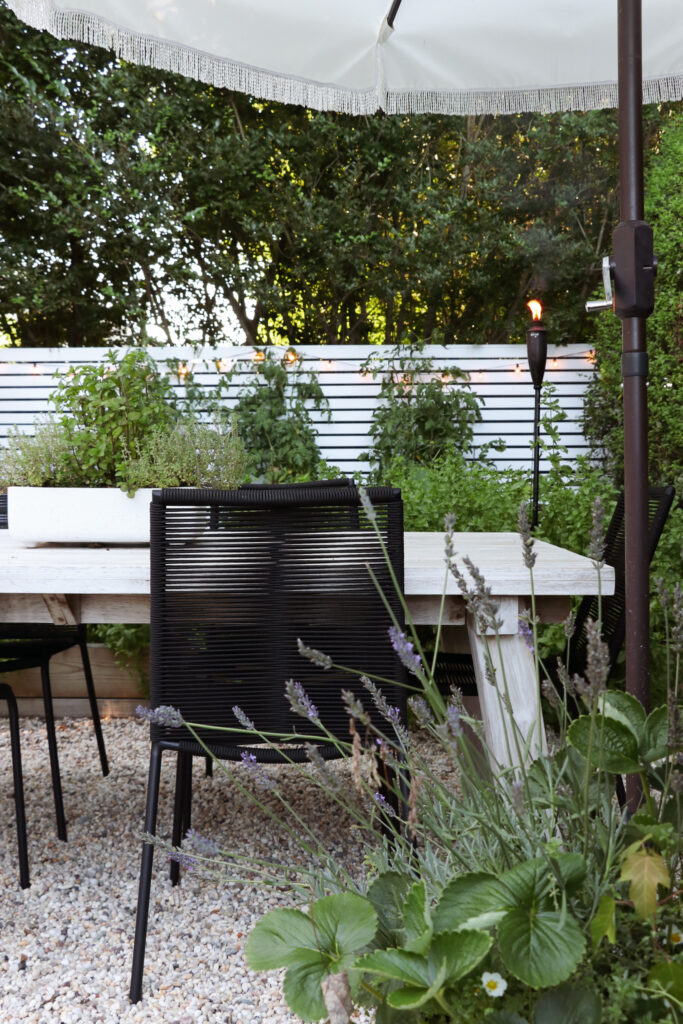 This post contains affiliate links.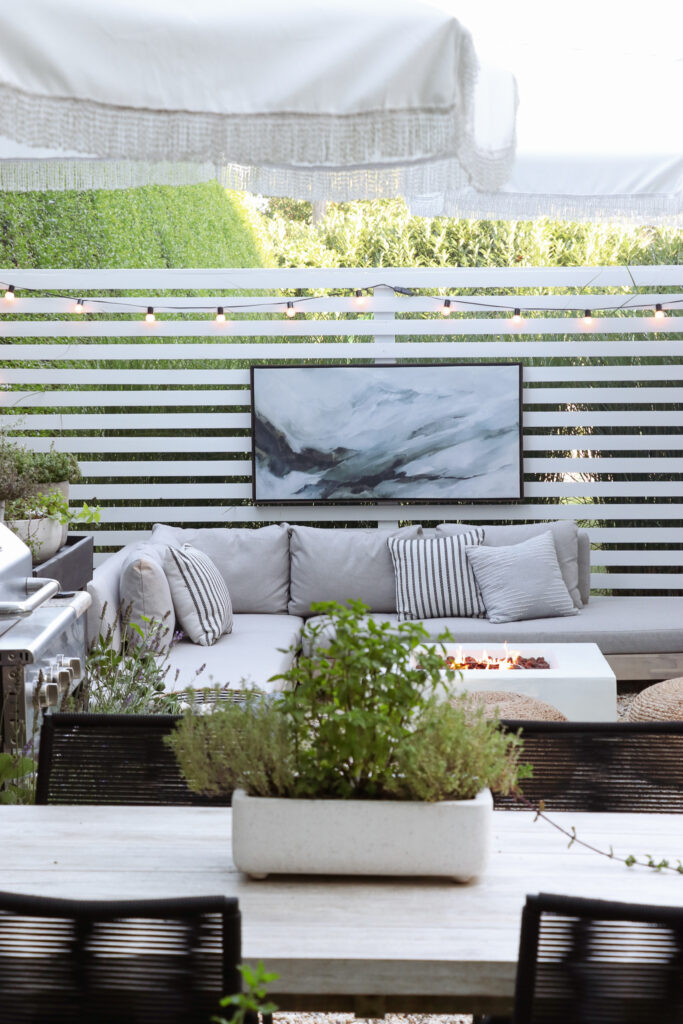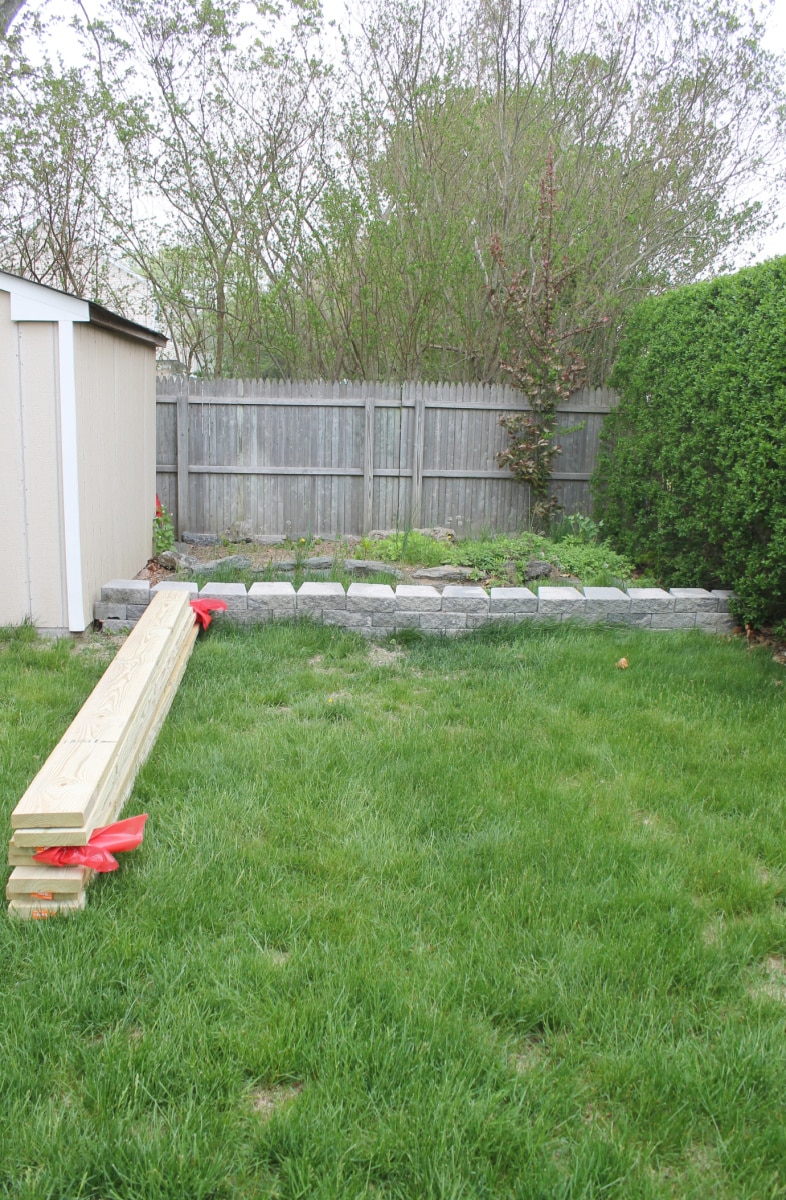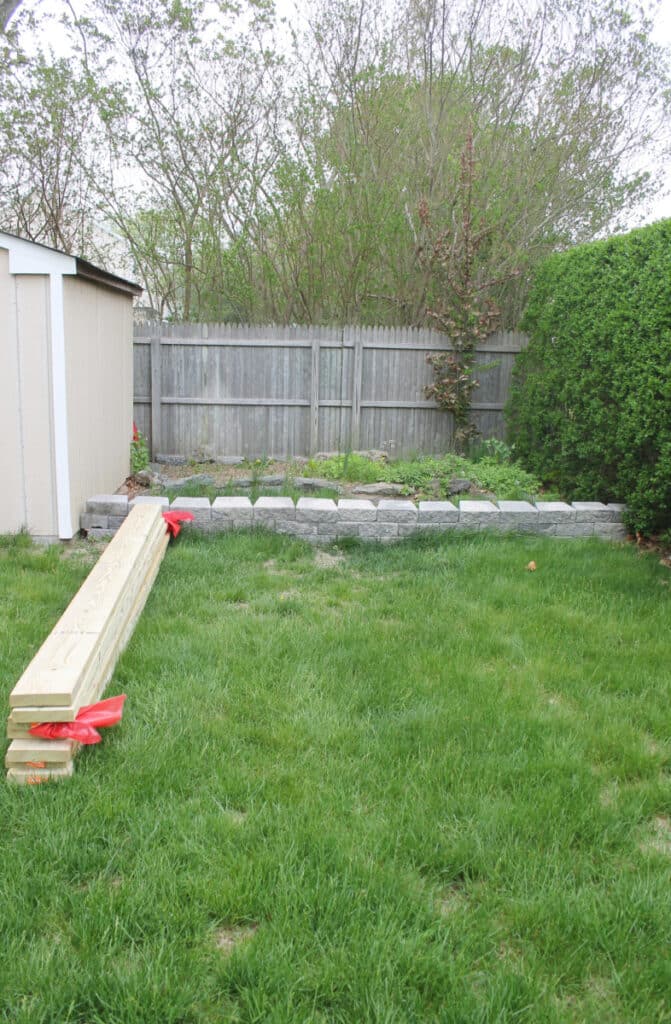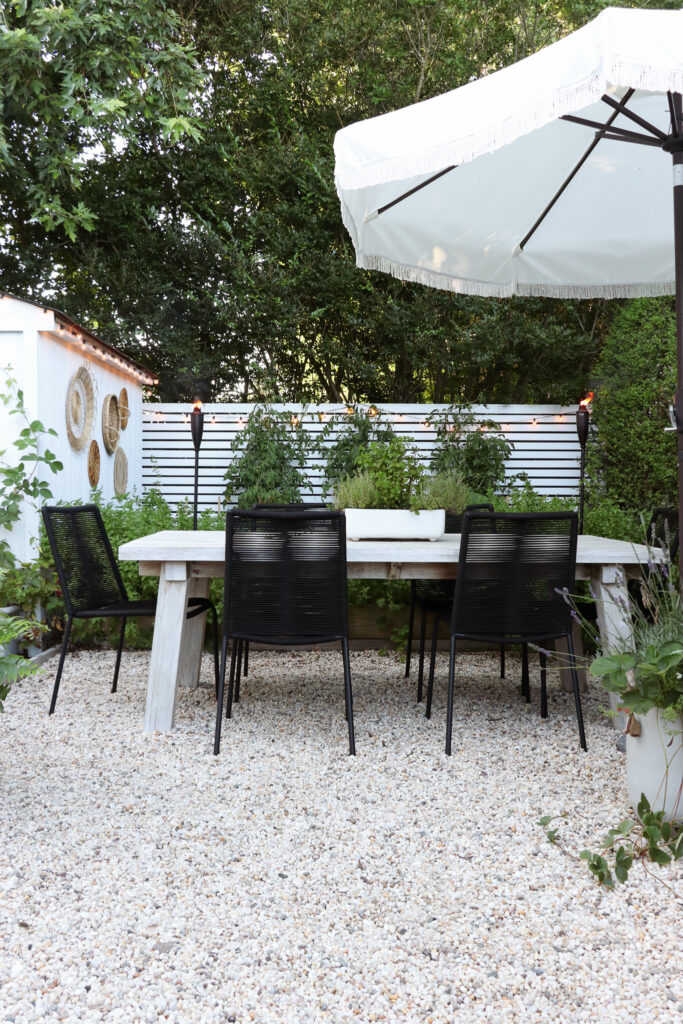 I hope you liked this Cali inspired backyard tour.
Have a happy day friends!