My Favorite Room & Spring Tour
Hi Friends!
It officially feels like Spring in the
Northeast & I am lovin every minute of it.
How about you?
A few weeks ago I shared
My Favorite Room &
Spring Tour at
Savvy Southern Style.
I was honored Kim invited me to share my favorite room in her guest series.
I thought I would share the tour with all of you in case you missed it.
My favorite room in my home would have to be
my family room.
It is the heart of my home and it is a space that sees it ALL. If the walls could talk  they would speak of quiet & peaceful moments in the early morning, when the sun gleams in through the windows that overlook the bay, they would speak of days of chaos & excitement  as 2 little boys grow, explore, learn & use their imaginations and they would also speak of nights of calm, where 2 friends still very much in love, find a few minutes alone by the fire while their fun seeking, happy little boys are fast asleep:).
When we first moved into this home (after house hunting for a long, long time) I was in awe.I would get up early, come down to this room, open the shades and just take it all in. I would watch the sunrise over the water, each time it felt like the very first time and still does.
This room is where our day to day moments of life are lived & cherished, it is a place we gather with family & friends,where we give LOVE and truly treasure the simple moments together.
Welcome to my Spring Family Room….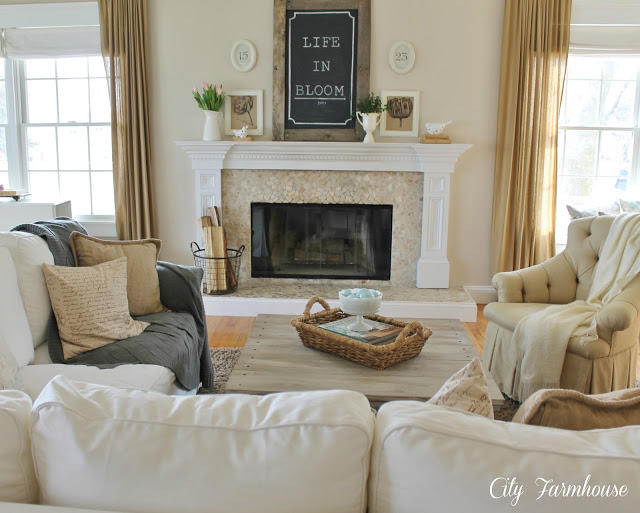 Speckled Eggs Tutorial, click HERE.

Tulip Prints, click HERE.
I have changes in the works for this blog,
which I am super excited for.
Google Friend Connect will be a thing of the past soon,
so you can start to follow my blog
on Google + so you don't miss a post.

I also wanted to say THANK YOU!!!!
I can't tell you how much it means to me that you took the time to vote for my blog.
Voting ends April 17th, so please keep voting:).
Click below.


Have a wonderful weekend
& Happy Easter,