A 1980's Rancher Turned Modern Farmhouse Tour- by Designing Vibes
Hello readers of City Farmhouse! I am Erica from Designing Vibes and I am so honored to be guest posting for Jen today and sharing my 1980's rancher turned modern farmhouse tour.
The fact that Jen has let me take over for her today is actually quite surreal.
You see…when I began my DIY journey almost four years ago, Jen's coffee table hack was the first woodworking project I had ever completed. Shortly after completing that project, I caught DIY fever and decided to sell my new construction cottage for a 1980's dump(I mean fixer upper). I started my blog, Designing Vibes, as a way to share all of my home improvement projects and decor hacks.
Of course I am the genius who decided to take on such a massive undertaking with an one-year-old son and another baby boy on the way (it must have been the pregnancy hormones). Nonetheless, I am so thankful for this crazy ride. Not only has it become my obsession…it has become my livelihood.
Being that I am only a mere country bumpkin from Tennessee ( with a bit of a potty-mouth and a hot-mess approach to motherhood) , I am in no way as classy or refined as Jen. Still, I hope you will stick around so that I can share a bit of my fixer upper journey with you.
So….take off your shoes, pour yourself a cocktail and let me give you a brief tour of my 1980's rancher turned Modern Farmhouse.
Before:
Beginning with the living room, the photo above is what our fixer upper looked like the day my family and I first moved in three years ago. I know my friends and family thought we were crazy trading in our pristine cottage for this place, but I saw the potential. Not only was this dramatic decision about following my passion for interior design and home improvement (although I had no real prior experience with either), it was also about reducing mortgage expenses so that my newly established family and I could have a better quality of life.
After three years of elbow grease and a little TLC, here is the current state of my living room……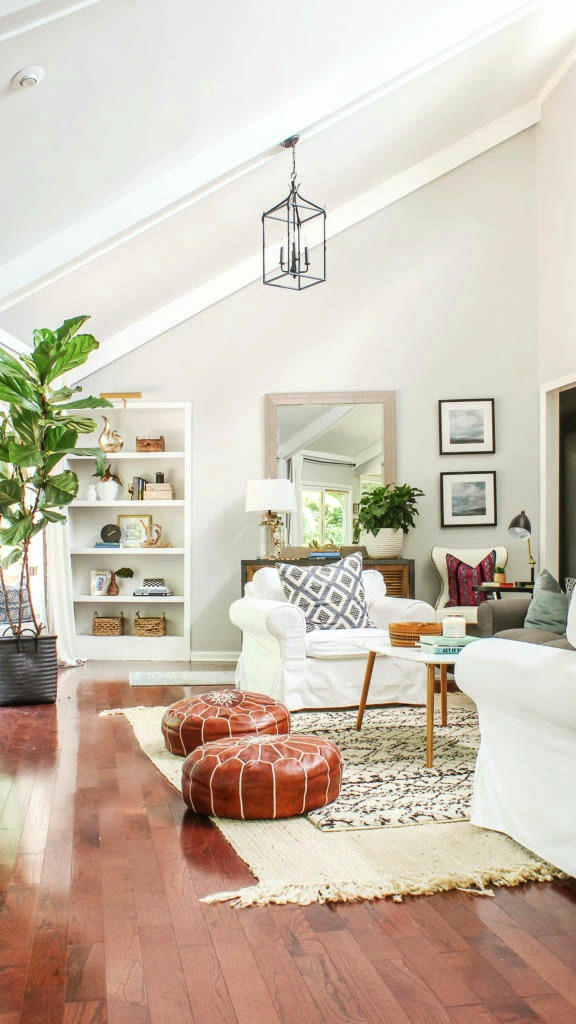 Never underestimate the power of paint and budget-friendly decor, my friends.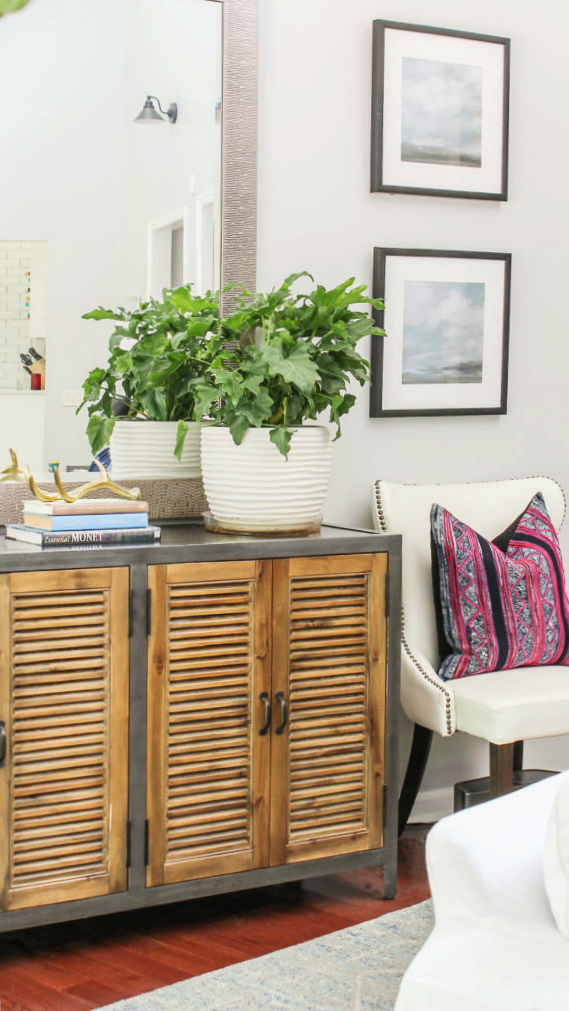 To read the details of this room transformation, you can click here for that separate post over on my blog.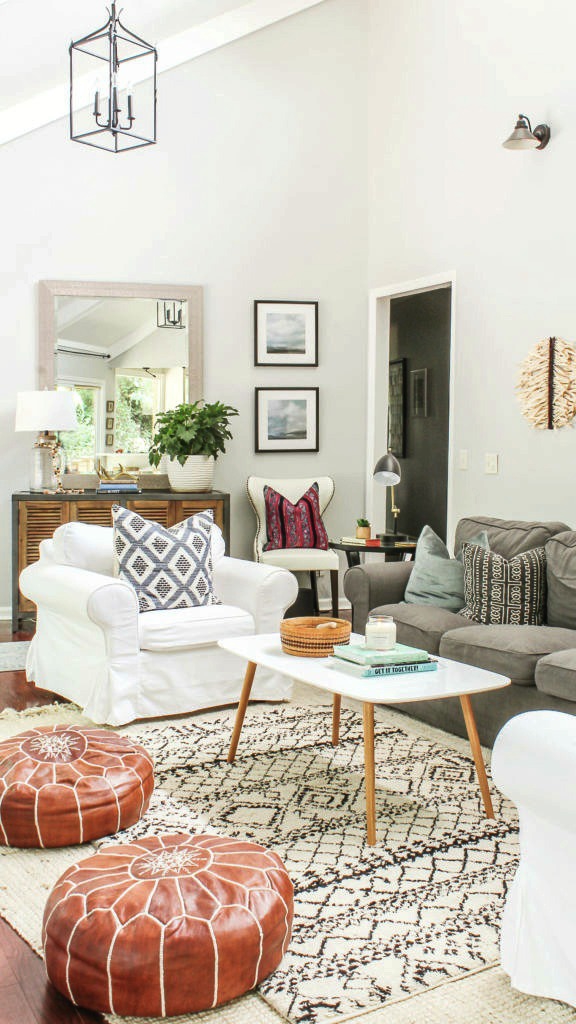 Moving on to the kitchen, this is what it looked like the day we moved in……
Before:
One DIY project at a time, my husband and I were finally able to bring the space into the 21st century….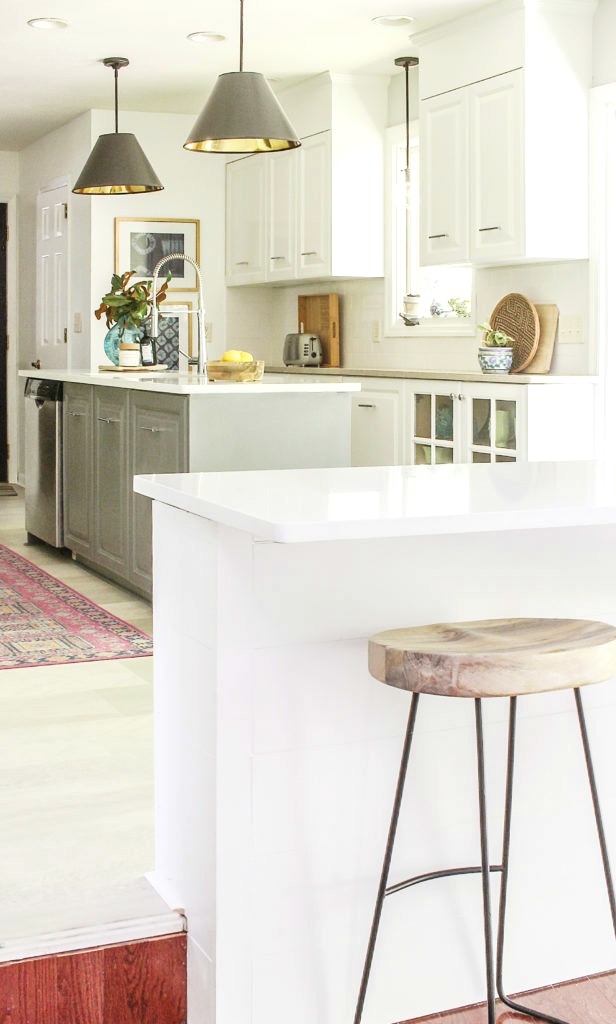 Not only did we DIY the paint job (including the cabinets) and the flooring, I made the cone pendants myself for less than $50 a light.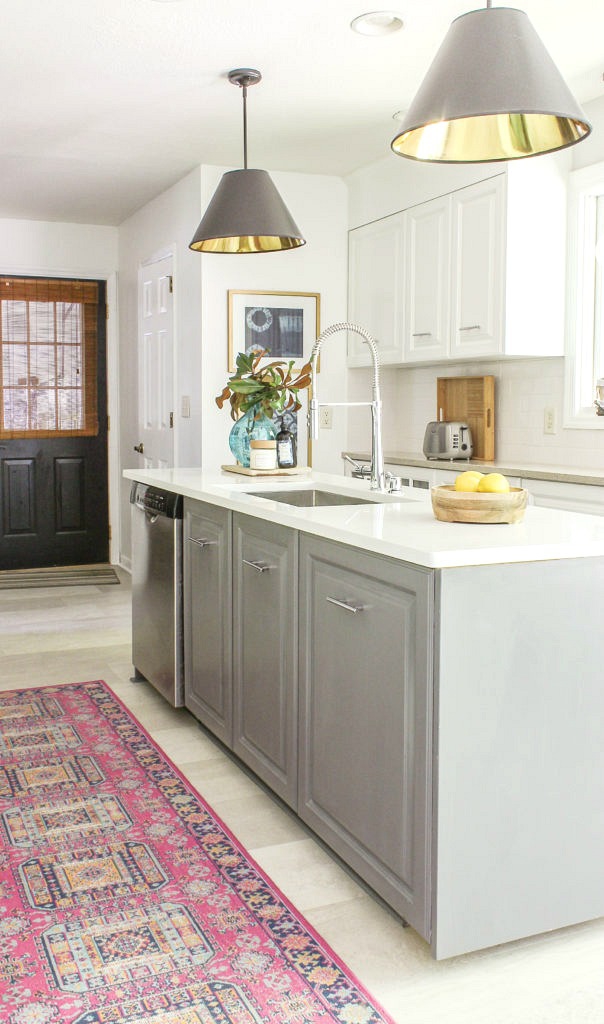 *For the DIY lighting tutorial, click here. To see how we made painting the kitchen cabinets a bit easier, you can click here.*
Would you believe me if I told you that my husband and I installed luxury vinyl tile flooring directly over the original tile flooring?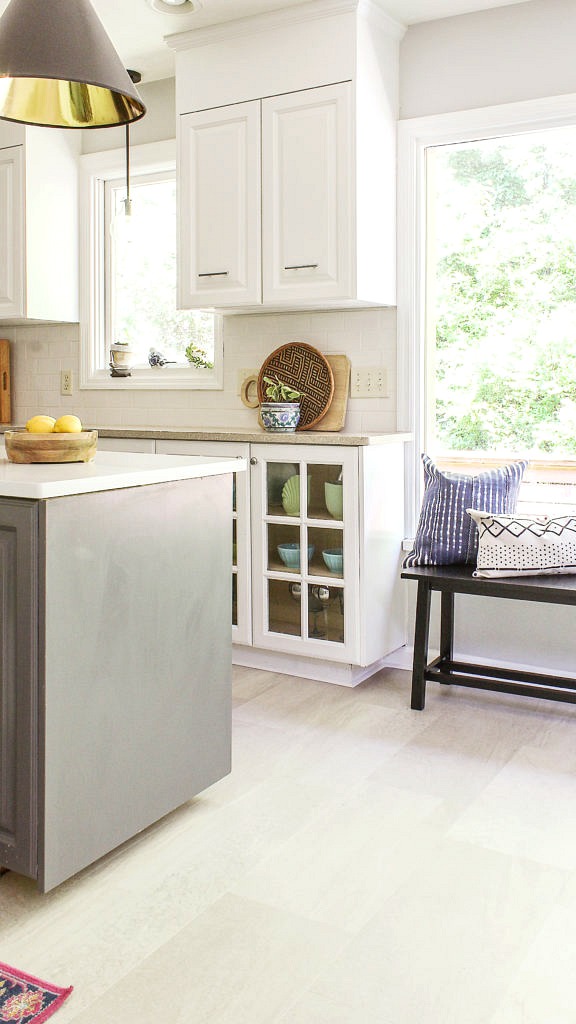 Because that is exactly what we did, and four months later it is still looking great. You can check out the full flooring tutorial by clicking here.
While there are still a few projects I would like to execute in my kitchen, it really has come leaps and bounds.
Directly off of our kitchen is a tiny powder room which we just recently tackled. Below is what it looked like before we applied a little elbow grease and DIY magic to it….
Before:
And here is what it looks like after installing some removable wallpaper and building a floating vanity…
Just because a space is ridiculously small doesn't mean it can't make a large statement. Injecting a little character is all it takes. To read the full details of my powder room transformation, click here.
Last but not least is my most recent room transformation…the dining room.
Here is the hideous "before" shot….
Before:
After installing some shiplap, covering the popcorn ceiling and installing new lighting, you have an edgy take on Modern Farmhouse style….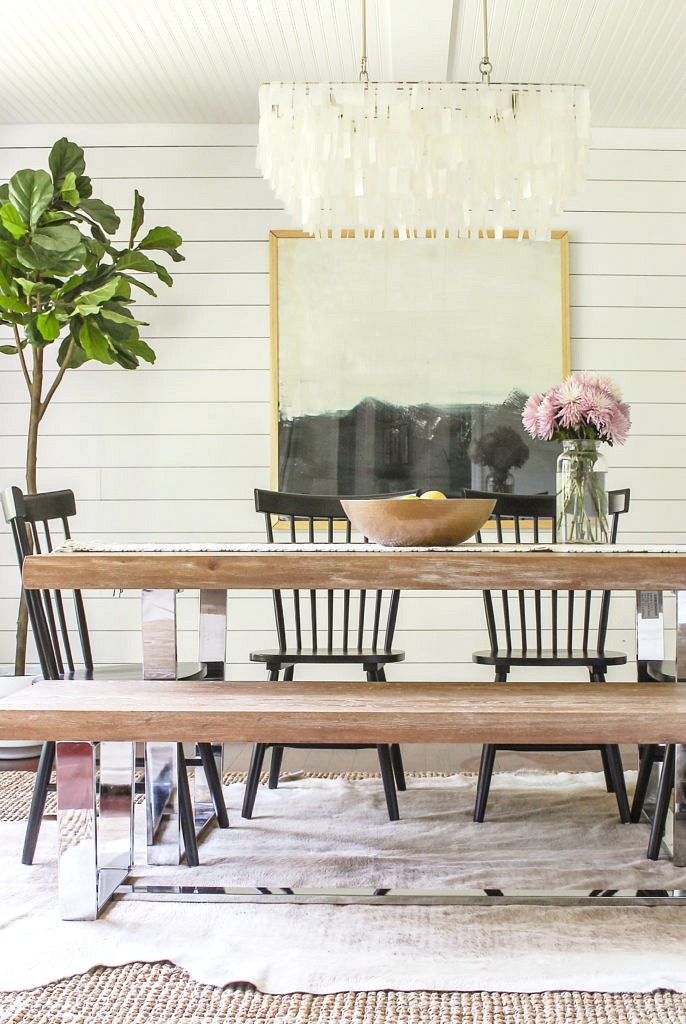 To read all of the juicy details regarding this room's transformation, you can click here.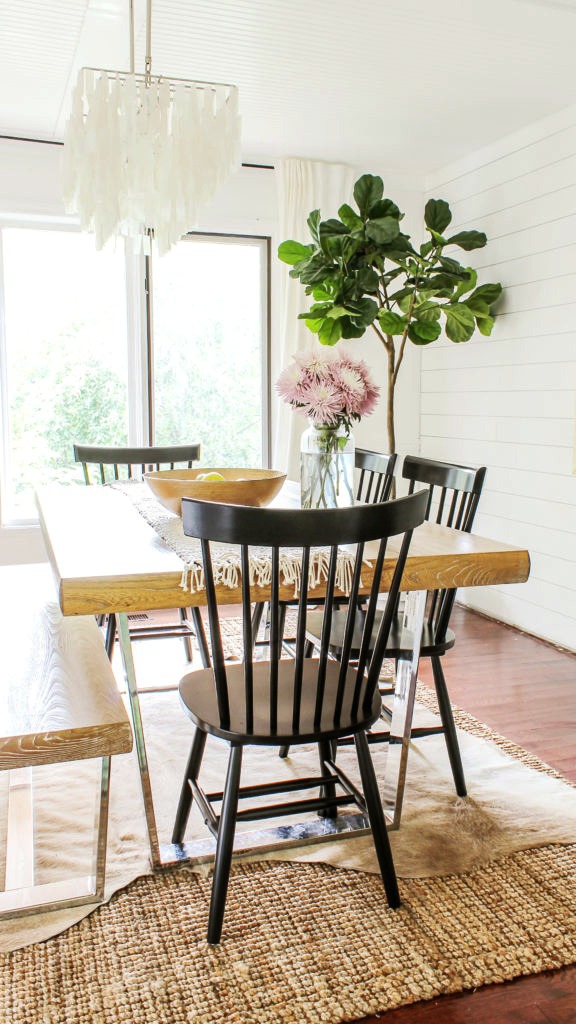 While I do have a few more spaces to share (a DIY mudroom, kid's room and complete deck and pool installation), I don't want to take up too much of your time. But… if you would like to see the full before and after tour of my fixer upper, simply click here.
Thank you so much for putting up with my hot-mess, country bumpkin self and a special thanks to Jen for this incredible honor.

If you would like to see more of my work, be sure to head on over to my blog Designing Vibes. To see more behind the scenes content, be sure to follow me on Instagram and Pinterest.
Now get out there and design some good vibes!