DIY Table Runner Made With West Elm Carpet Squares
Hi friends, happy Friday!! A few weeks ago I shared my Fall Dining Room, which was by far one of the most fun seasonal rooms I have decorated. I had many favorites which made the space feel cozy & layered, perfect for fall. I created a macramé wall hanging, an original watercolor print with vibrant fall hues and made a unique table runner from West Elm carpet square samples I bought for just a few dollars each.
Reinventing a new purpose for something pretty is my jam. I saw these 16″ x 16″ carpet samples at the West Elm outlet as I headed for the checkout. I couldn't believe my eyes! The irony is that I had just finished writing THIS article for BHG on kilim pillows so to find these was quite simply fate.
The crazy thing, these were originally marked as $25 each, I got 6 so… that is way more than I ever would have spent on a table runner. But, at a few dollars I knew I could make these into so many things, pillows, placements and even a table runner. I actually just laid them out, one after the other. I didn't sew or glue anything. That way I could reinvent them yet again in the future.
The colors are perfection and the wool gives such a yummy texture to the table.
I used a rich fall color palette for this tablescape of blues, browns and Merlot hues. The tones complement one another and give a cozy and relaxed feel.
The kumquats give an organic touch and the orange plays nicely with the rustic, fall color scheme.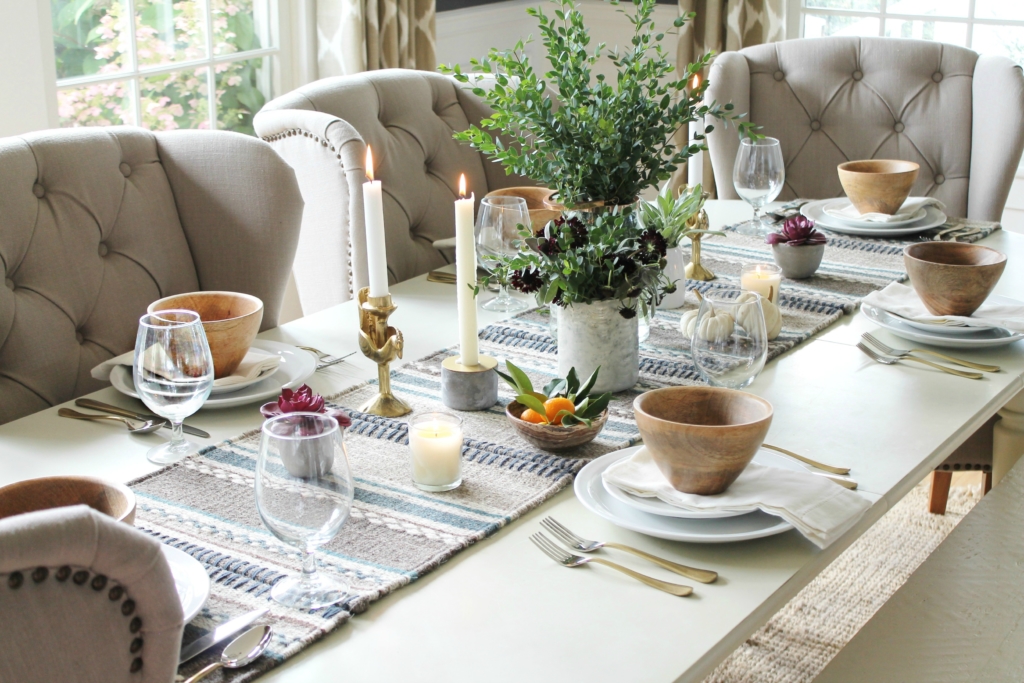 I hit the jackpot with these. For me the hunt and score of something awesome is the most fun part of design. It can set your home apart from everyone else's when you have a story or when a piece has significance or meaning. Don't be afraid to think outside the box when it comes to a table runner or a table-cloth, especially with the holidays just around the corner.
Have a beautiful weekend!