Happy Spring Friends!!!
Yay, it's official!!!
Now if we could just get some warmer weather in these neck of the woods:).
Speaking of warmer weather  & SPRING….
The March/April issue of
Celebrating Everyday Life with Jennifer Carroll
is out!!!
I LOVE this magazine!!!
Every page is a visual & inspirational treat!
The first time I read it I couldn't believe how beautiful it was.
I was taken in by the images, the details and each story.
It is unlike any other magazine.
It is about family, home, love, celebrating everyday moments & embracing creativity.
You will recognize many of the contributors,
I know they are some of my all time favorite bloggers:).
Here is sneak peak of the March/April Issue…..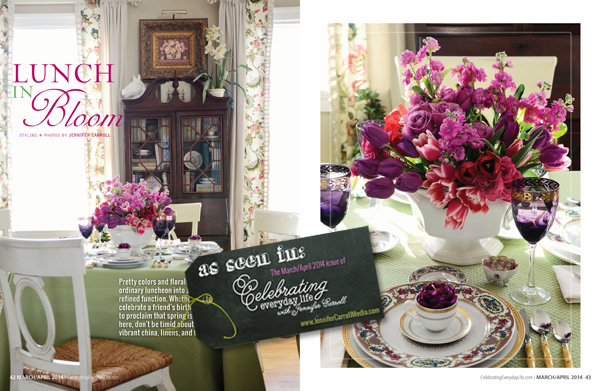 Click HERE to buy your copy now, just in time for Spring.
**************************
I also have some BIG news to share with all of you!!
I made it through in the BHG Makeover Madness,
I am headed to BHG in 2 weeks to duke it out in another DIY challenge with the other 3 amazing ladies.
 I want to say thank you to everyone who voted over Better Homes & Gardens for my coffee table! You took time out if your day to help a girls dream come true:)! I am forever grateful! I am so honored & thrilled because I feel like I have been working towards this my whole life. I want to share with you a little story. I was about 9 or 10 when I saw through the window of Benetton a beautiful sweatshirt that had an embroidered B on it. I begged my mom & she said I am sorry no, we can't afford it. I was so upset as I wanted to "fit" in. The next day my mom brought up the sewing machine, gave me a gray sweatshirt & taught me to sew, that was my very first DIY project {& I haven't stopped since:)}.  I owe so much to my mom for encouraging me to be resourceful, the confidence to be original & creative, to think outside the box & to never stop dreaming!!! Remember that when you tell your child no, sometimes it can teach them something so much bigger:). Thank you from the bottom of my heart for all if your support!!!   Click
HERE
to see who made it through:). Have a beautiful weekend,