Look For Less-Straight Arm Sofa Edition
Are you on the hunt for a straight-arm sofa but aren't sure spending more money necessarily means better quality? Well, this look-for-less post is for you. The five sofa options below range in price and customization. Three are upholstered, and two are slipcovers. I will say from personal experience; price doesn't always dictate quality. This sofa below was purchased for just over 1K (see the fourth option, the Kian), and it's by far my favorite sofa purchase of all time.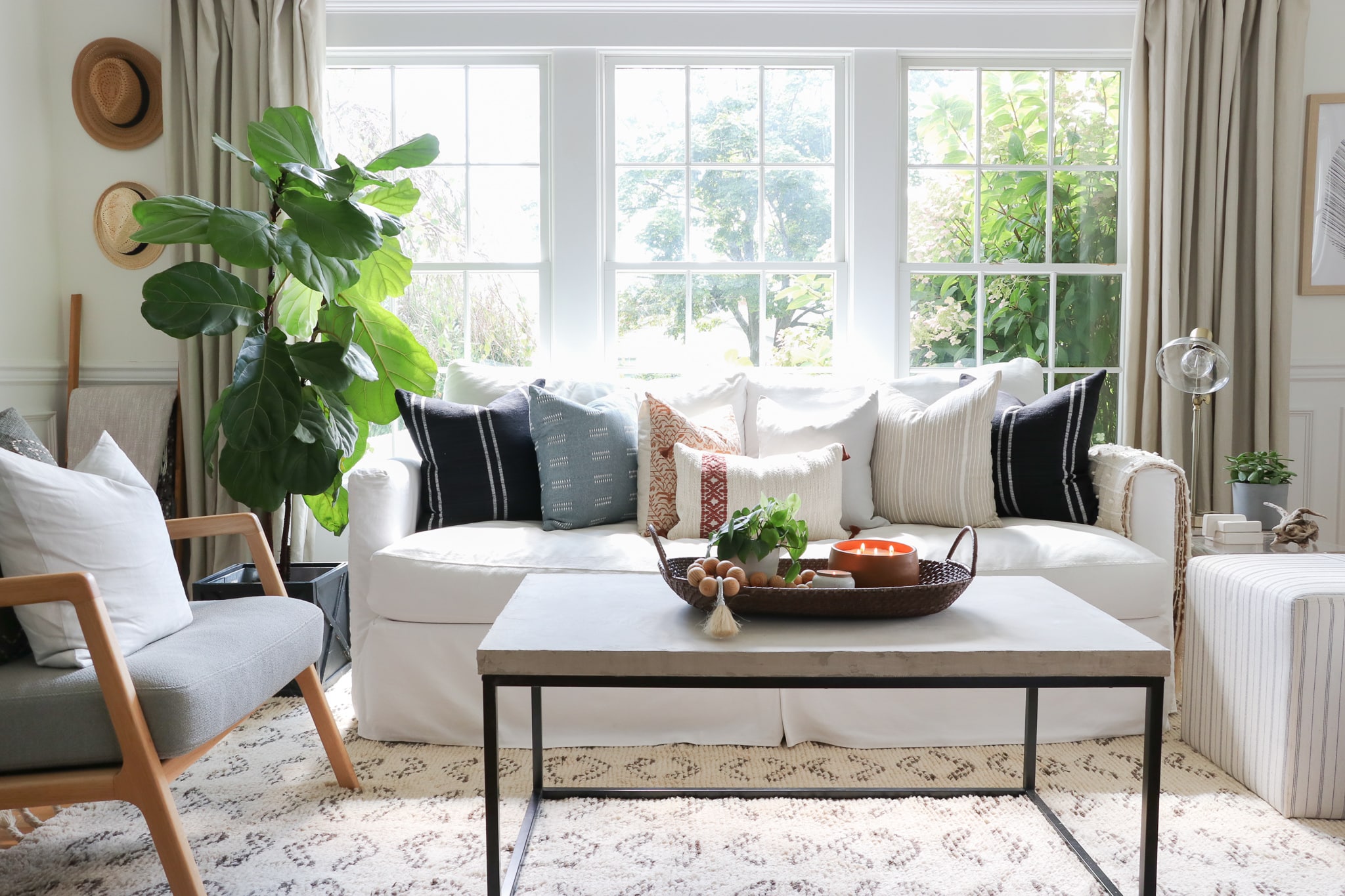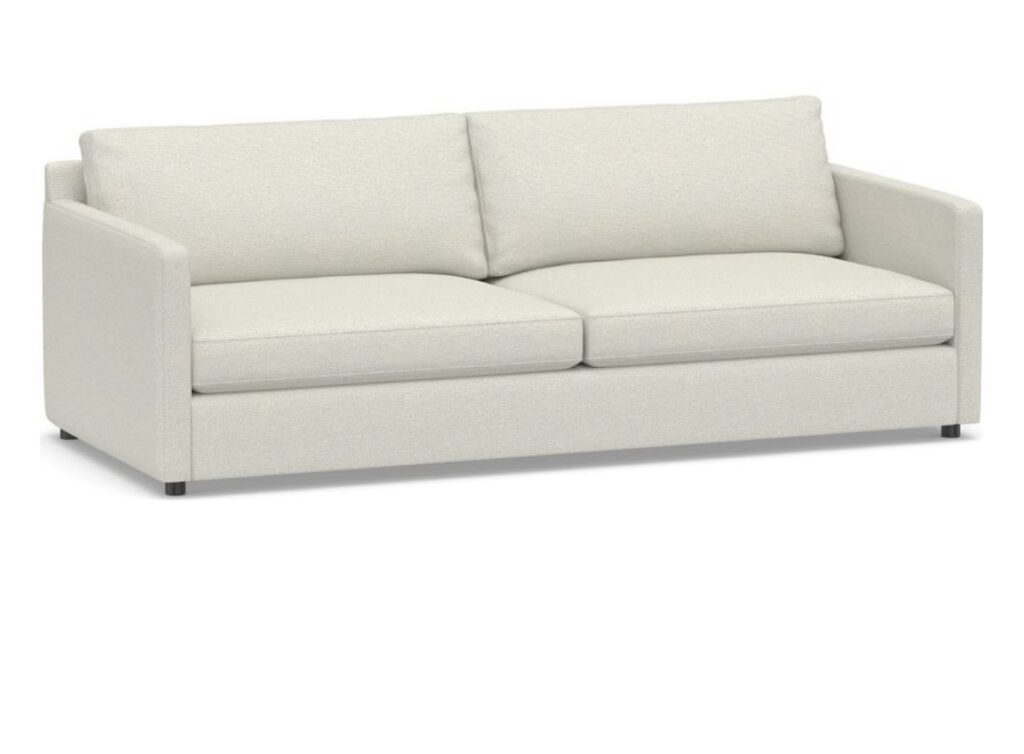 The sofa above is a bestseller from Pottery Barn. The largest size is 89.5″ wide, 40″ deep, and 33.5″ high. It comes in many colors and fabrics but takes 12 weeks to ship. The cushions are polyester-wrapped. The price for the Pacifica is $1599 before taxes and shipping. Please read the reviews. I have to say; I'm not a huge fan of 100% poly-filled cushions.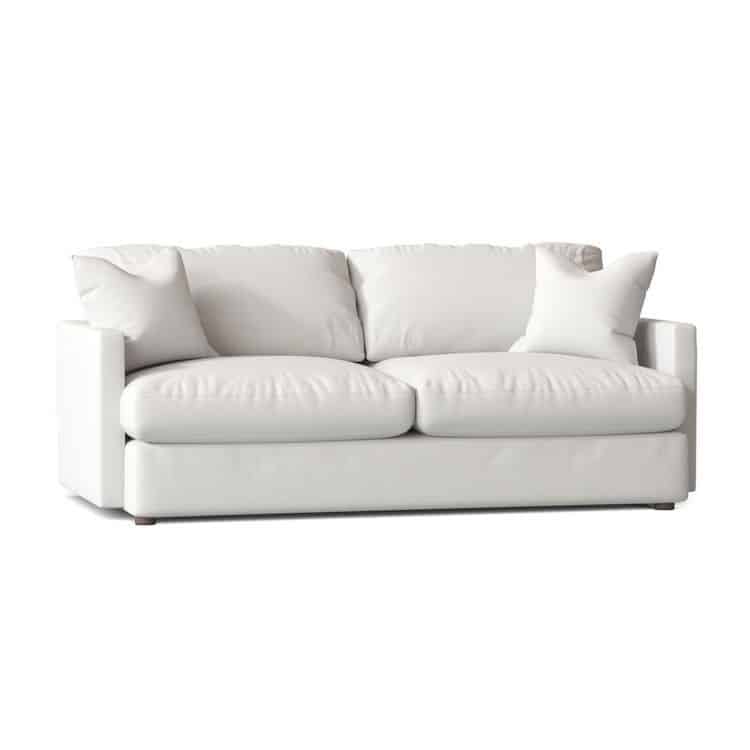 The next sofa below is from Wayfair. This is my sofa above, without the slipcover. It comes in 84″ wide and 94″ wide, 42″ deep, and 27″ floor-to-arm. My couch is 36″ high to the top of the cushion, but you may want to confirm by calling. It comes in 47 options and takes 3-4 weeks. The best part, the cushions are down-wrapped! Before taxes and shipping, the Madison is $1029. The reviews are 4.7 out of 5.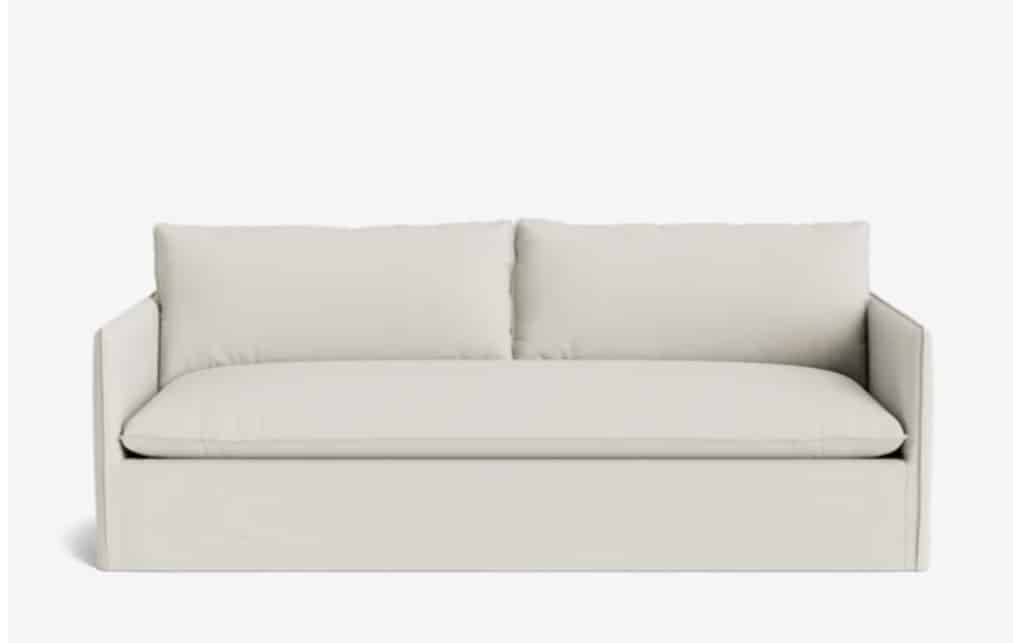 Next up is the Monclair from McGee and Co. It's 93″ wide, 44″ deep, and 36″ high. I have to say she is a pretty sofa with its thin arms and knife-edge cushions. This is s slipcover, but they don't recommend washing it. They say to consult a professional cleaning service. The plus to this sofa are the stunning fabric options! The cushions are half poly and half down/feather. This sofa will be shipped 10-14 weeks after placing placing the order. The price is $5560 pre-tax + $300 for shipping.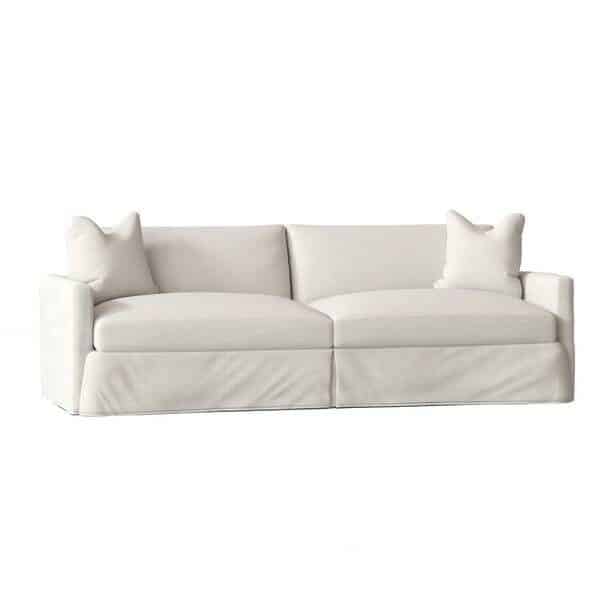 And now, onto my sofa! It's the Kian from Wayfair. It comes 84″ wide and 94″ wide; it's 42″ deep and 34.5″ to the top of the cushion. The cushions are down-wrapped and very comfortable. I bought Classic Bleach White and have washed it at least 20 times in the last four years. It is perfect! I've had linen slipcovers, and while they are so pretty, they aren't practical if you plan on washing them. There are 46 fabric options with this one, and not all are machine washable, so be sure to check that. It takes 3-4 weeks, and the shipping is FREE! The price before tax is $1076 right now.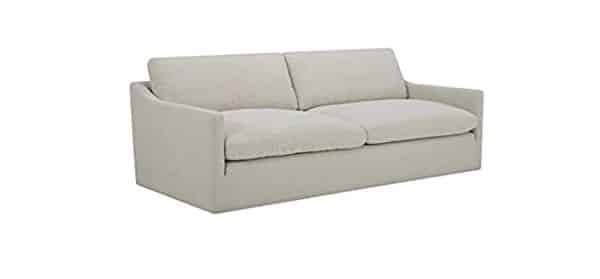 This sofa is from Stone and Beam on Amazon. This brand is the Pottery Barn equivalent. It's 89″ wide, 42″ deep, and 34″ high. The cushions are a combination of poly and feathers. It has three options and is $1210 before taxes. It says FREE delivery (I have Amazon Prime), and it ships immediately. Again, read the reviews.
This is the Kian slip-covered sofa below.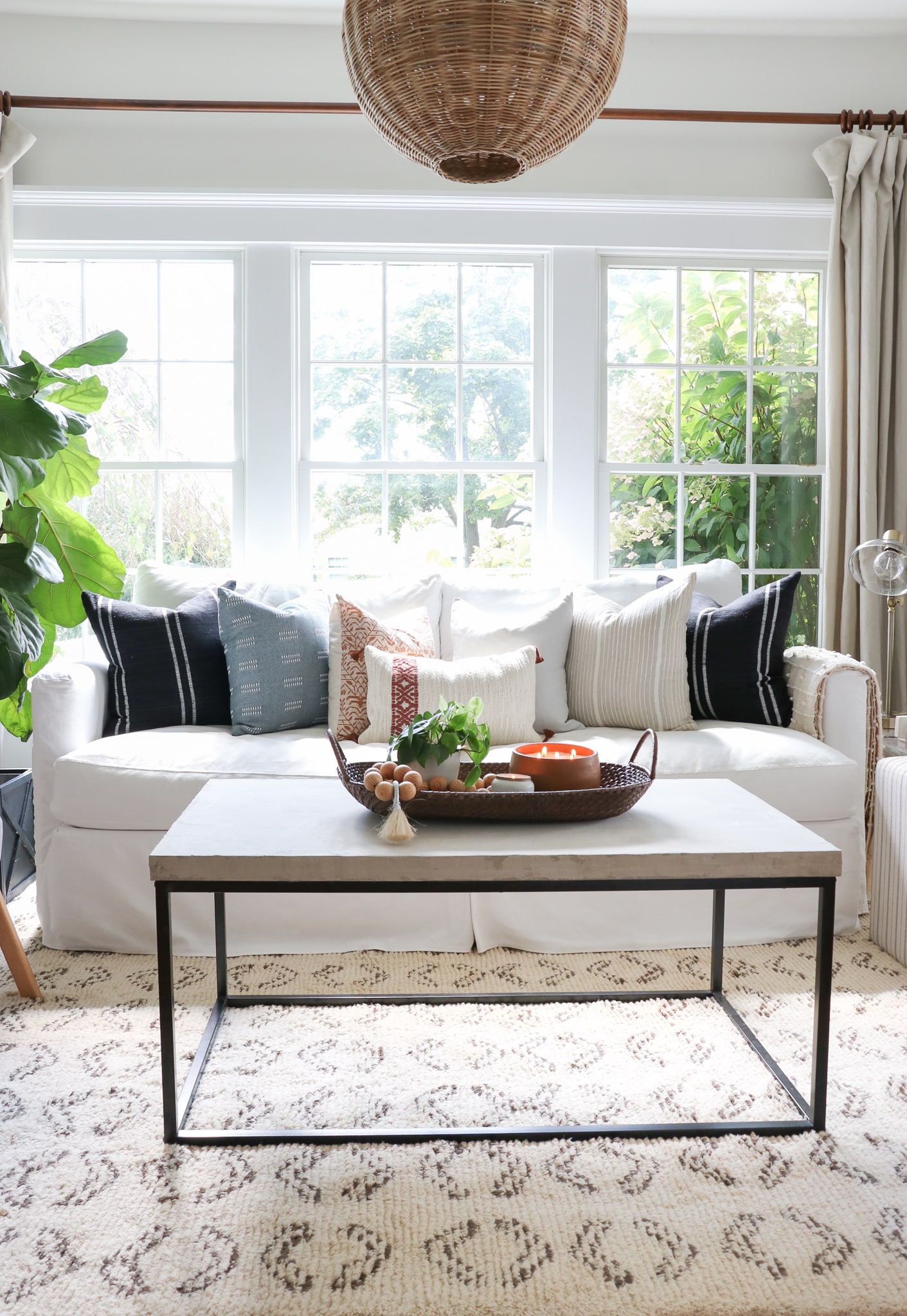 If you are looking for a new color this year, be sure to check out these five classic paint colors.
This post contains affiliate links.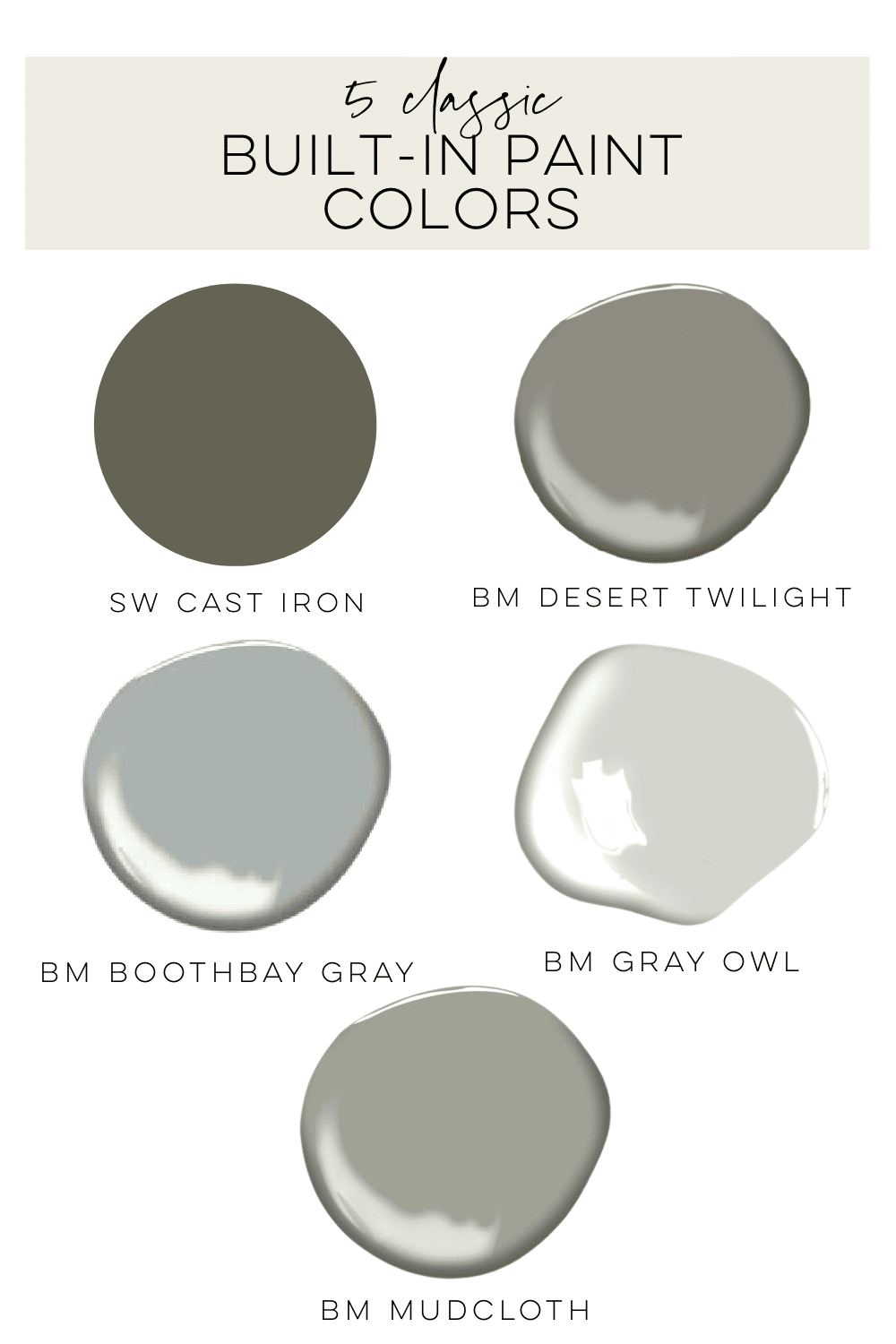 I hope this post helps you with your next sofa purchase. Be sure to look at reviews, shipping costs, and delivery times.
Have a happy day,