Paint Splatter Sign With Left Over Paint-Build Thanks With Lowe's
Thank you, two small words when put together can change everything.  When I joined Lowe's #buildthanks campaign I knew just how significant those 2 words would be for so many courageously working the front-lines for us . I know how I feel when I am on the other side of thank you and lately that comes from the simplest task's such as preparing breakfast, lunch and dinner. I can't imagine what it must feel like when you are actually putting you and your family's life at risk. Or how those words must feel coming from thousands upon thousands of people around the country.  I hope it feels like a ray of sunshine peeking out from behind a cloud on a rainy day, warming your face, even for a brief moment.  That is feels hopeful when it seems there is little left. And that you are aware we see you making all the difference in the world for getting up everyday and doing your job.
As I mentioned in the last post, Lowe's asked us to build a thank you sign using ONLY what we had. So I asked myself "what do you have a lot of?" The answer was crystal clear, paint! I have a whole corner in my basement dedicated to paint storage. Ok, so the next question was, what to do with it. Immediately I envisioned colorful letters, then I began to brainstorm. Paint splattering came to me and immediately I was sold.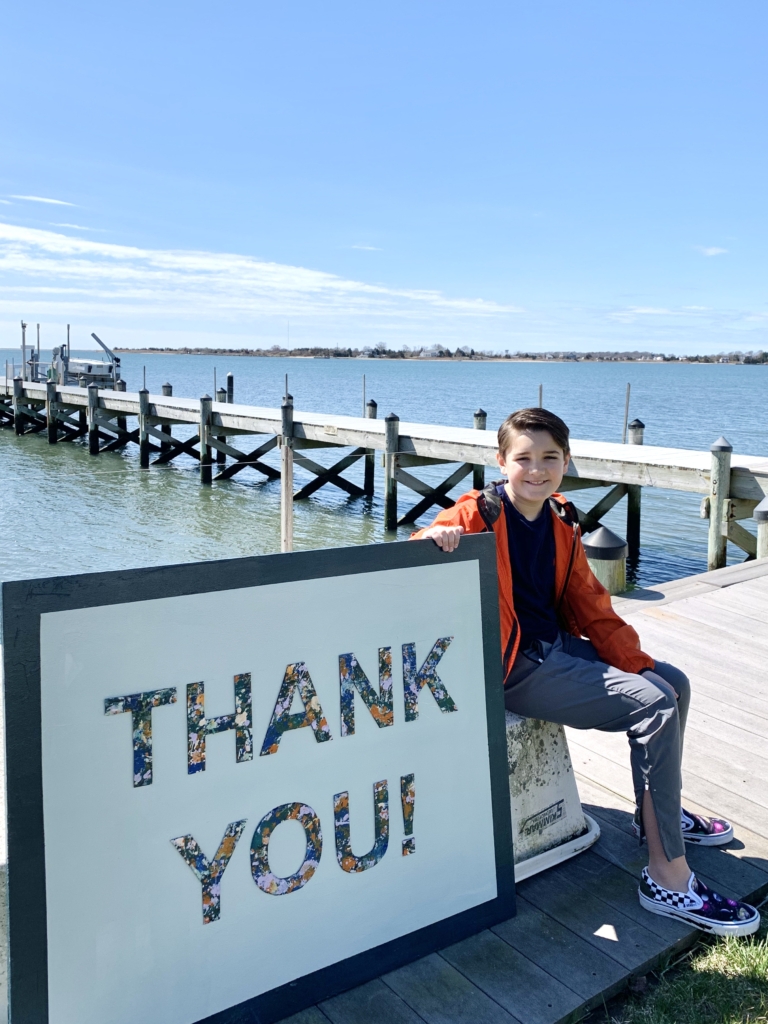 BTW, there is plenty of time to still join us in the efforts, see below. Everyday I see new images pop up on #buildthanks on Instagram and I cant help but SMILE!!!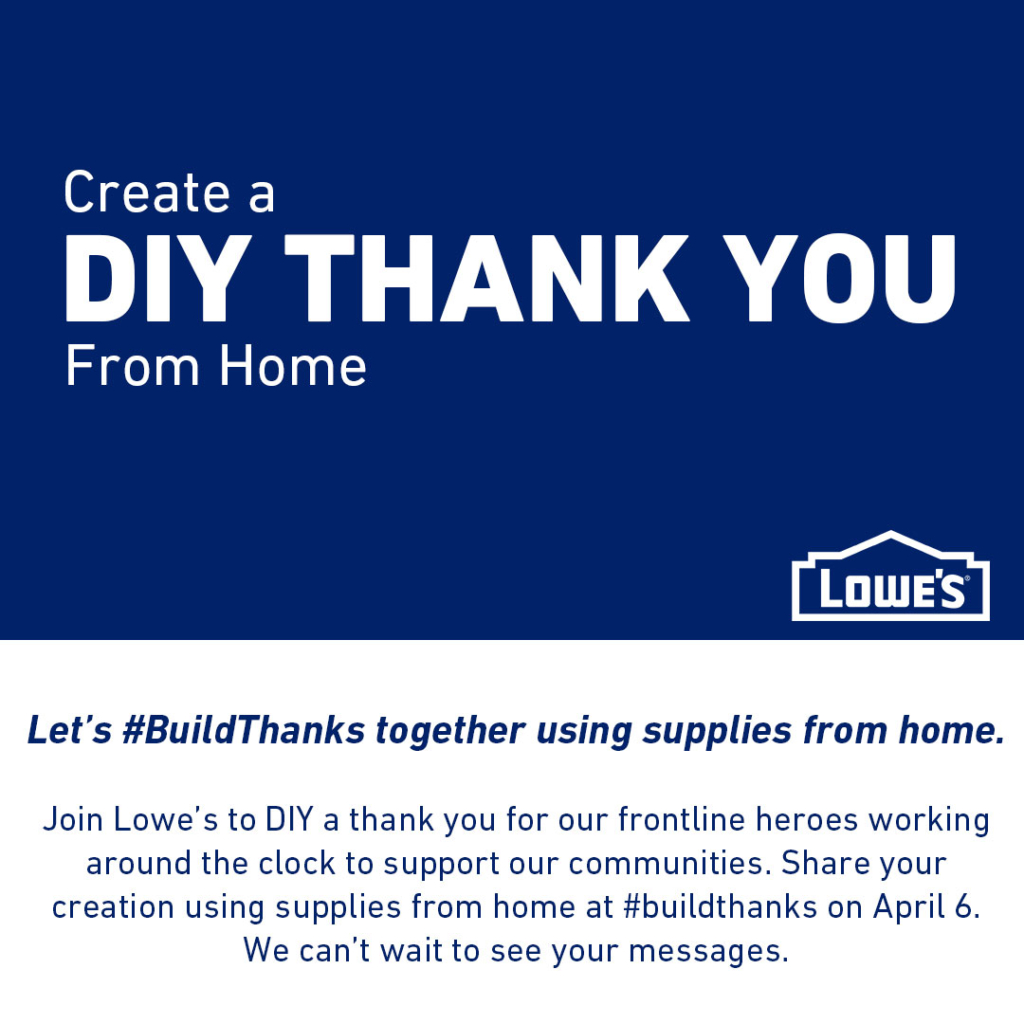 I decided to make paint splatter letters and glue them to wood. In an ideal world I would have enough wood to make the letters myself or just buy them locally but I couldn't. I actually like a challenge like this, it forces you to think outside the box. Hence I made the letters from cardboard. I know what you are thinking, but it's an outdoor sign. Stay with me here.
First I printed the letters in Microsoft Word, they are 600 pt Helvectia but you can use any style or size you wish. On a side-note, this is a fantastic project for everyone and anyone. Not only is it easy and fun, it's also therapeutic. I sent the "how to" to my niece thinking she could make a sign for her room.
Getting back to the letters, if you use cardboard, you will want to seal them good and add them to a backing, like wood. Once I printed the paper letters I used an exacto knife to cut them out. I laid the paper on top of the cardboard and cut away. Tip-use tape or a little glue to keep it from shifting.
You are ready to splatter. Be sure you set this up outside with a painters cloth or tarp under your letters. Take 6-12 colors you like and pour into individual cups. Add a little water, you want it to be 3:1 ratio. Start with 3 parts paint and 1 part water. You can always add more water.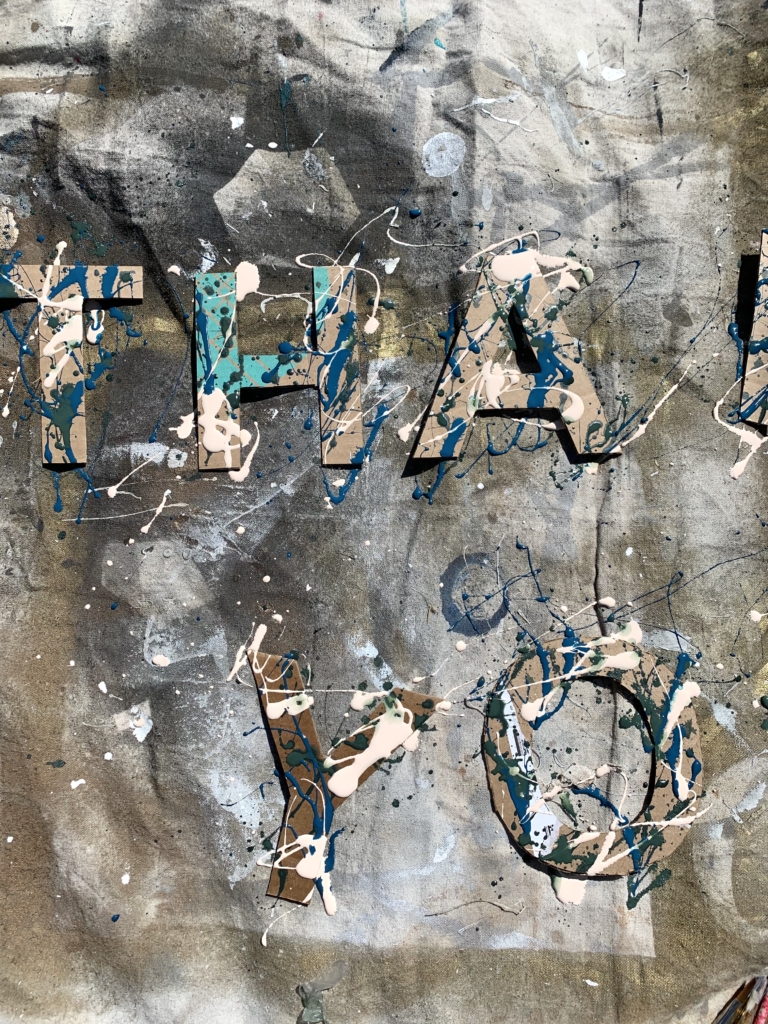 Use a plastic spoon and/or brush to start splattering. The spoon will give you a more drizzled look while the brush a more flecked look.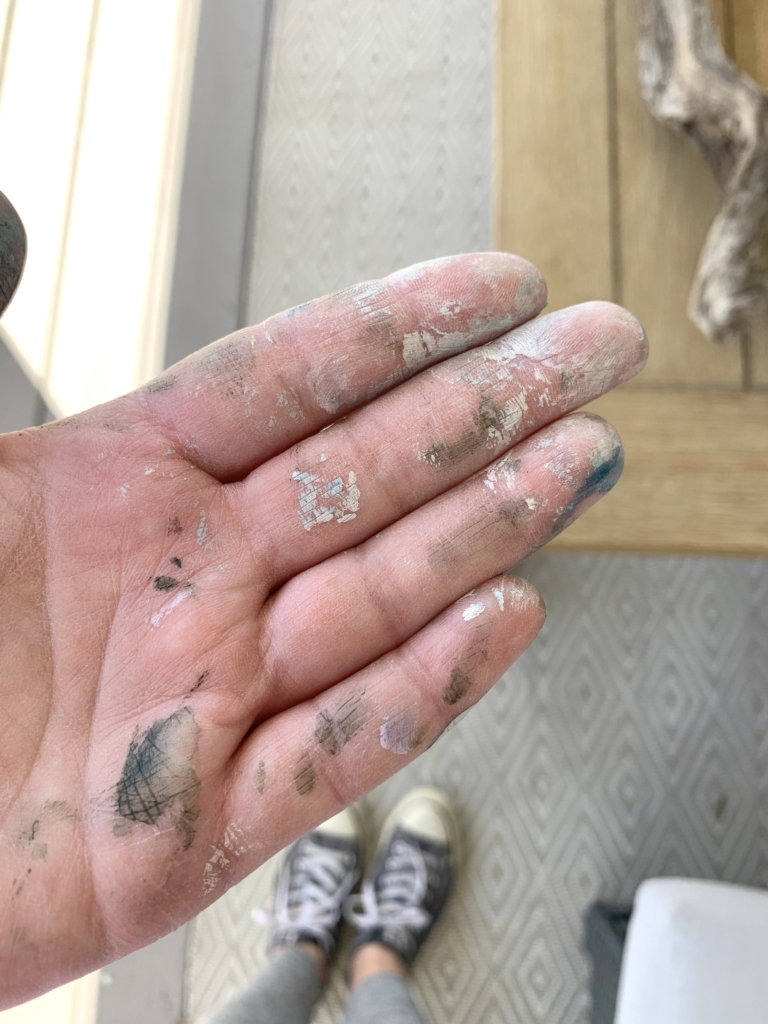 It is messy, be sure to wear gloves if you can, like me, ha!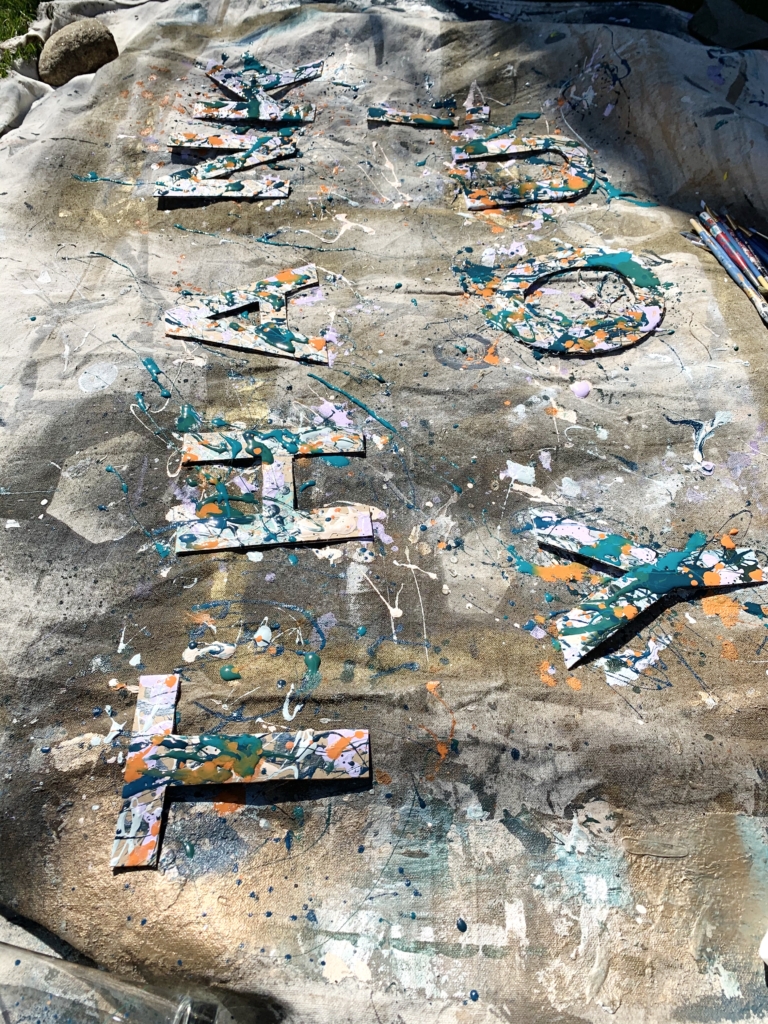 Let dry in between splatter sessions. It will help the colors look more layered and will prevent the colors from running into one another.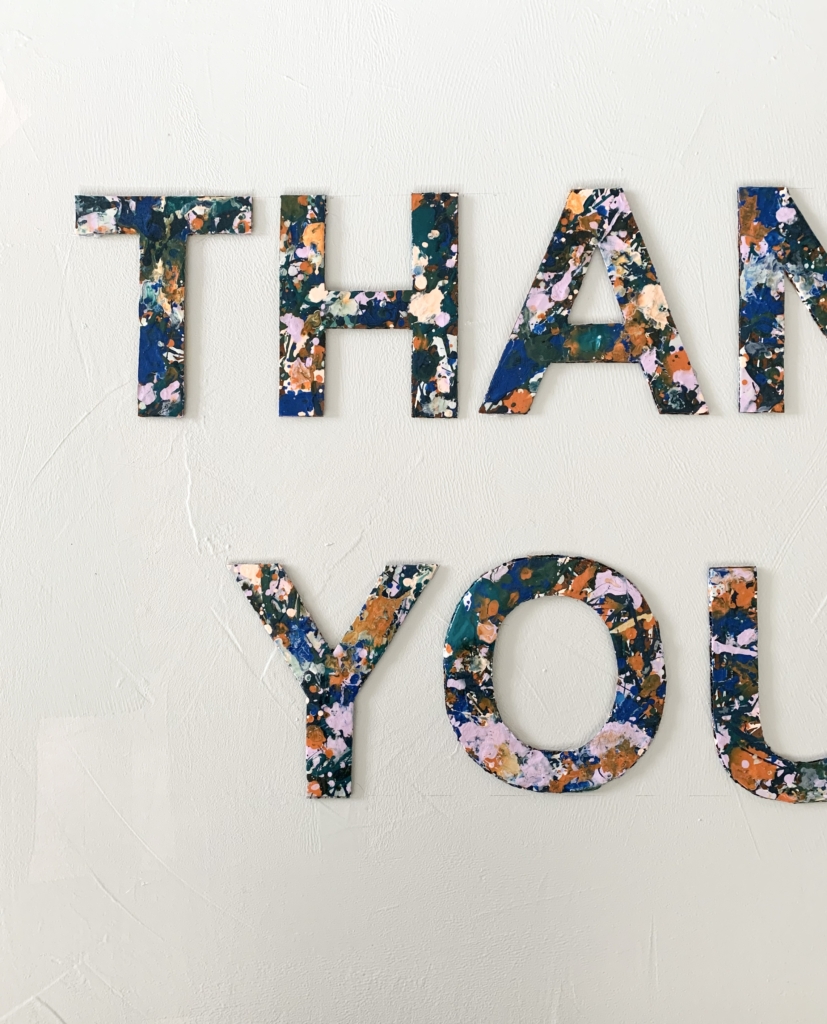 Once they are dry you can glue them onto a backing, preferably wood. I used a glue gun but you can try what you have at home. If this is intended for indoor use then don't worry about this next step. For outdoor use, you will need to seal this. I used a spray sealer then a shellac. I did 3 coats, still I wouldn't leave it in the pouring rain but that's just because we worked so hard on it.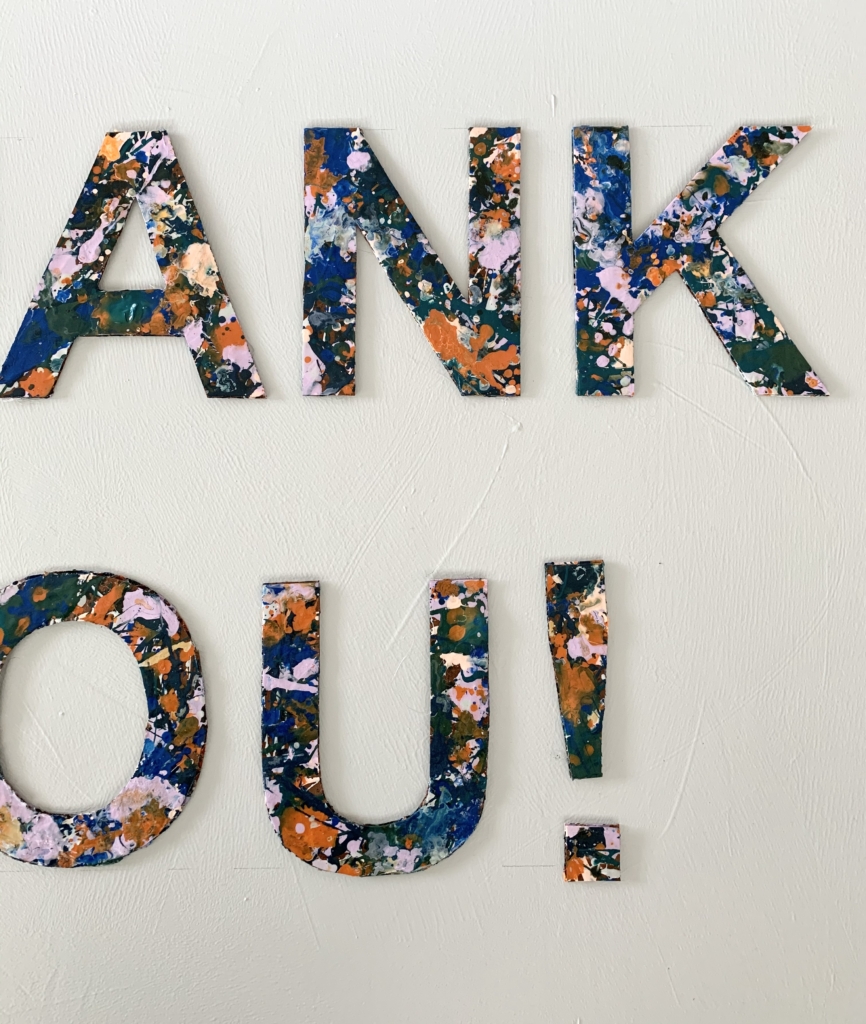 I was having a tough morning when I started this project, as most of you know NY has been hit hard. I have many friends who work in our local hospitals, grocery stores and my brother is a police officer. It's heavy here, as it is most everywhere right now. But that was all the more reason to do this sign and pour our hearts into it. By the end, I felt SO much better. Feeling purposeful right now is key.
I can't tell you how much we loved this project and campaign!!!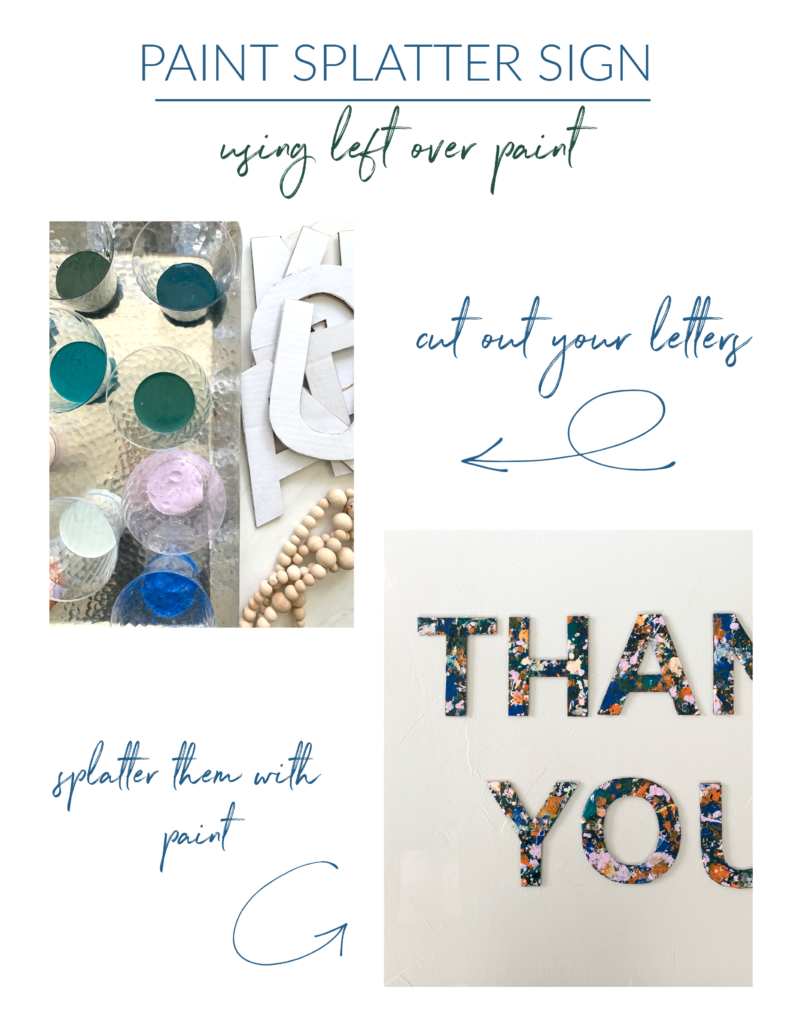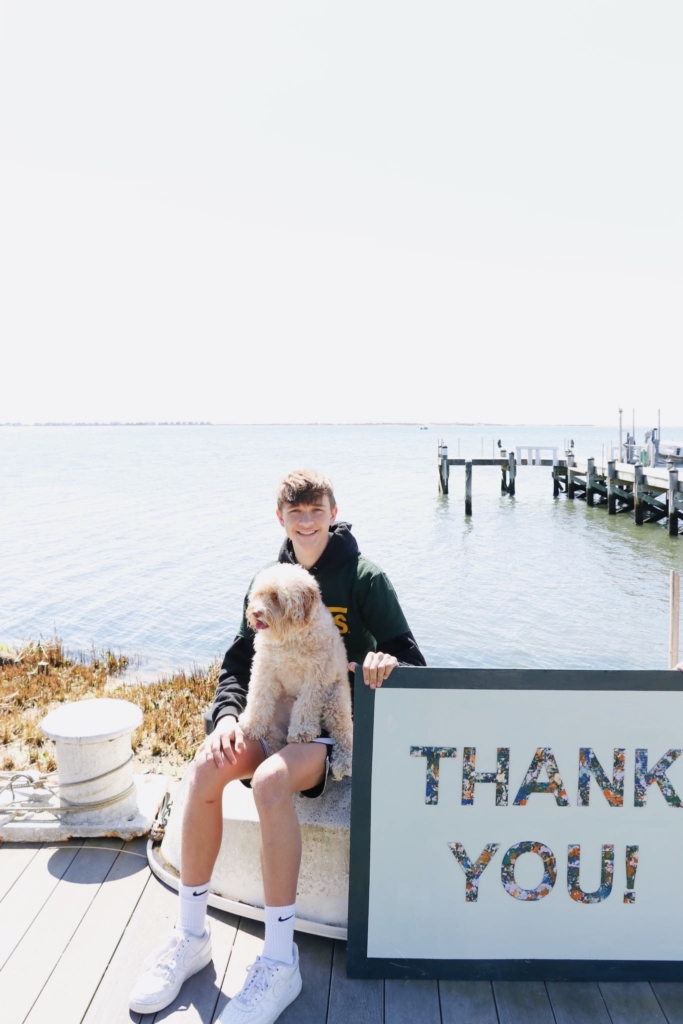 Stay well friends! If you have any questions just ask:)!