Details On My Family Room: Paint, Curtains, Art + More
Hi there friends! There were lots of questions on my partial family room reveal, so today I am dishing! I really do love all the updates in my family room and the white walls made a huge difference. It's interesting to think about my color evolution through the years, it typically coincided with a particular time in my life and what I was craving or missing. In my 40's it feels good to paint everything white and add pops of color in other ways. Did you know, the first time I ever painted a wall white in my life was in Jack's room, 2 years ago. Can you believe that?! I am sure this will all change again, in years to come but for now I am going to enjoy my white walls.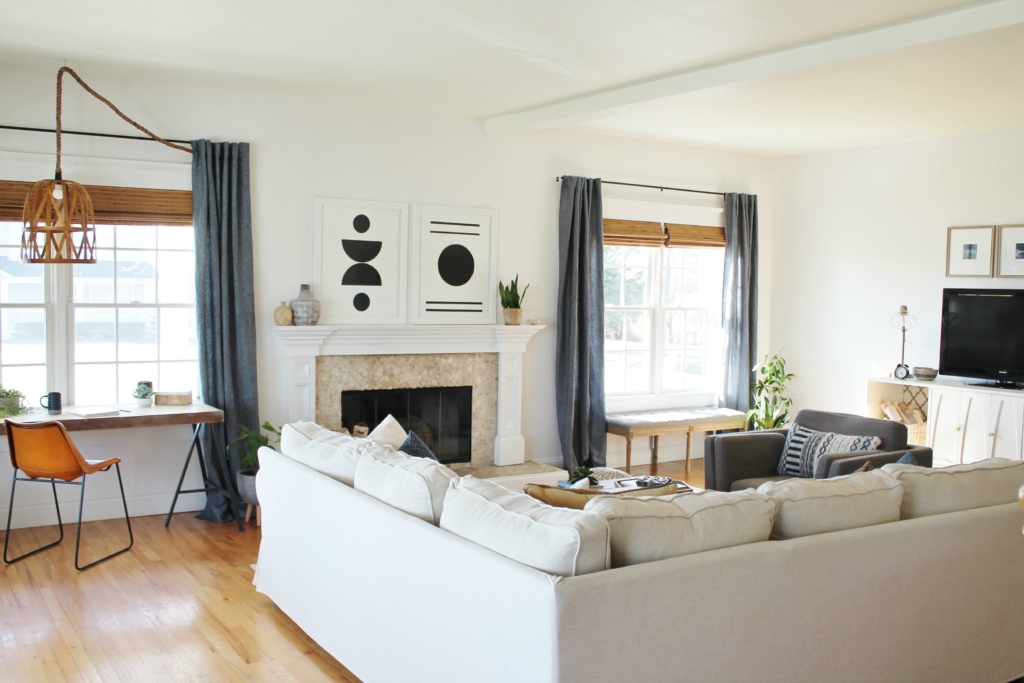 First, I want to share the paint I went with in here. Most of my house is Pure White, which has cream undertones. I thought Snowbound would be best in my family room since it has gray undertones. I actually took it up into the cathedral part of my entry and upstairs hallway as well.

Snowbound

Pure White
Many of you asked about the curtains and I have to tell you, I had no real plan here. I painted the walls white and knew the other ones had to go. I left the house on a quest to find curtains one day, luckily we have the outlets, Target and Home Goods all in one place. I hit almost everywhere!! Last place of the day, Home Goods. It must have been my lucky day because their selection of curtains was insane! I am talking beautiful fabrics, fully lined for crazy low prices. I found these indigo Belgium Linen, fully lined, back tab panels, originally $140 but I got them for, are you ready?! I paid $40 a pair, what?!
I bought them but I also bought another 3 pairs of a beige linen, just to see how I liked it. I really did NOT think I was going to keep the indigo ones. When I hung them I knew. I am a visual person and often I need to see something in person to know. It was a slam dunk!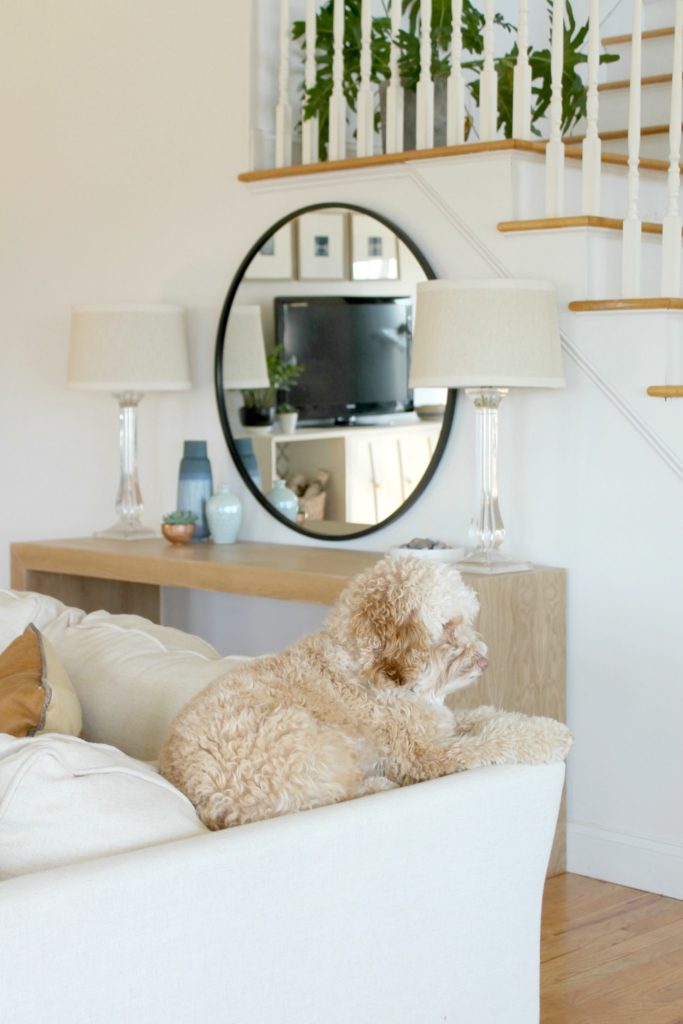 The art I made myself, I used large watercolor paper, traced shapes and painted them with black watercolor paint. You can find great frames at IKEA.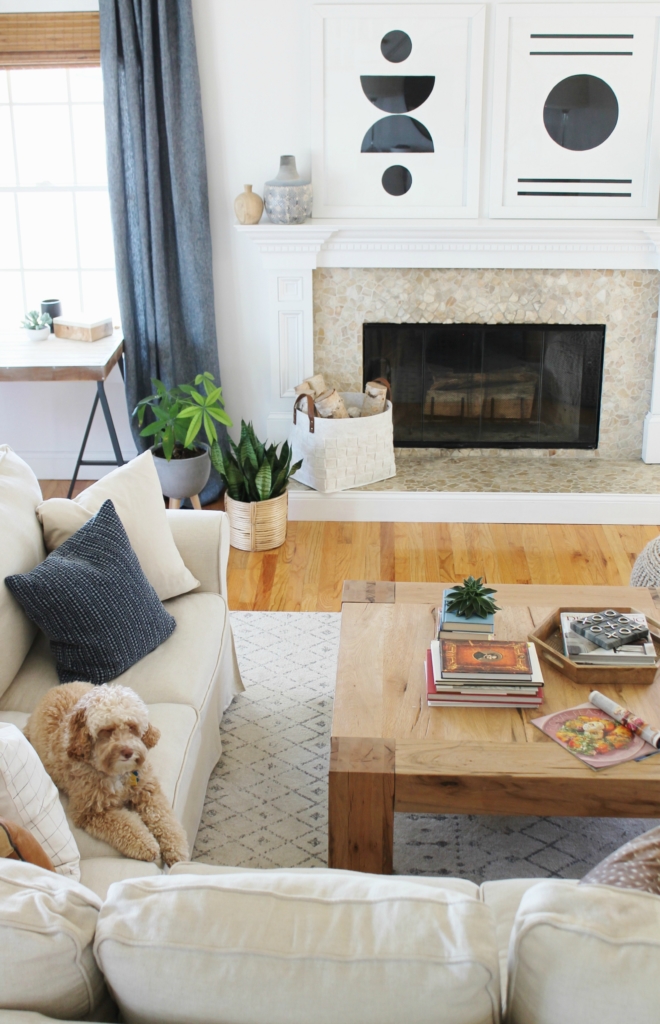 The art below is framed shibori from Etsy, frames are from Pottery Barn (see below). This console needs to be repainted and the fabric inserts need to come out as well.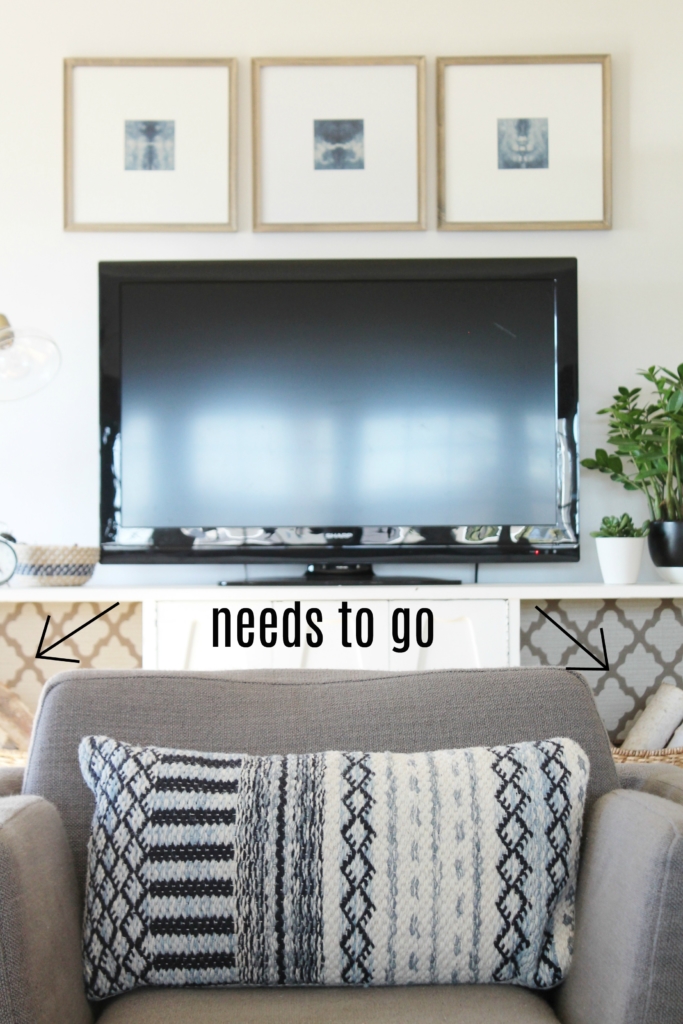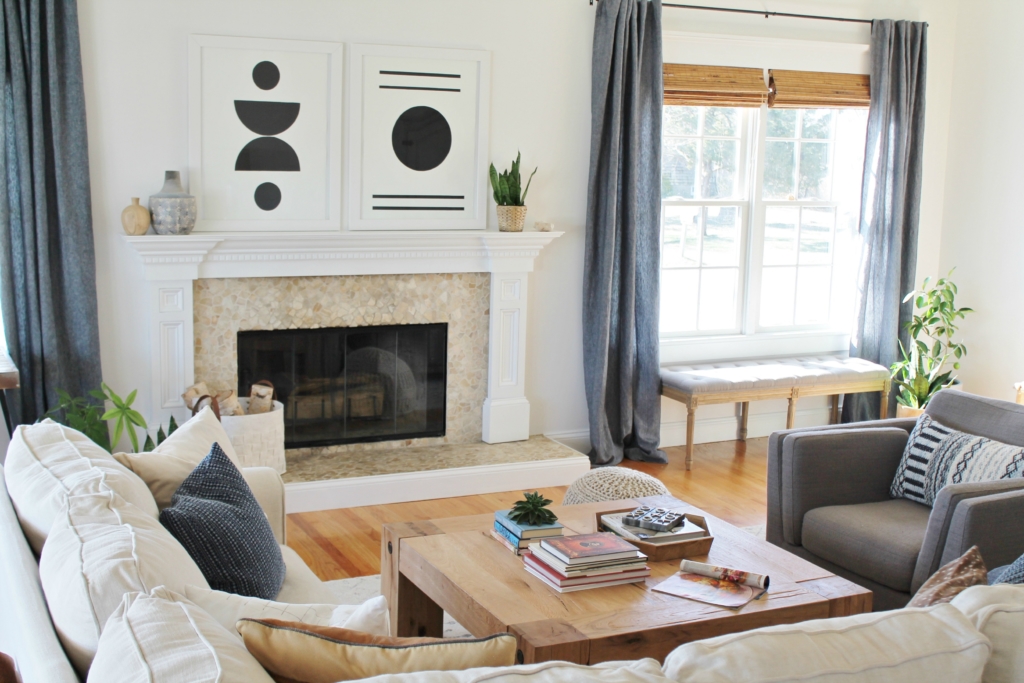 Blue pillows are from Pottery Barn, the desk chair is a leather dining chair from Wayfair and baskets under the new console are from Home Goods.

In cased you missed my Waterfall Table post…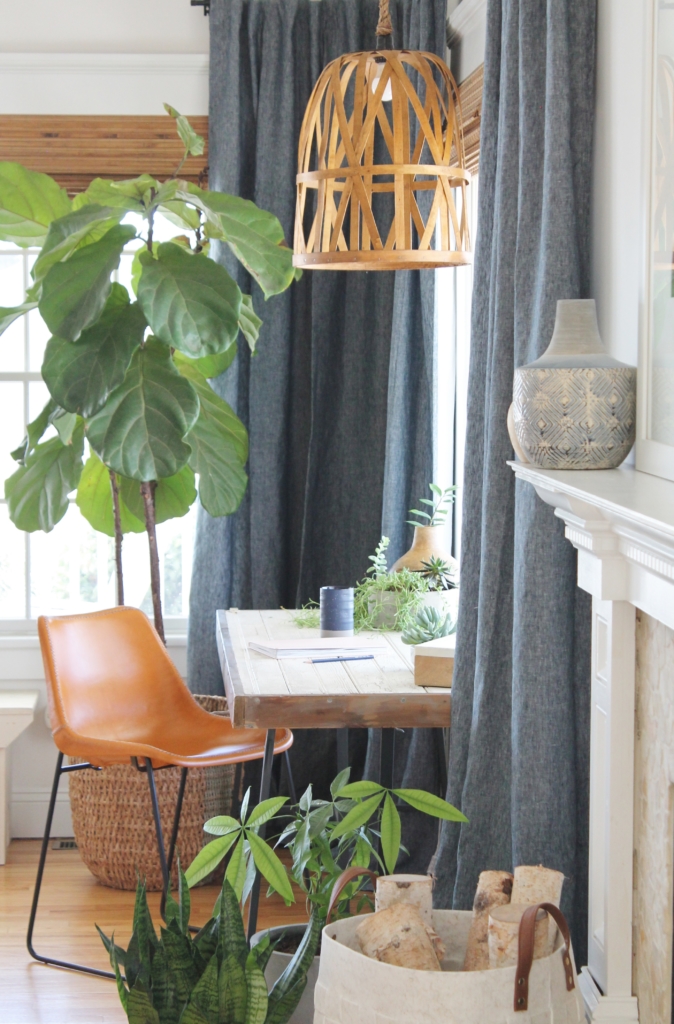 Oh and you can find the mirror HERE.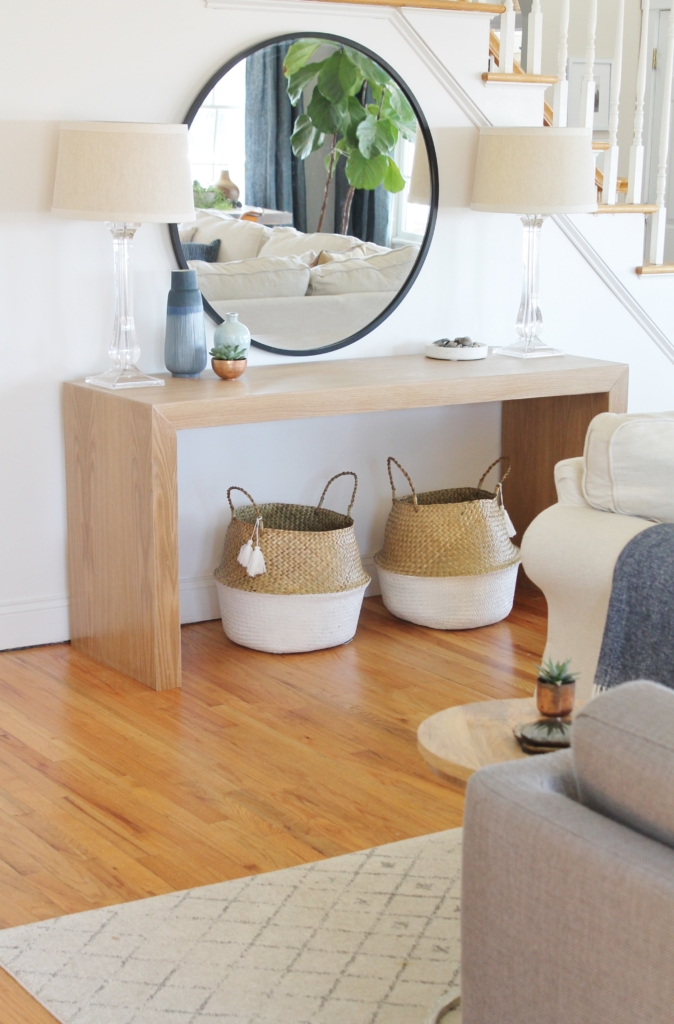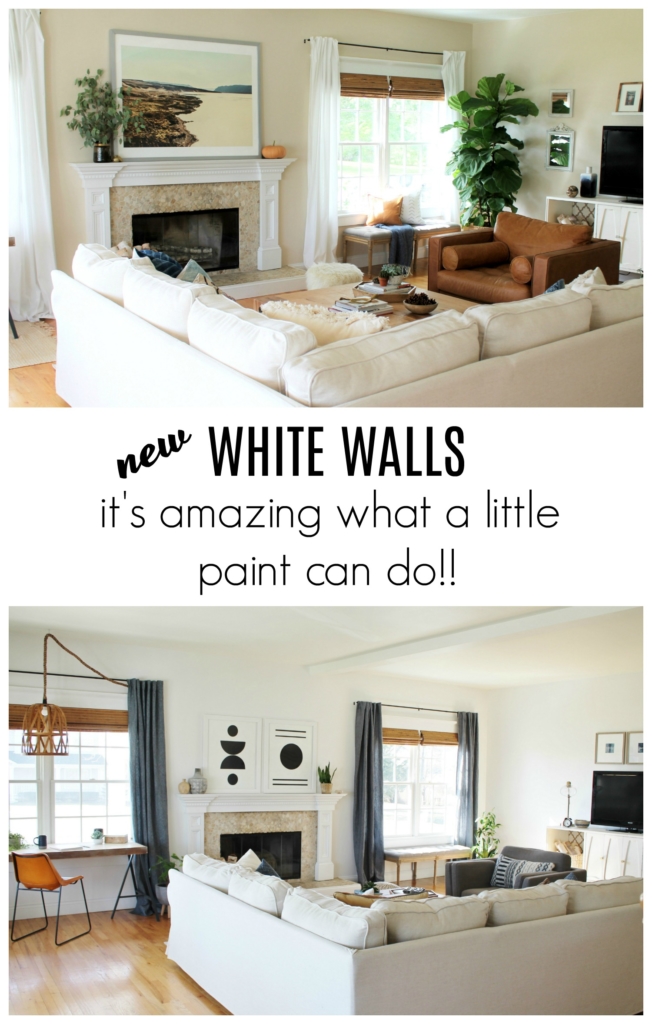 If you are looking for a good white for your space you might want to get samples of these below, they are all from Sherwin-Williams. You can also find some great neutrals HERE.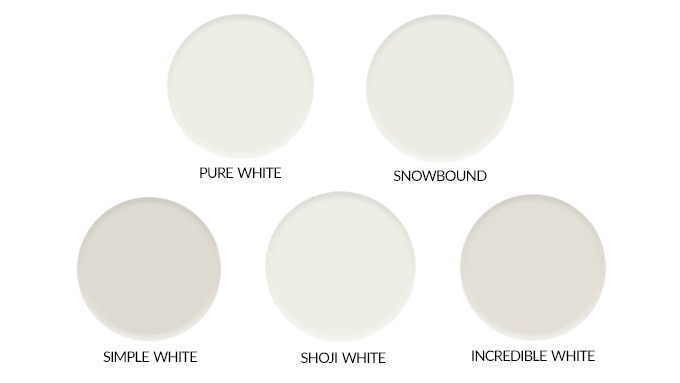 If I missed anything, please let me know.
Have a happy day!