Easy Gluten Free Apple Crisp Everyone Will Love
Hi there friends! Welcome to Taste of the Season hosted by my friend Kristin from Ella Claire! It will be a 5 part series over the holiday season, which will include incredible recipes from over 20 of your favorite bloggers each time. Today it's all about APPLES!  I never thought I would be saying this at the end of August but it feels like fall. Usually the last week of summer on Long Island is hotter than heck but yesterday I found myself reaching for a long, cozy sweater and leggings, what?! Speaking of fall, I have the perfect recipe, not only is it easy but it's delicious too. It's a Gluten Free Apple Crisp that everyone will love!
As most of you know I went GF a few months ago, you can read about it HERE. The dessert part has been a little tough, I am not gonna lie. I do indulge in dessert from time to time, so I am enjoying converting & testing out some of my favorite recipes. This recipe is also simple enough to convert back if you so choose but I doubt you will:).
For the filling you will need a bag of apples, I used Gala but the recipe is flexible. I peeled and sliced them into small chunks.
Time to add the sugar + cinnamon.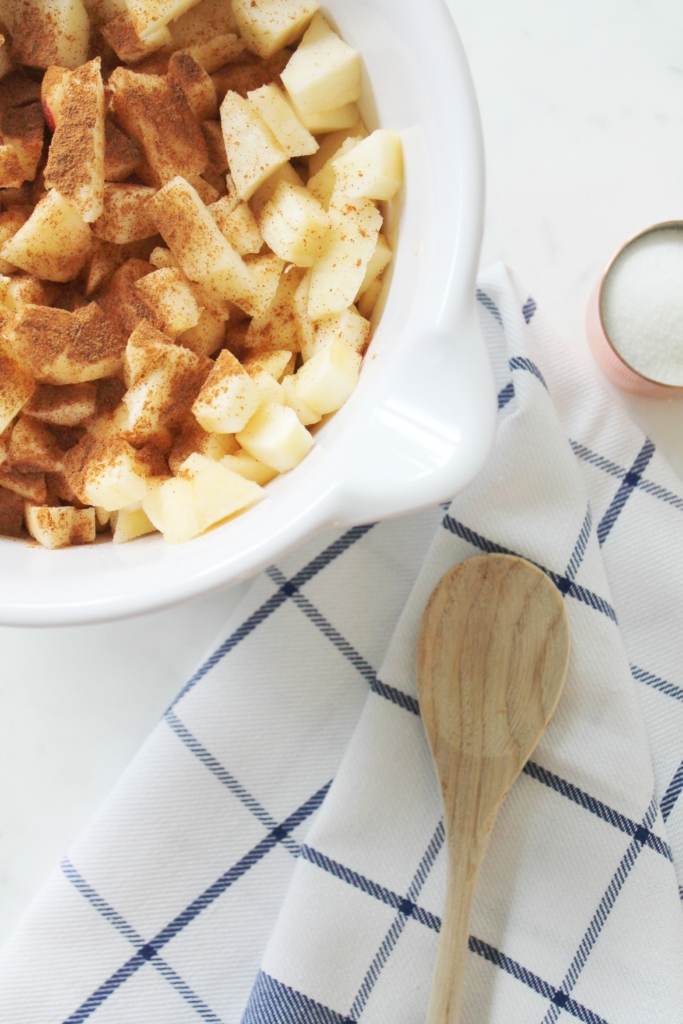 For the topping I used GF old fashioned rolled oats + GF baking flour as substitutions in order to make it gluten free.
After it was baked I topped it with all natural vanilla bean ice cream while still warm, so yummy!!!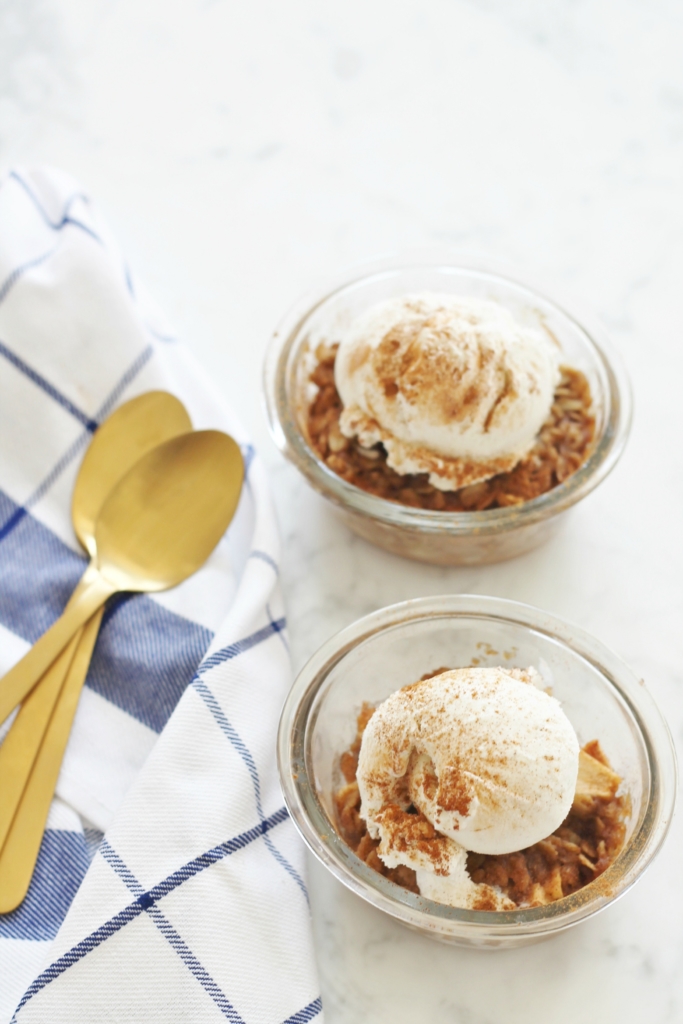 Easy Gluten Free Apple Crisp (makes 8 saucers or one full pie)
Pre heat oven at 350
For the Filling:
10 Gala apples
1/4 cup of sugar (optional)
1/2 tsp cinnamon
slice apples into small chunks into a mixing bowl with sugar and cinnamon. Pour into your oven safe saucers (or pie pan) half way full.
For the Topping:
1 stick of melted butter
3/4 cup of packed brown sugar
1/4 cup of Bob's Red Mill Gluten Free Baking Flour
2 cups of Bob's Red Mill Gluten Free Old Fashioned Rolled Oats
1/4 tsp cinnamon
1/4 tsp sea salt
1/2 tsp vanilla extract
Stir into mixing bowl, liquids last. Mix well and pour a layer on top apple mixture. Bake on a baking sheet covered 30 minutes and uncovered for 10 minutes.
Top it with vanilla bean ice cream, sprinkle with cinnamon & enjoy!
Here is the full list of recipes this week, which look amazing!!
Apple Pie Cinnamon Rolls by Ella Claire  |  Rustic Apple Cranberry Pie by Anderson and Grant  |
Apple Cranberry Slab Pie by Inspired by Charm  |  Apple Donuts by A Burst of Beautiful  |
Caramel Apple Tart by Julie Blanner
Easy Apple Dumplings by Craftberry Bush  |  Apple Crisp by House 214 Design  |
Apple Cider Scones by Everyday Occasions  |  Apple Fritter Skillet Bake by Nest of Posies  |
Rustic Apple Tarte Tatin by Maison de Pax
Paleo Gluten Free Apple Crisp by Nesting with Grace  |  Crock Pot Applesauce by My Sweet Savannah  |
Gluten Free Apple Crisp by City Farmhouse  |
Baked Breakfast Apples with Oatmeal by French Country Cottage  |
Apple Blossom with Salted Caramel Sauce by Nina Hendrick Design
No Churn Apple Pie Ice Cream by Boxwood Avenue  |  Bird's Nest Apple Pie by Zevy Joy  |
Apple Upside Down Spice Cake by Love Grows Wild
Have a happy day!