Holiday Dining Room-Recipe + Decorating Ideas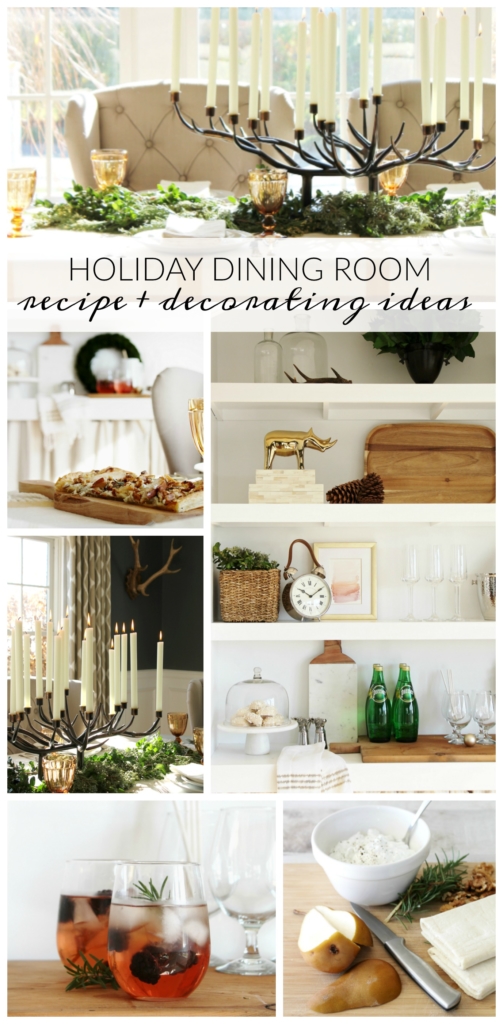 Hi friends! Happy Monday! Can you believe Christmas is just 20 days away?  I am so excited to be partnering with Birch Lane on this post and finally revealing my holiday dining room. It is filled with creative decorating ideas & a few of my favorite recipes that will hopefully inspire you as you head into this magical and sometimes stressful season. The theme in here is a rustic-glam twist on the classic gold & navy color scheme. In this room you will find unexpected touches, layered in with lots of texture (surprise) for a cozy Christmas aesthetic.
The inspiration for this space was this gold wool plaid throw. I knew it would be pretty with my navy walls. Using different materials as tablecloths is my thing, so I thought this one from Birch Lane would be perfect on the table. I absolutely love it, its neutral but also festive. Don't be afraid to use throws to soften your table, it can add a stylish touch that is fun and unexpected.
I have long admired this beautiful antler candlestick holder. I paired it with a few other rustic touches like this antler plaque, pine cones and handmade cutting boards. The warm wood tones work well with the neutrals and the wall color.  These are also items that can be used outside of the holidays and I love that.
The rug is a beautiful wool berber that works really well in the space. I thought about changing the rug to a pattern but I always love the neutral look. It allows me the freedom to change out accessories easily and softens the room. Isn't the texture yummy?!
The first few shelves of my built-ins I use as a bar, especially at the holidays. Since this space is right off my kitchen it is nice that the drinks are close, it also keeps the traffic flowing. We are members to a vineyard that specializes in sparkling wine so we always have it on hand. These champagne flutes are seriously the prettiest glasses I have ever seen. I paired it with an equally pretty hammered ice bucket.
The orbit chandelier  is also from Birch Lane. I get so many questions about this piece. You can see it when you walk through the back door & kitchen, it has that wow factor.      
I layered my open shelving with simple holiday touches like this mini Avolina Cypress Wreath, seasonal plates and a classic table clock.
A small beaded pillow gives a little glitz to the space and gives balance to some of the silver accents in the built-ins.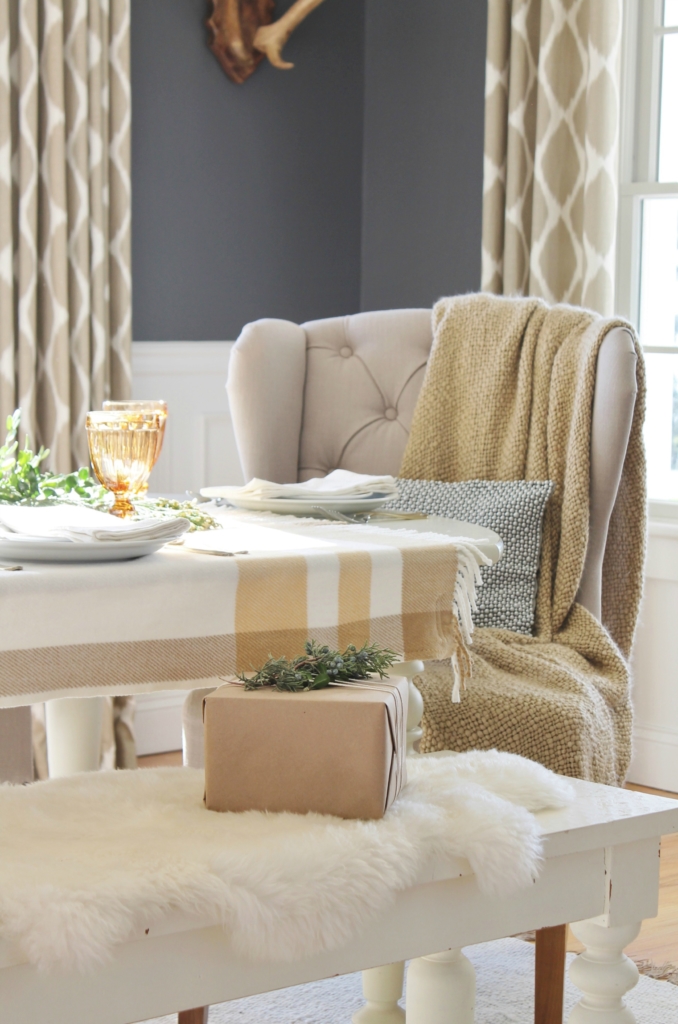 Another hue that I repeated was the wheat/amber color. I used beautiful woven baskets to hold juniper, cypress and boxwood, which will be great storage after the holidays. I also found these gorgeous goblets that are the perfect size and shade.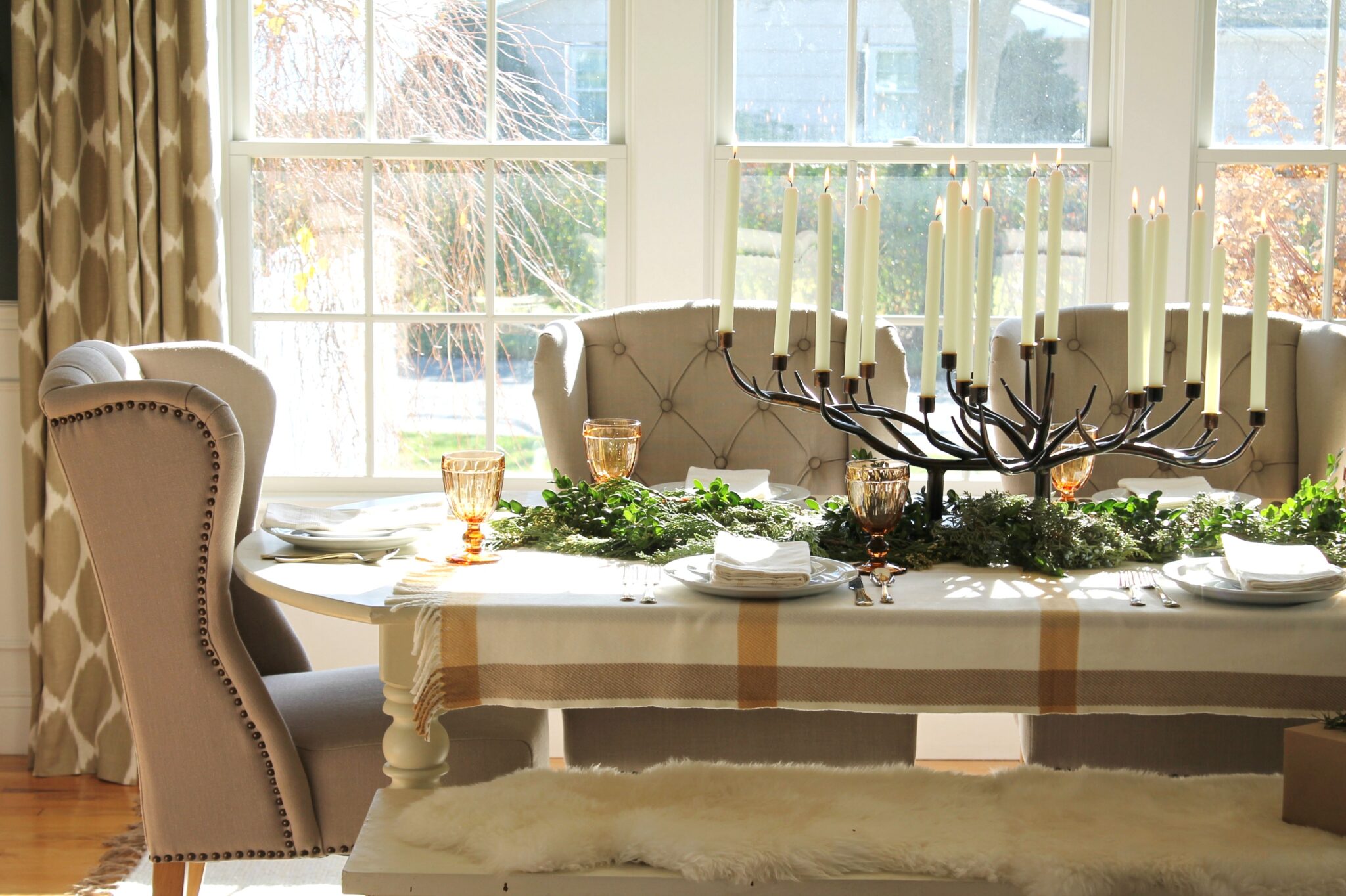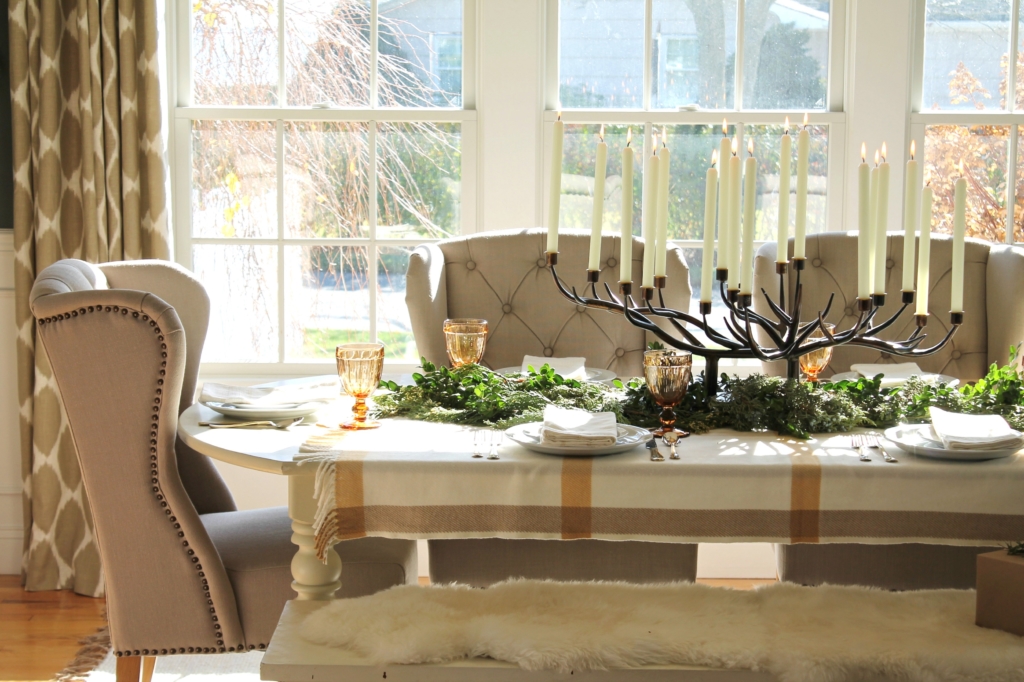 Repeating the greenery is a nice way to make the space feel connected. The wreath and Salal Arrangement bring in a darker hue of green that complements the fresh clippings on the table and in the baskets.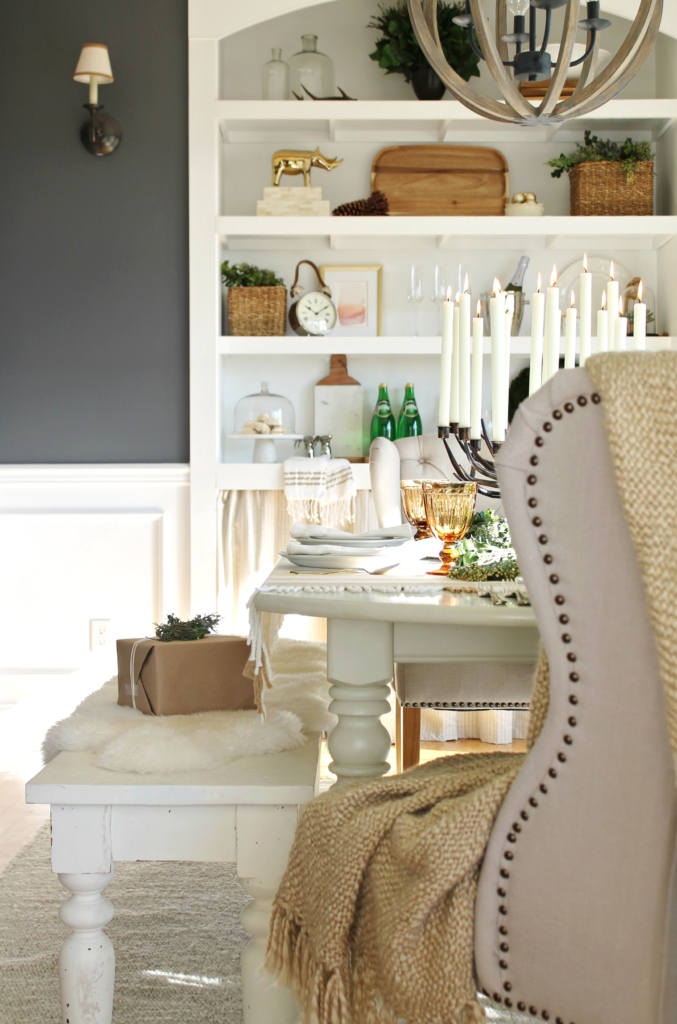 When I host at the holidays I enjoy creating a signature recipe, a cocktail to serve that is easy and fun. I like things I can make ahead of time, especially if the prep can be done a few days ahead of time. This year I decided to make a Blackberry Rosemary Holiday Spritzer, it is delish!
Blackberry Rosemary Holiday Spritzer
1 bottle of dry wine
1/2 liter of seltzer
1 1/2 cups water
1 1/2 cups sugar
small container of blackberries
a few rosemary branches
First you make the simple sugar mixture. This is the part you can make a few days ahead of time. Mix water, sugar, blackberries & rosemary into pot and bring to a boil. Reduce heat and refrigerate. When you are ready to make the cocktail you can strain it. Mix into a pitcher the wine, seltzer and simple sugar mixture. It is ready to serve over ice.
Anyone who knows me knows I love appetizers. And cheese. I am always in need of new small plate recipes especially at the holidays so I created this yummy Gorgonzola Pear Puffed Pastry. The great thing about this recipe is it can be made ahead of time and served at room temp.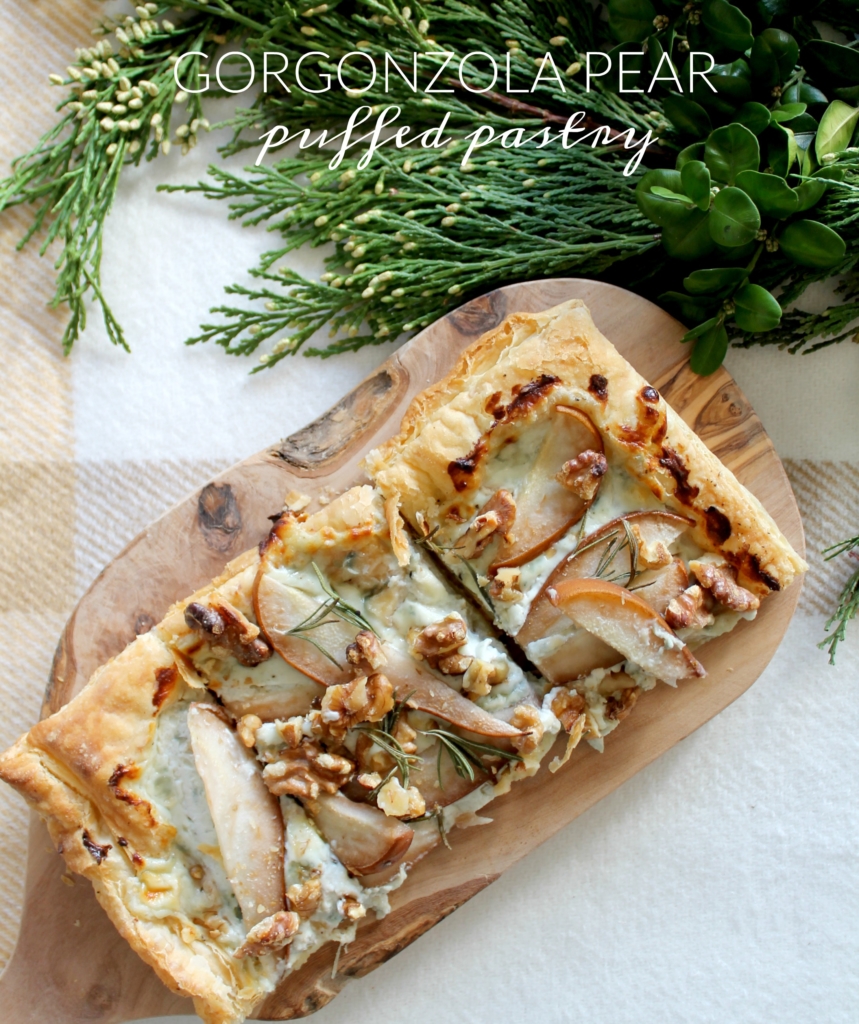 Gorgonzola Pear Puffed Pastry
6 ounces gorgonzola
1 cup sour cream
1/3 cup heavy cream
1 tsp lemon juice
1/2 tsp salt
pepper to taste
2 pears
1/4 chopped nuts
rosemary (optional)
1 box Puffed Pastry (2 sheets)
In a bowl mix cheese, sour cream, heavy cream, s + p, lemon juice. Bake your puffed pastry. Let the pastry cool then add a thin layer of the cheese mixture, sliced pears, nuts and rosemary. Bake for another 15 minutes until brown around the edges. You can serve this room temperature or warm.
Thank you for stopping by! I hope this post inspired you.
Have a beautiful day!