Creating A Space You Love
Hello City Farmhouse readers! I'm so excited to be back sharing with you today! I think one question I get asked most often, other than where is my white slip-covered sofa from? Is how I would describe my style, and went about decorating our living room.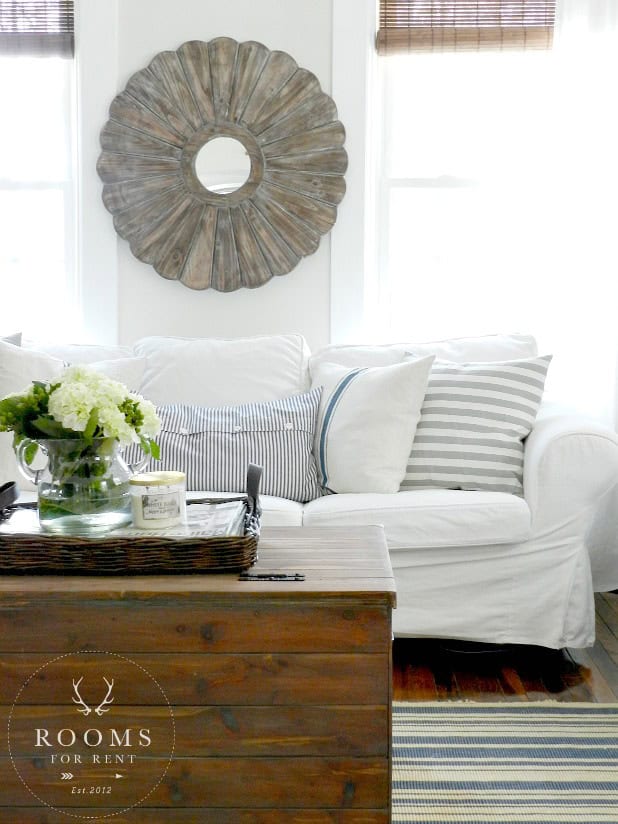 Of course it didn't always look this way, I had a love for interior design, and creating welcoming spaces, but truly loving the space you live in, that takes some time.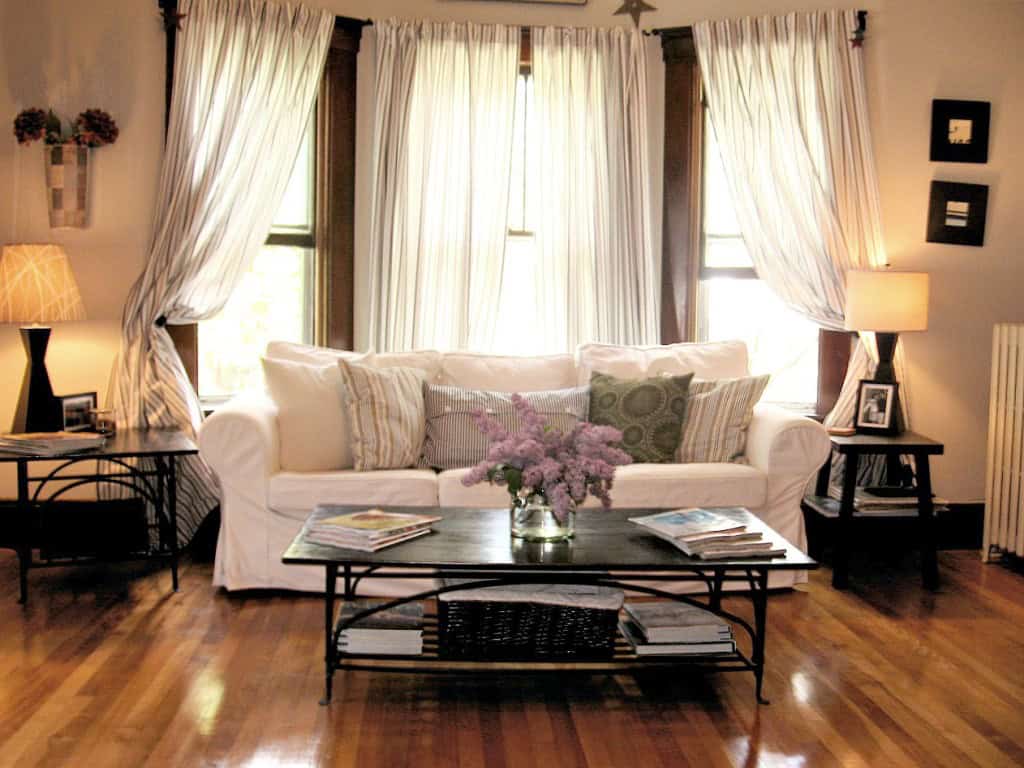 There is no magical formula for completing your perfect space by snapping your fingers. It takes time to truly put together a space that you love, and figuring out things that are pleasing to your eye, and work well with your family. We started off with our white slip-covered sofa, but once the babies started coming, I thought I had to swap out my slip-covers for something darker, because everyone told me I had to or I was nuts! So I inherited an old navy and white striped slip cover from a friend, and started working with darker colors. (To see our first big living room update, check out this post.)
I always liked colors, and bold pops of bright colors when I would see them in others homes. I liked that people weren't afraid to use color, and that you could use color without it looking stiff and boring. My first ever impulse buy was this gorgeous morrocan trellis rug for our living room. I remember seeing this pattern everywhere, and then when I saw the rug, I had to have it. I had never done anything like that before, just see something and have to buy it, but we were already in desperate need for a larger rug for our living room, so it made the purchase seem practical as well.
What I didn't realize was it would be the breaking point for me in truly loving our space. It's hard sometimes when trends come not to fall into the trap of feeling like you need to take part in every trend that comes our way. Especially when they are really popular, and stay around for a while, and you see said items in everyone else's home, so why wouldn't you like it in your own? Don't get me wrong, I still love this rug, love the pattern, love the style, but it was taking me further away from the ultimate space I was craving. This is when we have to ask ourselves the ultimate question, "Are you truly loving the space you are in?". There is nothing wrong with the space in the photo above, nothing at all, but for me, I just wasn't loving it. Thankfully one Christmas I decided it was time to bring the white slip-cover back out to emphasize my "White-Christmas" feeling. It made me so happy to have my white sofa back again, and even though my kids were 3 1/2 and 2, I was willing to wash my slip covers regularly to have the space I was craving. We re-arranged our living room, and the white slip cover was here to stay.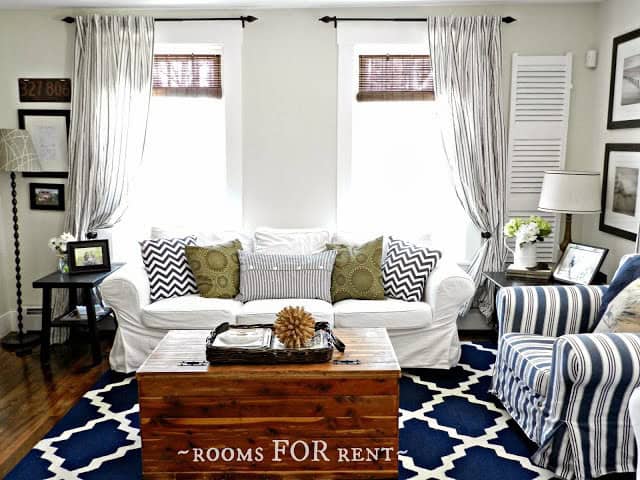 Then I got the courage to paint our walls Halo, by Benjamin Moore. It was the closest shade to white I felt I could comfortably go without going all white. It's funny though, with the white slip-cover back on, and our walls a more neutral shade, things still didn't feel as calm and neutral as I was wanting. I think one of the hardest things about creating a space you love is not being afraid you will make a mistake. But it's in the mistakes we make that truly help us know what we love and what we don't. Mine happened to come in the size of an 8X10 rug at a price tag of around $300. I know, Yikes! But you see if I never made that impulse decision, I would still always be wondering if that type of rug would work in my space. Remember I still love the rug, and love the style, so you can love something, but in this instance I needed to appreciate this trend from afar, or not on such a large scale. Like my entire living room floor! So I sold the rug, and swapped out the bold patterned pillows (also loved), for something a bit more calming.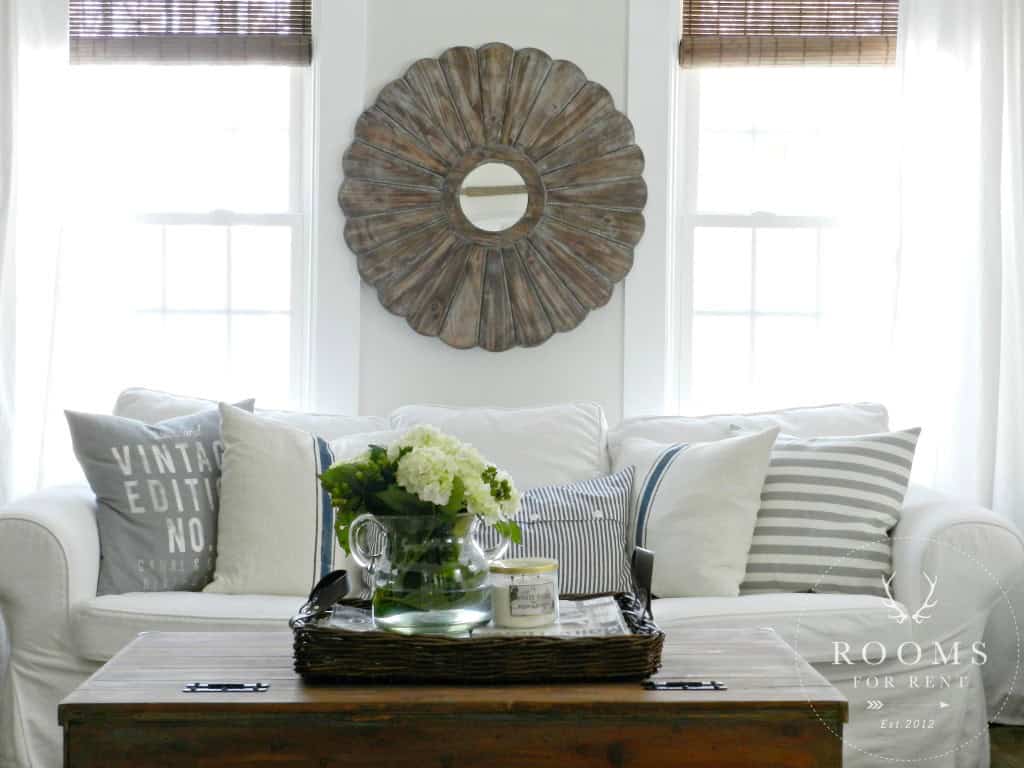 I went back to pictures of my favorite spaces, and made notes of items in those spaces that I really loved. While I love blue and white ticking stripe, I didn't need an entire sofa of it. So one pillow in the middle worked just fine. I also loved vintage grain sack, but not having the funds for real ones, I DIY'd my own. One color I noticed was drastically missing was gray. I loved gray, why hadn't I thought of bringing it in before? Now my color palette was complete. White and gray, with touches of blue, but the real things that I craved to pop were the weathered wood pieces used throughout the space.
I temporarily brought in an old blue & white rug we had from Pier 1 years ago, which since this photo has been swapped out for a neutral jute rug. And most recently, finally swapped out that last blue and white slip-cover for a white one on the chair to the right. It had seen better days, and honestly I can keep the white ones cleaner, so it was time for an update. But now I'm in a space I can truly say I love, and there is nothing more satisfying than being able to curl up and relax in a space you love.
You can see more on how I created this neutral space here.
Stay in touch!
Instagram / Pinterest / Facebook
Have a design question? Visit Doucette Design Co. for all your design needs!

***************
Thank you Bre, what a great post, I think all of us can relate to this:).
Happy St. Patrick's Day friends!!!