Style House March-The Chronicles of Home
Hi there, City Farmhouse readers!  I'm Jennifer from The Chronicles of Home and I'm so flattered that Jen invited me to be her guest for Style House March!
I'm a Philadelphia girl at heart but live now in the Boston area with my husband and our two daughters, who are two and four years old.  I love salvaging, refinishing, and reupholstering old furniture, building furniture from scratch, home design and decorating, and cooking and eating good, delicious food.
We bought our semi-fixer-upper of a house in the suburbs five and a half years ago and have loved working on it and learning along the way since then.  Our sweet girls have certainly slowed the pace of our projects, but they bring us so much happiness and love to work on their own little "projects" while we do ours.  I think we may have a couple do-it-yourselfers in training on our hands!
I'm thrilled to be able to share some of my favorite spaces in our house with you today.  Let's start where you'd walk in if you were actually here: our entryway.  Our house is a classic updated Cape style and you walk through the front door into an open hall space with the stairs across from you.  I just recently removed the old carpet runner from the stairs and gave them some fresh paint and installed a super easy faux beadboard treatment on the wall.
The room open to the hallway on the right is our living/family room.  It's a very casual space where we watch TV, chat by the fire with friends and family, read to our daughters, and just generally hang out.  I love the built-ins that flank the fireplace and have spent countless hours arranging and rearranging them.  I added the raised panels on the doors and the dentil moulding along the top of the shelves and under the mantle.  I love the polished look decorative moulding gives to a room and have added lots of it throughout our house.
A big project I'm currently working on is stripping our sofa down to the frame and reupholstering it in a gorgeous ivory velvet.  I'm toying with the idea of adding some nailhead detail to it too.  I can't wait to finish it and share the new (and hopefully improved) sofa!
Our kitchen is at the other end of the hall.  We facelifted the kitchen on a tight budget, opting to keep the layout and the cabinetry to save cost.  The cabinets were in great shape but were that dated "80's" oak finish.  We replaced a few of the upper cabinet doors with glass doors, added some beadboard detail to the peninsula and walls, and painted everything an antique white.  We also replaced all the cabinet hardware, added granite countertops, a tumbled marble backsplash, new tile floors, and bought all new appliances.
My first furniture building project was this upholstered bench, which I love when I have friends with me in the kitchen.  It's almost like having a little sofa in here!
The kitchen eating area is where we have dinner together every night and even though we have a dining room, I find we often eat here when we have friends or family over for dinner too.  Partially because it's cozy and casual and partially because a tile floor is much easier to clean than a rug when you have a very enthusiastic but kind of ridiculously messy two-year old eater at your table.
Moving upstairs now to the master bedroom, I added moulding to the walls in large boxes and painted everything a warm coffee color.  I used the upholstered chair in our room as the main inspiration for the palette, which is French blue, tangerine, and ivory.  It's a definite departure from any other room in our house but I think a bedroom is a great room to play with color a bit and I still love it after five years.
One of the biggest changes we made to the house was converting the single upstairs bathroom into a master bath and adding a small second bathroom for our daughters.  We completely gutted the existing bath and added a glass-walled steam shower, double vanity with furniture-style feet and British Cane inset panels, and white marble on the floors, shower walls, and countertop.  I love the simple color palette in here and the contrast of the dark wood against all of the white marble.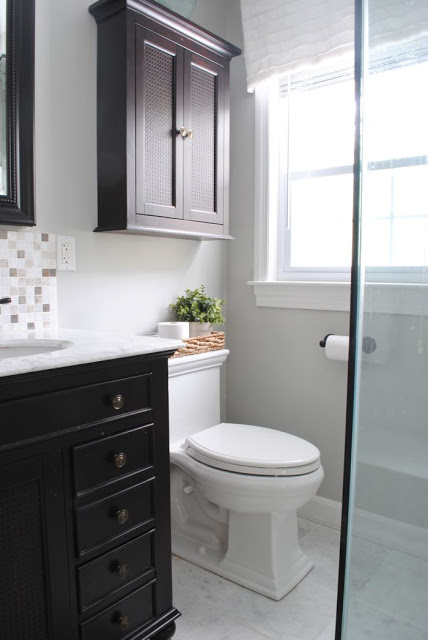 My daughters' bedrooms are still semi-works in progress, especially as we transition my two-year old's room from nursery to "big girl room" but I love how they're both coming together.  My four-year old's room is ivory, cranberry red, and turquoise and my favorite part is the recent addition of this DIY faux capiz shell pendant.
My two-year old's room is aqua, raspberry pink, and straw and I adore these pillows I recently made for her bed using napkins by Roberta Roller Rabbit.
Thanks again to Jen for inviting me to be a part of the Style House series!  And thanks to you all, City Farmhouse fans, for reading along and touring some of my house today.  Hope to see you over at The Chronicles of Home sometime soon, where you can see more spaces in my home and lots of DIY projects and tutorials.