I know that some of you may have been wondering where the heck I have been. I have been out of the loop big time and I so apologize to all of my blogging friends for being gone for so long. I do have a good excuse. I am 16 weeks pregnant and I have been SO sick for most of it.
I was sick while I was pregnant with my son but not this sick, so many crazy things happened to me this time. While I was sick I spent a lot of time feeling guilty for not being over the moon and blissfully happy everyday. I am not sure many people who are vomiting everyday can be happy but just the same, I am a mother and an Irish Catholic, so yes guilty I felt. Until a routine doctor's visit changed my perspective. Feeling awful, like I had the flu I looked at a poster on the wall, it was a growth chart of a fetus and it hit me like a ton of bricks, "what an amazing miracle." Having a child already I have thought this a million times but this pregnancy was so hard that I spent a lot of time just getting through each day while trying to still be the best mom to my little guy. So anyways there I was looking at this poster and thinking how lucky I was, TRULY LUCKY to be a women and how blessed I was to be carrying this child. It's really is all how you look at things in life. If you start your day thinking and believing that you are lucky and feeling grateful and happy then it makes life that much sweeter, that much better and you realize it's all worth it.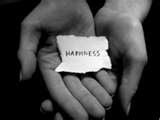 Off to get something to eat! Have a great Saturday everyone!