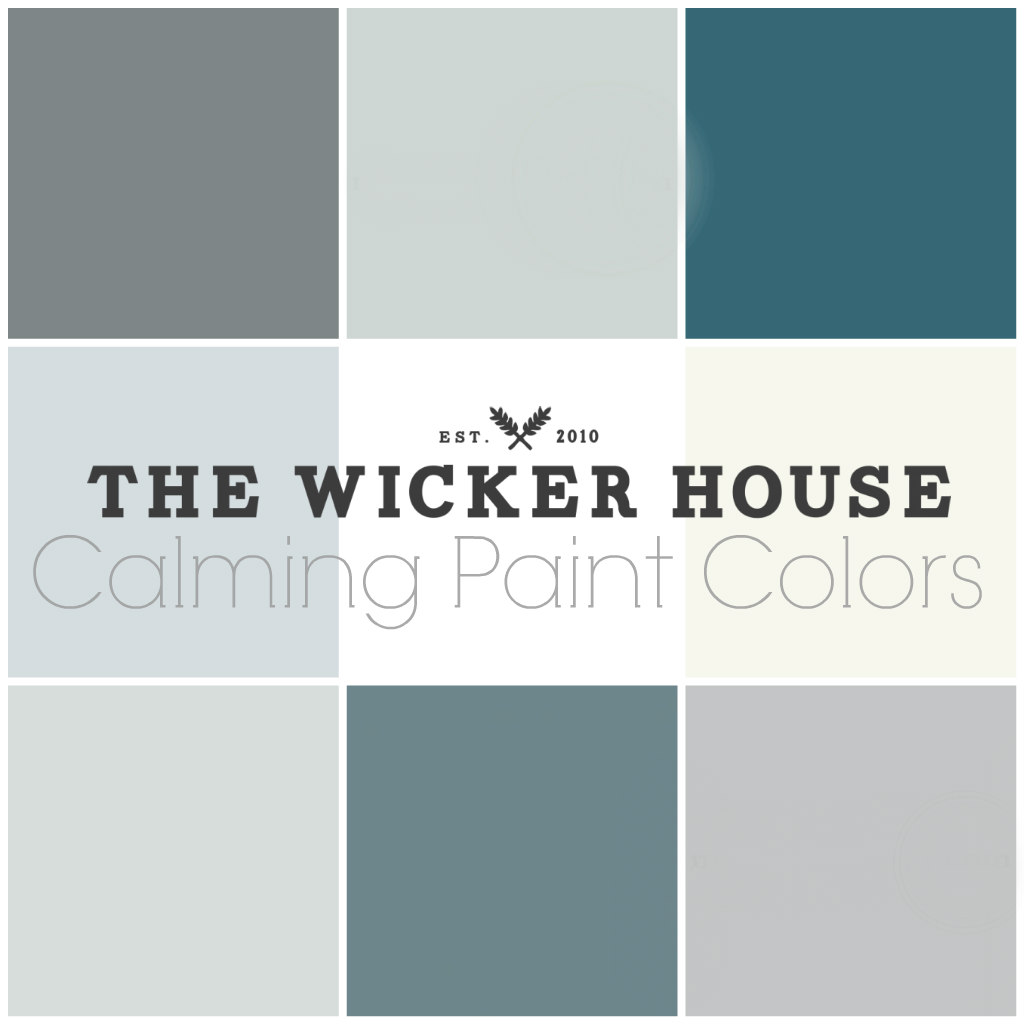 Believe it or not, I have a really tough time choosing paint colors for our home. There are so many different colors out there to pick from that it makes finding the perfect color for a space a bit overwhelming.
By sharing our paint colors with you today, I'm hoping that I can help you by letting you see how these particular colors look in a room. You will probably notice that these colors all flow nicely together throughout our home, this is something that is important to keep in mind when choosing new colors for your own homes.
Lets start with our front door.
Going with this bright of a blue for our front door was a big move for me.  As you can see from the above color palette, I usually stick with light and calming colors, but this pop of color was just what the exterior of our house needed, and I have never regretted painting it.
In fact, I liked this color so much that I painted the interior side of the door as well.
I like that this cheerful color is the first thing you see when entering our home and the last impression you get when leaving it. This by far has to be the most asked about color in our home.
When you walk into our home you are greeted into our open living and dining room. I kept the spaces undivided by painting it all in the same color.
This soft blue is light enough that it works great as a natural.
I also think this color looks really pretty with all of the white molding that wraps around the room.
Off of the living room is our sunroom/home office. In here I have used a warm gray on the walls.
Our kitchen has probably been painted more times than any other room in our home. At the moment I have this teal color on the walls.
There is so much white in this room that really any color I paint in here is going to pop and look great.
In my boy's shared bedroom I went with a medium gray color called, Secret Passage. Great name for a boy's room, right?  Sometimes it's the paint names that are the deciding factor, am I right?
The main bathroom in our home has navy tiles on the counter tops and navy and white tiles on the floor, so it was a no-brainer to go with blue paint on the walls.
Heading upstairs is the master suite. I wanted to paint the walls up here white, but when it came time to paint, I went with a bit of an off-white instead. I wanted to give the room a soft feel, and I was concerned  that a white might be a bit stark.
This color is really pretty, I'm actually thinking of using it again in other areas of our home.
Oh, and did you know those aren't real planks on my walls?  I've actually drawn them on with a pencil.
And the last room in our home that I wanted to share with you is the master bathroom. This color has a bit more blue in it then it looks in the sample.
With the angled ceiling taking up much of the wall space, I made the decision to use one continuous color on all of it.  I also wanted to have a color that blended with the tile rather than compete with it, so this color was a winner for sure.
 As for all of the white in our home; The trim, doors, kitchen cabinets, furniture, All of it, if you see white then this is the paint I used to paint it.  Olympic One is my absolute favorite.  I just grab it off of the shelf at Lowes. I'll have it stirred, but never tinted.  I've actually gotten in a few arguments with the Lowes associates claiming that I HAVE to tint it, but I have found that I like it just the color it is.
And that completes our home's paint colors tour … well for now, I'm sure I'll be back to choosing new colors to repaint these rooms in no time.  I have a problem, I just enjoy freshly painted wall too much.
Thanks City Farmhouse for having me over today.