My New Chair + 5 Reasons To Love Leather
Hi friends! I have been keeping a fun, little secret. I finally got a new leather chair for my family room!!! I thought today was the perfect day to reveal this beauty because ironically enough, we closed on our home 5 years ago today.  Gosh, I remember it like it was yesterday. There was so much excitement going into buying this home mostly because we had waited 4+ years to find it, crazy right?! But so worth the wait! Moving in we had just a few pieces from our old house in Colorado but this was a whole other style here in coastal NY, so little by little we bought a few things here & there. I found a lot of thrifted furniture, did some DIY's and purchased our IKEA Ektorp Sectional and that worked for a while, but it always felt like it was missing something, that perfect chair. I have been looking for this chair for years. I decided on leather a while ago & began looking into vintage chairs. I longed for that perfect color of caramel or cognac with a worn patina. You can imagine my surprise when I found my dream chair new, at Bryght. It was love at first sight, it was the right color, the perfect size and the shape was more modern, which was exactly what I had hoped for. It's a great feeling when you hold out for something you really love, isn't it?!
You may be wondering why the placement is the way it is. This room has a few focal points. The water view is one [you can see the other side of the room HERE], the fireplace is another and lastly the television.  I wanted the room to feel intimate for conversation and still be able to see the view.
I want to tell you more about this chair & why I love leather so much. First, this chair is the MOST comfortable chair I have ever sat in, now factor in that it's leather and that blows my mind. Fun fact- I worked at a custom fabric & furniture shop so I know a good sit when I feel it:). My boys fight over this chair, my poor husband, we actually need a schedule for who gets to sit in it and when, no seriously, it's that awesome!
Why I love leather so much…well take into account I have a light slipcovered sofa, I thought it would be a nice balance. Here are my top 5 reasons, 1. it's easy to clean and maintain 2. it adds a warmth to a space like you wouldn't believe, lighter tones work best 3. It's comfortable 4. It's timeless 5. It adds a personal style to the space.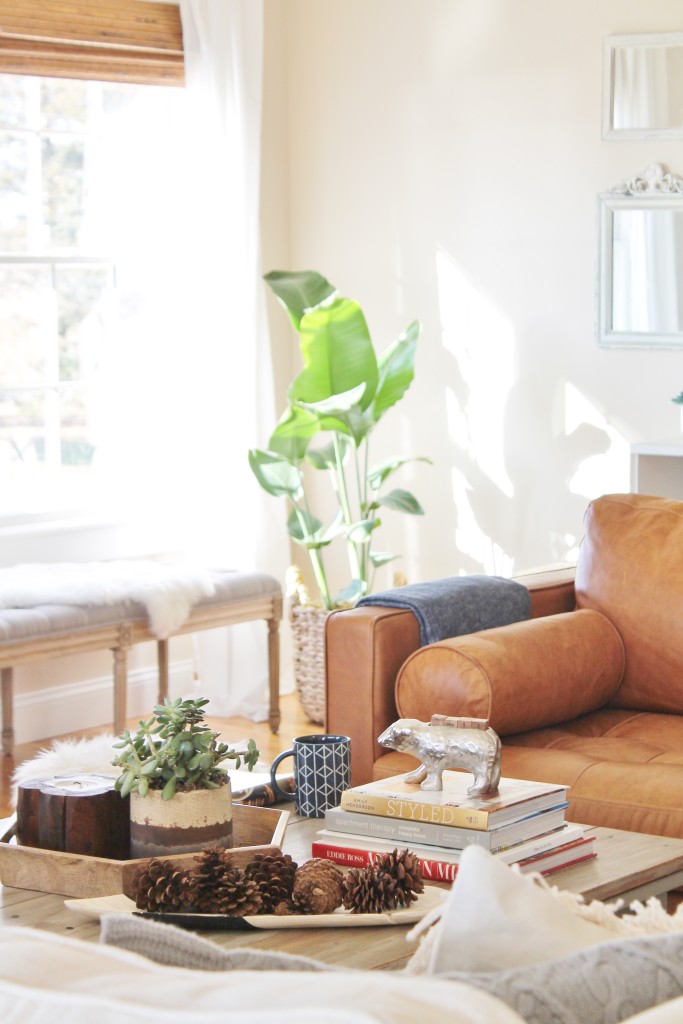 I realize it may seem frightening to buy a piece of furniture online without  being able to sit in it or test it out. Taking measurements and actually taping out the floor and/or comparing the size & height to something you already own is a great idea, that is what I did. Also, look into the cushion materials and reviews are also a helpful idea.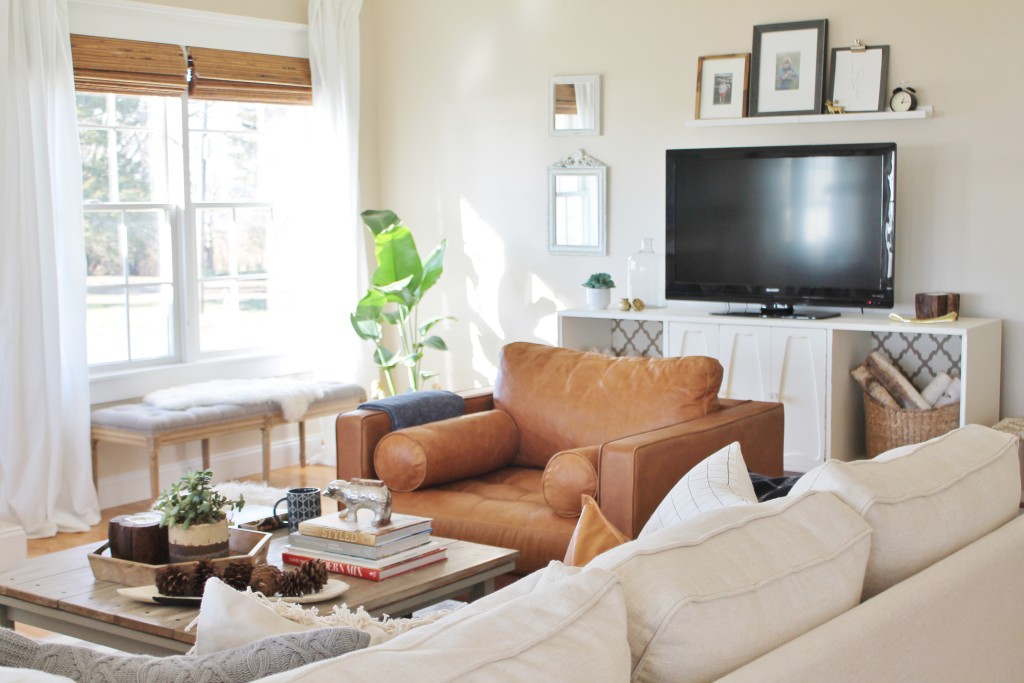 Bryght is a mid-century modern home furnishings and accessories online shop. Their customer service is amazing and I personally love mixing modern & farmhouse styles together, so this was a match made in heaven. You can find the Sven chair HERE.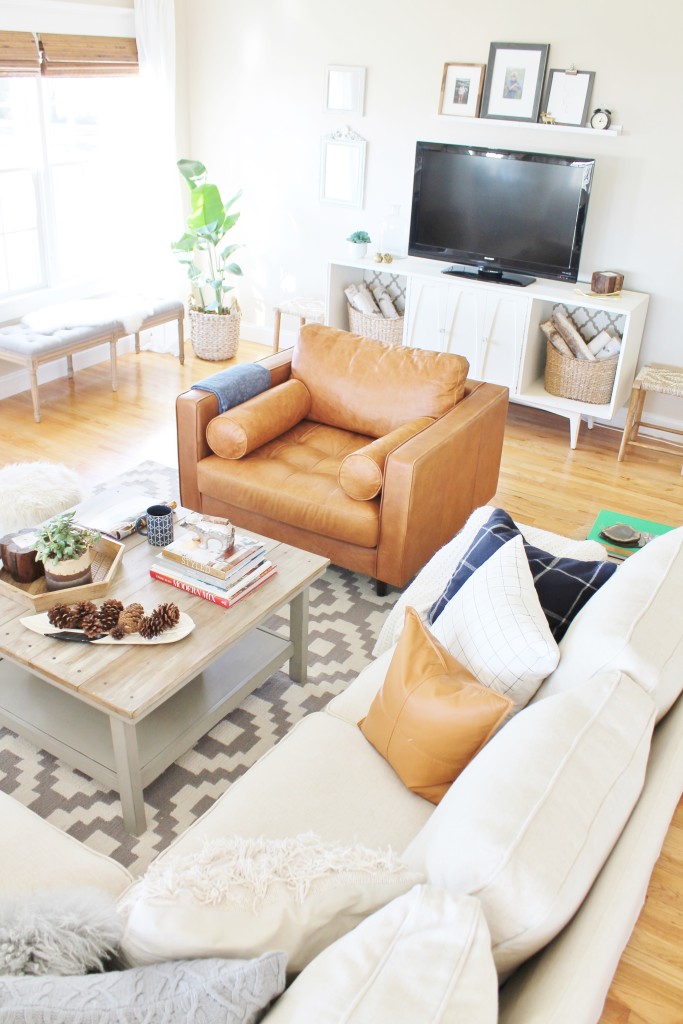 To date my favorite, all time thrift store find was this mid-century media cabinet. It was just $10, can you believe it?! This leather chair is the perfect compliment with it.
Things take time, a loved and layered space doesn't happen over night and it's ok if your home isn't exactly the way you want it today, you will get it there & when you do you will relish in it even more. Plus, that is part of the fun, isn't it? It has taken me 5 years to find the perfect chair and to make this room finally feel complete. Enjoy the journey of making your house a home, whether it takes a month, a year or 5:).
This is a sponsored post from Bryght, product was given to me in exchange for this post. All opinions are my own.
Have a beautiful day!