New Contributor + All Natural DIY Household Cleaner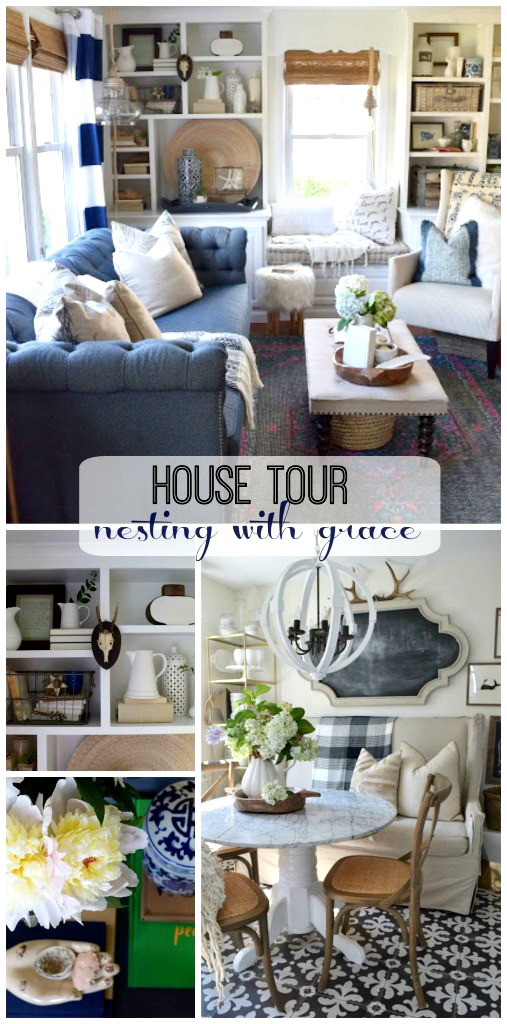 Hi friends! I have some exciting news!! Brooke from Nesting With Grace has joined City Farmhouse as a contributor! You may remember her stunning 
house tour 
I posted a few months ago, you all loved her style so much that I thought she would be a perfect fit for my blog.
*****************************
Hi City Farmhouse readers, my name is Brooke, I blog over at

Nesting With Grace

& I am so thrilled to be here! I shared this image on my Instagram the other day. I had company coming so that means I needed to mop my floors. I snapped this picture of my sink filled with vinegar, cut oranges and lemons to minimize the vinegar scent. It
 shocked me by how many people liked such a simple photo. It shows me that everyone appreciates finding beauty in the everyday tasks. I received a lot of  questions like "I need to know how much vinegar you use" or "you clean your floors from your sink?" and "please tell me your method!"
So I thought I would share my All Natural DIY Household Cleaner with you…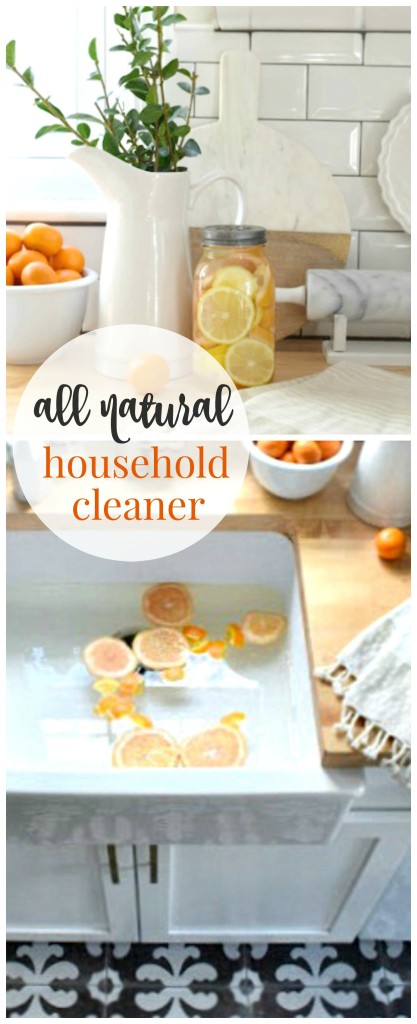 Yes, white vinegar is a disinfectant. It also acts as a deodorizer and cuts grease. I researched it and you can tackle household bacteria like salmonella, E. coli and other "gram-negative" bacteria with vinegar in your kitchen or anywhere else in your home. 
I used to run a high-end design store that could produce half a million in sales in a month. And you better believe we were profitable. But that didn't stop me from bringing in a spray bottle with my vinegar water to use on our glass and any surface we wanted to clean. I wanted a healthy work place that didn't smell like chemicals. And I like to think it contributed to our profitability, it will save your pocket book too! Not to mention cleaning with old tee shirts instead of paper towels. I think buying paper towels is like throwing money away, we are just used to not having them.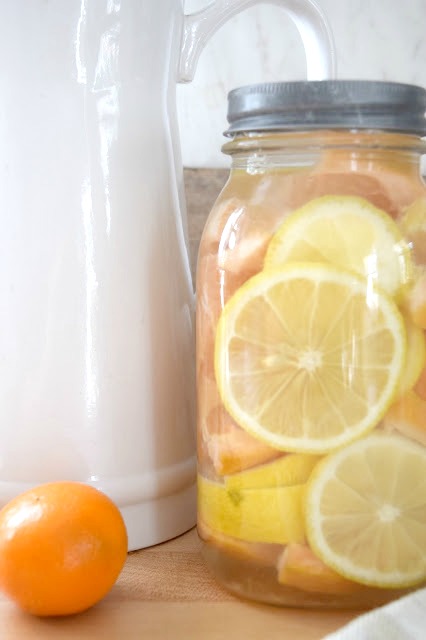 Someone on my Instagram told me they use equal parts water to vinegar to clean their floors. I don't. My husband seems to complain when the smell of vinegar greets him at his car door. The more vinegar you use the more it sanitizes. If you have a baby crawling around eating food off the floor, then more vinegar or if your floors are really dirty bring on the vinegar.
This is my method for my floors-
I fill up the kitchen sink with warm water. Then I pour in vinegar, it normally ends up being 1-2 ratio. 1 part vinegar 2 parts water. It really gets them clean! I add sliced lemon, orange and grapefruit. When I am done I like to send them down the disposal, to make the broccoli smell go away! I do the down on my hands and knees method and scrub with old tee-shirts that I cut up. You could also put the mixture into a spray bottle and spray as you go along, that would be a very easy method. I use this method on the tile in my kitchen, the wood in the rest of my home and the marble on my bathroom floors.
All purpose green cleaner-
Fill up a glass jar with sliced up fruit or the peels if you want to eat the fruit. I use oranges, grapefruit and lemon. Cover the fruit with vinegar. Let it set for about a week. Take out the fruit and fill the rest of the jar with water, should be about equal parts.
You can use this for everything! Wipe down your counters, clean your stove, fridge, floors, mirrors, glass etc.
If you don't have time to let the fruit sit just add it to your vinegar water mixture and it will still add a nice scent. You fan also go without the fruit all together, I have heard of people adding essential oils.
Here are a few other things I use vinegar for-
To get stuck on food off of a pan, I always have the hardest time with my muffin pan and my frittata pan. 2 cups of water and 1/2 cup of vinegar.  The food will soften and lift off in a few minutes.
Disinfect toys with the 1-1 ratio or vinegar and water. Let them soak in you sink or spray them and wipe them down.
Pour a cup or two of vinegar inside the toilet bowl to disinfect and allow it to sit for at least 5 minutes.
I do like to use scrubbing bubbles for my tubs. I feel that is the only way to get them bright white. I rinse them after with vinegar water to get rid of the bleach in the tub.
Love to hear how you use vinegar in your home!
You can read more about my kitchen HERE.
You can find me on the BLOG/FACEBOOK/IG/PINTEREST. Thank you for stopping by!
 ******************************
 Thank you Brooke! Have a fantastic week!