My Paint Saint-Everyone Needs One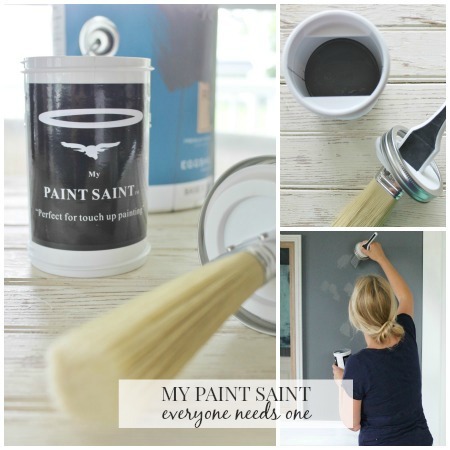 Hi friends! Happy Friday! We all know starting a small business isn't an easy task, most of us have either been there or know someone who has. Being an entrepreneur myself, I know the feeling well, that is why if & when I see a good business idea I want to help. Today, I am so excited to share with you The Paint Saint.
 Mark Lacy-the inventor has come up with a convenient solution to a problem every homeowner faces, paint touch ups. I don't know about you but when I have to go to the basement to bring up a can of paint, pry it open & then stir it, I tend to put it off. Lets face it, we have a gazillion other things in the day to do, so why not make this chore an easy one we can check off our list, right?!
One of the many things I love about this product is the way it stores. Once you pour the paint inside and use it, you can just screw the air tight top back on and the paint & brush stays fresh, genius!
Another thing I love about this product is the label on the backside, so you can write the color & room.
This product is very easy to use and stores nicely, no more messing cans of paint for this simple task.
If you are thinking you need this product & want to support this great business idea, here are the prices,
 1 MPS $20 including US shipping
2 MPS $35 including US shipping
3 MPS $50 including US shipping
4 MPS $65 includes US shipping
Credit cards will be accepted, but no Paypal and shipping will be in November.
There is a special discount offer for you, if you purchase MPS from 7/1 – 7/7 and come back & leave me a comment that you did, you will receive 10% cash back & delivery in October!
A MPS that costs $20, including shipping now will only cost you $18, including shipping.  What a deal!
This offer is limited in quantity & duration, so get over to the My Paint Saint page & get one, or better yet, a set, for yourself! Then pop back over & tell me your name & that you made a purchase.
When your MPS arrives open it up to find your discount inside!
These also make great holiday presents!!!
****************
There is no compensation for this post. I just wanted to share this great idea with all of you. You can read more, watch the MPS video and purchase one HERE.
Have a beautiful weekend! Happy 4th of July!