It's always fun to get to know people better so I was delighted to find that I had been tagged by
Karyn
to share 6 unimportant things about myself that make me happy.
1. First cup of coffee in the morning in my favorite & very large Starbucks cup.
2. Remembering happy & simple moments of childhood.
3. First snow fall.
4. Picnics at the beach.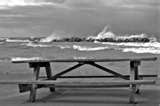 5. The smell of fresh cut Lilacs.
5.Looking at old photographs, the older the better.
6. "The Holiday"- I NEVER tire of watching this movie.
I would like to pass the torch to Megan, from
White Flower Farmhouse
, Lulu from
Lu Lu & Co
., Jeanne from
A Bushel & A Peck
, Jennifer from
A Charmed Life
, Danielle from
The Vintage Dragonfly
, and Darlene from
Flax & Spindle
.