Appreciating the Home You Have + Kitchen Plans
Hey there friends! I thought I would pop in and share some thoughts on appreciating the home you have. I think it is so easy to get discouraged by the beautiful & perfect images we see online, many times it leaves us with the idea that what we have isn't enough. I think deep down we know it is enough but we get sucked in and play the comparison game. And we all know that comparison is the thief of joy.
I have to constantly check myself, being a blogger I need to be up on all the pretty & trendy things out there but at what cost? When I start to get that tinge that my home isn't enough I pull it back and stay off SM for a few days. It keeps me grounded, because I know at the end of the day how hard we fought to be back here in NY, how hard we work to live here, the amazing community in which we live, our location, the summers & falls and how lucky we are to have a home at all. These things can't be measured by all my perfect projects and spaces I have created or by how pretty my home can be. I sincerely want you all to know by no means is my house even close to perfect. I don't ever want you to see something I have done and have it make you feel bad or that your home is less than. This blog is meant to inspire, uplift & give you easy ideas you can do in your own home.
I remember when my sister-in-law bought her current home, she was saying how overwhelmed she felt because there was so much to do. I told her to enjoy the journey in making her house a home, that it takes time and that she had plenty of it (time). We were living with my father at the time and the thought of owning a home again was such an aspiration that I had such clarity to lend. At the end of the day, especially during a time when so many are without a home, it's about appreciating what you have.
Just to put things into perspective my house is currently a disaster. I have my den pulled apart, I have stuff lined up along the wall in my family room and the boys made a fort last night so my pillows are everywhere. I just finished the boys playroom so I still have the ladder in the hallway along with all the baskets that didn't make the shoot. Haha, do I sound crazy? Welcome to a bloggers life:)! It's all good things & I truly LOVE what I do! So when I come to you with projects that seem perfectly styled, know there is most likely a mess in the other room somewhere, lol!
As most of you know John isn't handy, like at all. He takes full ownership of this undeniable fact. Which means I pretty much do everything around here and that takes time. You aren't going to find us renovating & taking down walls but hopefully what you will find are projects you can tackle. Trust me, if I can do it then so can you:).
Now that that is out of the way I want to share some thoughts on my kitchen. Some of you may remember I was going to tackle a small kitchen reno a few years back. Things happened personally and I came to the conclusion that it needed to wait. We were thinking new counters, backsplash, appliances, painting cabinets, new hardware, etc… and that takes time. I realized after we pushed it back that my kitchen is one of the reasons we bought our house and I should appreciate it fully whether or not it is exactly the way I would want it. So I have decided to do small things to make it feel updated such as lighting, rugs, chairs, hardware, faucets & rugs. We are also capping one of the supports to make it look like a rustic wood beam and adding another one. I rarely share images of my kitchen because it doesn't photograph well and feels dark. To be honest, I was also caught up in having the perfect, magazine worthy kitchen, you know white counters, marble backsplash, gray cabinets, brass accents. Well, it isn't going to happen right now but when it does I will feel grateful, just like I do now for the one I have. I am not on any one else's timeline but my own.
This was from when we first moved in 6 years ago….
Not really styled….
Then fall 4 years ago….
A shot from a few years ago when my dining room was blue. Now it is white and is a den:).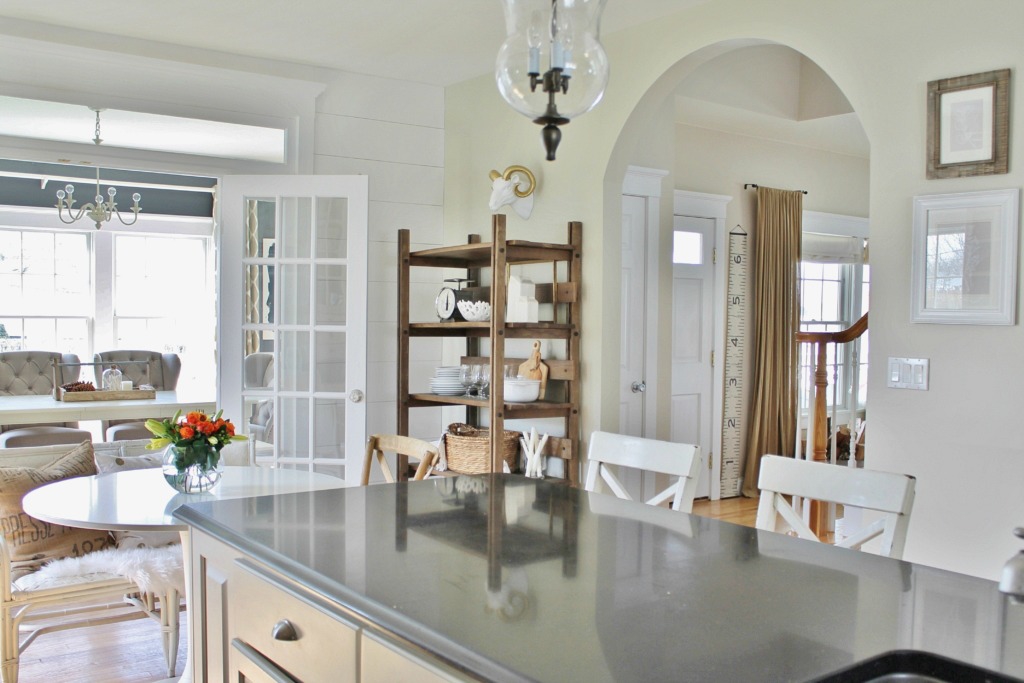 Another one…
Tomorrow I will be sharing our faux wood beams!! Be sure to check back.
Have a happy Friday!