Mudroom Shoe Storage Solutions
Hi friends! Are you ready for the holidays? I am in pretty good shape, I think, I hope! Even though we are not hosting Christmas or Christmas Eve this year I have already hosted some fun events for my boys. For me, the holidays are a great time to get organized, I know it sounds silly because January is usually the month that inspires organization but lets just say December is my warm up month:). I have done a dry run with most of my first floor and that includes my mudroom. With the winter months ahead,  going through shoes and keeping just what is needed is a must.
When we first moved into our home I had no idea what to do with my super tight & slender back door mudroom. For the longest time I used a bench with drawers I found on clearance from the Pottery Barn Outlet. It was fine for scarves and gloves but the shoe and boot mess left me wanting more for this area. Because it was tight & a weird shape, I had to think vertical, after looking for a bit of time I found it!!! An old canning shelf from the 1940's for just $75! It sort of looks like this shelf below from Better Homes & Gardens. I am sharing a ton of clever ways to store shoes & boots using vintage pieces over at BHG Style Spotters, you will be blown away, really! Some only costs a few dollars and you may even get some ideas for re-inventing a piece you already have.
To read more of my article over at Better Homes & Gardens click HERE.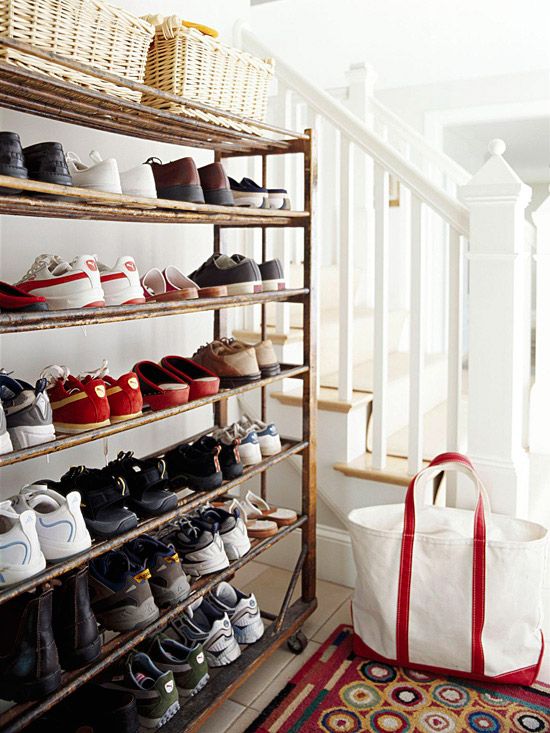 BHG
[via]
I will be back next week to share some thoughts on the year and the year ahead. I want to wish you ALL the happiest of holidays, I hope you enjoy every minute of sharing time with your family & friends!!!
Have a beautiful day!