Shades of Blue House Tour
Hello City Farmhouse readers! Jen is one of my favorite friends and I have admired her home and design sense for a long time, so when she asked if I wanted to share a my home with you all, of course I was humbled and grateful (and EXCITED!!). As a brief introduction, my name is Rachel and I've been blogging at Shades of Blue Interiors for a little over 3 years. I started out sharing mostly painted furniture makeovers because that was my passion as I sold my creations at vintage fairs and on Etsy. However, my interests and artistic passions have evolved to include more furniture building, crafting, interior design, and lots of DIY in order to create a home I love– a home my family loves. Speaking of family, I am a proud mama to 2 boys and 1 little girl, and we are transplant midwesterners! My husband is from Brazil, I am from Alaska, but we have both loved making the midwest our home for the past several years, especially since we purchased our first home (ranch-style), almost 2 years ago.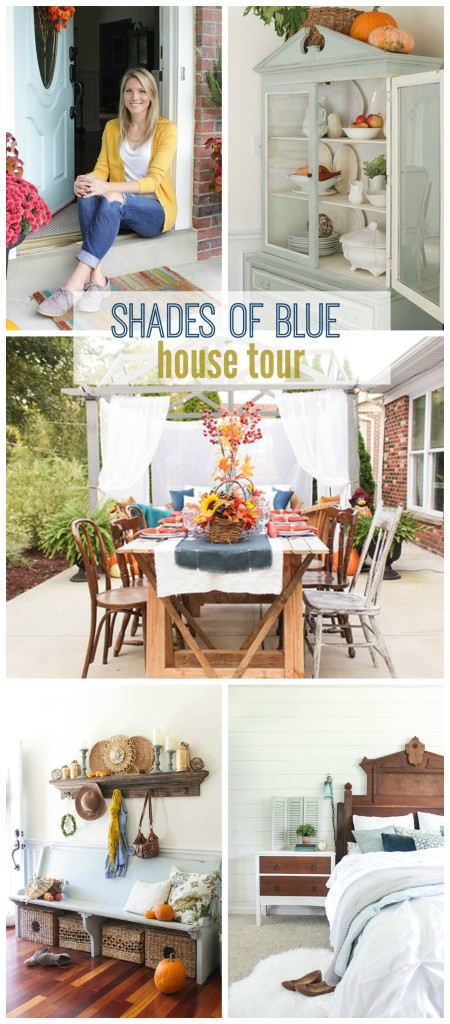 So, welcome to my home! The first thing you see when you want in our door, is this vintage church pew I painted that serves as our catch-all for backpacks, coats, purses, etc. I made the shelf with hooks that sits above it and I use it as my 'mantel', having fun changing it up with the seasons.
As surprising as it may seem (sarcasm), I love the color blue! 😉 I painted the outside of my door blue, the inside of it blue, and I painted a blue door fall scene to hang right beside my blue front door! Can we say, 'obsessed'? 😉 That blue door painting has been popular this season and is offered as a free printable on my blog!
Pretty much nothing in my house is safe from paint haha! I nearly every single piece of furniture in my home I have painted or stained, EXCEPT this old piano that sits in our front room.
Here is the other side of this room, that houses the statement-maker in the room: a green painted sofa! And YES I painted it, and NO it is not stiff or uncomfortable!
All of our rooms sorta flow into each other, and while looking at my ironstone collection, you can get a peek of the adjacent dining room.
Our dining room houses the one of my furniture makeovers that I've had the longest… our dining set. I painted the legs and chairs, refinished the top, upholstered the chair backs, and sewed slipcovers. Necessity (aka lack of funds) breeds creativity and thank goodness this one turned into something we still love, 3 years later!
Next is our living room, which rivals the dinging room for the most time spent in. Thebold  trellis rug completely transformed the space when I added it a year ago, and since then I have moved some furniture around, added the bookcases, and built some end tables, so that now it feels *nearly* complete! 🙂
I restyle these bookcases every few months and I love how their height makes our ceilings look taller than they are.
Because our home is smaller with limited closet-space most of our rooms are multi-use and have plenty of drawers, baskets, and shelves to keep kid things close-by but also easily tucked out of view.
Right off of our dining room, the doors open into our recently made-over patio! When we moved in, one of the first things I fell in love with was the large yard and paved patio area with pergola. But it was completely bare until this past summer, when I built a cedar murphy bar, an outdoor dining table, a coffee table, added curtain sheers to the pergola and wicker seating, added a fire-pit to one side of the yard, and made some yard games.
This year I've also been slowly working on giving the bedrooms a makeover. I started with our master bedroom and added shiplap and installed a new Eastlake headboard.
Then I installed a barn door to our bathroom…
and give the bathroom a complete overhaul.
The past couple months I've been adding little things like a spine bookshelf I made.
The latest room I made over in our home is my daughter's room which has been so fun to do because she is such a bright, loving, and happy little girl… it's been a joy to create a space that matches her personality. I painted and stenciled the walls, installed board and batten, painted the bed, built a trundle storage, made a canopy, and added colorful touches that make the room so happy.
I hope you have enjoyed the tour of my home! I would love to hear what you think and if you wanted to ever visit my blog, I would be so grateful!